Top 10 Digital Marketing Training Programs in Delhi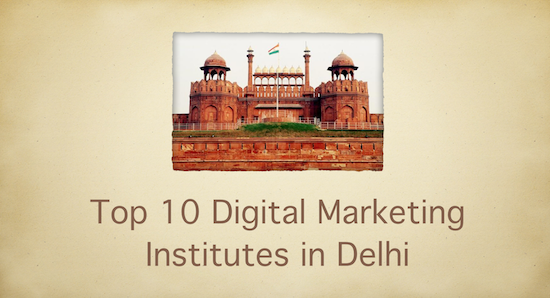 Though one can become a digital marketing expert right from home by learning and practicing online, there are many who prefer a classroom training for obvious benefits.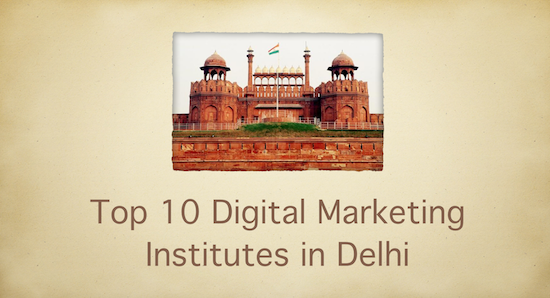 Classroom training helps you interact with other people, make friends, learn in-person from a trainer and also helps you stick to a proper schedule. If you are looking to learn digital marketing course in Delhi, here's the A-list of institutes that offer classroom based training.
If you are looking for online digital marketing training, I recommend DigitalVidya. You can check out the review here.
1. Manipal Prolearn

Manipal ProLearn, a part of Manipal Global Education Services, offers a variety of professional certification courses across Technology, Digital Marketing, Data Sciences, Project Management, and Finance domains. Having trained over 23,000+ professionals with 100+ professionally certified courses and 500+ classroom batches, ProLearn offers courses in Digital Marketing and advanced level courses as well in association with Google with the training center at Dwarka in Delhi. The students even get access to a Simulator tool with to 10 levels of gaming experience worth $50,000 (virtual money) to create and test the performance of their ads.
Website: www.manipalprolearn.com
2. Edupristine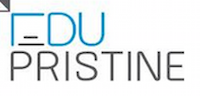 Edupristine is a training firm in India which primarily offers courses in disciplines such as Big Data, Hadoop, Business analytics, Finance and Accounting. They provide classroom training for the Digital Marketing course in Delhi, Mumbai, Bangalore, Hyderabad and Pune along with international locations. Their digital marketing training emphasizes on SEO, email marketing, social Media marketing, pay per click advertising, Google Adwords and mobile marketing. They help students with placement assistance and work on real time cases from different domains in the course and are located at Connaught Place in Delhi.
Website: www.EduPristine.com
3. Simply Digital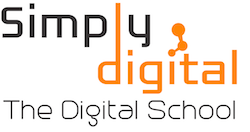 Simply Digital, founded by a group of IIT-IIM alumni conducts a variety of top digital marketing courses in Delhi and big data at their center in Adhchini, Delhi. They also offer placement assistance to help students get internships in digital start-ups & final placements at all levels across sectors. Faculty from IIT, IIM and Digital Startups teach a number of courses in digital marketing catering to students interested in learning website planning and creation, SEO, SEM, PPC, Email, Social media and more. They also conduct special workshops for women, children and senior citizens.
Website: www.SimplyDigital.in
4. NIIT
Established in 1981, NIIT Limited, a global leader in Skills and Talent Development, offers multi-disciplinary learning management and training delivery solutions to corporations, institutions, and individuals in over 40 countries. NIIT was one of the first institutes to launch a comprehensive digital marketing training program in India in 2012.
NIIT offers a Professional Diploma in Digital Marketing in partnership with Digital Marketing Institute in Ireland. The program enables marketing professionals to gain a deeper understanding of all the elements of Digital Marketing. NIIT has numerous centers in Delhi like Janakpuri, Dilshad Garden, South Extension and many more.
Website: www.niit.com/solution/digital-marketing
5. HiAim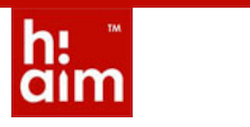 HiAim, located at Motibagh in Delhi, is an ISO 9001:2008 digital marketing institute, having trained more than 1 lakh professionals in the last 10 years. HiAim offers a Digital Marketing Program of 180 hours that includes 50 hours in class, 50 hours self-learning, 40 hours live projects and assignments. They also offer flexible weekday and weekend batches. HiAim offers job assistance as well as business assistance at the end of the course to its trainees. HiAim students have been placed at industry leading organizations like Apple, HP and Infosys.
Website: www.hiaim.co
6. Learning Catalyst

Learning Catalyst offers courses in web marketing, integrated digital marketing, SEO, Advanced SEO, SEM and SMO at their Hauz Khas center in Delhi. The faculty at Learning Catalyst are all Google certified, highly experienced and employed in senior positions at leading organizations. Learning Catalyst offers a 2 month internship with any of their corporate clients based on availability as well as 2 month membership of webstepup.com, a learning platform. They also offer free sessions initially so that prospective students can attend and decide for themselves if they would like to enroll for the complete course.
Website: LearningCatalyst.in
7. Digiperform

Digiperform was founded in 2014 by Manu Jolly – a serial entrepreneur and Vaibhav Vats – a passionate Digital Marketing Consultant and Trainer having consulted over 30 corporates and trained 1000+ people before starting Digiperform. In the last 2 years, they have grown to 6 centers in Delhi-NCR region alone at South Delhi, Connaught Place, Rajouri Garden, Gurgaon, Noida and Faridabad. They have specialized courses for entrepreneurs, fresh grads and working professionals with key course offerings being Digital Marketing, SEO, Google Adwords and Social media marketing.
Website: DigiPerform.com
8. Sri Aurobindo Centre for Arts & Communication
Sri Aurobindo Centre for Arts and Communication that is located within the Sri Aurobindo Society Campus at Adhichini in Delhi conducts a Certificate course in Digital marketing. The 4-month course caters to graduates and under graduates, working professionals and business owners. The center states that this course has been structured keeping in mind the industry requirements of providing skilled force in the field of digital marketing and has been planned to include all essential elements of digital marketing to equip the participant with the latest knowledge related to digital marketing.
Website: www.sac.ac.in/digital-marketing-course
9. Digital Technology Institute
Located at Janakpuri, Digital Technology Institute was founded by Anup Prasad, leading Digital Marketer in India with more than 10 years of experience in in Digital Marketing. With a total of 20 modules, this institute offers a comprehensive training program in all aspects of digital marketing.
Website: www.digitaltechnology.institute
10. Delhi School of Internet Marketing

Based out of Delhi with numerous training centers at Bangalore, Delhi, Hyderabad and Kolkata, Delhi School of Internet Marketing have established themselves in the market very well. DSIM, an establishment of "Kixx Media Pvt. Ltd." is a leading Internet Marketing Training provider for Corporate, Professionals, Entrepreneurs and Students.
It provides full-fledged live classroom training for industry executives and entrepreneurs as well as Corporate Training and Campus Learning. With more than 9345+ professionals trained around the globe with 246+ batches and a ranking of 8.6 given by trainees, DSIM offers comprehensive training and placement assistance in the field of Digital marketing operating out of 5 centers in Delhi alone at Malviya Nagar, Dwarka, Preet Vihar, Janakpuri and Pitampura.
Website: dsim.in
Conclusion
Most of these institutes also offer online courses. It is based on individual preference of students whether to opt for classroom training or learn online. The benefit of dual option is that if students miss any classes, they can make up with online recordings of the same.
The price range of the courses offered at these institutes varies from Rs.15,000 to Rs. 50,000. Students have to decide which course and location suit their needs best and go for it accordingly. Training Specialists, Techstack and Expert Training Institute are a few other local institutes in Delhi that offer training in Digital Marketing.
You might also want to check the top 7 digital marketing training programs in India if you are looking for online training.