Digital Vidya Digital Marketing Course Review
Digital Vidya is one of the leading digital marketing training companies in Asia. Over the years, it has helped a lot of individuals to become marketing experts. This review about Digital Vidya's digital marketing certification Course will help you assess the value of their program.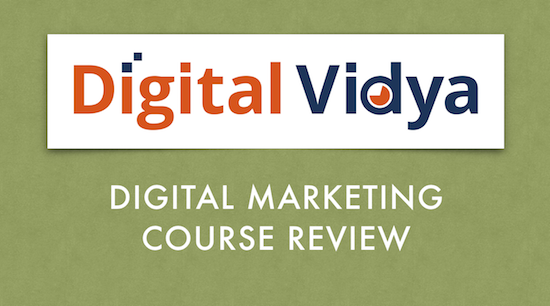 Many senior professionals with a background in sales and marketing find it useful to have instructor led training and mentorship that Digital Vidya provides.
Despite the fact that digital marketing training programs and courses aren't necessary to become a marketing experts, those who want to excel in this field should consider taking these courses (if pricing is not a big concern for you).
A training program like this will help you with a proper framework for learning and also gives you access to the experts in this field.
Digital Vidya was established by Kapil Nakra and Pradeep Chopra in the year 2009, where its main purpose is to provide digital marketing training to those who need it.
Also read: Top 7 Digital Marketing Training Programs in India
As of now, the institution has successfully created more than 700 training programs that are beneficial to more than 12,500 participants all over the world.
With this kind of success, some of the most highly influential companies, such as Citibank, eBay, GM, Nokia, Reliance, Toyota, Cisco, and Oglivy have collaborated with them. It is also the pioneer in providing digital training all across India, and they're also the official training partners of Google India.
As of the moment, Digital Vidya provides 8 certification courses, aside from its Certified Digital Marketing Master Course – the main course of Digital Vidya.
Listed below are some of the short courses it offers:
Search Engine Marketing
Social Media Marketing
Search Engine Optimization
Growth Hacking
Web Analytics
Email Marketing
Inbound Marketing
Mobile Marketing
Each of the above short courses or modules is led by an instructor who is an expert in that specific area.
What to Expect
Digital Vidya is a digital marketing training program that doesn't only offer courses, but it also gives the members the opportunity to connect with like-minded people.
Those who are thinking of attending a training program focusing on digital marketing, Digital Vidya is one of the most ideal options available.
This program can help the users hone their digital marketing skills, because it has several courses, such as SEO, mobile marketing, PPC, and the like.
Sign Up for a Free Webinar from Digital Vidya
Aside from that, Digital Vidya also offers a month of research based internship, online discussion forum, placement assistance, certification exam, and certificate, as part of their online course.
Since everything is done online, there's no physical venue and the institution offers a 100% refund for all the courses they provide. It's also possible to choose from either a mid week training or a weekend training, depending on which one is more convenient for you.
Note: You can also become a self made digital marketing expert. A course like this is optional.
Certified Digital Marketing Course
The CDMM is a course certified by the government of India and there's no minimum educational qualification to qualify for this course. Digital Vidya provides a wide range of job oriented course materials, covering the following topics:
Web analytics
SEO
Search engine marketing
Inbound marketing
Social media marketing
Email marketing
Certificate Program in Digital Marketing
Through this online training program, you'll be able to learn and understand how to utilize social media and online advertising tools in order to meet the organization/individual objectives of your business. It will allow you to employ analytics in order to predict the standing of your business and make decisions based on it.
This program is perfect for those who are involved in the implementation, measurement, and planning of digital strategies. Users can also try this program if they're interested in pursuing a career related to this area. Thus, Digital Marketing and Analytics can be used by everyone – of all levels and disciplines.
The Main Objective of this Training Program
Practicing managers and subject experts are the professionals behind this course. Their goal is to cover the basics of marketing and advertising, analytics, and how to properly use the statistical tools in order to predict the success of the business.
Major subjects covered in this course are email marketing, SEO, SEM, affiliate marketing, PPC, online video, social media analytics, and digital display. Wherein, practical learning is also one of the objectives of Digital Vidya.
Thus, most concepts are often linked with hands on training. This only implies that the users can work with virtual website optimization, and marketing database on the basis of lectures and class discussions.
Who Is it For
Digital Vidya is designed for students and education practitioners who want to get better in digital marketing. It's a course that helps in familiarizing oneself with the responsibilities involved in this field, allowing them to prepare once they have decided to launch their chosen campaigns.
Why Invest in a Digital Marketing Course
Despite the fact that some elements of successful marketing can be self-taught, one should still realize the importance of having a formalized education if you're really serious about making the most of your business.
A Digital Vidya course will give you the assurance that there wouldn't be any gaps in your collective body of knowledge on the subject.
Marketing courses offered by Digital Vidya cover a wide range of information, making it easy to brush up on the basics, moving tot he specifics crucial to your need.
For those who run a business, you should know that it can greatly benefit from a marketing course, since it will help you gain the knowledge needed in how to keep your employees properly informed, trained, and motivated to function fully. This would improve the team's overall productivity, allowing you to save a lot.
Pricing and Duration
The duration of this course is 3-6 months, with a one-time fee of Rs 57,500. Including service tax. There are also some staggered payment options available.
Pros
Certified by the Government of India (vSkills)
Forum access that allows the users to connect with other members
You can choose between a weekend or weekday training
Online instructor led training is implemented
Cons
Some find the program a little bit expensive.
Final Words
Overall, the Digital Vidya marketing training program is an institution that offers the most comprehensive and professional training in digital marketing.
Those who want to become experts in their fields and doesn't want to comprise with quality, then this online training course is definitely for you. With just Rs 57,500, you can become an expert in digital marketing after a few months.
You can also sign up for their webinar to evaluate the quality of their training programs.