OptinMonster, The Best Lead Capture Tool for Blogs and Websites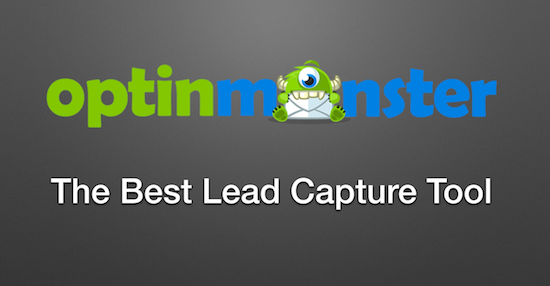 I have given my verdict already that OptinMonster is indeed the best lead generation software for content marketers and all other small businesses. We also delved into some of the key features of OptinMonster in my previous blog here.
If you have a functional website, then you are good to go. All you need to do is install OptinMonster, create custom opt-in forms from their large template library and see your email list grow exponentially. In this blog post, I want to cover two more important features and talk a little bit about the company behind this awesome tool.
A/B Split Testing
Split testing is extremely useful when you are trying to increase your conversions. OptinMonster makes split testing so simple and easy to accomplish. You can experiment by modifying headlines, content, layouts, images, styles, and opt-in triggers, to compare and see what works best. A user achieved an increase in conversions of 29% by replacing the word "Subscribe" with "Give me free resources."
OptinMonster displays a mockup of your existing opt-in where you can make any changes and tweaks by using the form builder and save it. The tool also takes care of everything else. From randomly displaying each option to see which variation has the best conversion, to conversion analytics that tracks impressions, conversions, and the landing page, OptinMonster makes it very easy. The numbers make it simple to decide what is working in your favor and what isn't.
MonsterLinks
Based on the psychological principle known as Zeigarnik Effect which propounds that those who initiate an action are more likely to complete it, MonsterLinks is the signature 2-step opt-in technology that is proven to increase conversion by enabling users to join your email list with a single-click. I have enabled MonsterLinks right on my blog. You can try clicking on the link on the right sidebar that says 'Free Digital Marketing Training' and you can see it in action.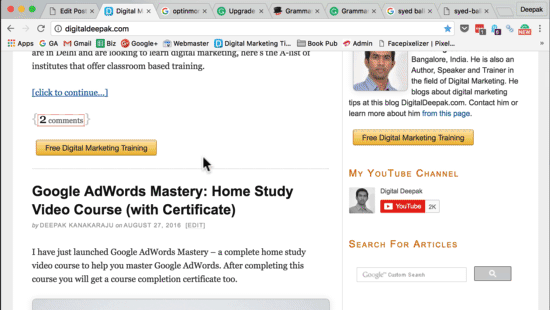 Digital Marketers are highly in favor of this new innovation because you can turn any image or link into a 2-step opt-in and increase your conversions by a huge percentage. MonsterLinks encourages the use of content upgrades which are basically lead magnets created specifically for readers of that post.
You can also choose from one of the 26 built-in CSS3 MonsterEffects in conjunction with MonsterLinks and rest assured that your email list will start growing rapidly.
The Team Behind Optin Monster
It was co-founded in 2013 by Syed Moiz Balkhi, currently CEO and Thomas griffin, currently CTO. Both the founders are serial entrepreneurs. Prior to OptinMonster, Syed Balkhi, founded WPBeginner, the largest free WordPress resource site.
Prior to OptinMonster, Thomas Griffin founded Soliloquy, the fastest WordPress slider plugin, and Envira Gallery, an innovative gallery solution for photographers.
Not only is their product offering groundbreaking, even the way they operate is raising the bar. OptinMonster is not a VC funded startup but a profitable bootstrapped company that is witnessing stellar growth.
They do not operate out of an office. Instead, their team is spread out all over the world and everyone works from home. Their priority is the quality of the work rather than counting the number of hours.
They meet each other for a week once a year to and also at industry conferences. Employees get to work from the comfort of their home and also get to travel frequently at company expense.
OptinMonster's Mantra for Success:
People First – We treat our team like family and our customers as our #1 priority.
Passion – We love what we do and do what we love.
Product – We don't build average. We build the BEST and are committed to greatness.
Process – We don't just work hard. We work SMART. We create systems that fosters trust through total accountability.
Philanthropy – We believe in giving back. We support the betterment of communities around the world.
Profit – We choose long-term investment over short-term gain. We build for growth and profitability because financial health sustains us and ensures we're in control of our destiny.
Such great products do not come from an ordinary team. Special thanks from DigitalDeepak for creating such an awesome product and helping digital marketers with increasing their email lists.