The Top 4 Digital Marketing Certification Exams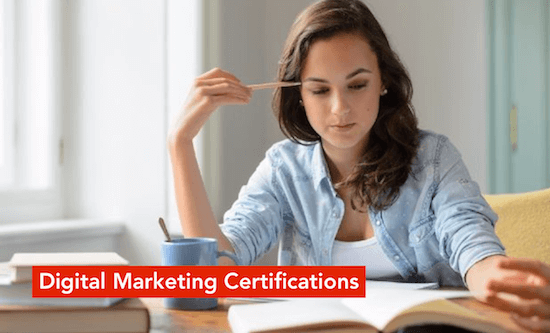 Taking up a digital marketing certification exam has numerous benefits. Firstly, being certified adds more credibility to your professional reputation. While every digital marketer claims to know digital marketing, having a certificate proves that you're a certified expert.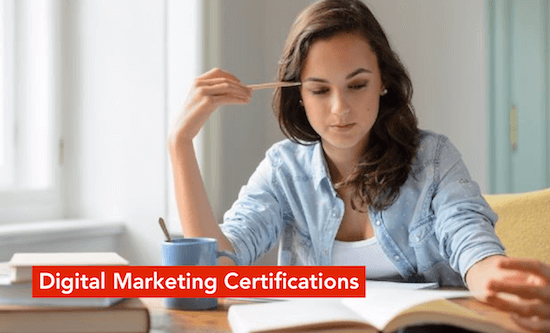 You can grow your career by being a certified expert since it sets you way above your competitors. Digital marketing costs 62% less than the traditional advertising and brings in 3X more leads. Your boss and your sales team will love you for this.
Being certified as a digital marketer by the top institutes in the industry will supercharge your career and business. In this article, we list down the four best digital marketing certification exams for digital marketers. While many of them are free, some others are paid. Nonetheless, all are equally reputable and will massively enhance your credibility.
1. Google AdWords Certification
If you want to brand yourself as a PPC expert, the best way to do so is by becoming Google Adwords Certified.  Google digital marketing certifications are free certification course and can be taken up by anyone.
To get Adwords certified, the three exams available are:
Advertising Fundamentals
Advanced Search
Advanced Display
To get certified, you need to get pass two examples, from which Advertising Fundamentals is compulsory. The time duration of each of the three exams is 120 minutes wherein you'll have to answer 100 questions in each exam. You need a minimum of 80% to pass these exams, and if you fail, Google allows you to take the re-test after seven days.
After clearing the exam, you get a printable certificate that can be accessed from Google Partners Login. You are provided with a link that can be verified. You can see the link to my online profile here.
The study guide for this free online certification course is available on the Google Support Page.
2. HubSpot Inbound Certification
If you want to become an inbound digital marketer, HubSpot's Inbound Certification is a good way to show your expertise. This free course can be taken up anyone, from college students, entrepreneurs, startups and business owners to marketing professionals. It helps you stay updated about the latest trends and developments in inbound marketing.
This online inbound training includes 12 classes with time duration between 10-45 minutes. The high quality best practices and fundamentals covered in this course include:
How to attract visitors and convert them into leads using content and website optimization
How to delight customers and convert them into brand promoters
How to increase your online visibility
HubSpot's free inbound marketing certification course doesn't require a huge time commitment. According to them, it takes 5 hours to complete the course. You can learn at your own pace because the course includes a series of videos. With real-world examples, you can start implementing the learnings immediately.
The different presenters involved in this course deliver the content professionally and in a conversational way. Compared to the other courses that are often boring and lack the luster, this free inbound marketing certification course presents small chunks of information in an extremely engaging and understandable way.
The entire course is made more interactive with quizzes and multiple choice questions in between the videos and after each class. For those wanting to know additional information, they provide resources and study guides at the end of each lesson.
At the end of the course, the participant has to give one exam with 60 questions to become a HubSpot Inbound Certificated expert.
The only drawback of this course is that this certificate is valid for only one year. So you'll have to take up yearly exams to retain your certificate.
3. Digital Vidya's CDMM
The Certified Digital Marketing Master Course offered by Digital Vidya is Asia's most widely taken up digital marketing certification exam. More than 20,000 digital marketing professionals are CDMM certified.
At the end of 3 months and 6-month instructor-led online program, you get CDMM certification. While Google Adwords and HubSpot Inbound Certification courses are free, Digital Vidya charges a one-time fee of INR 49,000. The course instructors are some of the most experienced digital marketing veterans such as co-founders Kapil Nakra and Pradeep Chopra, Prateek Shah, Nikhil Kumar Verma and Manuj Bajaj to name a few.
The digital marketing course syllabus includes email marketing, social media marketing, inbound marketing, search engine marketing, search engine optimization and web analytics. Based on your business goal you can choose a super specialization in blogging, mobile app marketing or affiliate marketing.
As India's best digital marketing course, CDMM includes two types of online training sessions – Instructor-led and online industry experts led interaction led sessions. The participants are given hands-on practical training in email marketing, Google Adwords, Salesforce, website optimization, SEO and operating social media tools. Their placement cell assists all participants with job placements post clearing the exam.
To get the CDMM certification, the participants have to appear for a 60-minute exam where they ask 50 questions. They have options of either taking it up online or at your preferred training center across India.
4. Simplilearn's DMCA
The Digital Marketing Certified Associate Training by Simplilearn is designed by digital marketing experts to help you learn the overall skills of this domain. After clearing the certification training, you're ready to execute your digital marketing campaigns.
The course enables you to develop hands-on knowledge about SEO, PPC, analytics, email marketing, mobile marketing, and marketing automation.
Individuals can choose from the following two courses:
Self-paced learning course available at INR 14,999
Online Classroom Flexi-Pass available at INR 23,999
The price for the corporate training solutions is available on request.
The key features of this online digital marketing course are:
48 hours of instructor led training
10 exams
Preparation for Google Adwords, Google Analytics and YouTube analytics
44+ hours of e-learning material
40+ hours of working on live projects
The digital marketing certification exam consists of 50 multiple choice questions to be answered in 60 minutes. You should pass with a minimum of 70% to get the certificate.
Conclusion
If you are looking for a free digital marketing certification exam, Google AdWords and HubSpot Inbound certification are the best options. Learn the concepts at your speed, and on passing the exam, you'll become a certified expert.
If you have a budget and prefer being trained by experts, you can take up either CDMM or DCMA. All the above four have their pros and cons, this review will help you choose the best course based on your business goals and learning style.