How to Become an Inbound Marketing Certified Professional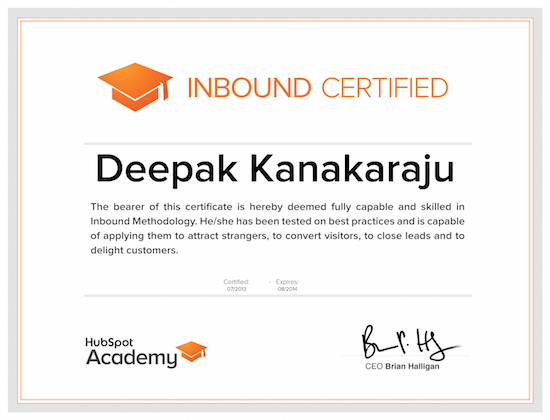 Inbound Marketing is slowly becoming Digital Marketing 2.0. Many businesses who invest in digital marketing are starting to realize that compared to investing money in display ads, video ads, SEM or SEO – inbound marketing produces much better and long term results than the others.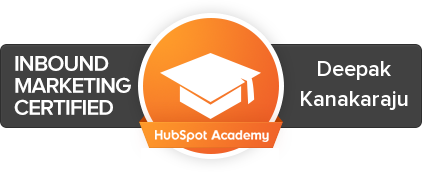 In fact, Inbound Marketing is more of an integrated digital marketing methodology that involves a bit of every other digital marketing channel.
So if you get certified in Inbound Marketing, it is going to help you. Getting certified helps you get an in-depth understanding of inbound marketing. Just the process of going through the certification exam will help you what inbound marketing is all about.
If you are looking to become an expert in search engine marketing, Google AdWords is the market leader and hence it is advisable to get Google AdWords Certified.
When it comes to inbound marketing, HubSpot has positioned themselves as the leader in this market, and they offer inbound marketing certification. The exam is free to attend, and you will be issued an online certificate if you pass the exam.
How to Get Inbound Marketing Certification
To get the inbound marketing certification, you have to learn inbound marketing first and then you have to take the exam. For this, you have to register yourself in the HubSpot Academy.
Just click on the Get Certified button and sign up for a HubSpot account. You will then have learning resources, and you will be able to attend the exam. There is no charge for the inbound marketing lessons nor the exam.

The lessons are in video format, and the total length of the lessons is around 4 hours and 45 minutes. It will take you a week to learn if you learn one lesson a day. The exam will go on for 75 minutes once you get started with it online.
Learning Inbound Marketing
To get an idea about inbound marketing, read my article about Inbound Marketing & Outbound Marketing. HubSpot co-founder has also published a book named Inbound Marketing, which you can get from Amazon or Flipkart.
And of course, one of the best ways would be to learn from the video lessons from the HubSpot Academy itself. The following lessons are available in the HubSpot's Inbound Marketing Academy. It has five modules in it:
1. Inbound Fundamentals
Essentials of an Effective Inbound Strategy
2. Attract
Optimizing Your Website for Search Engines
Creating Content with a Purpose
The Fundamentals of Blogging
Amplifying Your Content with Social Media
3. Convert
Enticing Clicks with Calls-to-Action
The Anatomy of a Landing Page
Guiding the Next Step with Thank You Pages
4. Close
Sending the Right Email to the Right Person
The Power of Smarketing
Taking Your Sales Process Inbound
5. Delight
Taking the Inbound Marketing Certification Exam
The inbound marketing certification exam is a 75-minute online exam that you have to pass to get inbound marketing certified. Once you login into your HubSpot account click on the academy icon and click on Certifications.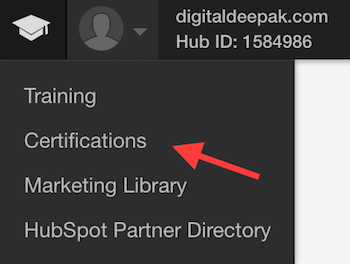 Once you click on the certifications, you will be taken to the page of the certification exam where you have enrolled. You have to click on 'Take the Test' to get started.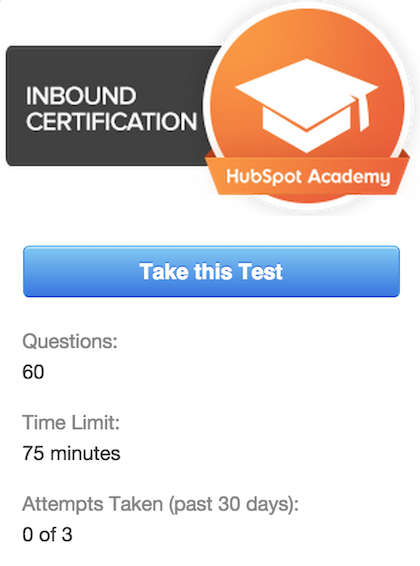 You will have 60 questions to answer in 75 minutes. If you pass the exam, you will get a certificate like I have got one. A passing grade is 75% which means you will have to get 45 answers right.
If you fail, you can attend the exam again. You are limited to 3 attempts every 30 days and one attempt every 48 hours. I passed my exam in the second attempt.
To get started, you have to click on Take the Test and then review the terms, click on Ready? Take the Test.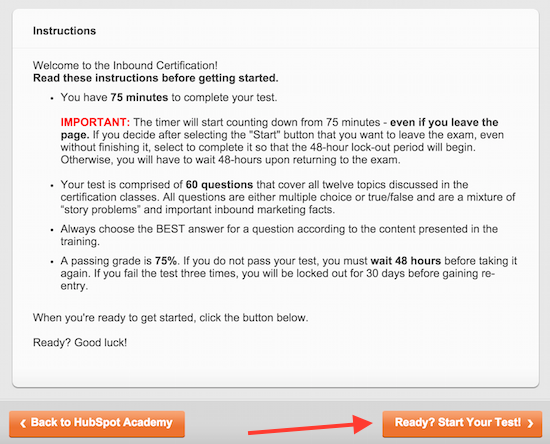 That's all there to it. You will learn a lot for free, and you will have something to add to your profile. Once you get certified, the certification is valid only for 13 months. You have to do the exam again to update your certificate.
Here's my Inbound Marketing certificate 🙂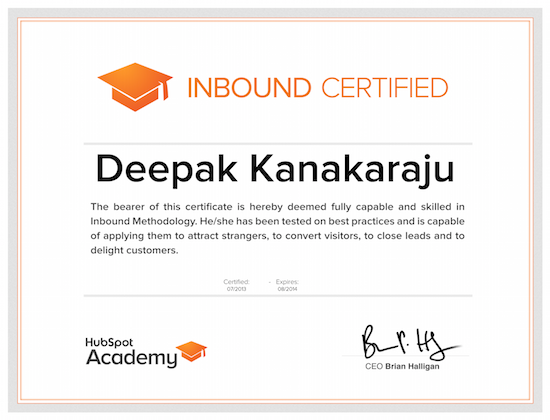 (I am guilty as charged for not updating my certification, but I plan to do it this month).
Go Ahead and Get Inbound Marketing Certified!
Now that I have laid out all the steps involved in getting an Inbound Marketing Certification, you possibly have no reason to procrastinate 🙂
Even before you start learning inbound marketing, I would recommend you to go ahead and attend the exam once so that you will at least Know what you don't know. That's a better position to be in than You don't know what you don't know! Then you can learn and take the exam again.
All the best! And thanks for reading this post. If you liked it, please share! 🙂