How I Created an Inbound Hiring Funnel Using Marketing Automation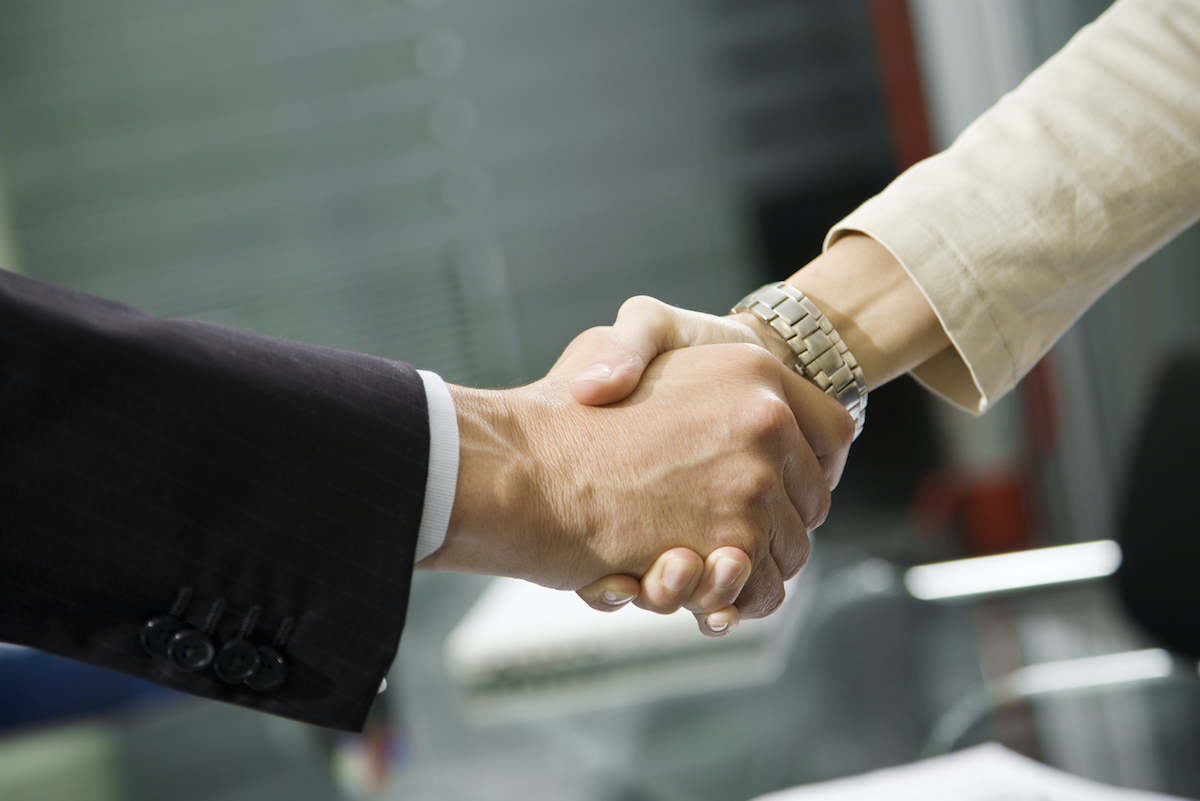 Hiring is a big challenge when growing a startup. Having worked in more than 5 leading startups out of which 3 were Series A funded and beyond, I have seen how much can go wrong if hiring is not done properly.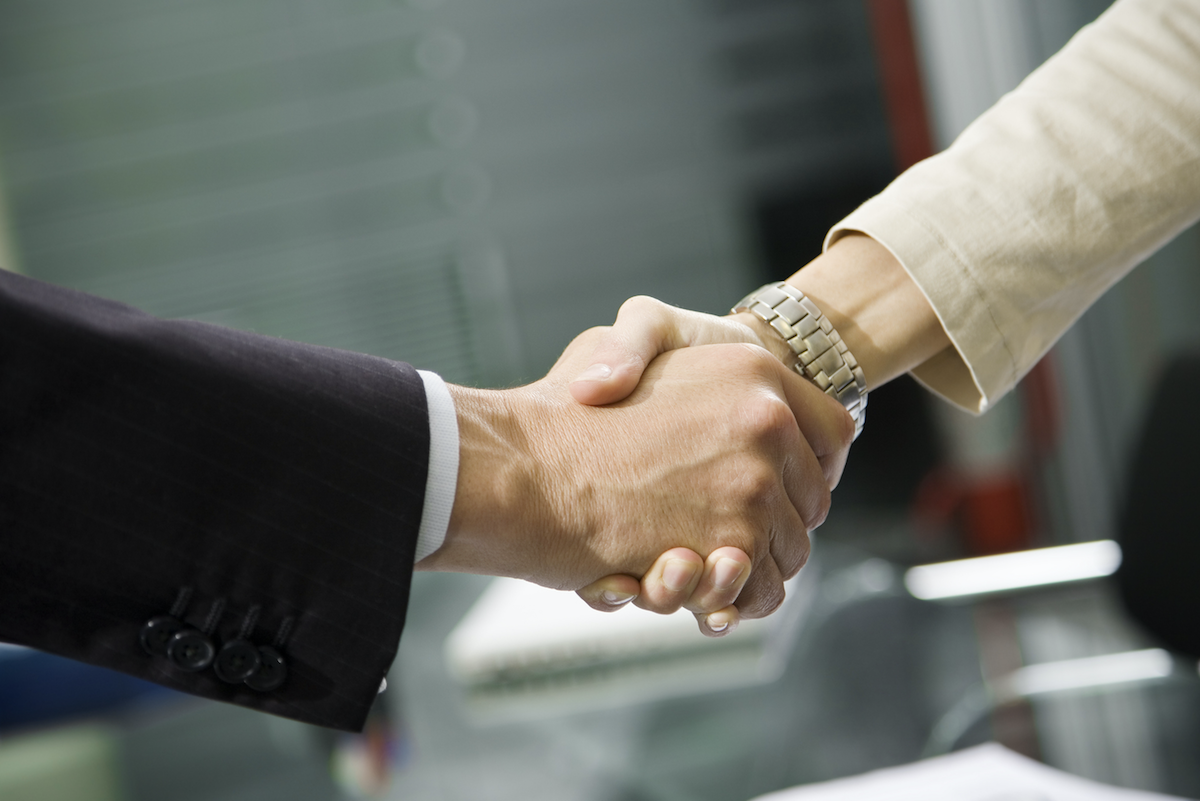 A company grows fast and becomes great with the right team members. A company can collapse with the wrong team members. A company can only grow as fast as the slowest person in the company.
Workplace Culture
The culture at workplace is one of the most important components of a fast growing startup. Culture is the invisible co-founder which keeps the company together even when the founders of the company cannot keep an eye on all the minute things that happen inside a company.
Here at the PixelTrack team, we believe in perfection, hard work, executing fast and failing fast. If we hire someone who has a different world view, our entire company would take a hit.
Recently, we had a team member who used to hardly work and called it work-life balance. He used to arrive at office by 10 or 11 am and would leave as early as 5pm and slowly many people in the company started leaving early. 4-5 hours of work, out of which hardly 1 hour would be productive is NOT how you build a startup, especially in a country with so many inefficiencies like India.
That's when I realized, I have to be EXTREMELY careful with hiring. As I hire the right people and expand my team, the culture of the company would become stronger. As the culture becomes stronger and as the company grows, I might not need to be the person who holds up the culture. If there is someone who doesn't fit, the culture would force him to fit, else he will be chewed and spit out by the system.
For example, when we have 50 people in our team who work 8-9 hours a day, and if one person tries to get away with 3-4 hours of work, it would be almost impossible for him. It will be awkward for him and everyone else if he leaves office by 5pm. In a company with 5 people, one such bad apple could hurt the entire company.
Until my team grows to around 50 people in size, I have to carefully hire every candidate and communicate the culture to them. And I have to hire the right people. I had to build a system for that. This post is about that system – The Inbound Hiring Funnel.
Hiring the Right Talent
Strong brands and big companies automatically attract great talent because of the brand they have built. A startup would find it much more difficult to hire the right people because as a startup, you do not have the financial muscle to create a brand and the working environment that well established enterprises have.
At PixelTrack, we work out a 2bhk house as of now. We do not have a HR or an accounts team. Most of the paperwork related to hiring is handled by myself and my co-founder. And this means that there are a lot of inconsistencies and inefficiencies.
How can I attract people to work with me? I don't have the best office, or the best salary, or the best perks, or the best organizational structure. And my company is not a big enough brand which my team members can proudly tell their friends and family about where they work. It has been less than a year since I started up on my own. I don't have leave policies in place, or the benefits written down in a contract. Why would someone want to work with me?
And if I cannot attract great talent who will help me build a great company, how can I build a company that attracts great talent? It is a catch-22 situation.
Many startups get stuck here and they never grow – unless they get funding. And you have a different set of problems once you get funding.
The Answer to Startup Hiring
This is a real problem and there is no solution in the market for this. There is no hiring company or a consultant that can get talent for an early stage startup. A hiring firm cannot go through the trouble of explaining why someone should work in a startup because the financial incentive is not strong enough.
Big companies pay big commissions for hiring partners to help hire the right talent. A startup cannot do that (unless they are heavily funded). Companies like Belong.co help big companies with their unique outbound hiring system, but they do not help unfunded early stage startups.
So how can I attract good talent for my startup? What's there to give?
I have to hire people who believe in my vision. I need to get people who would want to work with me to make this vision a reality. People should join my team for the pure joy of challenge, learning and creating something out of nothing. That's the only motivating factor for my team members.
Just like the song "Words are all I have", my song to attract team members for my company is "The Vision is All I Have".
There is no plug and play solution to this. There is no software or a service that helps startups with Inbound Hiring. So I built my own funnel. Being a digital marketer who loves marketing automation, I decided to build a hiring funnel.
I setup an automated hiring funnel that let's people apply to my start up, understand my vision and go through "several rounds of interview" without human intervention.
In this post, I will tell you how I built my funnel, how I ran it and the results that I got out of it.
The Inbound Hiring Funnel
As a blogger, I have learnt the art of communicating with a mass of people, while still making every follower feel as if I am talking just to them.
As a thought experiment, imagine you can clone yourself infinite times. The purpose of each clone is to help you hire a member into your team. Each clone will be assigned to one potential candidate and the clone will be alive until that candidate is either accepted or rejected. (Like Meeseeks from Rick & Morty!)
If you have 1,000 potential candidates, you will have 1,000 clones talking to each of these candidates and figuring out whether the candidate is right for your team, or not.
This is probably the ideal scenario for hiring. Each clone would communicate the vision and culture of my company and carefully evaluate if the candidate is a right fit for the team.
But, we can't make clones. And we can't makes clones just for hiring.
What is the next closest thing we have to clones who can communicate? We have marketing automation. We can build a system that can do the work for us.
The Inbound Hiring system is so powerful that even big companies can use this system, not just early stage startups. They can make their hiring team lean and let the system do the work. I am pretty confident that when my company becomes very big, I would still do inbound hiring.
The Email Sequence
The first thing that I did to setup my inbound hiring funnel is to create an email sequence. This set of emails is supposed to communicate my vision and work culture.
As soon as people apply to work with my drip marketing email sequence takes care of communicating with them over a period of time.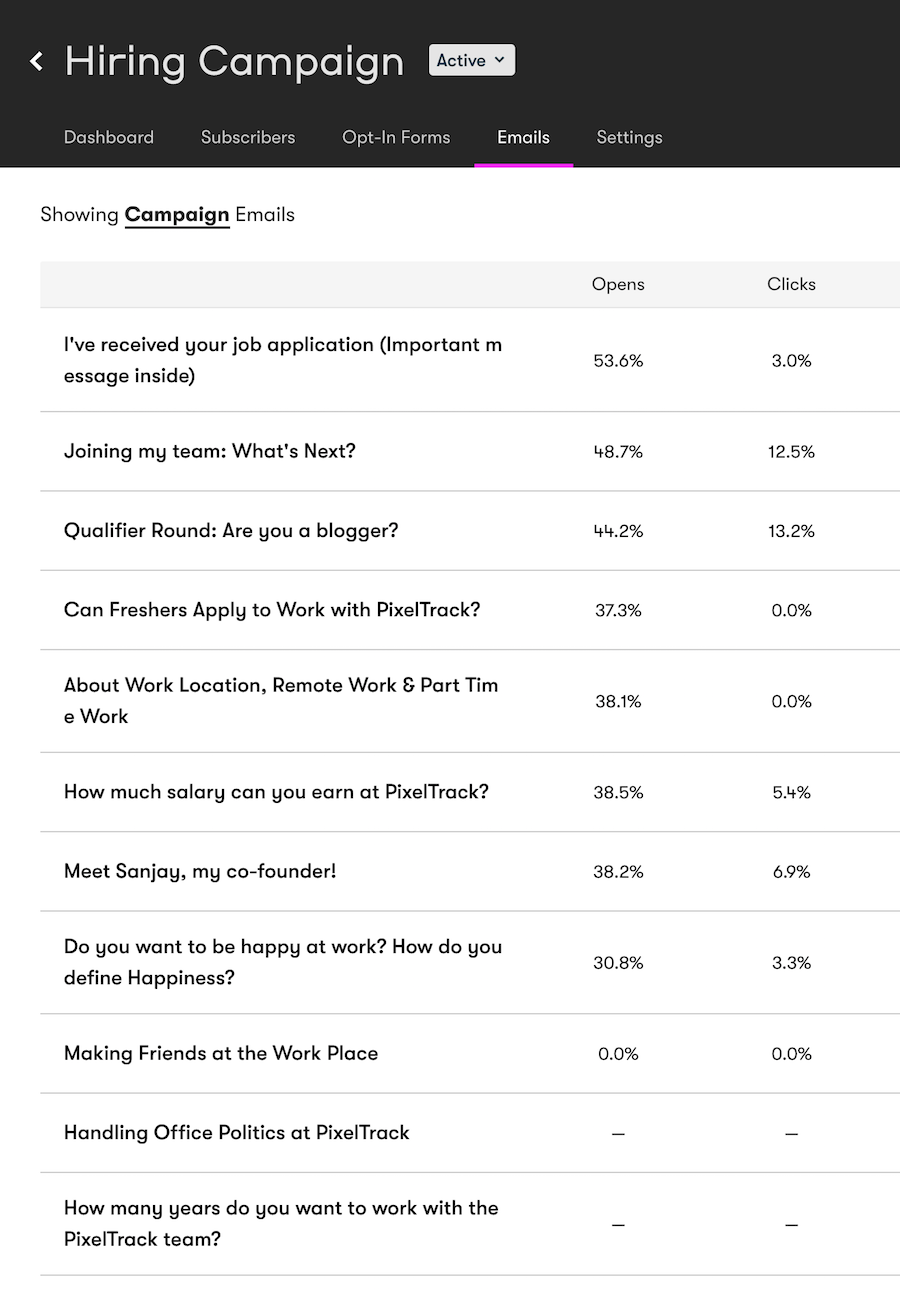 As with all the funnels, there are leakages at every stage. Not everyone who applies is enthusiastic enough to open and read all the emails. And the engagement goes down over time.
In the above email sequence, I've talked about my vision in the first email. In the second email, I talk about my hiring process. You have have a look at the subject lines to get an idea about what I am trying to communicate to my future team members. I talk about important things like motivation, happiness at workplace and career growth.
These things should be communicated to team members by every founder. A lot of people do that in face-to-face interviews, which is good, but repetitive. CEOs and founders do not have the time for 1:1 communication for things that are general and common for all recipients. It's just easier and better to let marketing automation do the job.
In the third email, I ask them if they have a blog. I do not hire anyone without a blog, and it is a filtration process. I have been screaming at the top of my lungs that blogging is the best way to learn digital marketing and have even launched a course called the 100-day Blogging Course.
In the 3rd email, they fill up a form where they can mention about their blog. They have to enter a description and give their blog URL. This is the form that is sent in the 3rd email of the hiring sequence emails.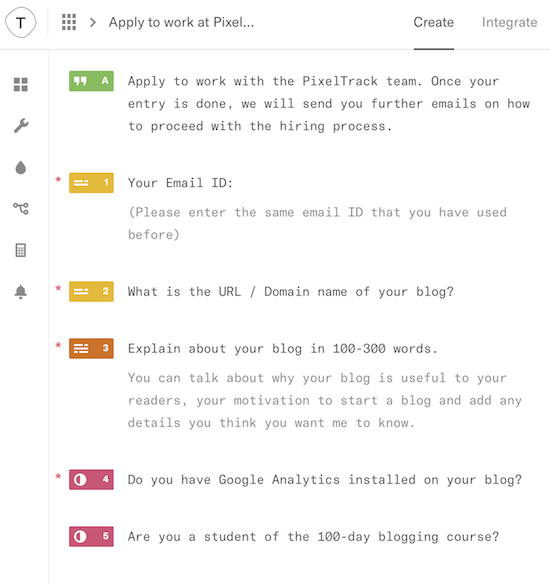 As soon as they fill the form in Typeform, I pass a tag called "hiring_stage1" to my email marketing tool using Zapier and it starts a new workflow.
Applicants also have to mention if they have installed analytics on their blog. If they do not have analytics, I send them a separate email which asks them to add analytics and come back to apply again.
In this automation, you can see that I have a filter setup. This filter helps in filtering out the people who do not have analytics installed.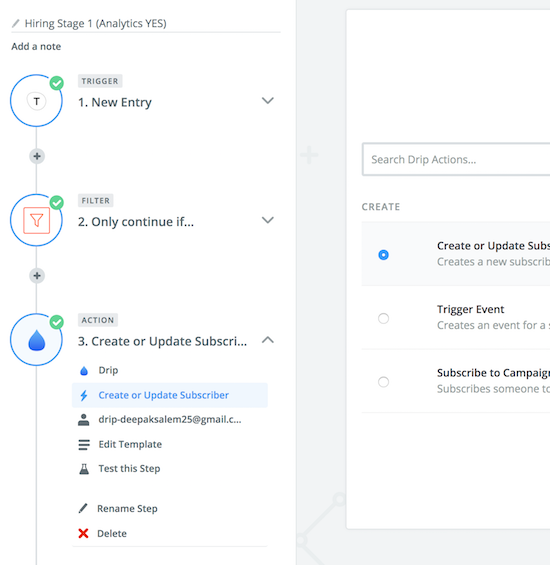 The workflow is started for a specific subscriber only when the tag is applied.
And the tag is applied only when they fill the form.
In the first email, I mention that they have to send me a 1 minute video resume.
In this funnel so far, 8760 people have applied to work with PixelTrack, 439 people filled the form saying that they have a blog, 314 people have a blog with analytics and we've got 25 video resumes so far.
The email sequence that you see in the workflow here works in parallel with the original email sequence that you saw above. People will continue getting emails from the master drip sequence irrespective of whether they have applied to work with PixelTrack or not.
If they have applied to work with PixelTrack, they will get a different message in the footer of every email. If they have not applied to work with PixelTrack yet and if they continue to get the emails, in each email I remind them to apply. This is done with liquid templating using tags.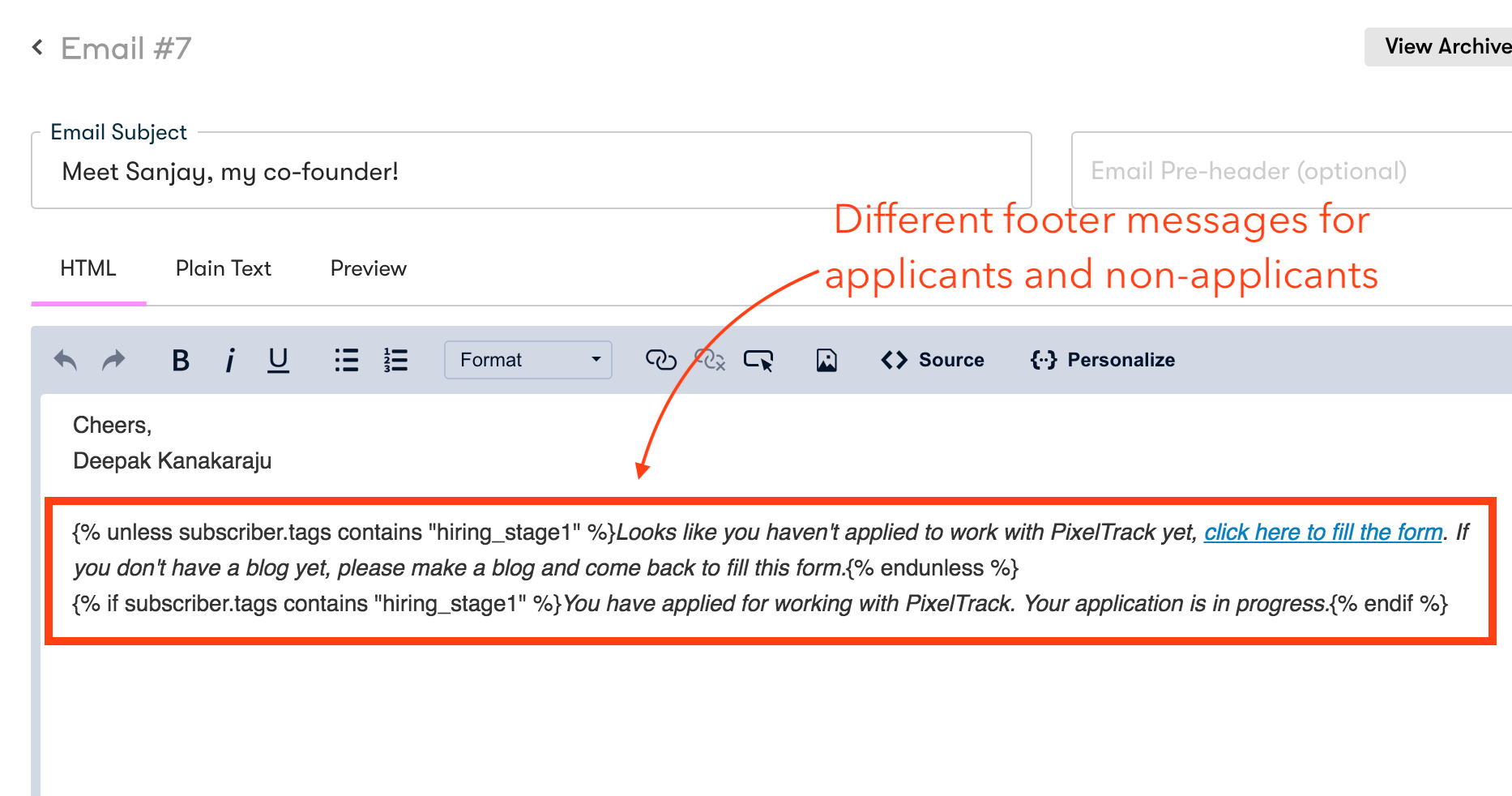 If we like a candidate based on the video, then we have a phone conversation, which leads to a face to face interview.
In the end, we will end up hiring not more than 2-3 candidates from this pool. We already have a few candidates that we like and one will be hired very soon!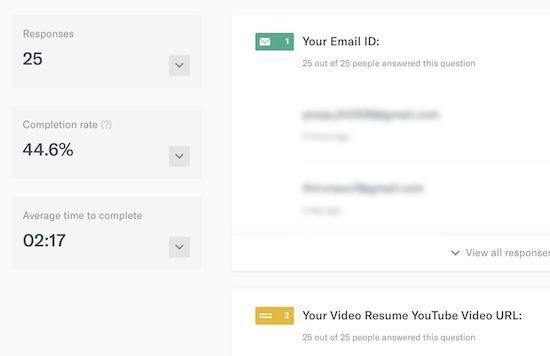 So this is how the funnel is built.
Taking people from one stage to to another is taken care of by marketing automation tools as mentioned above.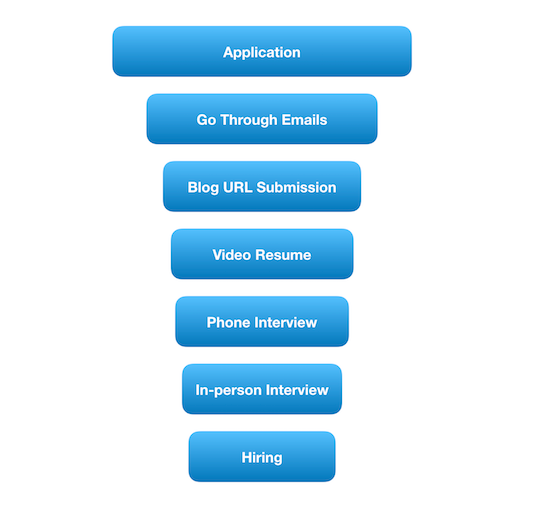 A hiring funnel like this can be built for any company. Apart from hiring, it also builds a good brand images with customers and potential business partners. The first email where I talk about my company's vision has got 340 replies in my mailbox.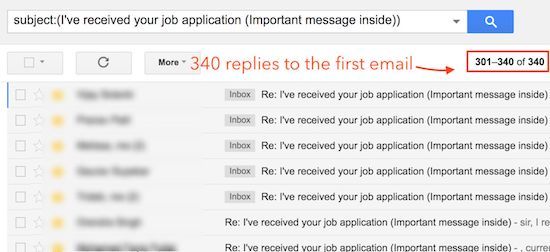 All of them are positive responses where most of them are pleasantly surprised by the vision I have for the digital marketing training industry in India. I am sure that it has even converted potential customers into fans of my brand.
Final Words
My inbound hiring system has worked wonders for me and I am sure it will work for any startup out there. And I believe in inbound hiring so much that no matter how big my company grows, this funnel will be the core of my hiring system.
The inbound hiring system communicates the vision of the founders, takes people through a journey and also does multiple rounds of filtering candidates automatically. It would be impossible to pick the right candidate from a pool of 1000s unless it is powered by a funnel like this.
Any questions? Leave a comment below!
Cheers,
Deepak Kanakaraju
P.S. I will also be making a video tutorial on inbound hiring. I will make the video more comprehensive and if you have any questions, your comments here will help me answer those questions in the video.