How to Automate Your Marketing & Sales Process with Drip Marketing Campaigns
If you are a business owner or a marketing specialist, I am sure you have heard of drip marketing. In this article, you will learn what is drip marketing, and how it can automate the overall marketing & sales process of any business.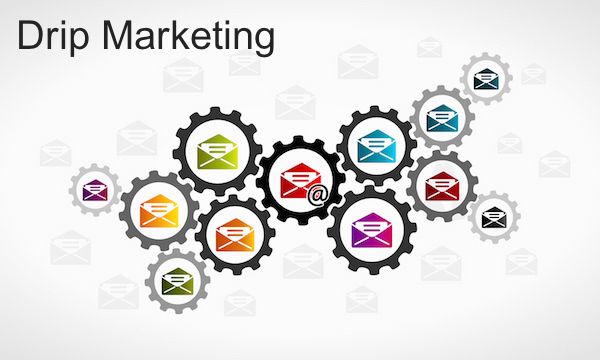 The name drip marketing originated from drip irrigation where small amounts of water is released over time to nourish the plants or crops.
Drip irrigation for plants and crops is done by releasing small amounts of water (nourishment) at the right time and the right place (near the roots) so that there is no water loss in percolation and in evaporation. Healthy plants are grown with the least amount of investment and almost zero wastage of water.
Drip marketing is similar but instead of water, we release small units of marketing messages at the right time intervals. Drip marketing is used by several companies to perform multiple functions including lead nurturing, on-boarding, customer success and customer support. Drip marketing is proven to reduce the sales cycle, sales costs and customer support costs.
The Structure of a Drip Marketing Campaign
A very well thought out drip marketing campaign helps multiple areas of the business. One of the main functions of a drip campaign is lead nurturing. With a little bit of automation and creativity, drip marketing campaigns can further help in on-boarding, customer success management and customer retention.
Here's an example of a full stack drip marketing campaign:
1. Lead Nurturing
Customer Signs up for Free Trial of a Product
Day 1: Welcome email with an Intro Video & a Welcome Phone Call
Day 3: Email explaining features of the product
Day 5: Email with eBook containing customer success stories
Day 7: Phone call to find out why the customer has not purchased yet.
(And so on… until customer pays or opts-out)
2. On-Boarding & Customer Success
Customer Pays for the Product and Starts Using it
Day 1: Thank You email with link to a Video explaining initial setup
Day 3: Ideas & Tips to make the maximum use of the product
Day 5: Videos, articles and manuals on how to use each feature of the product
(And so on…)
3. Customer Retention
Day 7: Proactively ask for feedback and problems faced by the customer via email
Day 9: Phone call to make sure that the customer is happy
4. Up-sell & Cross-sell
Day 11: Introduction to premium products
Day 13: Case-study & customer success stories about premium products

(And so on…)
The above is just a simple example of how a drip marketing campaign can be configured. The drip campaigns should be customized based on the specific needs of each business and its customers.
Lead Nurturing With Drip Marketing
Drip marketing for lead nurturing works very well because prospective customers (leads) will not be ready to learn all the information as soon as they come in contact with a company's products and services. They will not have the time nor the patience to do so. They have their full time jobs, family responsibilities and other things to manage.
If you think from your customer's shoes you will understand that they are not going to jump with excitement as soon as they discover your products and services.
"Today's potential buyers don't become customers overnight – they require marketing over time as they self-educate and build trust with a company. Lead nurturing helps marketers communicate consistently with buyers […] throughout the sales cycle." – Marketo.com
To make an informed buying decision, they need more information. They need several days to make a buying decision and they are going to 'sleep over it'. They will buy when they have enough information to understand if the product can solve their problems.
Lead Generation, Cold Leads & Warm Leads
A web visitor becomes a Lead when he has shown an intention to buy your products or services. This expression of intent to buy can be done in different ways.
A visitor becomes a Lead when he does one of the following:
Register for a free trial, product demo or a webinar
Fill a form with name, email ID and/or phone number
Call your business phone number or
Send an email enquiry about your offer
The contact information of a potential customer is a 'lead' for a marketer or sales man. Potential customers give an explicit permission to be contacted by doing one of the above actions.
It is called a 'lead' because this contact information of a potential buyer can 'culminate or result in a conversion – a sale!'
At this stage, the potential buyer is only a Cold Lead. If you are good at lead generation but not at lead nurturing, you are going to attract a lot of leads – but sales will not happen.
"50% of leads are qualified but
not ready to buy
." – Gleanster Research
You have to nurture cold leads with constant communication. The communication should contain the information that will help them make a buying decision.
When a cold lead learns enough about the product and its benefits, she is ready to make a purchase. She becomes a Warm Lead. When lead nurturing is done well, many Warm Leads make a purchase even without the need to speak to a sales person.
Without proper lead nurturing, you will not stay in the top the prospect's mind. The lead will never make the purchase from you or will purchase from your competition who have nurtured her better. Improper nurturing or lack of lead nurturing can lead to many lost sales.
"79% of marketing leads never convert into sales.
Lack of lead nurturing
is the common cause of this poor performance."  – MarketingSherpa
Drip marketing is the best way to convert cold leads into warm leads. Once the lead is warm, a sales person will find it very easy to close them. This reduces the overall sales cost of the company because more leads convert into sales, faster.
Also, since the Lead -> Sale conversion % is higher, the marketing team can spend a higher budget on lead acquisition without worrying about bumping up the CAC (Customer Acquisition Cost).
"Companies that excel at lead nurturing generate 50% more sales ready leads at 33% lower cost." – Forrester Research
Drip marketing is best suited for products or services where the product price is high. It also works well in the cases where the prospect is uninformed about the benefits of the product or service.
Drip marketing works both for B2B and B2C categories of businesses. However, note that drip marketing is not needed and will not work for some consumer goods and general commodities.
Drip 'Email' Marketing
Drip email marketing is the most common form of drip marketing that is in use today. Drip email marketing is widely used because it completely automates the drip marketing process at a very low cost.
Once setup, no human intervention is needed. Drip emails designed for the purpose of lead nurturing perform better than other types of emails.
"Lead nurturing emails get
4-10 times the response rate
compared to standalone email blasts." – SilverPop, An IBM Company
If you visit Instamojo.com and sign up for a seller or merchant account, you will receive one email every two days for next 2-3 weeks. Each email is 300-500 words long and explains the features and benefits of Instamojo.com. This drip mail marketing campaign was setup by yours truly.
Drip email sequence also acts as an automated inside sales machine and does the job of a human sales person calling up the customer and explaining the features and benefits on the product. Such information sent through several weeks will help customers learn more about the product and will eventually help them use the product more.
Drip Marketing helps convert more leads into sales and helps retain more customers at lower costs – thus having a direct impact on the overall revenue of the company.
In the case of early stage startups, the presence or absence of a proper drip marketing & lead nurturing system can make or break the company.
Drip Email Software & Services
There are several services through which you can setup drip email campaigns. There are also softwares that you can upload in your own server and run drip campaigns. Non-hosted subscription based email services (mentioned below) have a higher rate of deliverability.
I recommend the following services for setting up simple drip mail campaigns.
Aweber.com
MailChimp.com
Madmimi.com (Click to read my review)
GetResponse.com
Mailchimp.com and Madmimi.com allow you to store up to 2,000 contacts for free. However you will be able to send only broadcast emails with the free account. To create follow-up sequences or drip campaigns, you have to sign up for a paid account.
Drips with Aweber.com
Different email services call drip campaigns with different names, but the idea is the same. For example, I use Aweber.com to nurture my leads for a specific business project. Aweber calls drip campaigns as follow-up series.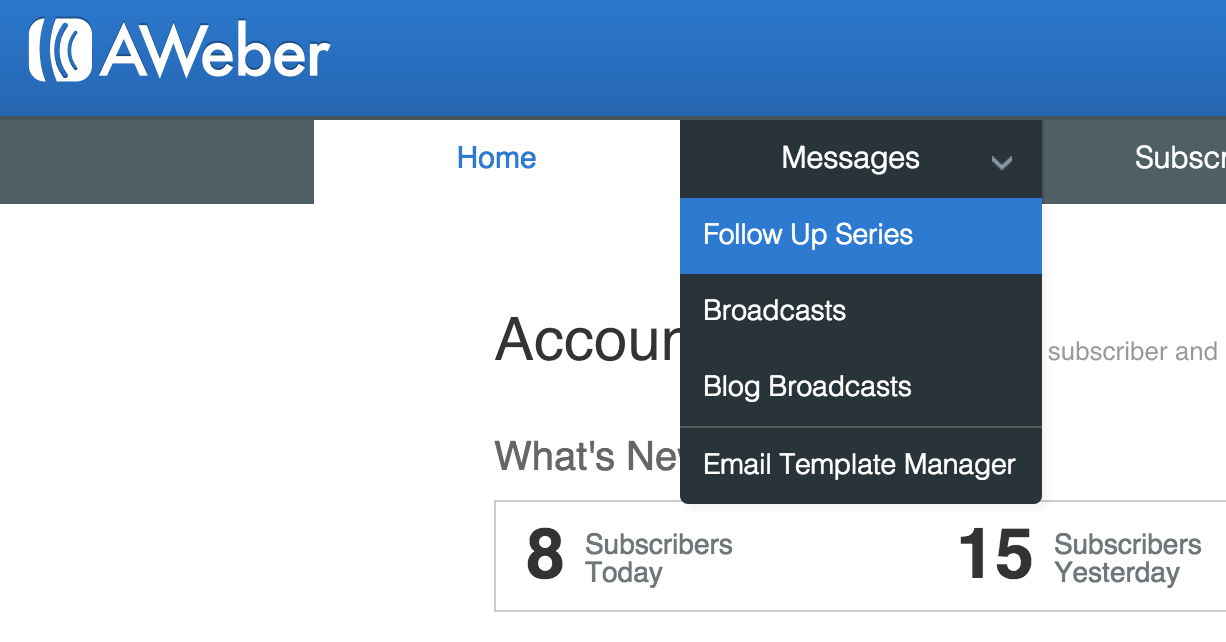 I have 10 emails in the follow up series. Each email goes after 2 days from the previous email. This engages the leads for nearly 3 weeks which is my typical sales cycle for the product that I sell. You can have a look at the follow up series that I have setup in the following screenshot.
I have blurred out a few areas to protect my niche! But you can see the kind of content I have in this drip mail sequence. Have a look at the open rates for each email. Even the 5th mail that goes out on the 10th day gets an impressive 39.9% open rate.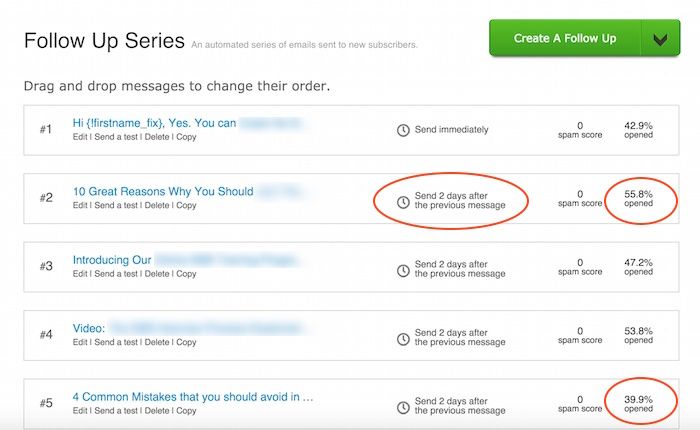 Throughout the drip sequence, the leads are thinking about buying my product. If they decide not to buy my stuff, they will unsubscribe. When they buy my stuff, they are added to another email list and they are automatically removed from the prospect's list. (More about automation in the next section).
Every person in the prospect's list is a potential buyer – else they wouldn't be in the list. Paying customers who move to the Buyer's list get information about how to make the maximum use of my product. They do not remain in the prospect's list anymore and they will not receive anymore emails asking them to buy!
Madmimi.com
Madmimi also has a good drip marketing system built in. The setup is a little different from Aweber.com and misses some features. Some people find Madmimi easier to use than other services. Read complete review of MadMimi here.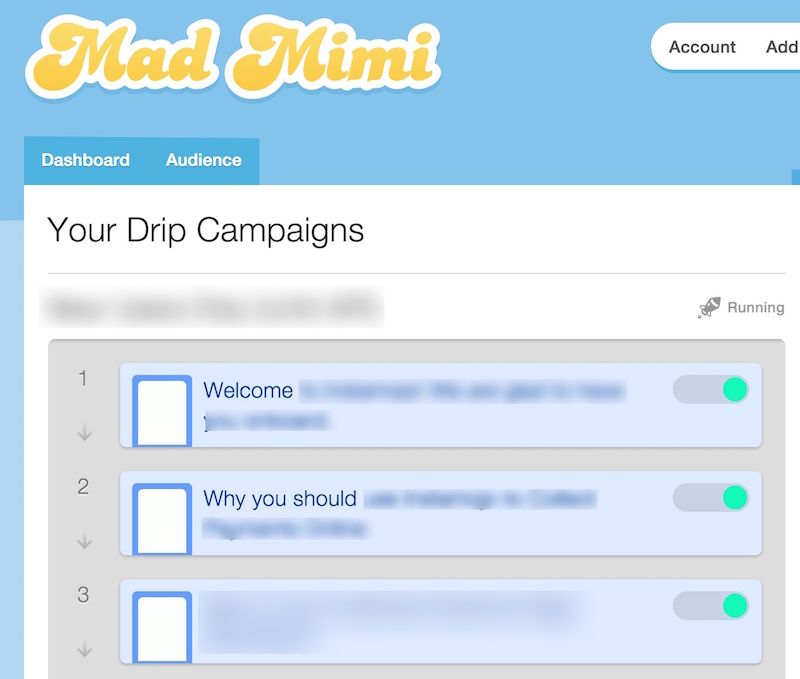 Madmimi will allow you to upload an email list. Many people upload email lists gathered from questionable sources and send email using Madmimi – leading to more spam complaints for their servers.
You cannot upload an email list with Aweber – you have to build a list from scratch using their service. Hence, I find that Aweber has a better deliverability rate than other providers.
Behavioural Emails
Behavioural emails are sent using triggers based on user behaviour. Emails can be sent when a customer takes a particular action on the website. Behavioural emails can be integrated into drip marketing campaigns.
For example, when you make your first transaction using your Instamojo account, you will get an email congratulating you and guiding you what to do next. Such behavioural emails have 4-5 times the open rate of normal emails. This is the beginning of machine based relationship building between brands and users.
By 2020, customers will manage 85% of their relationship without talking to a human. – Gartner Research
You can also segment users into different lists based on their behaviour. For example, prospects can be in a separate drip campaign where the purpose of each follow up email is to convert them into a paying customer. Once they make a payment and become a customer, they can be removed from the prospects list and added to the customers list which is linked to another drip campaign.
Such list automation rules are available in Aweber.com. When someone subscribes to one of your lists, they're automatically unsubscribed from another list.

Towards the end of 2013, MailChimp.com launched behaviour based email functionality. You can learn more from this blog post on MailChimp.com : Send Targeted Emails Based on Website Activity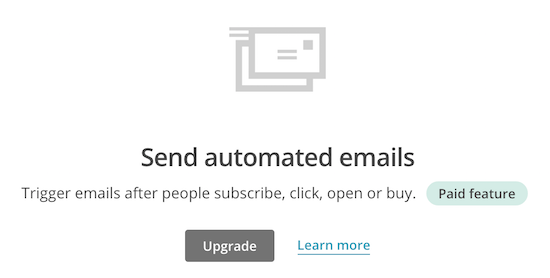 If your email platform does not have goals functionality, you can create a separate drip campaign for a particular user behaviour and have just one email in that campaign. All you have to do is add the user to that email list or drip campaign when the user has executed the behaviour in question.
Here's a very good example of emails being sent at the right time and at the right context. Exactly after a few hours of my Nikon DSLR camera delivery from Amazon.com, I get the following email from Amazon! I was aware of the fact that Amazon is tracking my purchasing behaviour, but its OK. I trust Amazon and such timely emails are useful for me. I ended up buying one of these bags!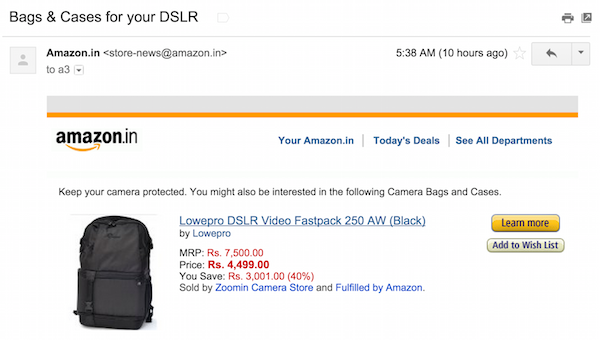 Almost all email marketing service providers have automation facilities in their offering. Covering all of them is beyond the scope of this article. Some email services are best suited for certain types of businesses and their needs.
For example, I have found out that Aweber.com is really good for people in the education & training business. MailChimp & Madmimi works well for SaaS businesses.
You may think that targeting user's behaviour and sending emails will be too intrusive and may invade their privacy. Though a small percentage of users do think that way, the overwhelming majority of the users find such emails helpful and appreciate timely communication from the company that they are dealing with.
Drip Marketing Beyond Email
Drip marketing need not be restricted to email. Drip marketing methods originated even before the internet and many pre-internet marketers and sales people have used drip marketing to convert prospects into customers.
Drip Email Marketing is widely used because it helps automate drip campaigns and runs at a very low cost. The effectiveness of an email only drip campaign has its limitations.
For a drip campaign to be really impactful, you should add phone calls and physical marketing collaterals to the campaign.
"Drip marketing is a plan for communicating information about a company through a steady stream of marketing messages, including emails, social media posts, postcards,
phone calls
,
brochures
, and
printed newsletters
." – Marketing Schools Org.
The only challenge with adding phone calls to the drip campaign, is that it has to be done manually. When executed properly, it will work wonders in converting leads into paying customers.
Conclusion
I hope this article gave you a good idea about drip campaigns. Once you implement it and see the results, you will get addicted to drip marketing.
I have been focused on setting up drip campaigns for all my projects and for my clients' businesses. Many people will ignore drip marketing because we need instant gratification like all things in life.
It takes from a few weeks to a few months to realise higher conversions and user engagement from a properly designed drip campaign.
Any questions? Leave a comment.