How to Sell Real Estate with Performance Based Digital Marketing Campaigns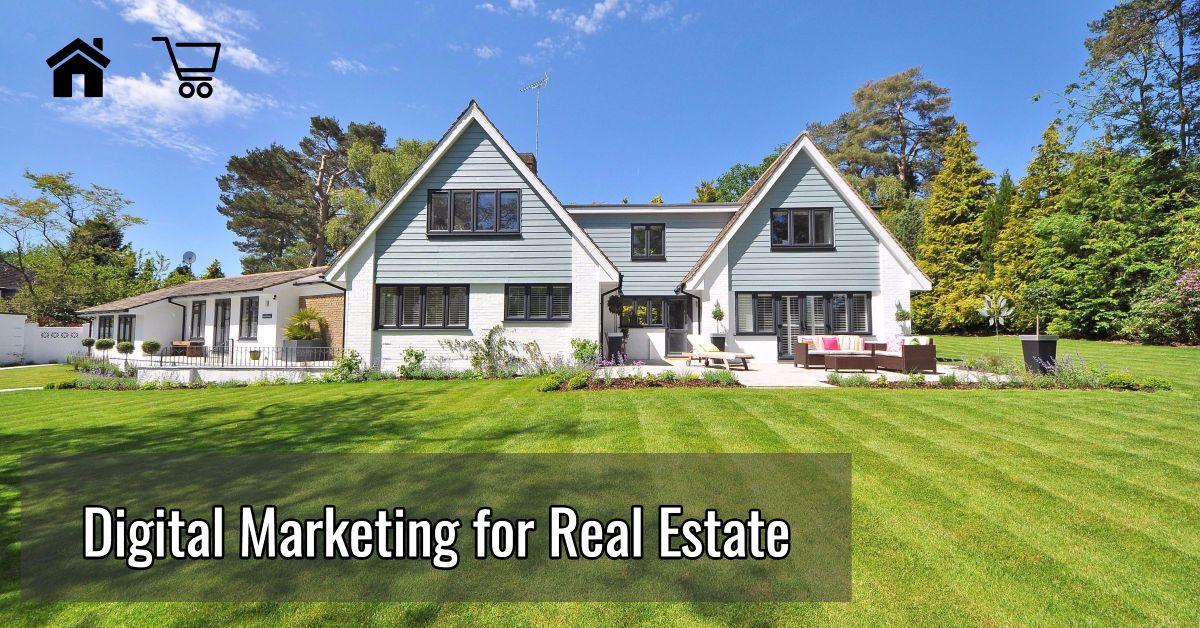 I guess you remember that a few weeks back, I had announced the launch of my digital marketing agency called PixelTrack. I had two things in mind when I wanted to start the agency. One, to provide services to clients and make revenue. Two, to use this digital marketing experience to write blog posts and add more unique content to my courses.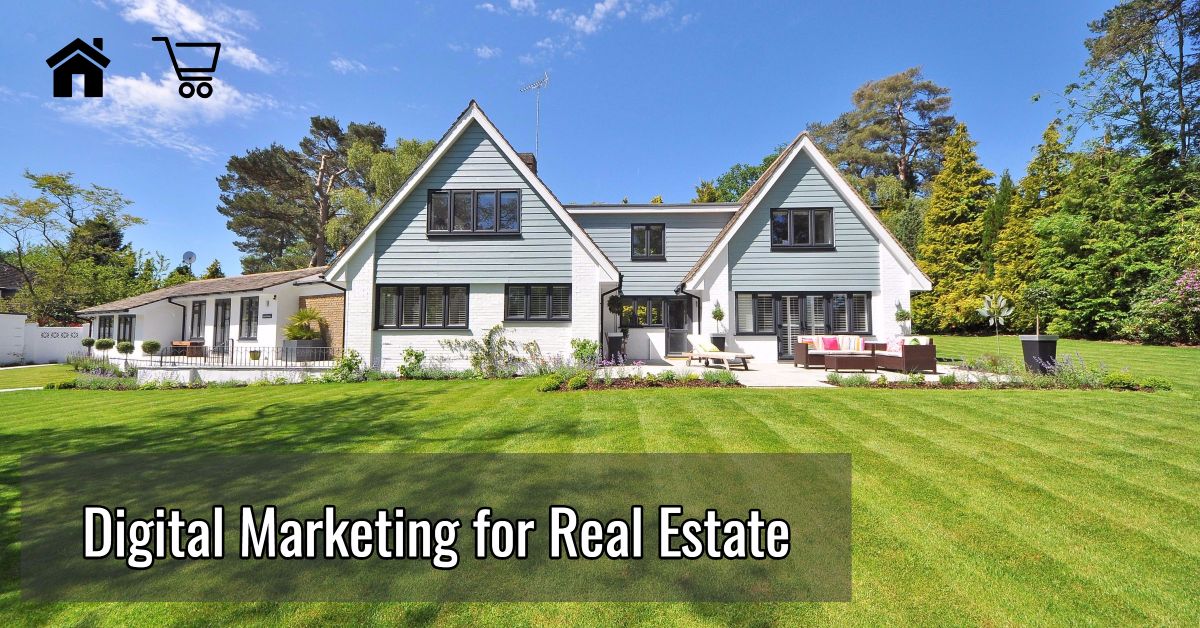 I cannot keep teaching digital marketing without actually practicing digital marketing. Previously, I've worked as a digital marketing manager with leading startups such as Practo, Exotel, Instamojo and Razorpay. I had real experience. That's what made me good with my blog and my digital marketing courses.
Now that I have become a full time entrepreneur focusing on training, I need to keep my axe sharp with digital marketing implementation and experience! Else, I will not be the best in the market.
Real Estate Companies Need Digital Marketing
In the past few weeks we've got the company setup and start looking for clients who would sign up for our services. We've got a good response from Real Estate clients.
Traditional marketing and advertising have started failing them. There are too many competitors, too many ads and people are distracted with a bombardment of promotional messages.
"You cannot cut through the clutter, by adding more to the clutter."
What we need now is Performance based Digital Marketing Campaigns. Until now, there has not been a proper marketing and sales funnel for many real estate companies.
When the real estate market was booming, everyone was able to sell their properties like hot cakes. But after de-monetisation and over-supply scenario hitting all Tier 1 cities in India, builders are finding it difficult to sell their inventory. This means that they have to marketing their properties aggressively to sell.
Since the market demand was high, they used to get good sales even without having a proper sales funnel. People used to "invest" in houses even if they already had one primary home to live in. They would take loans and invest in more properties for passive income.
However, that scenario has changed now. Due to high costs, slow down of the economy in India, buyers are no longer in a mood to buy as soon as they discover that a property is for sale.
Without a proper funnel and carefully driving down people into the funnel, sales are just not going to happen as it used to.
Your Opportunity: Real estate is a big market and if you are planning to start an agency. Getting a few real estate clients should be definitely in your priority. There is big money in real estate because a home is the single largest purchase an individual will do in his/her lifetime.
These real estate companies are looking for digital marketing agencies to help them with their marketing. They are not ready to hire a full time digital marketer and create a digital marketing team within their organization. Because they do not understand digital marketing and they cannot manage the team.
Also, most real estate companies are not big enough to have their own digital marketing team. This is a great opportunity for consultants and digital marketing agencies.
Traditional Marketing Scenario Until Now
Before we dive into digital marketing, let us look at what has been going on in the market until now. And let's look at the downsides of traditional marketing to understand why digital marketing is better.
Large builders and construction companies are 10-20 years old. This means that they have been advertising on traditional mediums long before the birth of Internet or Social Media. Though the internet was invented long back, as early as 2007, only 3% of India had access to the Internet. In 10 years, the internet access is available to 30% of the Indian population.
Traditional marketing is mostly done on TV, Radio, Magazines or Newspaper. Sometimes you can also include hoardings on walls, roads and back of public transport as part of traditional marketing.
People are spending more time on their mobiles phones and desktops than TV, Newspaper etc. The consumer behaviour has changed. But the traditional marketing is still being done in the same fashion by most of the companies and they have not shifted to advertising on the digital mediums.
With traditional marketing, there was no reliable or easy way to track the performance of the ad campaigns across various channels. Most of the people who advertised on TV, Radio, Newspaper and Magazines, gave the same contact number across all ad campaigns and they used to get a lot of interest for what they were selling.
All they knew was – invest X amount in advertising and you will end up having enough people interested in your products. And this ad cost was not too much for them compared to the revenue they were making.
But that kind of "put the money out" and see what happens strategy is not going to work anymore in a competitive world, where everyone is trying to do the same thing. (That's why we named our agency as Pixel Track. We track the performance of every marketing campaign using pixels!)
"Traditional" Digital Marketing
The true power of digital marketing lies in tracking the performance of the campaigns. The possibility of attribution is what makes digital marketing powerful.
[Definition of Attribution – the action of regarding something as being caused by a person or thing.]
If a customer is buying a home for ₹65,00,000 ($100,000 approx) we can track it back to a single click on an ad campaign, which led to a landing page form completion, which led to a site visit and a real sale.
If we can understand that clients coming from certain sources have a higher chance of converting, we can focus more on that channel and stop advertising on channels which bring in poor quality leads. This is not a luxury but a necessity.
Proper first click attribution is a must for scaling the campaigns on digital mediums. First click attribution means finding out – when, where and how did the prospect click (or engaged) with our digital properties for the first time?
Most of the ad agencies who these clients used to work with, started a 'digital marketing' wing within their company and they started doing digital marketing for their clients. Most of the digital marketing agencies do not utilize this tracking power of digital marketing.
They are doing more of, what I would call, "traditional" digital marketing. They are advertising on digital mediums – with the same mindset of traditional marketing. Newspaper ads became banner ads online, TV ads became YouTube pre-roll ads and brochures became web pages – like online brochures.
The focus was not (and is not) on the marketing and sales funnel for most of these digital marketing agencies. They do not focus on lead generation, lead nurturing, optimizing the funnel and taking the lead to closure.
Many large clients are now frustrated that both traditional marketing and "digital marketing" is not working. Because they tried digital marketing and it didn't work. Of course the "traditional" digital marketing won't work if you do not take a performance based approach.
Now let's have a look at how a performance based digital marketing campaign looks like.
Performance Based Digital Marketing
I'm working with a few prospective real estate clients and I've developed a digital marketing campaign plan from scratch for them. Instead of doing advertising the traditional way, I've taken a completely performance and funnel based approach to the whole campaign.
There are two parts to this process. The first part is the business funnel itself. Many companies haven't got the business funnel right. A huge majority of the businesses in the world are still creating products first and then finding customers for it.
"Find products for your customers, not customers for your products."
First, let's have a look at the business funnel and why it is important to get your target audience right even before you create the product.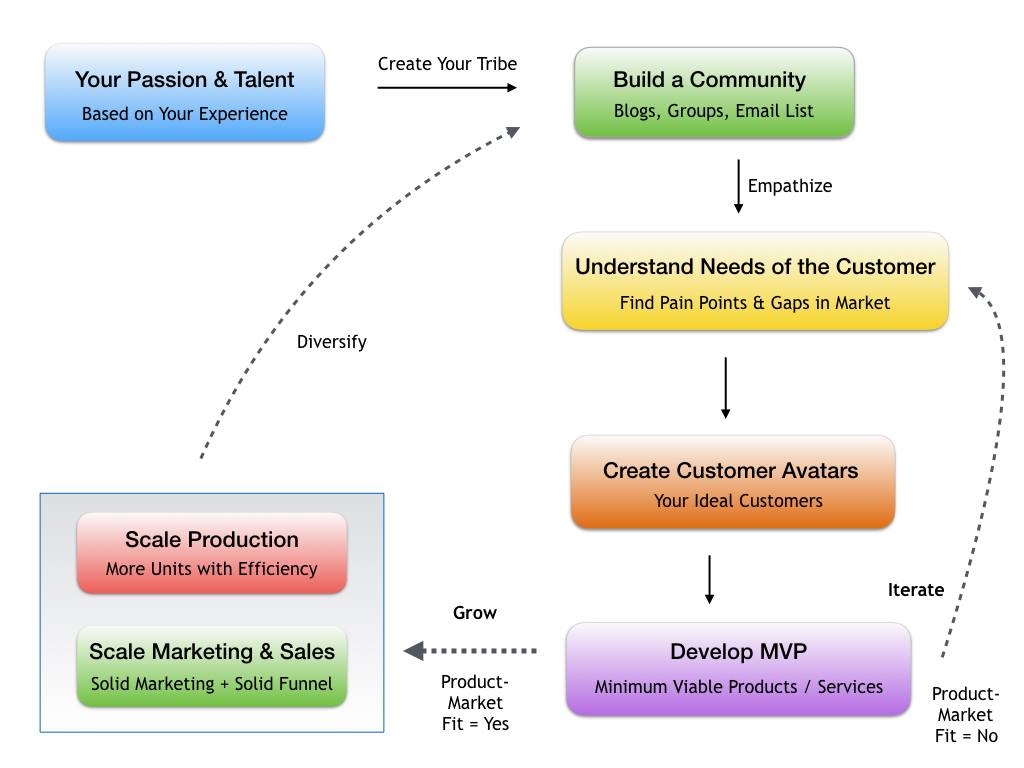 Marketing is a small but important part of a business. Building a business system is like building a car. You set all the parts in place but marketing is the fuel that will make the car run. Without fuel, the car is not going to move forward and all the parts are not going to be utilized. At the same time, if you have fuel, but don't have a functional car, the fuel cannot serve any purpose.
Once you get the business funnel right, you can jump into creating and optimizing the marketing funnel. By the time you are done building the business funnel, you already know who your target audience is and your customer avatars are finalized. So by the time you get started with marketing, you know who to market it to.
In my experience, you have the following type of target customers for real estate:
People who want to buy houses purely as an investment (their need is high rental yield)
People who want to buy a house now, rent it out and later settle down in the home (their focus is partly on rental yield, a little bit of tax saving and partly on how much they like the house because they will have to live in that house later.)
People who want to buy a house to move in immediately.
People who want to buy a home for their aged parents.
And all the above categories would range across different price points and size of the family.
Some clients do not have a clear target audience in mind, then we have to come up with one before creating the digital marketing campaign. As a marketer, once you have enough information about the product and the target audience, you can get started with the digital marketing campaign.
Here's how the campaign looks in a nut shell: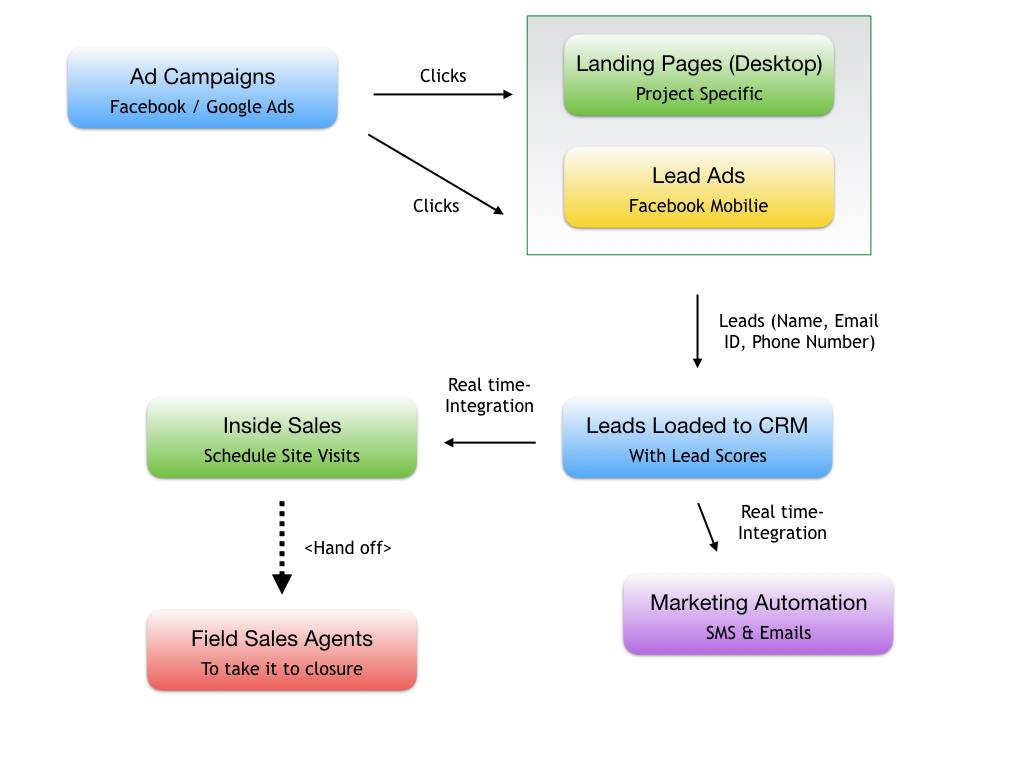 Let's discuss all the parts in the above flow chart one by one…
Step 1: Creating Ad Campaigns
When you create the ad campaign, all that matters is the ad copy. Sometimes the ad copy is just text and sometimes it is an image. Sometimes it is a video. Sometimes it is an experience. (For example, when a brand creates an event or an activity in a public gathering it is an experience).
Your ad copy has to appeal to your target audience. When you have a clear understanding of your audience's needs and aspirations, you will be able to come up with effective ad copies naturally. The ad has to get their attention, develop interest which would eventually lead to decision and action.
Targeting: Different Ad platforms have different types of targeting options. In Google, you target potential customers using keywords. In Facebook, you can target people using who they are (demographics). Either way, targeting becomes very easy when you know who your target customer is.
There are plenty of tools that will help you mine your target audience and we will not get into that now. The tools and techniques will keep changing but the underlying strategy (the flow charts above) never changes.
[If you want to master Facebook and Google Ads, check out my courses: Google AdWords Mastery & Facebook Ads Mastery]
Step 2: Capturing the Lead
If you have been into marketing for a while you would have heard about AIDA. It stands for Attention, Interest, Desire and Action. If the ad in the ad campaign above captures the attention of people, they express Interest by becoming a lead. A lead is called a lead because it leads to a sale!
Usually, a person's contact information who is interested in your products or services is a Lead. A Lead might have name and email ID and sometimes this includes a phone number as well. Other types of subscriptions such as push notification subscription or social media following are not considered as leads because they are not real contact information and there is no way to reach them with guarantee that they will see the communication.
Leads a usually captured using Landing pages. In mobile, landing pages still work but a Facebook lead ad is more efficient for digital marketers like us.
Step 3: Engagement & Persuasion
As soon as the lead is generated, we have to engage them. This process is called Lead nurturing. A lead is looking for more information on a product or service. In this communication, we also increase the Desire for the product by showing customer testimonials and what the product can do for them.
Immediately after they become a Lead, they are expecting an email from you. Here's where automation helps. If you become my lead by signing up for my free digital marketing course, I send you an email almost immediately from my CRM.
In big ticket items like houses and cars, a Lead is expecting a call back when they share their phone number, apart from the details that you send on email – because one cannot buy a house or a car without getting in touch with an actual sales person.
a) Customer Education through Marketing Automation
There are two major parts in converting a prospect into a customer. The first part is to give enough information about the product and educate the customer. This cannot be done in a single day, and that's why we have tools like Drip Marketing where the communication is sent over a period of time.
The second part of converting a prospect into a customer is Persuasion. Leads become warm through marketing automation and lead nurturing… but sometimes they are sitting on the fence about buying your product. They need to be persuaded to buy your product.
When I do product launches, the cost of my products is in the range of ₹2,000 to ₹5,000. Here I do not sell via phone using sales agents because I have too many leads and I cannot make 1000s of calls.
I do persuasion via email and online channels only. When I sell courses for ₹20,000 or more, I will also start using Inside Sales. I will also be scoring the leads to find out which leads are the best ones to go after with a phone call.
When you have big ticket items like houses and cars, there is a sales person involved who can answer the questions of the customer and also persuade them to buy.
b) Persuasion through Inside Sales
The process of calling a prospect and trying to convert them into a customer is called inside sales. The name originated because you are sitting inside the office and making the call (without visiting the person). Marketing automation is scalable but inside sales is not – because we have limited human bandwidth.
I use inside sales for engaging and persuading the leads who could become clients of my digital marketing agency. Real estate clients do inside sales. There are many tools that help with inside sales.
Usually marketing automation works in sync with inside sales and many times, there is some data shared between inside sales and marketing automation. For example, an inside sales person calling a prospect needs to know if they have opened the email, watched a video or downloaded a presentation.
My favorite Inside Sales CRM is PipeDrive. A complete, in-depth tutorial on how to use PipeDrive & the inside sales process is a blog post for another day. But I encourage you to check it out. Some big real estate clients use SalesForce, but PipeDrive is more than enough for a small business. It helps to keep track of the leads in different stages of the sales funnel.
Step 4: Field Sales
Field sales (or Feet-on-street sales as it is sometimes called) is the process of visiting your prospect in person and then closing the sale.
Examples of field sales include:
A real estate sales man showing the house in person to prospects
A car sales man giving a test ride of a car
Me, my co-founder or a sales person from my team meeting a client for my digital marketing agency.
Low priced products such a commodities need only branding and advertising. Products like my courses needs some marketing automation and sales automation. Bigger ticket items need inside sales. Very big ticket items like homes, cars and B2B sales need field sales.
The higher the cost and complexity of the product, higher is the engagement required to take a person from prospect stage to a customer stage.
This graph makes it very clear. Check out the marketing/sales balance needed for Enterprise, B2B and B2C businesses. A 1 rupee chocolate would fit at the extreme right end of the chart and a SpaceX deal with NASA will fit at the extreme left end.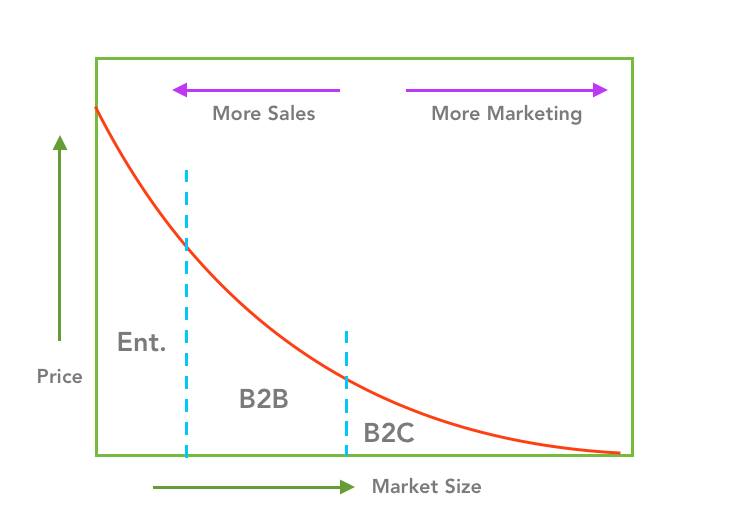 In the case of real estate, field sales is a must. No one is going to buy a home online with a click of a button (though some builders have tried opening up online bookings of new projects, the closure cannot happen without a field sales agent).
Some builders are not aware about this funnel. They have sales people but they do cold calling and try to convert random people into home buyers – which is very inefficient. Sometimes, educating a real state client about this sales process is also very important (or just ask them to read this article!).
Attribution
When you get leads into the CRM, you have to tag them with the source of the lead. It could be from brand search, a blog post, Facebook Ad Campaign or a Google Ad Campaign. When the actual sale happens it is updated on the CRM and we have to check the source of the lead.
As I said before in the beginning of the article, attributing the source with the sale is very important to find out where our customers are coming from. That's the only way to optimize the ad campaigns. Because if there are certain campaigns which is costing more but also giving more customers, we should focus more on that.
Sometimes, certain ad campaigns from certain sources might give you leads for very cheap but there is a chance that these leads are not converting at all. Unless you have an attribution model in place to find it out, it is going to be impossible to be a super digital marketer.
Conclusion
I hope this article gave you insights about how to execute a performance based digital marketing campaign for a real estate client. But you would have also learned about the fundamentals of the marketing and sales funnel. With a little bit of tweak, you can use the same model in any consumer or B2B business!
Any questions? Leave a comment below!
Cheers,
Deepak K.
P.S. Look forward to my future articles on inside sales, CRMs and more!