What are Landing Pages?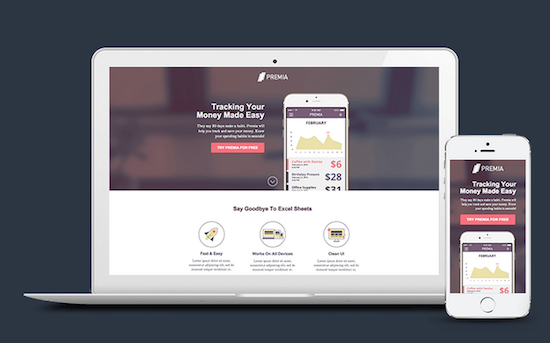 What are Landing Pages? There are some confusing definitions around the web, so I decided to write this short post explaining what Landing Pages really are. In this post, you will also learn about some of the top landing page building tools in the market.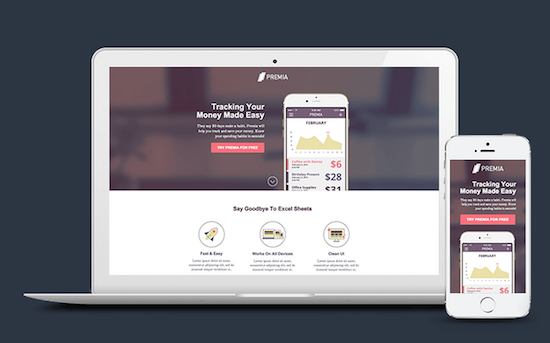 Landing page – as the name suggests, is a web page that the user lands on. It is different than a website, a blog or an article because landing pages are mostly linked to from other places and is almost never the home page of a website.
Landing pages have one major difference from other types of web pages – landing pages have a very simple and unique action oriented goal.
When you look at the home page of a website – there are too many links and there are different actions the user can take on the page.
Home pages of websites are not designed to make the user take a single specific action. Many corporate websites are more like a brochure with a focus on one way communication.
Blogs (like this one) are designed to give information on various topics. Blogs also have different links and there are different pathways an internet user can travel through online.
Landing Pages Have Only One Goal
A sales landing page's goal is to make the user click on the order button. A lead capture landing page is designed to make the user leave their name and contact information on the page.
Here's how the layout of a landing page focused on capturing leads would look like: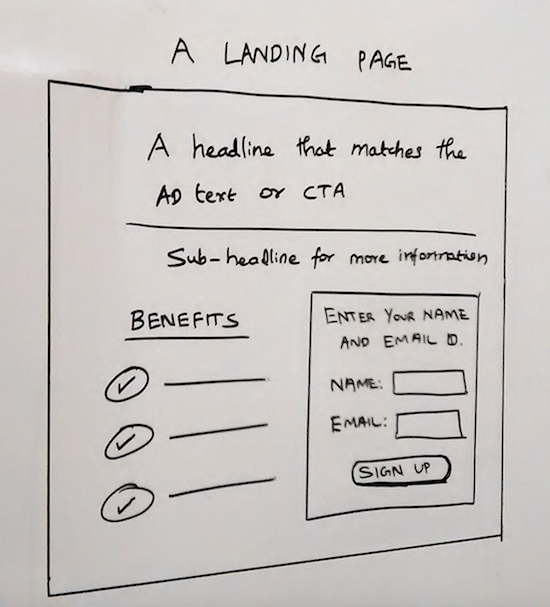 Landing pages are usually effective when traffic is driven from from advertisements or specific areas of a website or blog.
Here are some examples of landing pages focused on lead generation:
The ad or the text that comes before the landing pages usually matches the text on the landing page so that the users have a consistent experience.
For example, if I am selling an online digital marketing training course, I can ask you to click on a link and it would lead to the landing page which has information about the course and most importantly – let's you sign up for the course on the same page.
Landing pages are oriented towards a specific action that the internet user can take. Most of the other pages of websites and blogs are oriented towards information and one-way communication.
Landing pages usually do not have any navigation bar or any links that could distract the visitor from taking the specific action on the landing page.
Top 5 Tools for Building Landing Pages
Usually landing pages were built directly using HTML before people started building tools for creating beautiful landing pages. Earlier, landing pages used to be very simple with just text and some images on the page. I have built landing pages using HTML editors like Adobe DreamWeaver long back.
Nowadays landing pages have become more beautiful and a lot of tools have come up in the market which will help you building landing pages without design or coding skills.
These tools also provide you with analytics and A/B split testing features for conversion optimization.
Here are some of my favourite tools:
1. Unbounce.com

Unbounce.com is a market leader when it comes to high performance beautiful landing pages. They have a ton of templates inbuilt.
But the downside is that it is not a one-time cost. Unbounce.com is a SaaS product and you have to pay a monthly subscription fee to use their landing page builder. The plan starts at $49 a month for 5,000 visitors – and that's not cheap.
They have a 30 day free trial and you can try them out in the trial period. If you think it makes sense for you, go ahead. I have seen many people use Unbounce.com consistently for all their landing pages.
Unbounce has a lot of integration options available which will help you export the leads generated on the landing pages directly to email marketing tools such as Aweber, MailChimp or MadMimi. If you use tools like Zapier.com, you can also import the data into CRM tools such as PipeDrive.com
2. Instapage.com

Instapage.com competes directly with Unbounce.com. Instapage has 80+ templates and their landing page builder is almost similar to Unbounce.
Instapage comes at a cheaper price point where the basic plan starts at $29 a month for 5,000 visitors a month. The also have a free account with a limit of 100 visitors a month. That's very low of practically using the tool but you can use it to play around and learn how Instapage works.
Instapage also has integrations available with more than 20 tools which provide Email Marketing, CRM, Marketing Automation, Webinar and Analytics.
3. OptimizePress
If you are looking for a landing page builder which just costs once and allows unlimited number of visitors, then OptimizePress should be your choice. The basic package costs $97 and you can install the theme on your own WordPress blog.
The only problem is that you cannot have another blog on this installation. OptimizePress is not a plugin, it is a theme. So it is better to install a separate instance of WordPress on a sub-domain or a sub-folder and then install OptimizePress on it. I use OptimizePress on DigitalDeepak.net
4. LeadPages

LeadPages, just like Unbounce and Instapage is a monthly subscription tool. However, LeadPages doesn't have any limitations on the number of visitors you can drive to your landing pages.
Their basic plan starts at $37 a month and it has most of the features that a digital marketer would need. They also have some interesting tools such as LeadBoxes which helps you capture more leads.
LeadBoxes are 2-step optin boxes which appear as soon as someone clicks on a link. Such optin boxes are known to increase your visitor to lead conversion ratios. To learn more about LeadBoxes, click here to watch a demo at LeadPages.net.
5. Thrive Landing Pages

At Thrive Themes they sell WordPress themes, Thrive Leads a lead capture tool and Thrive Landing Pages, the landing page builder. Their software works as a WordPress plugin and it is an one time fee that you have to pay.
Thrive's solution is the cheapest of the bunch at just $59 one time fee. They also give you lifetime free updates for their software. I am yet to test Thrive landing pages and as soon as I experiment with it, I will publish a review of it.
Conclusion
I hope this post helped you learn about landing pages and also how to build them.
However, this article is not a comprehensive article about the landing page tools available in the market. I will be reviewing landing page tools one by one and also will post a comparison of the top landing page building tools in the market. Stay tuned!
Any questions? Leave a comment below.