Top 21 Affiliate Marketing Tools for Super Affiliates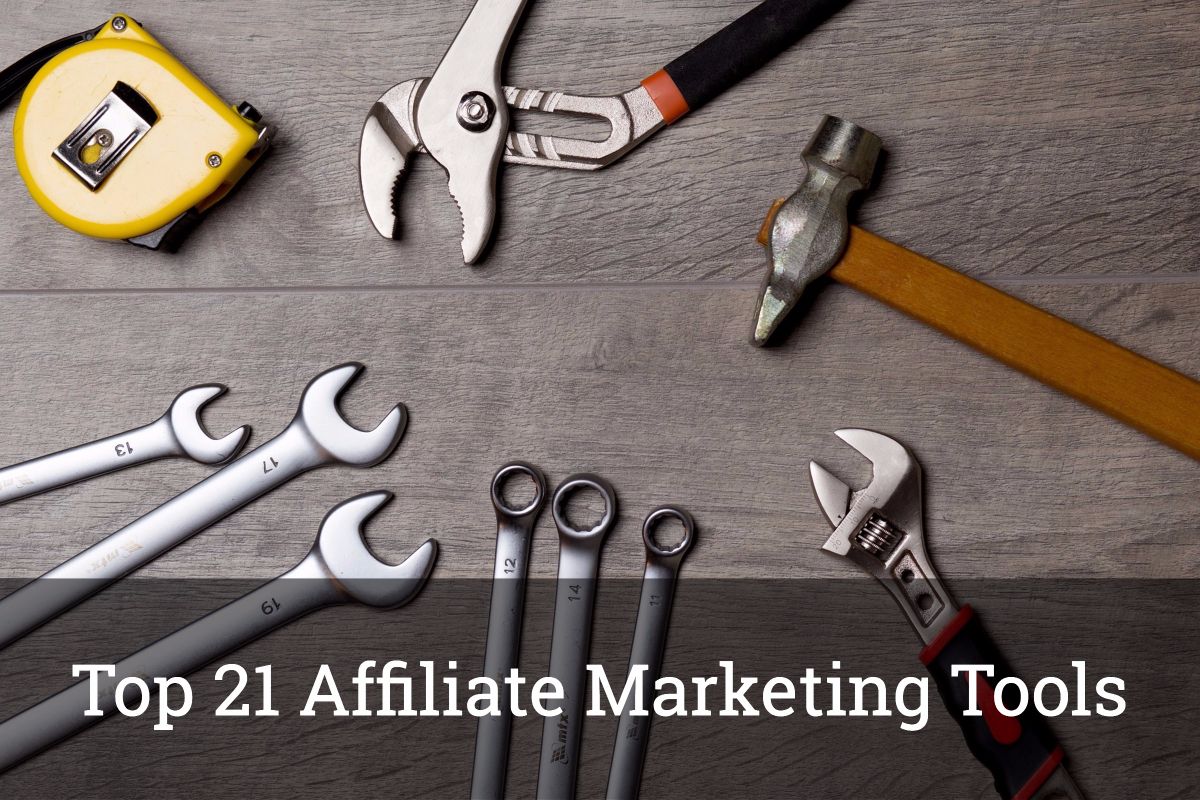 An affiliate marketer has to wear multiple hats every day. To run his business he might need to be a good accountant, content marketer, SEO professional, product manager, social media marketer and conversion rate optimizer. The pressure of multi-tasking and the need to be both productive and creative makes the life of an affiliate marketer very challenging.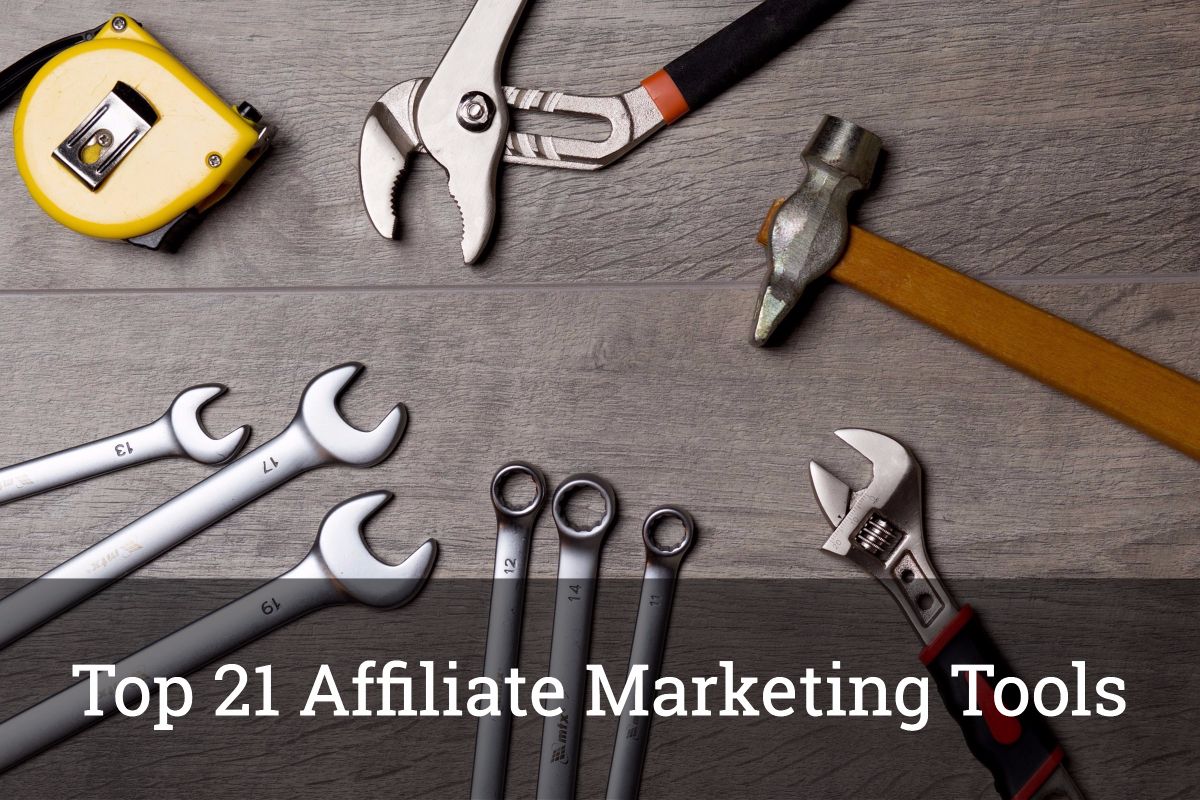 The best way to bust this monster is by getting the right tools in your arsenal. Getting the right tools has its own share of benefits.
If you have a day job and want to build an affiliate business on the side you might have to press for time. Affiliate Marketing tools will hack your productivity and take hours of your daily work hours.
Affiliate Marketing tools will also uncover opportunities which you can't find otherwise. Affiliate marketing is all about finding opportunities which others can't find and becoming great in that niche.
Many of these Affiliate Marketing tools are free. So if you are apprehensive or skeptical about investing in affiliate marketing then you have nothing to worry.
We have made a compilation of most important tools which can help you through research, optimization, management, and content. This list is comprehensive and you might want to visit repeatedly so bookmark this post for future reference.
Find Profitable Niches
Finding untapped profitable niches is a full-time job of a super affiliate. That is how they rake in thousands of dollars every month. The tools listed below help you unpack high-value niches within few minutes of research. These tools are very powerful and will pay for your money multifold.
1. Long Tail Pro
Long Tail Pro is the most sort after affiliate marketers who build niche websites. Long Tail Pro helps you with exactly this.
The features I have found the most useful are:
Keyword Difficulty – Long Tail Pro not just unpacks profitable niches it also gives you a score on how easy or difficult it would be for you to rank for the particular keyword.
Rank Value – The tool assigns a value to each keyword based on how profitable it might be whether you are starting an affiliate site or an Adsense site.
Pulls Adwords Data – Long Tail Pro fills in real AdWords data adding more integrity and value to the keyword research process.
2. AmaSuite
If you are using Amazon to make money as an affiliate them AmaSuite will be your holy grail. This powerful tool will analyze top selling products on Amazon in under 67,000 sub categories including US and UK market.
Within few clicks, you can find the top selling products, its reviews, ranking, price, ratings, and bunch of other factors. Once you find the profitability of a keyword or product and likelihood of a purchase then you can start promoting it on your website.
Content Marketing
Great affiliate marketers are great content marketers. If you want your brand to reach a large audience on social media and get traction with search engines then producing high-quality content is important. Content attracts links and builds trust both of which are a critical aspect to increase your affiliate revenue.
3. WordPress
WordPress is the champion CMS for most bloggers and affiliate marketers. Affiliate marketing is itself a challenging task. To prevent more hassles we have to host our content or have a home base on a platform which is easily scalable in terms of traffic and features. By leveraging its powerful set of plugins you can start and scale your business without any technical help.
4. Grammarly
Writing clearly with impeccable grammar builds trust in your audience. If you are selling an affiliate product people trust your content only if it is written professionally. Grammarly helps you do this with ease. If you are writing on the web(which we all do) then Grammarly is a must. Grammarly is a tool which has a high level of command and understanding of grammar and spelling. Add this free plugin to chrome and you can breeze through your content production without the pain of digging through the dictionary for the right usage and spellings. Grammarly picks up grammar flaws which platforms like Gmail and WordPress fail to find. Grammarly is free and has a pricing plan if you want advanced features like vocabulary enhancements and plagiarism detector.
Add this free plugin to chrome and you can breeze through your content production without the pain of digging through the dictionary for the right usage and spellings. Grammarly picks up grammar flaws which platforms like Gmail and WordPress fail to find. Grammarly is free and has a pricing plan if you want advanced features like vocabulary enhancements and plagiarism detector.
5. Copyscape
Copyscape is a plagiarism checker. If you are working with content writers on your affiliate marketing project it is important to check it for duplication before adding it to your site. Google only favors content which is original so this check is important. Copyscape has a cheap premium version you can use to check the content written for duplication.
6. Canva
Canva is a tool for bloggers and affiliate marketers to make high-quality graphics with minimal effort. Using Canva you can create graphics quickly for multiple digital channels like FaceBook, blog, infographics, YouTube, Email, Twitter and the like.
You can even search and use free and paid stock imagery to pep up your graphics further. Canva has a free plan which can do most of your work at zero cost without the pain and costs of working with a graphic designer.
7. Google Keyword Planner
Google Keyword Planner is Google Adwords tool which gives the keyword volume of the keywords. This is a great tool for every affiliate marketer even if you are not running any AdWords campaign. It also gives keyword suggestions and groups them into buckets so that you can get launch them as Ad groups in few steps. You can even enter a competitor domain name and get a list of keywords relevant to the niche. If you are looking to launch pages which have multiple keyword combinations you can use the keyword multiplier to quickly build a list of keywords.
8. CoSchedule Headline Analyzer
Headlines are how you sell content online. Great headlines get clicked and shared much often than the ordinary ones. As per KissMetrics, people scan the first three words of a headline and the last three words. If we don't the user attention even the best-composed affiliate article will not yield results. Magnetic Headlines are a work of art and practice.
Using Coschedule Headline Analyzer we can gauge how well our headline might perform. It reads the sentiment, commonality and emotional impact your headline might have on the reader and assigns a score. It gives tips to improve the impact of your headline by using more power words or use lesser words and characters.
9. Buzzsumo
Buzzsumo is a complete content marketing research and planning tool on the web. You can enter any keyword relevant to the niche and it shows the most popular posts by the number of shares and links it has acquired over a period of years. This gives you an idea on which topics you must focus on to get good exposure among your potential audience.
You can even connect with influencers in your space and start building relationships. The monitoring feature will keep you posted when your brand or your competitor's brand is mentioned on the web. You can use this to uncover link opportunities.
Setup Powerful Email Marketing Campaigns
Ask any super affiliate and all of them will sing in unison that "money is in the list". Email newsletters and promos are things of the past. Such a system rarely builds a relationship with your audience rarely converts into sales. Shooting emails to subscribers is a job of a robot but to send emails based on user behavior, interests and demographics you need an extremely efficient engine. For this, you will need complex email marketing systems like email automation and smart Optin Forms.
10. Drip
Drip is an email marketing workflow tool which sends emails to your list based on actions performed previously. You can create buckets based on every action a user performs and setup automated emails which are highly relevant. Once you create a visual workflow Drip automates the rest. You can integrate Drip with affiliate programs like Clickbank for deeper insights.
Drip rates each lead-based on a score so you know the health of your subscriber list and who is likely to buy the offer you are planning to promote.
11. OptinMonster
Using OptinMonster you can create high-quality HTML Optin forms. What makes OptinMonster unique is its understanding of user intent based on actions performed and triggering an appropriate call to action.
Features like A/B testing of content, design, and headlines make sure you have continuous growth over your initial lead form setup. You can even setup page level targeting to make the most of your qualified traffic.
12. Instapage
Instapages is one of the fastest ways to build a high-quality landing page. Using Instapage you can create landing page based on your need. Be it adding more registrations for your webinar or getting more sign ups for your upcoming email course Instapage allows you to set up landing pages within few minutes. It has a set of high-quality templates which you can hack into. Instapages integrates with the popular affiliate marketing tools like WordPress, OptinMonster, Google Analytics, Zapier, and Convertkit.
13. OptimizePress
OptimizePress is a WordPress plugin which creates any kind of web page. As an affiliate marketer, you might need to launch various kinds of pages to fit different needs. OptimizePress fills this need by creating pages landing pages, sales pages, webinar pages, training pages and product launch funnels within few clicks. All OptimizePress themes are mobile ready and come with a set of 30 free templates.
Optimize Your Affiliate Site For Search Engines
In most cases, search drives the highest quality of traffic. If you want to win at affiliate marketing optimizing your sites for search engine traffic. These tools will help you with building high-quality links, uncover competitor strategy and monitor your search presence.
14. Ahrefs
Ahrefs is favorite SEO tool for both link builders and affiliate marketers alike. Ahrefs plans start at $99 and you get the complete suite of tools with the purchase.
Few of the notable features are
Competitive Analysis – Find how much traffic other affiliate websites in the niche are getting for a particular keyword. You can also see a list of keywords your competitor is ranking but you don't reveal the content gap you can work on.
Content Marketing – Using Ahrefs you can find which articles in your niche performed best. This will give you an idea of what kind of content your potential audience is looking forward to.
Backlink Research – With an index size of 12 trillion links and 200 million root domains Ahrefs offers the most comprehensive link profile on the web.
Keyword Research – Find keyword suggestions including the ranking difficulty score for your niche. Ahrefs sports 3 billion keywords making it a one of the most powerful store house for keyword ideas.
15. SEMRush
SEMRush is a complete digital marketing suite. You have to just feed in your domain name and connect your social media, AdWords and Google Analytics accounts and sit back. Within few minutes SEMrush gives you deep insight into technical SEO, Pay Per Click Marketing, Social Media and Content. Actionable insights which would have taken hours can be exposed within few minutes. Few of the irreplaceable features are
Technical SEO – Find issues like crawling and indexing with your affiliate site. Find slow loading pages and missing SEO elements on pages.
Organic SEO growth ideas – SEMrush uncovers untapped SEO actionable ideas for organic growth.
PPC – SEMrush analyzes your AdWords account and gives insights on keyword grouping and campaign structuring.
Social Media – Discover your best performing post and compare how you perform against your competition
16. Google Search Console
Google Search Console is Google's official tool/dashboard which communicates the health and performance of the website. Before you start using this tool you need to verify ownership of your affiliate site. Once verified you will get a set of tools using which you can better understand how Google crawls and perceives your website. Few of the important features here are
Sitemaps – You can submit your XML sitemap containing all links to Google.
Crawl Errors – You can check if Google has trouble accessing any pages in your site.
Mobile Usability – You can check if your site is mobile friendly and also the fixes which need to be done if otherwise.
Highlight Data – Make your search listing richer by highlighting data on your site.
17. Yoast SEO WordPress Plugin
Yoast SEO is a free and the most powerful SEO plugin for WordPress. Using Yoast you can power your WordPress blog with SEO features like sitemaps, measure keyword optimization score for your blog posts, fight duplicate content with canonical tags and readability of the post.
Using Yoast doesn't guarantee SEO traffic but once you set it up right and use it correctly your affiliate site will be a magnet to search traffic.
Social Media and Management
Productivity and being organized is important for an affiliate marketer. Tools which can streamline communication between people and bring automation to menial work can help you focus on the other important stuff.
18. Slack
Most affiliate marketers have their team spread out remotely. You might have your freelance writers, designers, and developers working on the same project yet find it difficult to communicate on email.
Slack is a project management tool with a focus on removing these communication hassles. Slack creates an alignment between people in your team with a shared workspace which is organized.
19. Buffer
Buffer is a simple tool to post, manage and track the performance of social media channels like Twitter, FaceBook, Linkedin, and Instagram. You can customize the post for each social channel type and also post to each of those channels all at once. You can fully manage multiple social accounts at one place. You can set up a publishing calendar and schedule posts accordingly. You can track clicks, likes, reach, comments, mentions and retweets across all channels.
20. WpCloaker
WpCloaker is a simple yet effective tool to make your affiliate links look user-friendly. If you have generated affiliate links from your affiliate programs chances are that the links look ugly with a stream of session ids, numbers, and parameters. Users might be hesitant to click on such URLs with the fear of being directed to a spammy website. One way of overcoming this is by using a URL cloaking which redirects the URL from a reader friendly version to the original affiliate link. This way the user sees only the user-friendly link when he hovers over a particular anchor text.
Convert Visitors into Buyers
Writing content, getting search traffic and pushing links on their faces will not necessarily work. You have to strategically place the affiliate offer at places where people are most susceptible to your idea. Although as marketers we can guess this to a certain extent, people might surprise you. For this purpose, you need to test banner placements, editorial links, design, and layout.
21. Google Analytics
Google Analytics is a free and most used web analytics tool. Google Analytics is easy to use and follow because of heaps of detailed tutorials online. As an affiliate marketer, it is important to track all your traffic sources and attribute monetary value to each lead or sale. Tagging campaigns, measuring conversions, finding high and low converting pages, slow pages and demographics of your audience all give deep insights into your business. Google analytics is easy to setup and integrates as a partner with most other tools mentioned in this post.
[Bonus] 22. Visual Website Optimizer
VWO is A/B testing software. Using VWO you can test various aspects of your website and improve your click-through and revenue without even increasing your traffic. The best part is that in order to run an A/B test you don't need to learn to code.
You can test any aspect of your page including, banners, headlines, links, layout, buttons, colors, and styling. Once you setup the test VWO sends a portion of your traffic to each of your variations and collects user data and gives actionable insights.
Conclusion
If you are getting started with affiliate marketing then don't jump to buy all these tools immediately. Each of these tools will help you at various stages in your affiliate journey depending on the scale of the business. Also, buying few of these tools could look like a steep investment for few. Know that the opportunities you uncover could be of the range of hundred to thousand dollars a month. So you can always make the money back if you stick to your affiliate marketing project.