Email Octopus Review: The Most Affordable & Reliable Email Marketing Tool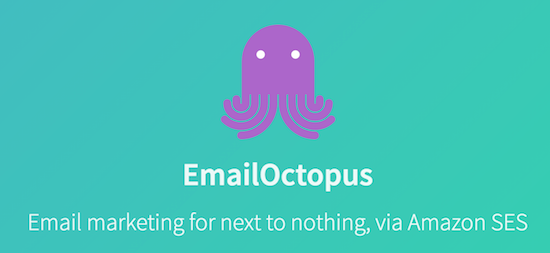 I'm a great fan of email marketing. Email is the most powerful tool that is available to digital marketers. When I say email marketing, I am referring only to permission-based email marketing. Sending unsolicited emails cannot be categorized as email marketing anyway.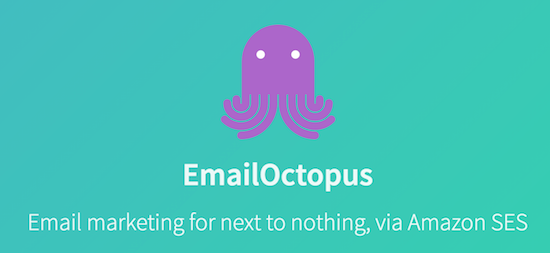 My funnel starts when people subscribe for my free digital marketing course at LearnDigitalMarketing.com. Once they opt-in for the course, there is a drip email sequence of 25 lessons that goes out once every 2-3 days. This builds a strong relationship with my subscribers.

So far, Aweber has been the tool of my choice for sending emails. Aweber is really good at managing their email servers and they have one of the highest delivery rates in the industry. However, Aweber is not cheap. If you have 10,000 to 25,000 subscribers, you have to spend $149 a month. Beyond 25,000 subscribers they charge $8 for every additional 1,000 subscribers.
I still have my drip marketing sequence setup at Aweber and it does a great job at it. However, for my subscribers who have completed the course, I only send emails to them once or twice in a month. And for such purposes, Aweber is not sustainable in terms of pricing.
I will soon be having more than 100,000 subscribers and if I use Aweber, I would end up paying $749 a month just for email marketing. I would rather use that budget to acquire new subscribers than hosting my existing subscribers.
I was looking for cheaper alternatives but I was not satisfied with any solution. Once of the solutions that came close was Sendy. Sendy is a self-hosted email marketing tool that you can host on your VPS or dedicated server. It will then use one of the email sending servers such as Mandrill, SendGrid, MailGun or Amazon SES to send the emails. But such a setup requires technical know-how. I did not have the patience to learn `or to find someone who can set it up for me. At times, I even considered using Aweber though it was very costly.
My sleepless nights came to an end when I discovered Email Octopus.
How Email Octopus is Different
Email Octopus doesn't use its own email sending servers. Instead, it helps you link with your Amazon SES (Simple Email Service) account. The setup is pretty simple and they guide you through the process of connecting to your SES account. To get an Amazon SES account, you need to have an Amazon Web Services (AWS) account first.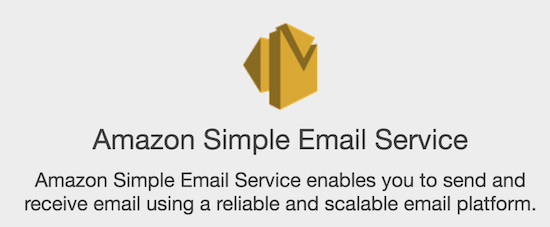 The cost of sending emails via Amazon's servers is unbelievable. It is free for the first 62,000 emails you send every month. Then they charge you $0.10 for every 1,000 emails sent. So if I am sending a broadcast email to 50,000 subscribers, it would cost me just $5!
By default, your SES account will not be enabled for email sending. Amazon does this to make sure that their email servers do not get abused. To enable your account for email sending, you need to send a support ticket to them explaining about your email sending pattern, your website and so on. And they will take your account out of the sandbox mode. My account is now approved for 50,000 messages a day.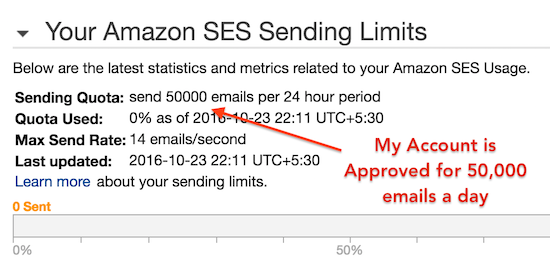 Many online brands use Amazon SES to send transactional and promotional emails via their servers. But more often than not, the integration is done by the tech team. If you are not technically inclined, it is a difficult task to send email via SES. Amazon only gives you access to their infrastructure and they do not have an interface for uploading email lists, drafting and sending emails.
That's where Email Octopus comes in. They give you a simple and easy to use interface for uploading your email list and drafting the emails. Once you are done with it, hit send and the emails go via your own Amazon SES account. No one can beat this level of simplicity and sophistication.
"Simplicity is the ultimate sophistication." – Leonardo da Vinci
Email Octopus is also adding new features one by one. Their recent addition was auto-responder. I am looking forward to features like sending test emails, list segmentation and more.
Pricing
I love the pricing of Email Octopus. For the first 1,000 email contacts, it's free. I played around with their system for a while and I was totally excited. I immediately signed up for their Shark-plan which supports 100,000 contacts.
Until my email list grows beyond 250,000 subscribers, I have nothing to worry. For 250,000 subscribers, I would pay Aweber $1949 a month. Here, I would pay $75 a month. When Email Octopus says 'Email marketing next to nothing' they really mean it.
Update: Their prices have gone up recently. The 250k email plan costs $109 a month and the 100k email plan costs $59 a month. However, old users have been grandfathered on the old pricing.
For now, I would be using Aweber for the drip email sequences because I have everything setup there, and once my subscribers finish the course, I will move them to Email Octopus.
The Dashboard
The dashboard is pretty sleek and easy to use. The Lists section helps you manage your lists. You can upload your lists in a CSV format and it will be imported into your Email Octopus account.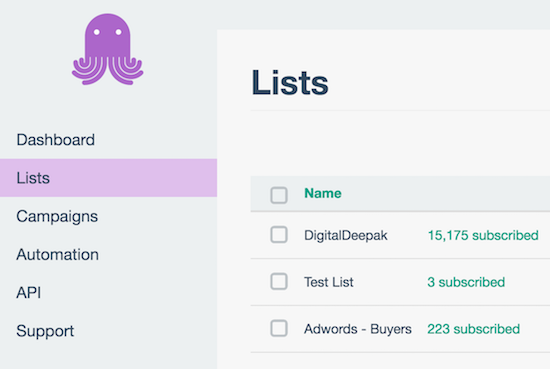 The campaigns tab helps you create HTML emails and broadcast it to your list. Right now there is no test email feature, but I believe they will include it soon.
For now, I send the email to a test list, check if everything is OK and then I duplicate the campaign to send it out to my entire list.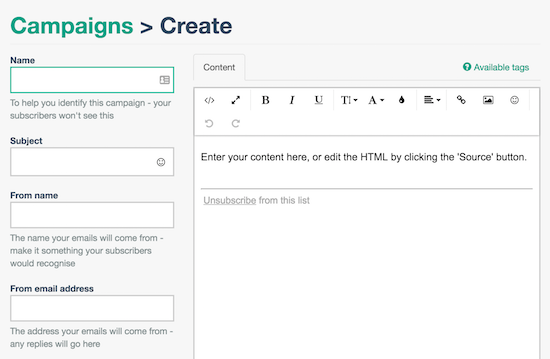 After you send out the campaign you will start getting the stats like open rates and click rates almost immediately. Email Octopus communicates with Amazon SES and fetches this data via API. You can also check the overall stats at your Amazon SES login.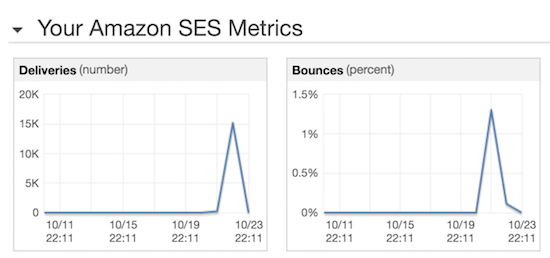 Here's how the stats look for an email campaign that I just sent. Right now, I have only imported 15k subscribers into Email Octopus. Rest of them is at Aweber, which I will be moving soon!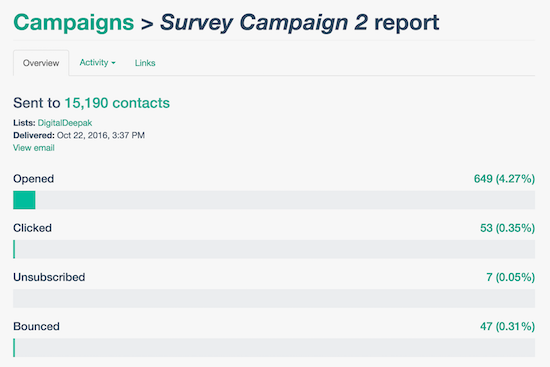 Email Octopus will also remove your un-subcribers and hard bounces from your list so that in your next email campaign, they are not included. Amazon SES will monitor your account for the bounce rate and spam complaints. If they are high, they will suspend your account because it affects the reputation of their email servers and affects everyone using SES for emails.
The Downsides
It wouldn't be fair if I do not talk about the downsides of a tool when I am reviewing it. However, note that Email Octopus comes at a great pricing which makes up for these downsides.
Doesn't have email segmentation feature. If you send a campaign and after 2 days if you want to create a segment of people who haven't opened the emails, it is not possible. (However, you can download the list of people who haven't opened and upload it into a separate email list).
No 'Send Test Email' feature yet. It is important to test your emails before sending a broadcast to thousands of subscribers. Right now I am working around it by having a test email list and then duplicating the campaign to send to the main list. [They have released this feature!]
No Zapier integration yet. Email Octopus has been built for non-tech people who want to send emails. Though they give API access, they do not have an integration with Zapier yet. Zapier is a great tool for marketers and it makes integrations and automation a breeze without needing to write a single line of code. [They have released this feature!]

Conclusion
I hope this post helped you evaluate if Email Octopus is for you. Though I have covered the features and benefits of Email Octopus in this review, I have not covered how to setup Amazon SES and link it with Email Octopus. I will publish a separate blog post and a video tutorial on it soon. However, figuring it out by yourself is not that hard. You just need to follow their instructions when you setup your Email Octopus account.
Any questions? Leave a comment below!