How to Automate Your Marketing Tasks Using Zapier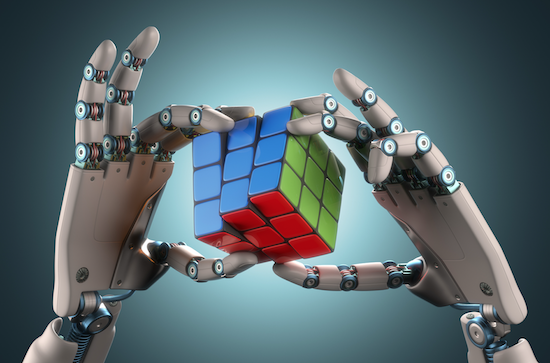 Digital marketing consists of a lot of different tools. This also means that you have to keep moving data from one place to another. Without automation, life is pretty difficult for a digital marketer.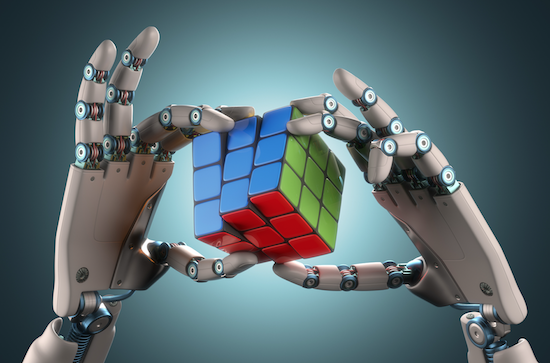 Some digital marketing tools talk with each other very well, but some do not. This means moving data from one tool to another is a huge pain. Many digital marketers spend several hours a week trying to move data from one tool to another.
For example, sometimes I would need to update my email subscribers from my landing page to my email marketing tool. This process includes extracting data from one place and updating it manually in another tool.
Many digital marketing tools provide API support that makes it easy to transfer data. But digital marketers are not developers. Coding and programming are alien to us and we never actually get around to using the API for automating tasks.
Sometimes when we have access to developers or if some developers are our friends we could ask them to automate some of our tasks, but we cannot disturb them every time.
A Single Tool To Automate Most of Your Tasks
Recently I found out a great tool for automating such tasks. I have been playing around with it for the past one month and the results have been spectacular.
There are so many options available in this tool that the possibilities for automation are pretty much unlimited!
Using this tool has made my marketing process more efficient, faster and it has saved me a lot of time. This tool is not free, but it is worth considering the amount of work it automates.
Here are some of the marketing automation tasks that I have set up with this tool:
Save my leads from the landing page to a Google Sheet
Automatically send an email to a new subscriber from my Gmail account
Add new subscribers to my email marketing tool automatically from Google sheet
Add only certain subscribers to my CRM tool to add it to my sales pipeline
Trigger a new email whenever my subscribers reach a new stage in my pipeline (in the CRM)
Unsubscribe certain people from my email list based on their behaviour
Add new subscribers to my email list if they have purchased something from my payment gateway (by scraping notification emails that are sent by my payment gateway).
I have created all these tasks only since the past one month. I am sure I will be coming up with a lot more ideas for marketing automation in the coming weeks.
Zapier to The Rescue
So let me break the suspense and let me tell you what this tool is. It is Zapier.com. Zapier has developed an automation system that communicates with the API of many tools.
They have hundreds of tools in their system right now. They have Gmail, Google sheets and almost all the other digital marketing tools that we know about.
I use Unbounce.com to create landing pages. Unbounce has inbuilt integration with a few tools, but they have only 9 integrations available in their system. (Read my review of Unbounce)
If I want to add subscribers from my unbounce landing page to a Aweber, it can be done directly. However, if I want to add the subscribers to ConvertKit, there is no option for that. Here is the only way to do the integration would be to use Zapier.com.
Zapier comes with a 14-day free trial, and you don't even need a credit card to sign up for an account. I highly recommend that you give it a try.
Data From Landing Page -> Email Marketing Tool
To demonstrate how Zapier works let me show you how I set up one of my automation tasks. Here I will show you how I save my Unbounce Landing Page form submissions to ConvertKit.
Login and inside your Zapier account just click on Make A Zap.
Here you have to set the source data and the destination. The interface of Zapier is pretty much self-explanatory. It clearly says when this happens… do this.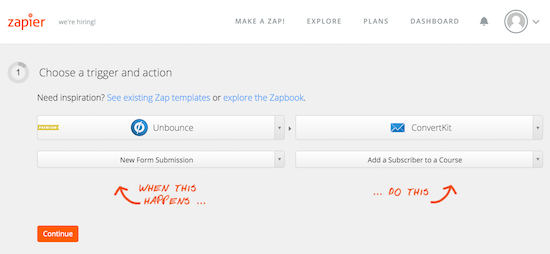 Here in the screenshot above you can see that I am seting up an automation for transferring subscribers from the Unbounce landing page to ConvertKit email marketing tool.
When there is a new form submission on my Unbounce landing page, a new subscriber will be added to my ConvertKit course.
To make this automation work Zapier needs to get connected with your unbounce landing page and your ConvertKit account.

Some tools use webhooks to send data, and some tools use API. In this case, Unbounce sends data via Webhook: Post to URL.
You just need to update this URL that Zapier gives you into your Unbounce account that is specific to that particular landing page.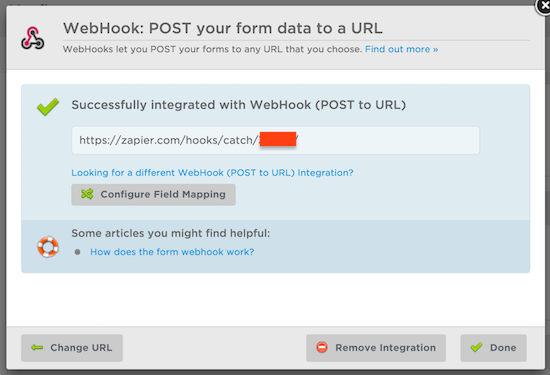 Some tasks inside Zapier run once in 5 minutes, but some tasks are instant. In the case of Webhook: post to URL the tasks are usually instant.
Once the automation rule has been set up inside Zapier, all the new form submissions in my Unbounce landing page will get added to ConvertKit automatically.
I would like to give you a more detailed explanation that I usually enjoy doing, but, unfortunately, the process is so simple I have to end it here 🙂
Try Implementing Different Tasks
Initially, while trying to set up some automation tasks you will have some hiccups. But with trial and error you will get very comfortable with it, and you will start making it work like you want it to!
If you think creatively you will be able to achieve a lot with Zapier. I know many people who even run affiliate programs using Zapier.
With URL parameters on landing pages and integrations with Google Sheets and Gmail, you will be able to run a full-fledged affiliate program without any hiccups. You can share the status of the latest leads with your affiliates and also send them notifications on every sale made.
Email Scraping & Parsing
If you have a tool that does not have API or integration options, you can still bring them into the umbrella of Zapier by scraping the notifications email sent by the tool to your email ID.
I use Instamojo payment gateway to collect payment online and sell ebooks. They do not have an integration with Zapier, and I do not know how to use their API.
So instead, I scrape the notification emails sent by Instamojo and automatically update them on my email marketing tool. That would require a separate article that I will post shortly.
There also some cloud telephony tools that have integrations with Zapier, which I have not tried yet. By integrating such tools, you can automatically trigger SMS to your subscribers or customers. You will also be able to synchronize your email marketing campaigns with SMS.
So go ahead and give Zapier a try and if you find some new marketing automation tricks that I do not know about please let me know in the comments below. 🙂
Pricing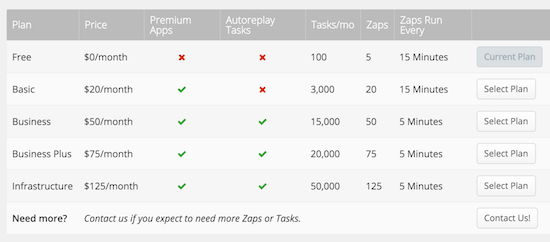 The Basic Starter account costs $20 a month in which you can automate 3,000 tasks a month. In this account level, automation tasks run only once in 15 minutes. And you can have 20 'Zaps'.
There is another account level that cost you $50 a month, and with this account you can run 15,000 tasks a month. At this level, your automation tasks will be processed once in every 5 minutes. Here you can have 50 different 'Zaps' set up inside your account.
Any questions about Zapier and marketing automation? Leave a comment below!