Unbounce Review – Create Beautiful Landing Pages without I.T.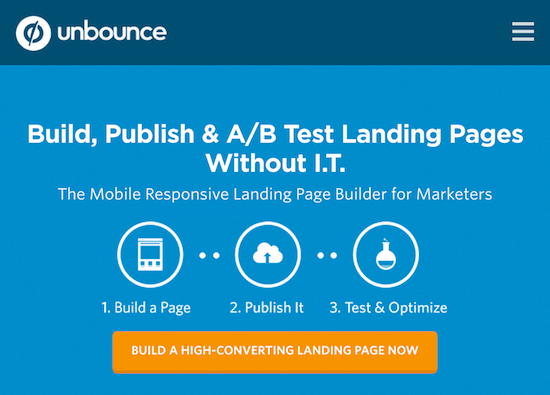 I love landing pages. Landing pages is one of the top tools for a digital marketer. It helps you generate leads and make sales. If you don't know much landing pages, read this article first: What are Landing Pages?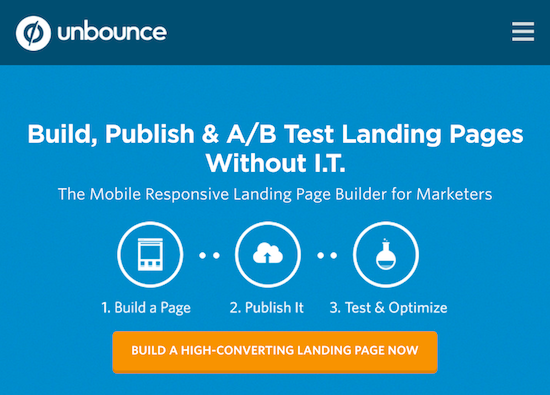 Landing pages have evolved in the past few years. One of the biggest changes has been that today's landing pages are responsive. They fit a mobile, tablet, laptop or even a big desktop screen. It is the need of the hour because the internet audience uses multiple devices to access the world wide web.
Also landing pages used to be very minimalistic a while back. I used to build landing pages with simple HTML editors, and they worked. But if you want to have professionally designed pages it used to cost anywhere between $500 to $1,000 to design and code a very good looking landing page. But now, with tools like Unbounce, we can create beautiful landing pages without the help of a designer or coder.
It's not just building the landing pages but editing them has also become very easy. You can make changes and publish it within 5 minutes. And one of the most important work involved with landing pages is that a marketer has to constantly A/B split test them and find out which variation of the landing page performs better.
Without landing page tools, A/B testing involves using external split testing tools such as Google Content Experiments. With tools like Unbounce, we can do split testing from within the Unbounce dashboard and finding out the better performing landing page is a walk in the park.
So let's get into the review of Unbounce, and let's explore what they have to offer.
Unbounce.com Pricing
Pricing plays a major role in the purchase decision, so let us look at the pricing first before reviewing the features. Unbounce is not a cheap tool. If you look at their clients list, you will understand that it is a very high-end tool used by large organizations.
Unbounce may not be suitable for a freelance digital marketer or a blogger. Their charge is mostly based on the traffic that you drive to their landing pages.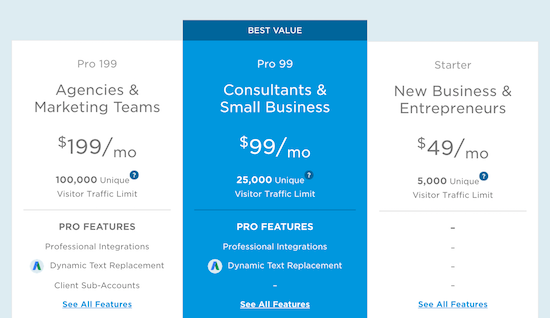 Their basic plan starts at $49 a month, and you can drive up to 5,000 visitors to your landing pages. For a blogger, this may seem very pricey because most of the traffic that bloggers get is free and organic traffic.
However, for a company that runs AdWords ads at $1/click wouldn't hesitate to use a tool like Unbounce. 5,000 visitors via PPC may end up costing thousands of dollars and if a landing page can increase the conversions, $49 a month is a bargain. Their basic plan has limited features, but it has almost all the features that a digital marketer would need.
The $99/month and $199/month plans have one significant feature: Dynamic Text Replacement. If you want to change the text on your landing pages based on the ads that you are running, dynamically, then you need this feature. Other than that I do not see any downsides with the basic plan apart from the limit in the traffic.
I am not sure if pricing based on visits is the best way to charge customers. Instapage, a close competitor of Unbounce recently changed their pricing plans to allow unlimited traffic to their pages. May be Unbounce will feel the pressure and change their pricing structure, may be not.
Building Landing Pages with Unbounce
If you want to start building landing pages with Unbounce, the best way would be to start with one of their pre-designed high converting landing page templates.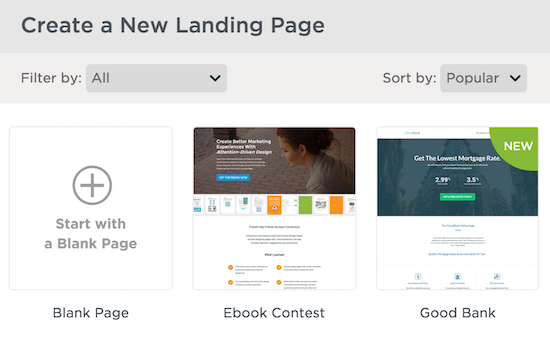 They have very good editing capabilities, and you can do it online using their interface. You can start with a template and you can completely change the look and feel of the landing page to suit your business needs.
Here's a landing page I designed using Unbounce to enroll people for my free digital marketing course.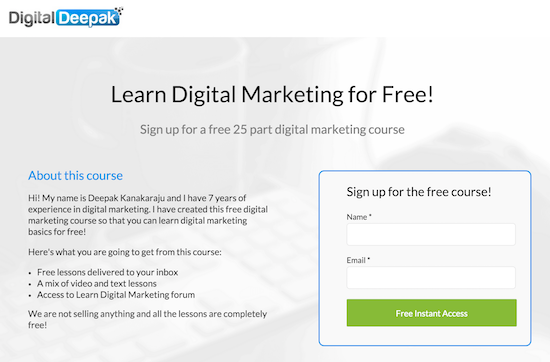 And the conversions in this landing page was quite impressive. I sent only a few visitors from my blog to this page, so the sampling size is small – but the conversion has been more than 50%!
Each landing page has a dashboard that will show you the stats. Here you can see the impressive conversion ratio that this page has achieved.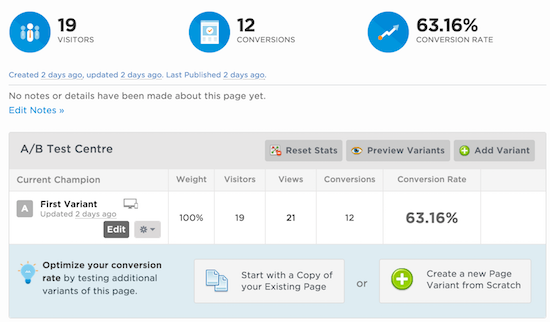 I should also mention that Unbounce landing pages are hosted by Unbounce, and they load quite fast. These landing pages can also be linked to a custom domain name that you have, but the hosting will be taken care of by Unbounce. It is part of their package!
A/B Testing
If you want to optimize the landing page for better conversions, A/B testing features are just a click away. You can duplicate your existing page and change the elements in the page.
Unbounce will take care of the rest. When you are driving traffic to your landing page, the traffic is automatically split between the two variations of the page and measure the results. There is no need to bother with external tools for A/B testing.
Lead Generation & Data Export
You can integrate your Unbounce account with CRMs and email marketing tools with just a few clicks. But even if you do not do any integration, the leads are available to your in raw format. You can download your leads in a CSV file or just view them online.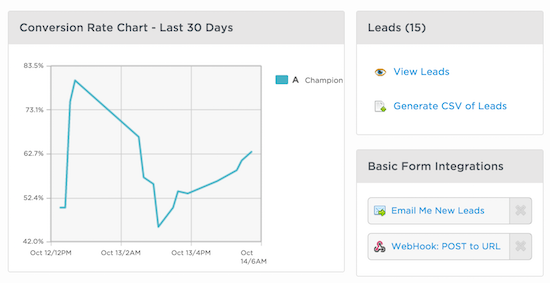 There is also an option to trigger emails automatically when new leads are generated. Having a short lead response time increases your conversion ratios. If you want to call your leads immediately after they enter their contact information on the landing page, you can enable this option.
Integrations With 3rd Party Apps
If you want to pass on the lead information via API to an email marketing tool such as Aweber, or a CRM tool like Zoho CRM, that can be setup with just a few clicks.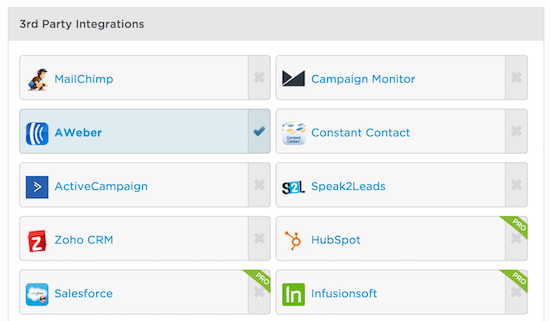 One of my friends uses PipeDrive CRM, and you can observe that there is no integration available for PipeDrive here. But Unbounce is popular, and Zapier has an integration available for Unbounce and PipeDrive.

Unbounce integrations are a premium feature in Zapier but it helps you automate the import process. It is cheaper than hiring a coder/developer to setup an integration with Unbounce and PipeDrive.
Video Review
I also had a chance to create a video review of Unbounce. Watch it here:
Conclusion
I would rate Unbounce as the best landing page creation platform in the market. If price is not an issue, you will get the best possible conversion ratios with Unbounce landing pages.
Any questions? Leave a comment below!