How to Get Your Dream Digital Marketing Job (eBook)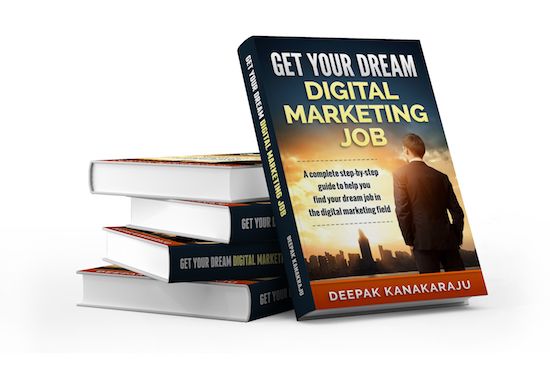 Today, I am launching my ebook officially. It was in pre-launch a while back and it has already crossed 500 downloads. The response for this ebook has been amazing!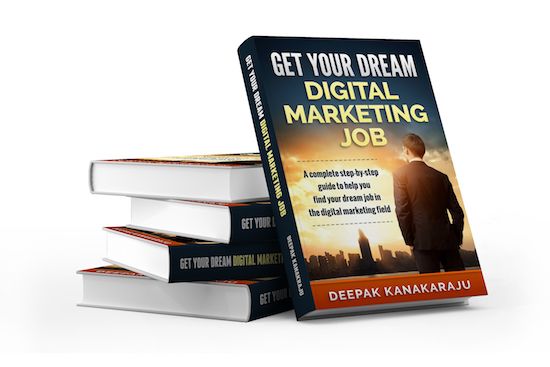 In this ebook I have shared my digital marketing journey and how I was able to get digital marketing jobs in many leading startup companies in India.
The book also explores the demand for digital marketing skills in the market and how you can leverage it to get a high paying and exciting job.
Testimonials
"Truly inspirational! This book is short and easy to read and follow, very inspiring and covers some important tips on Digital Marketing. Definitely a must read." – Monisha Advani
"I happened to read an eBook on the way to my office yesterday. Its a thoughtful & insightful eBook penned by Deepak which gives insights on how to get a dream job by understanding why job portals just don't fetch us the relevant job and how one must stand apart from the crowd by indulging in learning & connecting the key people. Thanks, Deepak for your info in a very simple language. Keep us updated with many more!" – Siva Palanisamy
Excerpts from the eBook
Here are some excerpts from the book. I am giving away some core content in this post. But if you want to get the context right and get the maximum value, you should consider reading the full book.
Market Yourself to Sell Yourself
I this chapter let us learn how you can market yourself so that you can sell yourself to the target buyer. I am going to make an assumption that you already know some digital marketing, at least better than your competition.
"You are an employee (a product) that your employer (the customers) buys."
If you don't know digital marketing then before getting your dream job, you should first become a digital marketing expert. You should learn digital marketing from various sources available and apply some of it to your own projects before you can go ahead and try to get your dream job.
You need not be the most brilliant digital marketer on planet earth – you just need to be better than your competition. Employers hire people for their ability to bring results. Not just for their knowledge. Anyone can get knowledge from Google and Wikipedia within 5 minutes.
If you say that you are a digital marketing expert, you will get hired because you can bring good results to the company that you work for.
If you say that you are an SEO expert, you will get hired because you can improve the search engine rankings of the company that you work for. Not because you have read 10 books on SEO.
Companies will hire you if you can show them a proof that you can bring results. And the only way to show them is through your previous projects.
My first job in Bangalore was to be a digital marketing solutions consultant to many clients. I was a consultant inside a digital marketing services company called Theorem.
Here's where I got a chance to work with HomeShop18, Zivame and a few more smaller companies. I got this job because I was able to show them the projects that I did.
When I was going through the interview, I told the AVP of client services that I know SEO, Social Media, Email Marketing and Content Marketing. His next question was – how can you prove it to me?
I showed him my blog – BikeAdvice.in and I showed the analytics inside it. I showed him how I used social media and email marketing to increase the traffic from 100 visitors a month to 5,00,000 visitors a month.
So now there is proof that I really know something and then I got hired. And as I told you before, the HR was there just to do the paper work, not to hire me!
So here, the details in my resume didn't matter. He did not even care where I studied or how much marks I have got.
His only thought was "this guy knows how to get traffic to websites and he can help our business grow". So here, our project becomes our resume.
I know some people who are 5 years younger than me, earn double my salary and know a lot more than me.  But such people have dropped out from college and have done interesting projects. Such people are incredibly valuable to companies. Because they know how to bring results.
How to Get in Touch with Key Decision Makers?
As we have already discussed, HR should never be your first point of contact when you are trying to get hired. You should try to get in touch with key decision makers first.
So now comes the next question: how do you get in touch with key decision makers. As with everything in life we do not have 100% conversion ratios. If a guy wants to get a date with a girl, he will not get a Yes every time he approaches a girl, no matter how smart he is.
He will probably approach 10 girls and one girl may say OK. Here's his conversion ratio is 10%. If he is not that good looking and if he is poor in pickup lines, he will approach 20 girls and one will say ok. Here his conversion ratio is 5%.
Now think about getting jobs. It's similar. Your conversion ratios may be less when you are starting out but eventually your conversion ratio will get better with experience.
Let us consider the worst case scenario. Your conversion ratio is just 1%. Which means if you get in touch with 100 potential employers, you are likely to get 1 job offer.
So now your next step is to identify 100 companies in which you see yourself working. It could be in the same city or multiple cities. Now start trying to get the name and contact details of the key decision makers in these companies.
Key decision makers for digital marketing jobs usually include:
Founder
Co-Founder
CEO
Chairman
Head of Digital Marketing
VP of Digital marketing
VP of Marketing
Head of Sales & Marketing
Digital Marketing Managers
You can easily find this out by browsing on LinkedIn. First prepare the list of names. Then try to get their contact details.
This is your target market. These are your customers. Now that you have identified the target market, the next step is to reach them. You can ask someone you know to refer you to them or you can try one of the following methods.
You can reach them via various methods:
Email
Linkedin Message
Tweet
In events related to digital marketing
In person at their office
Postal Mail
Fax
What has worked for me? I met a senior manager in a digital marketing event called ad:tech and I got his business card. I sent a mail to his email ID directly and that's how I got to my first interview. The interview directly happend with the AVP of that company.
Now that you know who is your target market and now you have also found a way to reach them – next let's talk about what exactly your pitch is going to be.
Of course you cannot send them a message like "I am X and I want a job in your company." That's similar to approaching a girl for the first time and asking "Will you marry me." If you approach people like that your conversion ratio will be 1/10,000. Or 1/infinity!
You first have to build a relationship and show them how they can benefit from you. It is always about what they can get from you than what you can get from them. You need a job and an income – but what do they want? They want someone to do digital marketing for them.
Provide Value Even Before You Get Hired
Now that you know who you are targeting and how to contact them, the next step is to make them pay attention to you. Before they can pay you money, they have to pay you 'attention'.
Consider this: You get a lot of marketing calls and you see a lot of ads on TV. Before you buy a product by paying money, you first pay attention. Only when you pay attention you will know what the product is about and then you may consider paying money for it.
So you are the product and your employer is the customer. You first have to make them pay attention to you.
So let's say you send them 2 emails with the subject lines:
"Looking for a job in digital marketing in your company"
"How your website – abcxyz.com can get more traffic via SEO"
The first email that you send will be deleted even without opening it. But the second email will interest someone who is going to hire you in the future.
Let's say you are good at SEO and you did some research for that company's website. Now do not send all the details that you know. However give a "trailer" to them. Talk about what you did in your micro research and how you can help them.
Now that you have got their attention! Give your phone number and contact details in the email. If they really want to hire a person like you and improve their website traffic, they will contact you back.
If your pitch worked, they would want to meet you. Get an appointment with the key decision maker directly and you are done. If you are good enough then they will hire you.
There could be some other person in the world who wants to get hired in the same company and he could have better skills than you.
But since he did not market himself as good as you did, he would be still looking for jobs. He would probably keep uploading resumes and updating his profile on the job portals!
</end of preview>
Hope you gained some useful insights from the preview. I sincerely wish that you will get your dream digital marketing job, if you are looking for one.