Setting Up Your WordPress Blog – Themes, Plugins, SEO & More
If you have bought a domain, purchased a hosting package and Installed WordPress, it is time to setup your WordPress blog to make it blogging ready. Watch this video lesson to learn:
Recommended: Watch the Video in Full Screen @ 720p or 1080p resolution.
Topics covered in this video lesson:
Setting up a www. version for your blog
Setting up the permalink URL structure
How to publish a new post and a new page
How to generate sitemaps for your blog
Installing SEO plugins
Verifying your website on the Google Search Console
Getting your pages indexed on Google with Search Console
How to edit Sidebar Widgets
Signing up for Google analytics and installing analytics code
Why a Self-Hosted WordPress Blog?
A self-hosted WordPress blog is the best way to learn and practice digital marketing. You can use some other platform as well, but with WordPress many things are easy. For example, if you want to install your analytics code on all the pages of your website, it is just a few clicks with WordPress.
All the future lessons and tutorials will be based on implementing things with a WordPress blog. That's why I recommend having a self-hosted WordPress blog for everything that we are going to learn from this point.
Buy Webhosting and Get Free Domain Name:
If you want a good starter hosting package for your blog, go ahead and sign up for an account from BlueHost. They also provide you with 1-click WordPress installation.

You can go ahead and purchase the 1-year plan that will cost around $65. That's just $5.5 per month (Rs.350 per month) and you will be able to host multiple WordPress blogs with the same account. If you purchase 2 year or 3 year plan, the cost is even lower.
Which version of the website to offer (www?)
If you have browsed around the web, you would have seen two types of websites. Some will have www. in the beginning and other websites will be served directly from the root domain. A domain name without any subdomains is called a root domain. There are no rules or standards here. My blog DigitalDeepak.com loads without the www. but many other blogs load with www. in the beginning.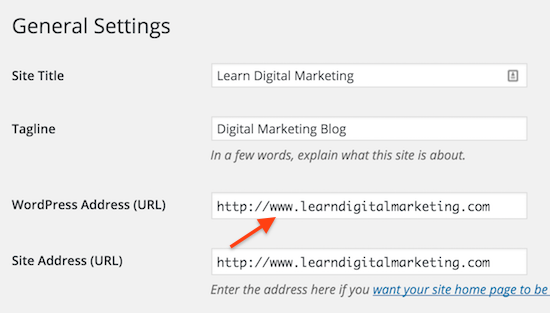 In the options above you can choose the www. version or the non-www one. If you choose the www. version as shown in the figure about, your naked domain will automatically redirect to the www. version if someone types it on the browser's address bar.
When it comes to SEO, there is no effect on what type you use here. But you have to make sure that you make this decision once and stick to it. If you are linking to the root domain, always link to the root domain. If you are linking to the www version of the domain, it is considered as a different website in the eyes of the search engines.
The Importance of Permalinks:
Permalinks are very important for SEO. By default the permalink structure in WordPress is not optimized for SEO. Inside WordPress settings, you will find an option for Permalinks.
This is important for SEO because if someone is searching for WordPress blog setup tutorial and your site has a page on it, then when someone searches for it on Google, these words will be highlighted.
For example, if you search for Facebook Lead Ads, my blog post shows up in the search results. You can observe that the words that match the search term are bolded in the search results. This gives signals to the user that this link is relevant – and the user is more likely to click on it, improving the CTR of your links.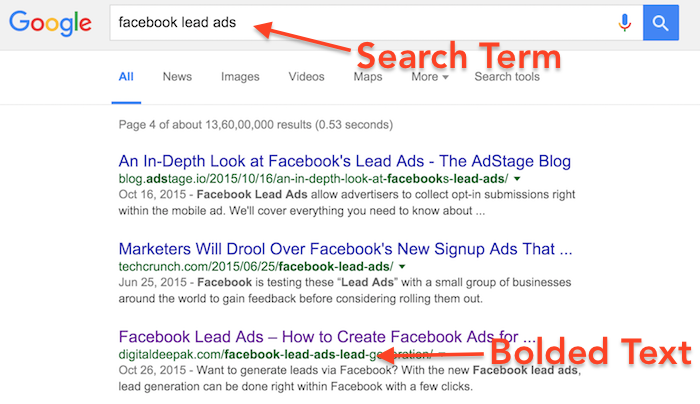 So permalinks are one of the most important things for WordPress. You can also choose to include the date in the URL. But once you set this up, you should never change it for the life of your blog. It needs to maintain its URL structure for good user experience and SEO.
Related Lessons and Articles
Here are some related articles that I recommend reading: