Sell Domains Fast – Download This $20 eBook for free! (Limited Time Offer)
Aishwin, one of the top domain name investors from India, who I interviewed on this blog a while back, is giving away just 100 copies of his $20 worth ebook for free. This offer is just for readers of DigitalDeepak.com 🙂
Today is his birthday and I persuaded him to give away his eBook at no cost. All you need to do is visit this page and enter the code 'DigitalDeepak'.
This offer has expired and is not available anymore. However you can get my book for free by enrolling in my free digital marketing course.
Aishwin has some amazing 3 and 4 letter domain names such as Haz.com and Shri.com. I have learned a lot from him and he is my go to guy for advice when I buy a domain name.
Download 'Sell Domains Fast'
So go ahead and get his $19.99 book at no cost. All you need to do is visit this page and enter the code 'DigitalDeepak' to download for free. This offer is available just for the first 100 copies.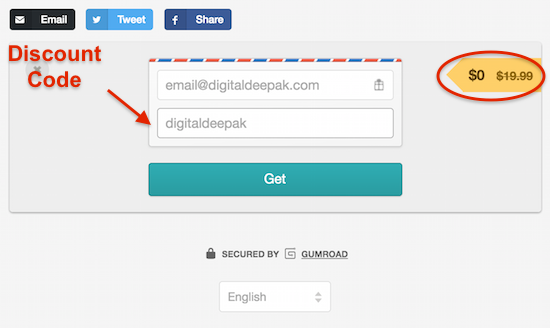 An Excerpt from the Book
Prelude: Hi, my name is Aishwin Vikhona. I am a medium level entrepreneur based in Aurangabad running an IT startup. My life is centered on using technology to create a difference.
I am a highly active domain investor and indulge in the domain buy and sell market actively every day. Currently I have a portfolio of over a 1,000 domains and have invested over hundreds of thousand dollars in Domain Names which includes over half a dozen premium three-lettered domains and a plethora of other domains.
What I do with my IT firm needs capital and as soon as I started with the first investments in domains back in 2012, I realised that this could be the key to unlocking the hidden potential of domains and make the most out of it. Since then I have been a bullish player in the online domain market.
Recently at an event I realised that many aspiring entrepreneurs are looking to make their own name as I was once. It hit me that they could use my experience and knowledge towards their benefit. Being in the online market for over 5 years teaches you a lot of things.
For me it has been an adventure full of happy accidents and mistakes which have widened my gaze. It's time I shared this stuff with you.
In this book I will discuss the entire do's and dont's about Domaining. My book will take you through all the technicalities and procedures which take place in the dynamic market of Domaining. You must have a lot of questions on your mind at the moment. Keep calm! And read this book. All of them will be answered.
What is Domaining? Is it a Real Business?
If you ask me, Domaining is like the real estate. There is a lot of speculation over which domains will sell big and which won't. The only difference there is a lot healthier demand supply equation in this market. It is individualised in nature.
Ever since the dot com boom, people have taken keen interest in the business of buying domains, appreciating their values and selling them at a premium.
People in the online community often ask me the ease of doing business when it comes to Domaining. They have a lot of questions like:
Can domains be sold really fast?
How do we decide the price to sell our domains for?
What is the average profit margin for a domain sale?
These are just a few examples of pondering questions which aspiring digipreneurs have. We will go through these and lot more doubts through this book but first we need to know essentially how the business of domains thrives.
One can refer to market leaders like GoDaddy, BigRock and HostGator for reference but for deep insights you need to dig a little deeper! Most of times people face problems when they take on the business of Domaining individually.
I have seen people buying domains which are trademarked or cannot generate any value at all. Sometimes when people buy genuinely worthy domains, they have no idea about how to market it and sell it at a substantial premium.
End of Preview!
To read the entire book, visit this page and enter the code 'DigitalDeepak' to download for free.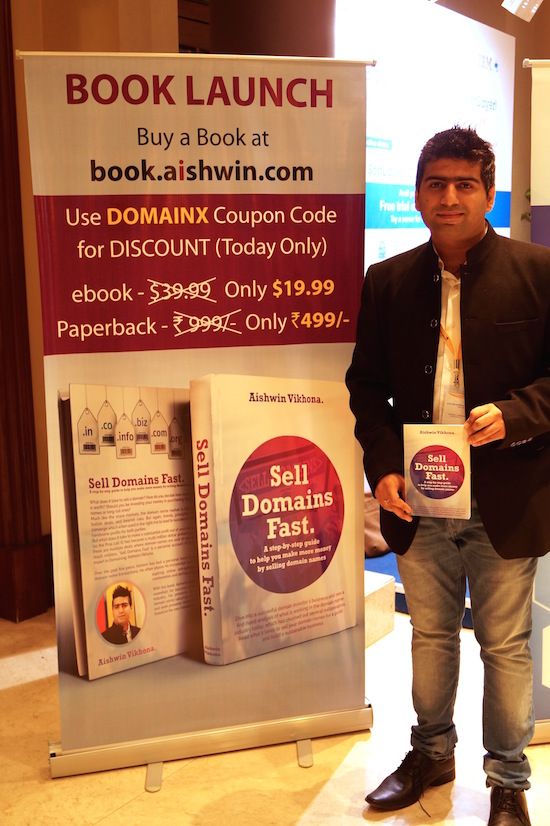 And if you are interested in learning how to self publish your own book, read: Publish a Book and Grow Rich – A Guide to Self Publish Your Book.