Publish a Book and Grow Rich without Gerry Robert – A Guide to Self Publish Your Book
I just came back from Gerry Robert's Publish a Book and Grow Rich Bootcamp. It was an intense weekend with a lot of learning and networking. In this post I am giving a review of his weekend seminar and a preview of his $35,000 Instant Author Program! You will learn why you don't need such a pricey guided publishing program to become an author and how you can self publish a book in a much better way at a fraction of the budget.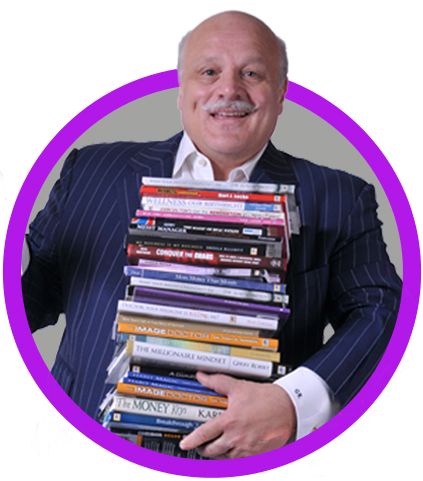 Gerry Robert's idea about book publishing is about how you can publish a book, become a published author and then benefit from the authority and credibility that comes from publishing a book. It's more about personal branding than making money from actually selling the book.
When you are a published author, people see you in a different way, their first impression towards you will be different. They trust you more (sub-consciously).  A book helps you to get media and press attention thus helping you expand your personal brand.
This works very well if you want to become a speaker, trainer and/or consultant. This also helps you in negotiation and winning client projects.
The things that you will gain after you become an author will be much more than what you expect or imagine it to be. You will get a lot of pleasant surprises. Gerry Robert shows a lot of examples of how people's lives changed after they became authors. That motivation was priceless to me.
One of the most read articles I have published in DigitalDeepak.com is how to brand yourself as an expert through content marketing. Gerry's tips on personal branding is very much in sync with my own ideas. While I focus on blogging, his focus is on book publishing. I am sure that when you combine the two it is going to be even more effective.
After listening to his ideas I am convinced that I should publish a book as well. I have even come up with the title and started working on it. Its going to be The Ultimate Guide to Digital Marketing.
The biggest paradigm shift that you get from a seminar like this is that publishing a book is not as hard as it seems. If you can create a proper outline, you can write a book in 40-50 hours! Yes, I have explained about the system in this post. And you need not wait for a publisher to pick you up. You can self publish your book!
There are three major steps in publishing a book:
Deciding to Publish a Book: Understanding Benefits, Motivating Yourself, Defining the purpose of Publishing a Book, Choosing the topic for your book.
Writing: Creating the outline, Writing your book either yourself, through a ghost writer or a combination of the two.
Publishing & Marketing: Printing, Releasing it in Online Stores & Other Channels, Pushing your book.
In his weekend bootcamp he covers mostly point 1 and 2. If you attend his program, it is almost impossible not to get motivated to write a book and publish it. He also tells you about the 40 hour book writing system (explained below). Then he presents his $35,000 Instant Author Program where you can partner with him to publish your book. I will tell you how you can get all the services without spending $35,000.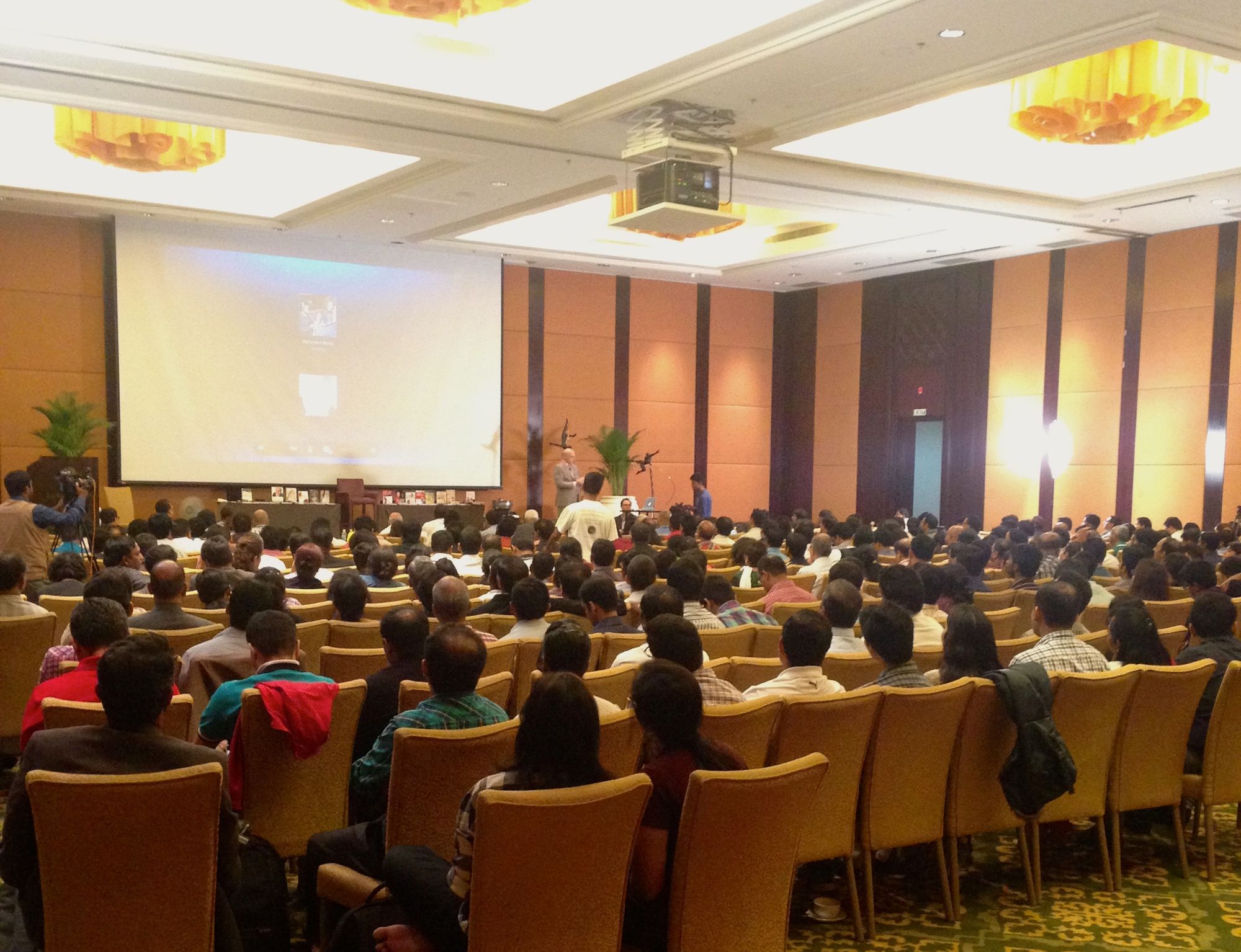 Key Takeaways from Gerry Robert's Bootcamp
I am giving away the juice of whatever I learned from the weekend seminar. However this cannot be a replacement to his seminar. You would miss a whole lot of humour and opportunity to network with interesting people.
1. Benefits of Publishing a Book
Before you decide to publish a book you need to come up with a why. Else you will not be motivated to write. Remember that we are not talking about novels or recipe books here. The focus is on how to and guide books in specific niches where you do business in. Here are the benefits of becoming a published author: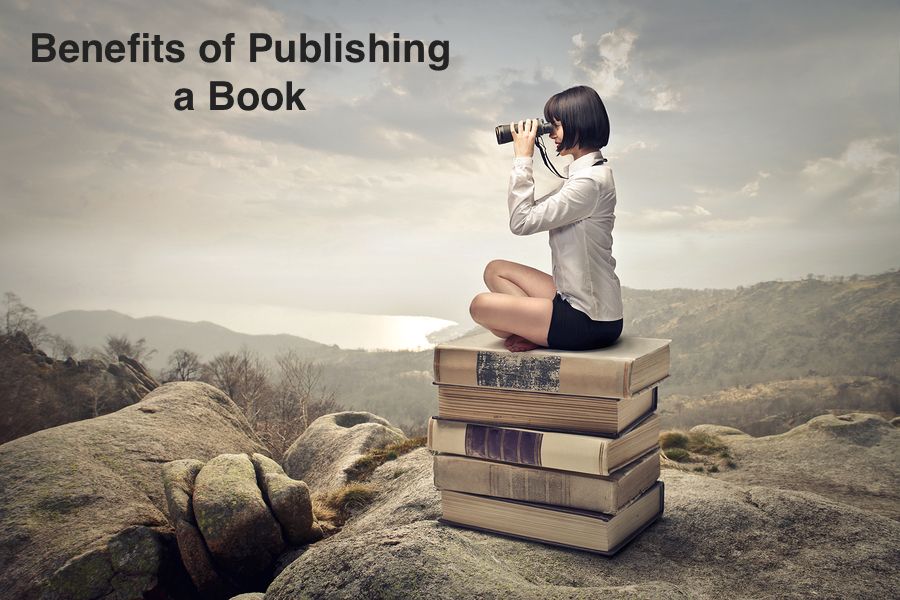 Personal Branding: A book is like an ad for your personal brand – but it doesn't look like an ad. It's like an enhanced resume.
Authority: When people see you as a published author of a book, you get instant credibility and authority. Only experts publish books. If you publish a book then you are perceived as an expert.
It's Content Marketing: Every digital marketer knows that one of the best ways in digital marketing to attract traffic is content marketing. A book is nothing but content.
No One Throws Away a Book: When you go to a networking event and give out business cards or brochures, they usually find its way to the trash (I am sure you too have thrown away stuff like that!), but a book is never thrown away. When you gift a book to someone who you want to do business with, the book stays with them permanently. Its like re-marketing at no cost!
Speaker Opportunities: A book can help you get speaking engagements. A book is a solid proof that you are an expert on a subject.
Get Your Dream Job: In new and upcoming fields (example, digital marketing), companies are looking to hire experts. If you are an author, its a clear signal that you know your field. Your chances of getting your dream job goes up dramatically when you are an author.
Get Into Ivy League Universities: Universities are looking for "intelligent" people to join their program. They want to put the best minds into one room. I don't think Ivy League business schools and universities receive a lot of applications with a book! Imagine the possibilities!
Small Book is Enough: A book that you want to publish to market yourself need not be a very large book. It can be as small as 100 pages and 1 cm thick. Such books cost less than $1 to print.
Easier Business Transactions: You can send an autographed copy of your book to someone who you are about to do business with. It breaks the ice and makes the negotiations easier.
Press & Media Coverage: Reporters are always looking for comments and citations from experts. And who are perceived as experts in today's knowledge economy? Authors! It is very easy to get media and press attention when you are an author.
The Best Investment: Publishing a good book costs time and money. But its the best investment you can make for your personal brand and your company. It increases your earning potential and opens the doors to new opportunities.
Misconceptions & Myths About Publishing a Book
What stops people from actually publishing a book are these myths. Here are some essential myth busters:
Myth: I am not qualified to write a book
Reality: Anyone can write a book. You need not be an expert to write a book. But once you write a book you are perceived as an Expert!
Myth: I need to get a publisher approval and have to deal with agents
Reality: No one needs to wait for a publisher to pick them up. Self publishing and Digital printing has grown leaps and bounds. In fact it is better to self publish a book than go with a traditional publisher.
Myth: It takes a long time to write a book. I may have to quit my job and work on it for 6 months!
Reality: You can continue with your routine and take out 15-30 minutes a day to write your book. You can finish writing a book in 40 hours. (Method explained below).
Myth: If I am going to publish a book, it has to be perfect, 500+ page, without a single spelling mistake, revolutionary.
Reality: If you want to change the world with your book, try it. But for most of us, we just need a book to add to our profile and brand ourselves as experts. And there is nothing wrong with that. Thousands of people authors are already doing it.
Myth: It costs a lot of money to publish a book
Reality: You can publish a book and market it with a shoestring budget of $1,000 or less. Self publishing is very common nowadays and there are plenty of services to support you.
2. How to Write a Book in 40 Hours
The biggest challenge in becoming an author of a book is writing the book itself. Many people think that you need to take out 6 months to 1 year of your life to write a book. It need not be that way. When you understand this system, you can finish writing a book in 2-3 months by working in your free time. My best recommendation would be to write 30 minutes every morning.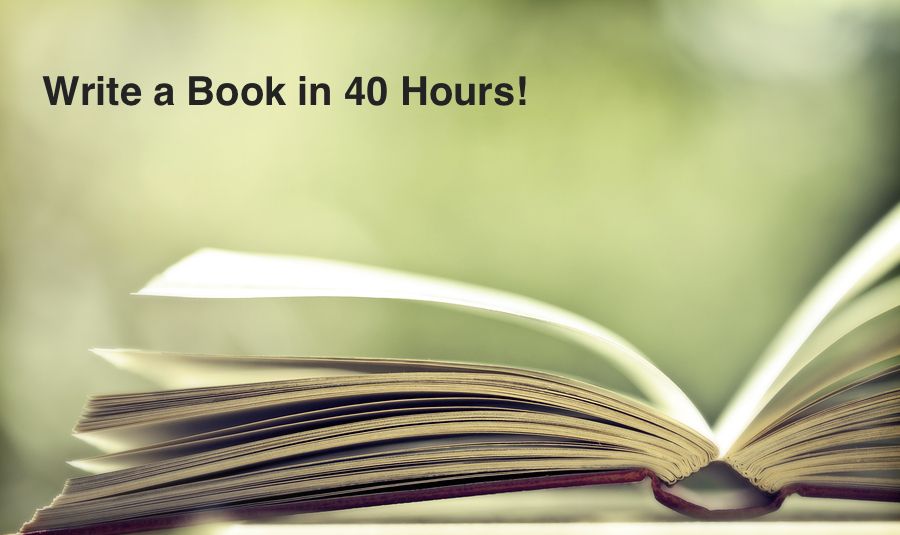 When you think about books, they are just answers to questions on people's minds. So it makes sense to start with the questions.
The framework or outline of the book is created using a lot of questions. If you create approximately 300-400 questions on your topic, you can answer each question in 5-10 minute chunks and your book is done!
Here's the way to go about it:
Come up with 15 topics on your subject. Pick 10 topics out of it and sequence it. These 10 are your main chapters of your book.
Come up with 15-20 subtopics for each chapter. Eliminate a few and finalize on 10-15 subtopics in sequence for each chapter.
Come up with 3-5 questions on each subtopic. You can put this all in an excel sheet. You can also find out what people are asking for in these areas by looking at websites like Quora.com, related forums and Yahoo answers.
Now that your set of questions is ready. All you need to do now is answer these questions. You can also include questions which you do not know the answer to. All you need to do is do some research to find out the answer. In the research process you also learn about it (an expert in the making!).
For example, one of my chapters in my book would be content marketing. The sub topic could be blogging. One of the questions in the sub topic could be: What is the best platform for blogging and why?
Now it is very easy to write a 100-200 word answer for this question from my experience. I could write about why WordPress is the best blogging platform and how to install WordPress on your domain. This can be done in 5-15 minutes whenever I have time. May be just before leaving to office. May be in the lunch break etc.
With this system of having an outline and writing answers in chunks, one can finish a book in 40 hours. Just because you are finishing it fast doesn't mean you are compromising on the quality of the material. This is the most natural way to write a How to / Guide book.
Gerry Robert cannot help you with writing your book. You have to plan it and write it yourself because no one knows your audience and subject better than you do.
You can just do the most important thing – come up with the questions matrix. Then you can hire a ghost writer to finish the book. You can give him/her guidance on how to come up with the answers and you can edit a few of them yourself. By doing partial out sourcing you can write the book in less than 20 hours. Alternatively you can write a few chapters yourself and other chapters can be written by someone else.
Gerry Robert's program Publish a book and grow rich mostly helps is getting your book published and moving it. And that's what his Instant Author Program (IAP) is all about.
3. Publishing & Marketing
Before you write a book you need the motivation and purpose to write your book. We have covered that in point No.1. Once you have decided to write your book, the hardest part of it is to actually write the book. We have covered how to finish writing your book in point No.2. Now let's get into the most important part of the process…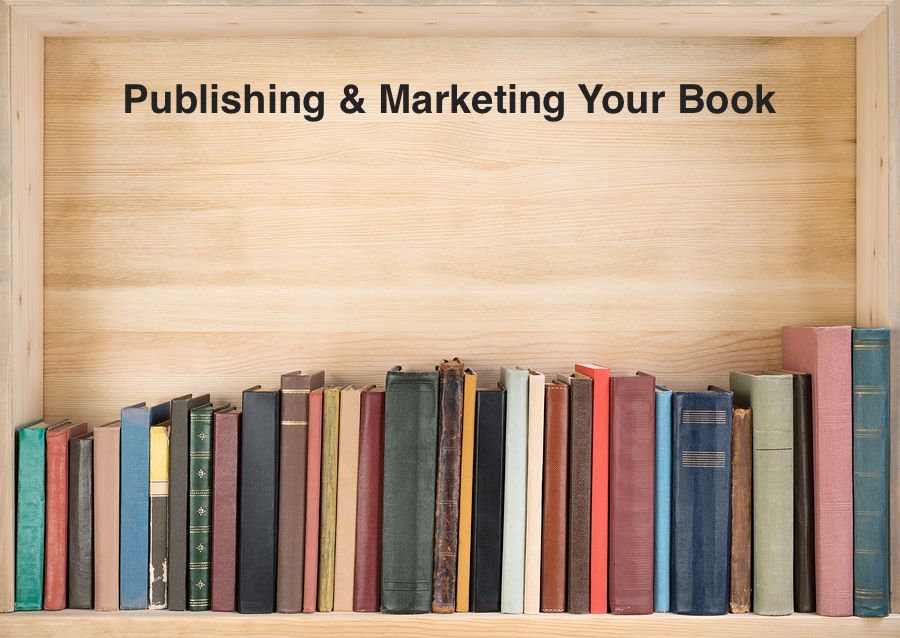 You need to publish your book and market it. Here are the steps involved in the entire process.
Publishing Process
Design a Book Cover
Proof Read and Edit the Book
Edit layout inside the book and get the output format ready according to publication requirements – for print, for Kindle ebook, for Apple iBook etc.
Get ISBN number
Print & Release the book in Print, Kindle Platform, Apple iBooks, Partner with Online stores such as Amazon and Flipkart. It should become ready for sale and anyone should be able to order your book and get it.
Marketing Process
As Gerry Robert puts it – getting the books is easy, getting rid of it is the difficult part. Once you plan, write and publish your book you think most of your work is done. You may have 2,000 copies in your hand. But how will you get rid of them? How will you sell it?
Here are some of the steps involved in marketing your book:
Get reviews and testimonials from other authors. This you can showcase in the book cover in the second edition or next print cycle of the book.
Get customer reviews on online stores such as Amazon & Flipkart.
Promote your book through social media, blogging, advertising, reviews on other sites and so on.
Develop marketing collaterals such as digital and physical banners.
Do a book launch event.
Partner with other blogs, websites and events to promote your book.
Redirect book readers to your personal website or blog and collect their email IDs. You can intimate them through email when you launch your next book.
Once you sell 1,000 copies of your book you can put a splash on your book cover design advertising the fact that you have sold so much – social proof works wonders in converting prospects into customers.
I have explained the marketing process in detail in the last part of this post. But before we get into it, let's preview Gerry's Instant Author Program and let's see if it is really worth that much!
The $35,000 Instant Author Program – Preview & Low Cost Alternatives
Yes you read it right. Gerry Robert charges $35,000 for his Instant Author Program where he helps with publishing and marketing your book. I will show you why his program is over priced and how you can get better services for a much lower cost. In some cases 1/10th of the cost he is charging 🙂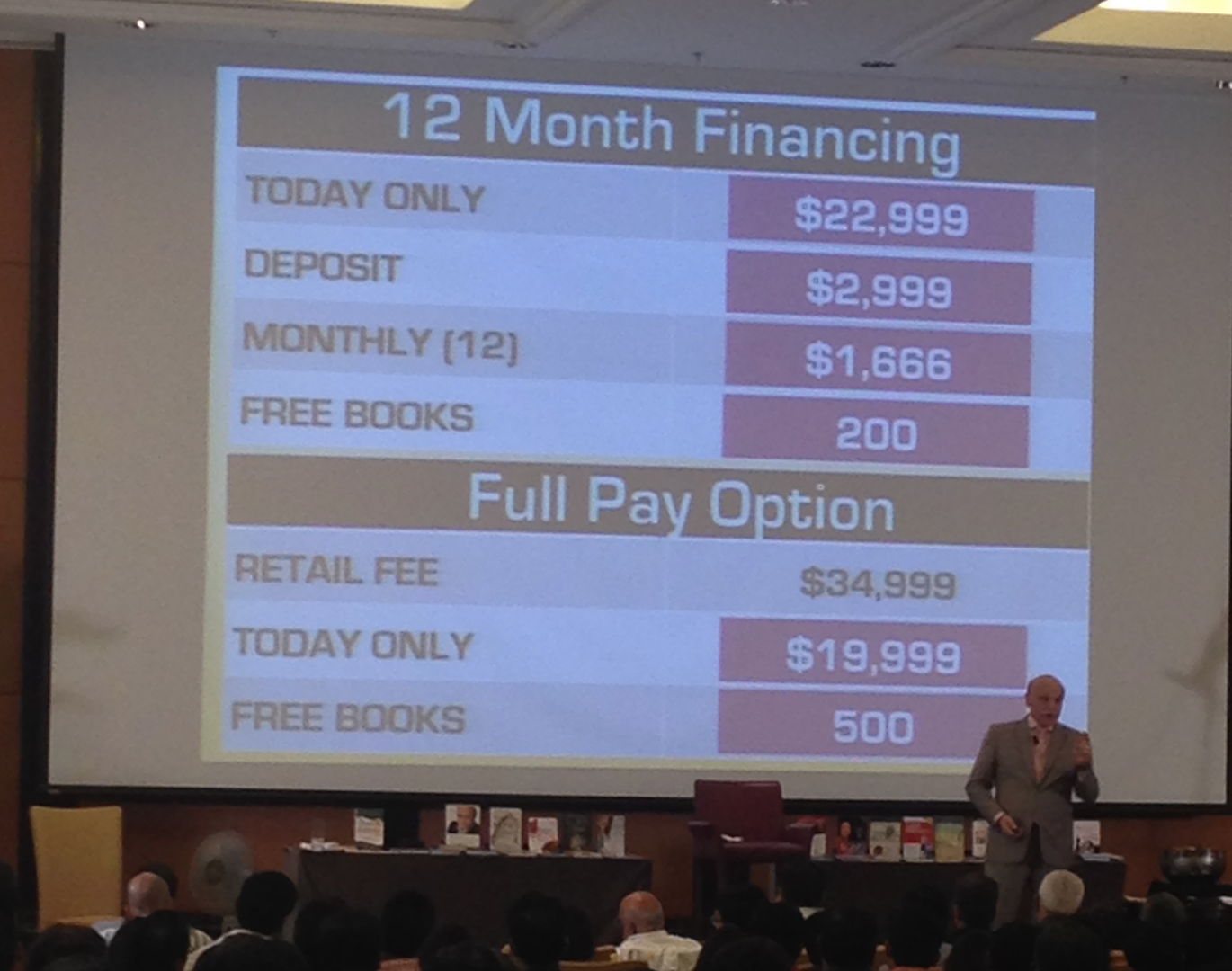 Here's a breakdown of what is he offering in his instant author program. The program is a combination of mentorship, education, training and services.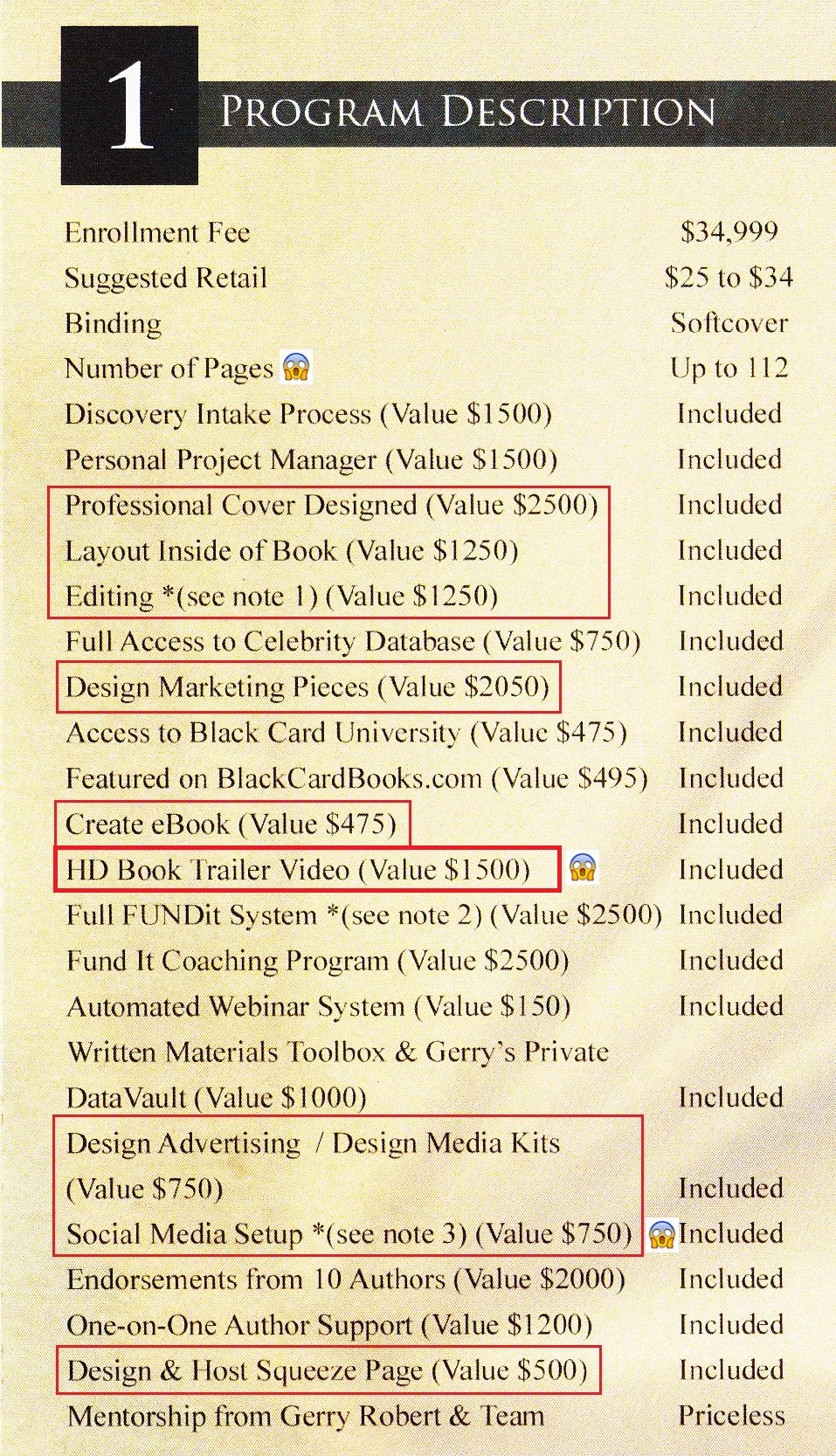 In his deliverables, his services (marked in red boxes above) include:
Cover design – $2500
Inside layout – $1250
Editing – $1250
Marketing collaterals – $2050
eBook version – $475
HD Book Trailer – $1500
Ads and Media Kits – $750
Social Media Setup – $750
Design and Host Squeeze Page – $500
Total: $11,025!
And you have to limit your book to 112 pages and a paperback. 🙁
I will give you cheaper and better alternatives to the above services which gives you more control with your book. You will save a lot of money and also you can publish 150-200 pages and get a hard bound version.
The other set of services that he offers (displayed above) are mostly related to guidance, education and mentorship. I would leave it to you whether you value it at $23,975 ($35,000 – $11,025 Services)! I personally believe that it is not worth that much and that money can be invested in promoting your book, getting better designs, hiring a ghost writer etc. Yes, you will get some huge discounts from Gerry when you attend his seminar but still the price is not justified.
Disclaimer: If you think that Gerry program is worth it, you can go ahead. Some of his services are in fact priceless. Like he claims that he can sell ads for you using his connections & He can get you reviews and testimonials from famous authors. I will let you make the decision. My post is mostly focused for people who cannot or would not want to spend that much but still want to get most of the benefits from book publishing.
Publishing Your Book – A Step by Step Guide
First we will look at the steps involved in publishing your book. Then we will get into marketing it. Here are the steps involved in the publishing process.
1. Make a Great Cover Design for Your Book
Cover design is one of the most important parts of your book. I would recommend that you start the entire process with the cover design. Even if your book has great content, the cover makes the first impression. You HAVE TO invest some money in good cover design.  Here are a list of online services who will do cover designs for you.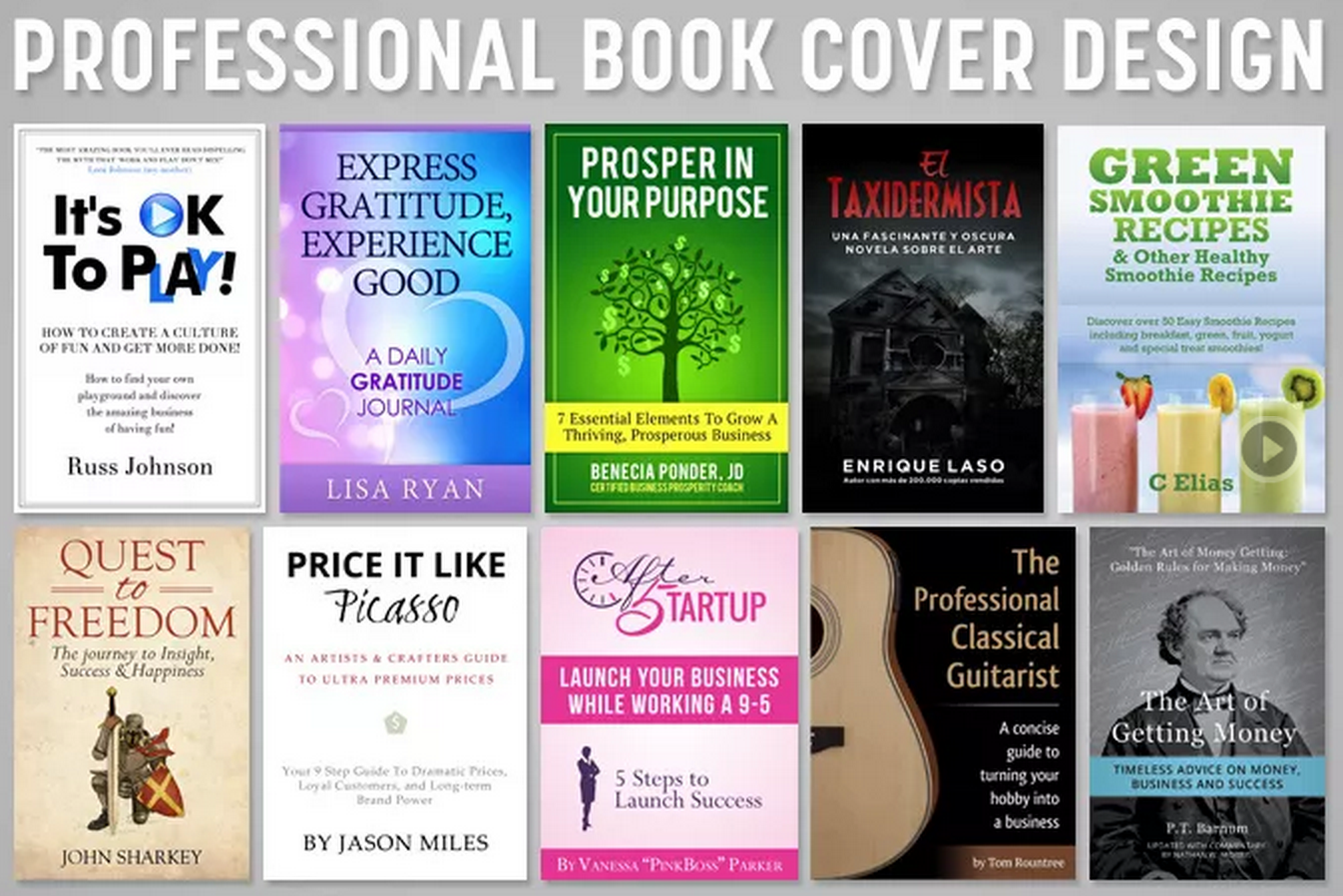 99Designs.com –  If you are really looking for a premium book cover design, 99designs.com will be your ultimate destination. They conduct design contests where a lot of people submit entries to your book. You can choose the winning entry and that person gets the prize money. You can announce contests starting from $299 and for such a price you get 40+ design entries. The better you communicate your expectations to the designer, the better your design will be. You can check 99designs.com/book-cover-design for previous contests and entries. I am sure you will be amazed by the quality of their work. This is 1/8 the cost of Gerry's pricing! And here's the best part – if you don't like any of the designs, you can get a 100% refund! The contest will be cancelled and no one will win.
Fiverr.com – This is for you if you are just testing your book and really want a design on a micro budget. Here you can find plenty of freelancers and small companies who are ready to design a book cover for you for $5 (Rs.300) ! Just go their website and search for "book cover" and you will get plenty of results.
oDesk.com – oDesk.com is an online freelancing network where plenty of freelancers are ready to assist you on your projects. You have to post a project there with a price and freelancers including small businesses will bid for your project. You can get book cover designs anywhere from $50 to $500. You will be able to review the past works of the bidders and choose one according to your expectations. Here's an example:

(Update: I noticed that even Gerry Robert has used 99designs.com to get his book covers designed instead of relying on his own designers! He got the cover for his most important book for just $299 CAD. That's less than $250 USD. That's 1/10th of what Gerry is charging for cover design in his program!
If his designers are the best, why does he use 99designs at 1/10th of the price that he is charging for his IAP program students?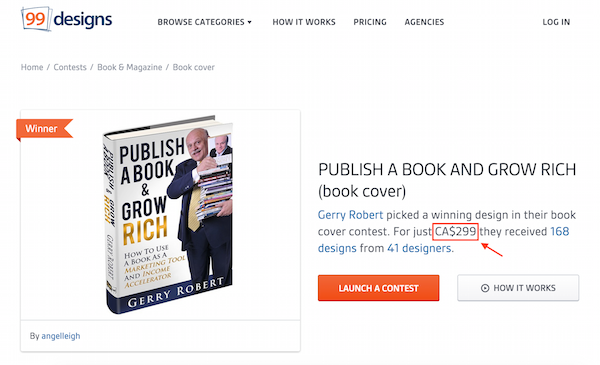 You can check his listings on 99designs here and here. (After a few weeks of publishing this article, they have removed public visibility of the listing on 99designs).
At 99designs.com his profile shows that he has created 64 contests in 99designs so far. There is a chance that he uses 99designs to get covers designed for his clients and charges a premium on that. He doesn't mention 99designs even once in his training programs).
Once you get the cover design done, you can start publishing your book cover in your social media and blogs. You can get the cover design done even before you start writing your book!
You can mention that you are the author of this upcoming book. You can also build an email list and send free copies of your books to the first 100 people who register. You can just charge them for 'shipping & handling' and give away your book for free. They will help you spread the message and help you become more popular.
2. Layout, Editing & Proof Reading
You have to decide on the dimensions of the book you are going to publish. I have decided that I am going to come up with a book that will be 5 x 8 inches (Width x Height). This is the most common dimension offered by many print-on-demand publication companies such as CreateSpace and Lighting Source.
If you have images, equations and tables, editing is going to be complex and hence the person doing the work is going to charge you more. In Gerry Robert's Instant Author Program, Editing & Layout is marked at a value of $2500. You can get these services at a far lesser price at freelancing websites such as oDesk.com
3. Get ISBN Number & Barcode
ISBN (International Standard Book Number) is very important when publishing a book. ISBN is mandatory if you want your book to reach academic institutions and libraries. Though you are not looking for such a reach, an ISBN helps you look professional and not just any author who just put together a book in his free time. ISBN is not necessary if you are publishing only an online version on Kindle, iBooks or any other online platform.
There are a few websites who have published the process for getting an ISBN number in India but none of them is very clear and there are a lot of missing information. For now, I guess the best way would be to get the ISBN issued by one of the self publishing houses mentioned in the next part of this post.
Also remember that you need to get separate ISBN numbers for paperback and hard bound versions of the book.
Once you get your ISBN number you can get the bar code for the ISBN from Online-barcode-generator.net . You can include this bar code in the book cover design. An ISBN usually goes at the bottom right corner in the back side of the book.
More often than not, your publishing company will include this in the print and you wouldn't need to incorporate it in the design. Just make sure to leave a free space in the corner for the ISBN number to go there. Here's an example: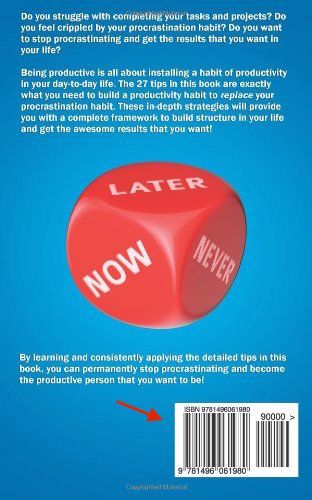 4. Printing & Releasing Your Book
There are many services in India and USA that will print your book on demand. The most standard size for printing is 5 x 8 inches. You can go with a paperback edition or a hard bound edition. I would recommend that you have both with you.
Hard bound books cost more to print but if you are pricing your book in the range of $25 to $30, a hard bound book helps you get that premium feel when holding the book. For purposes such as giving away free copies of your book, you can opt for the paper back edition.
Self publishing houses in India
Pothi.com
NotionPress.com
PartridgePublishing.com
NewWriterPublisher.com
Quillsink.com
The above names are the ones I came up during my research. Out of them Pothi.com seems to have a very transparent business model and they can also help you in getting your book in Flipkart.com and Amazon.in. I will be publishing a detailed comparison and review of all the above services in my future posts after I experience their services.
International Self-publishing Houses
Here are some of the print on demand self publishing services outside India. If you are in India and want to use their service, remember that the books will be shipped from the US and you or anyone who orders your book will incur huge shipping costs. Mostly, more than the cost of the book itself.
Createspace.com (An Amazon Company).
SmashWords.com
iUniverse.com
Xlibris.com
Authorhouse.com
Outskirtspress.com
Lulu.com
LightningSource.com
You should also release your books in ebook format. For example, Kindle and iBooks are two major platforms that you shouldn't miss. You can find guides on how to release your book on Kindle all over the web and I too would be publishing one shortly.
Converting your manuscript into .mobi (Kindle format) can be done for as low as $5 on fiverr.com and their service is of perfect quality. You wouldn't need to spend more than that for conversion into different ebook formats. Gerry values it at $475! I can convert 95 books for that price 🙂
Marketing Your Book – An Overview
The topic of marketing is so huge that I can write a book about marketing your book and that wouldn't be enough. Marketing is an infinite topic because it deals with the psychology of the human mind – and the human mind is infinite!
Marketing has more to do with the strategies than tactics. Tactics come and go but strategies remain. If you focus on learning the tactics, those tactics will expire with time. If you learn the strategies, you can come up with new tactics of your own. Teaching you all the possible ideas on how to market your book is beyond the scope of this article.
What I have tried to do here is give you a basic framework and a few ideas about pushing your book into the market. There is nothing called marketing it too much. The more you market it, the better because it reaches more people and brings with the all the benefits including monetary gain 🙂
Whether it is selling a product, service or a book – marketing is not something that can be outsourced to an external organisation. There are many people who would sell their marketing services but they wouldn't even be scratching the surface. Marketing is something that you have to do yourself and it starts from choosing what topic you want to write about, who will be the people reading your book, cover design and more.
Here are a few ideas which would act as a starter to your marketing campaign:
Reviews: Reviews and testimonials are an important part of any marketing campaign. When you get reviews from experts/authority it becomes even more powerful. People try to shortcut their way into decisions based on other's actions (humans are sheep?). If others have read the book and found it useful, people will buy without hesitation. Try to get testimonials from other authors and experts in your field and showcase it on your book. When the product is released in online stores, try to get 4-5 star ratings and reviews from friends & family. (I don't recommend fake reviews!)
Social Media Marketing: The first place to promote your book almost for free is your own network. You can push your book in your network via Facebook, Linkedin and Twitter. Some of the people in your network will be buying your book and giving you reviews and testimonials.
Blogging & Email Marketing: If you own a blog, it makes sense to showcase your book (or upcoming book!). If you have an email list, promote it there. You can also build an email list by informing people about your upcoming book and promising them free copies when the book is launched.
Paid Advertising: Depending on your budget, you can opt for paid advertising on social media, other's websites or offline channels. If your book is on a specific topic, you can advertise on Google AdWords in such a way that your book is shown when people search for specific keywords on Google.
As I already said, marketing is a very large topic and I can't cover everything here. I will be coming up with a post specifically about techniques to market your book and perhaps a book on book marketing.
Conclusion
I hope you have got a pretty good idea about why to write a book, how to write and how to publish it. A book project takes up a lot of physical, emotional and mental resources and publishing a book is an achievement in itself.
Do not try to publish a perfect book – you will never end up finishing it. Publish a book and then make it perfect – it is easier that way. Since self publishing has become so common, you can publish the first version of your book, get 200 copies out and then publish a perfect-er second version 🙂
You have got all the information that you would need from this post. You have got the why, the what and the how. There is no reason for you not to become a published author. If this post inspired you to write a book and you publish it, contact me and I will feature your book on my blog at no cost! I may even publish a review of it and send it to my 1000+ email subscribers.

#Writing-a-Book
P.S. If you had enough will power and patience to read until this sentence (this is the longest post I have ever written on this blog till date!) I am sure you will be able to write a book and publish it as well. All the best!