The Future of SEO: Long Tail Keywords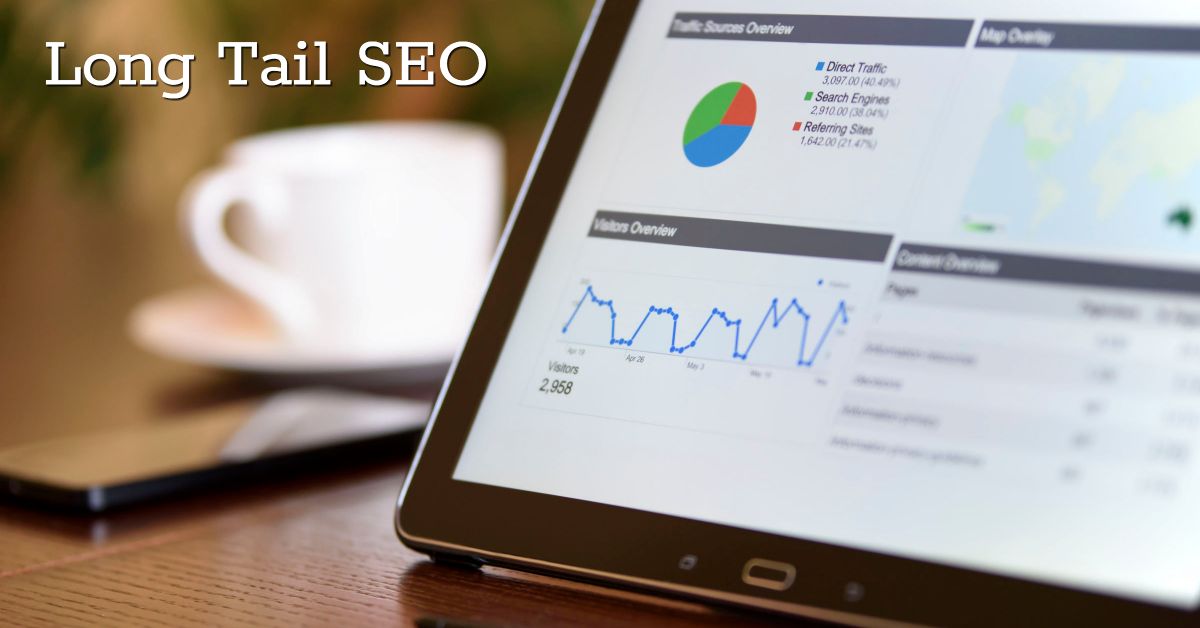 Getting traffic from search engines is a great way to scale website traffic, for free. The quality of the visitors is high and it doesn't cost like paid ads. But the biggest challenge for marketers is getting good rankings on the search result pages.
That's why SEO freelancers and SEO jobs are in demand.
Getting good rankings for competitive keywords is extremely hard. The website needs to have good domain authority and relevant backlinks from trusted sources. That cannot be created overnight.
However, you need not wait forever to start tapping into high-quality search engine traffic for your relatively new website. Instead of trying to rank for short-tail keywords, rank for long-tail keywords. You will start ranking faster because there is less competition in the long tail.
In this article, I want to show you some of the strategies that I've used to tap into the search traffic from long tail keywords. Short-tail keywords are highly competitive and have a lot of search volume. Long tail keywords have low search volume, but there are many possibilities.
A good thing about long-tail keywords is that the quality of the traffic will be better than the ones from short-tail keywords. That's because the internet users who search with long tail keywords are deeper into the buying funnel than the people who search for short tail keywords. The following graph makes it clear.
Someone searching for "digital marketing training institutes in Bangalore" is more likely to sign up for a digital marketing training program than someone who searches for just "digital marketing".
To scale your search traffic using long-tail keywords, you need more content. This increases your investment in content generation. As long as you believe that the investment in the content is going to produce enough returns, you can go ahead with it.
Digital Deepak Case Study
Let me show you a case study from my blog. I target a lot of digital marketing training-related keywords. My potential customers are searching for such keywords and I would like to convert them into a customer by bringing them inside my funnel.
For a one-man band like mine, it is pretty hard to rank high for the keyword "digital marketing training" due to the high competition. So I target long tail keywords which my potential customers are searching for.
"Digital marketing training in city X" is one such type of long tail keyword.
Some of the keywords that I have targeted are:
Top digital marketing training institutes in Delhi – My blog ranks #1
Top digital marketing training institutes in Mumbai – Ranks #1
Top digital marketing training institutes in Ahmedabad – Ranks #1
There are a lot more cities that I am yet to cover. Though I am promoting my competitors in these articles by mentioning their training programs, I am still getting my target audience to visit my blog. This audience, looking for training in Mumbai might be interested in my online courses.
A percentage of them will convert into email subscribers for my free digital marketing course. And a good percentage of them will buy my courses. Let's see how one such keyword has performed.
If I search for "top 10 digital marketing courses in Mumbai", I rank #1 in the organic search results.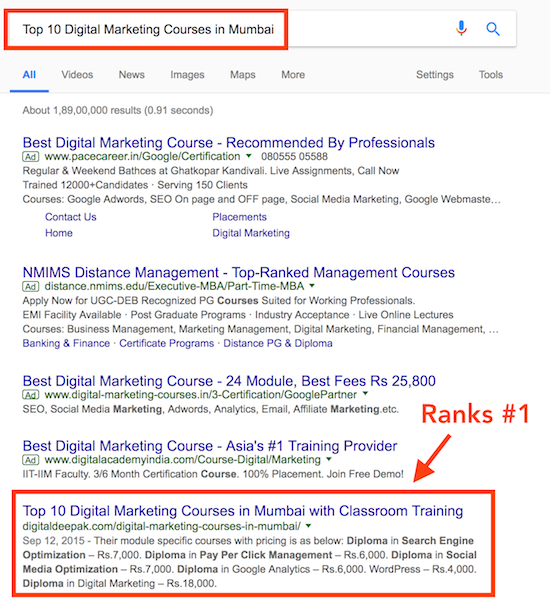 I have not done any manual link-building for this article at all. I have not even shared this article on social media. The competition for this keyword is low and my domain authority alone is enough to get this page ranked at the top.
Someone else might not be able to rank such a keyword for a brand-new website. I agree that I have more domain authority. But that webmaster can go further down the long tail and publish an article on the topic "Digital marketing training in Worli, Mumbai". Since there is almost no competition for that keyword, he will easily rank No.1
There is no limit to how long you can go on the tail, but the longer you go, the lesser would be the volume of search traffic & easier would be to rank them on top.
Content for Subscribed Audience vs. New Audience
Note that the article on Mumbai digital marketing courses is not a post but a page inside WordPress. No one can navigate to this post from my blog because I have not published this article for my existing audience.
Only people who search for it on search engines will discover this article. And that's all I want. These people will discover my brand for the first time and enter my funnel.
I do not want to publish it for my existing subscribers because not all the subscribers would be interested in this content & it will create too much content clutter.
I publish one or two high-quality articles per week on my blog, like this one you are reading right now. Less is more, for my existing subscribers. I promote such high-quality articles across all channels like Facebook Group, my Facebook Page, and my email list. This helps me keep my brand at the top of my subscriber's minds.
If you are reading this right now, you are mostly a subscriber than a search engine visitor. It will be very hard for me to rank this particular article high on the search engines for the keyword "long tail SEO". Though I will not complain if it does 🙂
Calculating ROI on Long-tail Content
Creating content costs money. The returns are not immediate in this case because I do not monetize my blog with display ads. Then how do I justify the investment made in the creation of this content?
Let's have a look at the numbers from my Google Analytics. Here, you can see that this page on Mumbai digital marketing courses has got 31.5k unique views over the past two years and 27.7k unique views.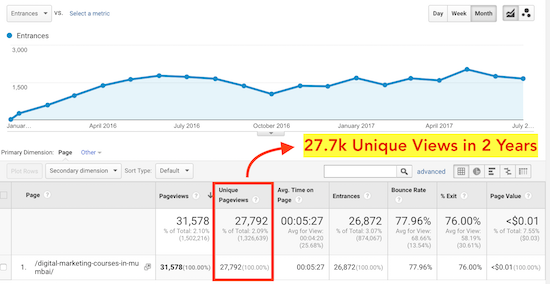 I convert around 13% of my visitors to email subscribers. That means that from this article alone I would have got 2,700+ email subscribers over the period of the past two years. If I have page-specific campaigns using OptinChat, then I might be able to convert as high as 25% of my visitors into subscribers.
I spend around Rs.10 – 20 for every subscriber via Facebook Ads. So every subscriber is worth at least Rs.10 to my business. When I launch courses, I would get an ROI from this investment.  If I can get the same quality subscriber from some other source for a lower cost, then it's a huge profit for me.
This article has given me 2,700 subscribers least, until now, over the past two years. And it will continue to give me more subscribers in the future. Acquiring 2,700 subscribers using Facebook Ads would have cost me Rs.27,000 in ad costs.
I invested only Rs.2,000 to get this article written by a content writer. That's a 1250% return on investment over a period of 2 years.
Now I can do the same for every major city in India and tap into the high-quality targeted traffic that is available out there on the web. The cheaper I acquire quality subscribers, the higher my profit margin when I launch my courses.
The Long Tail Concept
The long tail is not limited to SEO. The concept of the long tail has been there for quite some time and exists in retail and e-commerce businesses as well.
Amazon was able to beat other traditional book stores because Amazon has "unlimited shelf space".
A traditional book store can only store so many books on their shelf, so they only store the best-selling ones. This is the short tail. High demand, popular, known to everyone. Let's say, for a book to qualify to be on the shelf of a typical book store, it needs to sell 500 copies a month.
Amazon stores all its books in warehouses that are away from the city. There is no shortage of storage space, so they can store even books that sell only 50 copies a month.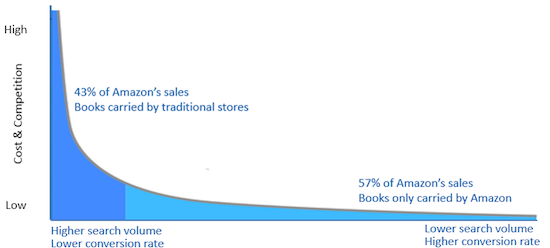 More than 50% of Amazon's book sales come from the long tail topics, which are large in number but each topic will have limited demand.
Amazon is a disrupter in the space of the books and they used the concept of long-tail. They competed with well-established book stores like Barnes and Noble and crushed them. All with the power of long tail.
If you want to compete against the big websites, focus on the long tail. Competition in the long tail will be low. Big players will not focus on niches because the market size is not big enough for them.
The long tail, with so many possibilities, together can sometimes be bigger than the short tail, as seen in Amazon's case here. That's why the long tail is the future of SEO.
There is also a book called The Long Tail by Chris Anderson which is an entire book only on this topic.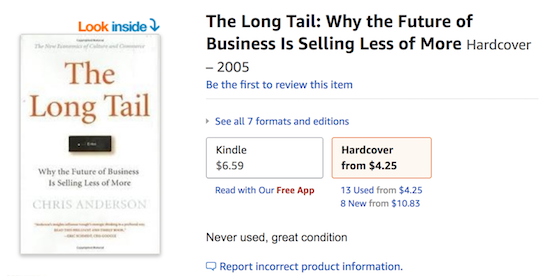 As the book's title says, the future of business is all about selling less or more.
Have more product options, and sell a little bit of everything.
And the future of SEO is getting less traffic to more pages on your website.
Together, the total traffic will be more than the short-tail keyword traffic that your well-established competitors get.
I hope this article gave you ideas and inspiration on how to tap into the long-tail keyword possibilities available on the web.
Cheers,
Deepak Kanakaraju