Top 7 Digital Marketing Jobs in India in 2023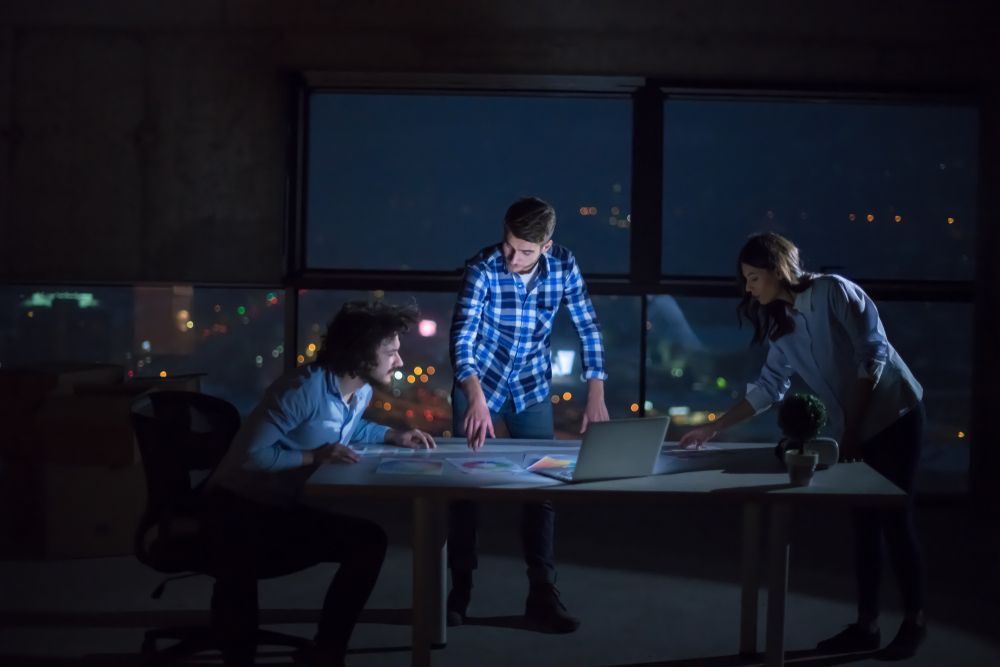 As the world is moving more towards digital communication, digital marketing is becoming more important than ever. Companies and brands can no longer afford to advertise on TV, on the radio, in newspapers, and in magazines. They can't get the ROI from those channels because that's not where people are hanging out.
More consumers are spending more of their time on digital devices. Internet speeds and connectivity across regions are going up. More people are also getting mobile phones with faster speeds and bigger screens.
If companies do not adapt to this change in consumer behavior, they will become obsolete. That's why most companies are realizing the need for digital marketing.
While small businesses are hiring digital marketing freelancers, or outsourcing their work to small boutique agencies, big companies are building digital marketing teams of their own.
Just have a look at YouTube's growth. It doesn't seem to slow down. And if this pace of growth continues, the new users who come into digital devices will abandon traditional forms of content consumption.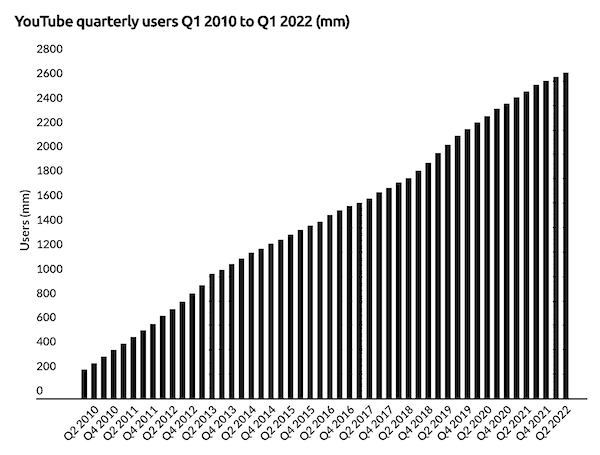 That's why Digital Marketing is one of the hottest jobs out there. Good digital marketers are very hard to find. If you become good at digital marketing, companies will be ready to pay you top dollar to hire you.
Digital marketing has become so important that it has subdivided itself into many sub-categories. Instead of being a generic digital marketer, become a specialist.
When you focus on one area, you will be more in demand and you can earn more out of your skills. Just like a neurosurgeon or heart specialist makes more than a general doctor, you should go deep into one subject.
You need to become a T-shaped digital marketer. First, you need to learn everything about digital marketing. It's like under graduation. That's the horizontal part of the T. Without understanding the entire framework of digital marketing, you will not be able to go deep into one subject. It's just like one cannot become a specialist doctor without studying general medicine first.
After you have learned everything on a high level, then you go deep into one area depending on your skills, talent, and passion. For example, one of my team members Shreyas learned digital marketing first, and then he went deep into performance marketing. He is the best at what he does, and his salary has grown leaps and bounds.
Now that we know digital marketing is super important, let's have a look at all the top digital marketing jobs available in 2022 and beyond.
1. Social Media Manager
The social media manager is the most in-demand digital marketing job in 2022. It is also an entry-level job in the digital marketing field. For most companies, the lowest-hanging fruit in the digital marketing space is social media.
Though social media marketing alone is becoming less effective without paid ads and email marketing added to the mix, it is still the place where brands get started with.
Some brands are still using the traditional medium of advertising and they need social media presence for their customers to communicate with them. Having a basic page on Twitter, Facebook, and Instagram has become the norm.
Nowadays customers instead of calling the support number or mailing the support team, many times tag brands on social media to send a message. Such messages need to be responded to on social media.
The social media manager also takes partial responsibility for support. If there are things that the social media manager cannot handle, then he/she can pass them on to the support team for resolution.
These are the responsibilities in brief of a social media manager for a brand:
Understand who is the ideal customer for the brand
Identify topics that will be of interest to the target customer
Create content including text, images, infographics, and short videos for posting across all social media channels
Collaborate with other brands and influencers for engagement
Grow the social media following of the brands
Engage with the audience on social media and delight them
Create an overall fun persona for the brand that is likable, witty, and charismatic.
The salary for a social media manager ranges from 2.4L CTC all the way up to 12L CTC depending on the city, place of work, and skills.
Students with 3-4 years of undergraduate degree coming out into the job marketplace can find social media manager jobs easily if they have done a good online training program on digital marketing.
Willingness to experiment, being creative and a passion for digital marketing is mandatory to shine well as a digital marketer. The social media manager position is a good starting place for people who want to build a digital marketing career.
Example Job Opening for Social Media Manager: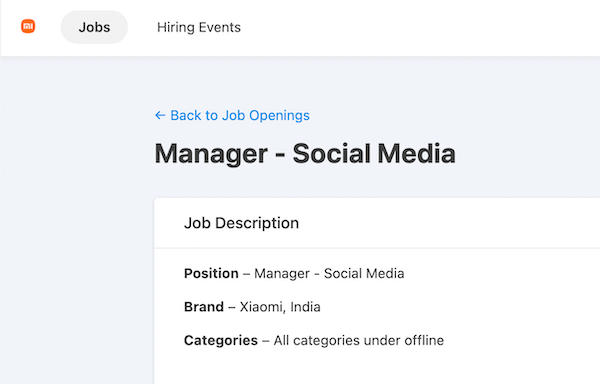 Brands are hiring for offline as well as online jobs.
If you are looking for a long-term career in digital marketing, I would recommend going for an offline full-time position as it would help you build your network and observe how your social media job is integrating into the other aspects of the company.
Building professional relationships will be the key to moving up the career ladder. Your manager will be your mentor and you will not be left out of important decisions in an offline environment. If you are working only online, you will be treated as a commodity and you will not be able to grow within the organization or in your career.
Here are some profiles of people from LinkedIn who have social media as their primary responsibility.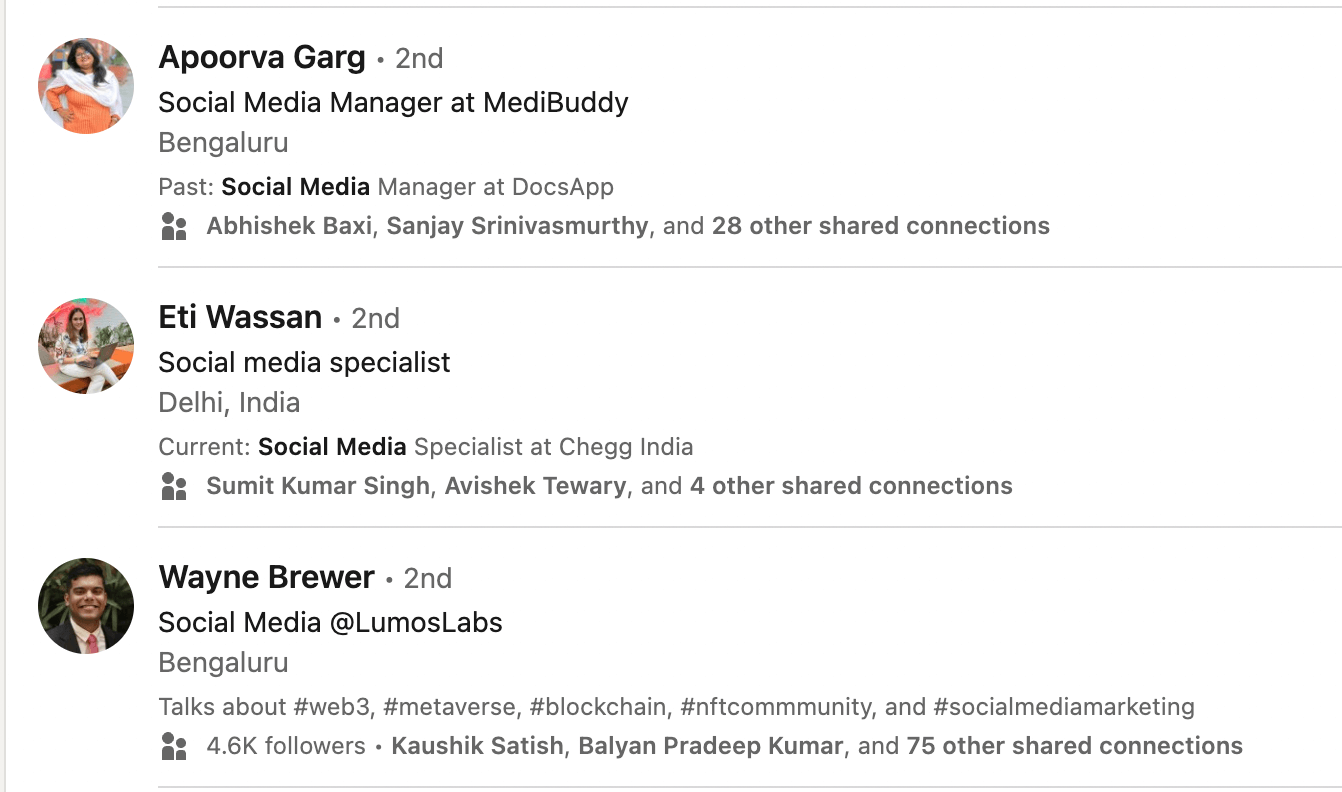 According to AmbitionBox, the avg salary of a social media manager in India is 4.1L per annum with 10.5L being the highest possible salary.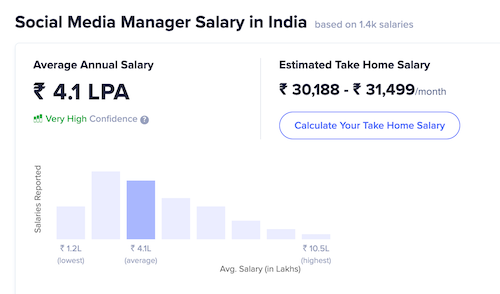 Jobs that overlap with Social Media Manager:
Community Manager
Brand marketing manager
Customer support specialist
2. Digital Marketing Manager
The second most common digital marketing job after social media manager is digital marketing manager. In many cases, if the company is not very big, the social media manager's job becomes a part of the digital marketing manager's job.
Startups and small businesses start building their digital marketing team with one person and that's usually the digital marketing manager.
My own work history across five different startups was digital marketing management. I have worked at Exotel, Practo, Instamojo, Razorpay, and MoEngage and in all these companies, my position was digital marketing manager.
I started my job with 12 Lakhs in CTC and it went all the way to 25 Lakhs CTC in 2017. Many of these startups also gave me employee stock options but most of the ESOPs were not worth anything, except Razorpay's. Razorpay has been an exception and the shares went almost 400x from my original purchase price of the ESOPs that I vested.
Here are some examples of active digital marketing manager job openings in India.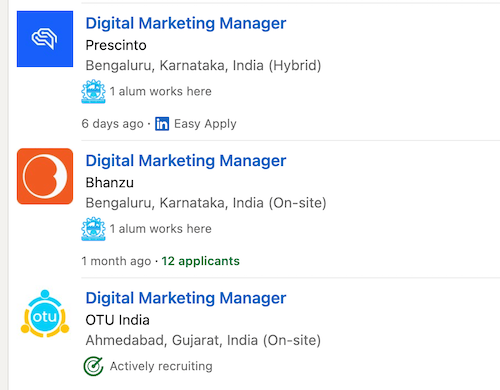 When you are applying for a digital marketing manager position, you need to be a generalist. A specialization in one topic does help, but that's not going to be mandatory if you are joining an early-stage startup.
Here are some examples of people with Digital Marketing Manager as a career option: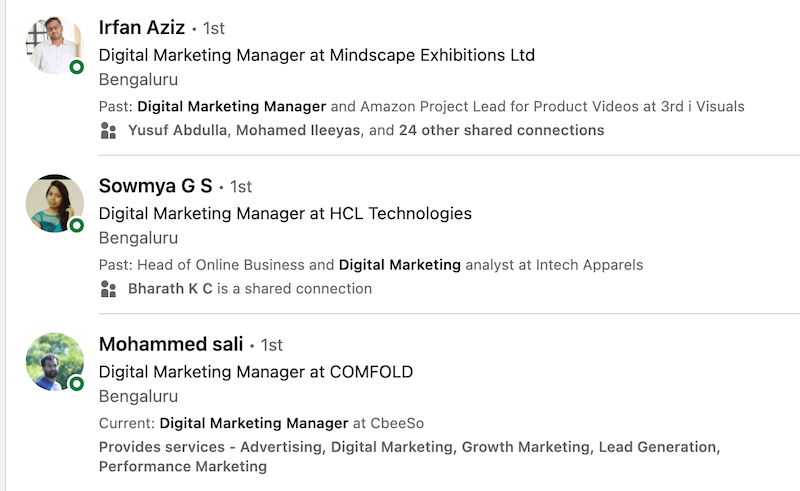 Good command over the CATT funnel (content, attention, trust, and transaction) is what you need to excel in your digital marketing manager job.
As a digital marketing manager, you should be able to:
Do market research and understand your target audience
Create content for your target audience in various formats
Generate leads using organic and paid traffic methods
Nurture the leads so that they are warmed up
Hand off the leads to the sales team for conversion
Attribute the conversions back to the campaigns to identify the best performing campaigns
Optimize the entire funnel for better conversions at each stage of the funnel.
In many cases, you might be an individual contributor if the company is an early-stage startup or a small business.
You might need additional help in the form of graphic designs and technical support from the development team. You should be a team player and be ready to work with a team to achieve your goals.
As the company grows, you might be able to build your own team. You will have the freedom and the budget to recruit people who will report to you. If you do a good job, you might be able to become the V.P. of digital marketing or the CMO (Chief Marketing Officer).
According to AmbitionBox, a digital marketing manager in India earns an average of 7.2 Lakhs per year. With 20 lakhs being on the higher side with the best startups and companies.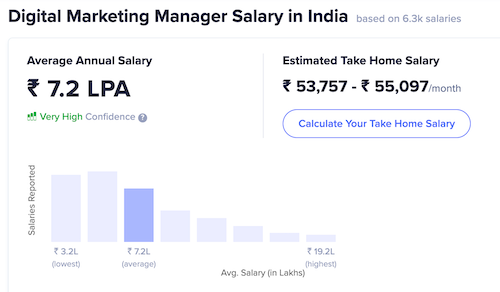 Jobs that overlap and/or are similar to Digital Marketing Manager:
Chief marketing officer
VP or AVP of Digital Marketing
Head of Digital Marketing
3. Performance Marketer
Performance marketer, or sometimes performance marketing manager is a specialized role that involves paid advertising. Sometimes this role is also called "Media Buyer". Performance marketing helps in your revenue growth. It helps you turn a profit from your ads.
In many companies, the digital marketing manager does the job of the performance marketer. If the startup is very small, then the founder himself will do the performance marketing job. (I used to set up campaigns and take care of performance marketing myself when I started my company).
A performance marketer usually reports to the digital marketing manager, CMO, or founder. The structure really depends on how important performance marketing is. At my agency PixelTrack, I am the founder + digital marketing manager, and the performance marketer reports directly to me.
Most of our digital marketing is performance marketing. I am not a social media guy apart from posting a few random pictures and stories on my Instagram and Facebook.
Since it takes up a huge portion of our digital marketing activity, we have a performance marketer, but no separate digital marketing manager.
The duties of a performance marketer involve:
Identifying the ideal customer avatars
Analyzing opportunities with Facebook and Google Ads
Deploying campaigns for lead generation
Evaluating opportunities with affiliate partnerships
Optimizing the sales process for better conversions
Attribution of conversions to different campaigns
Deciding ad budgets for various channels
Reporting on CACs from each source
Finding out the most profitable media channels that drive higher LTVs
Here are some examples of performance marketer requirements on LinkedIn Jobs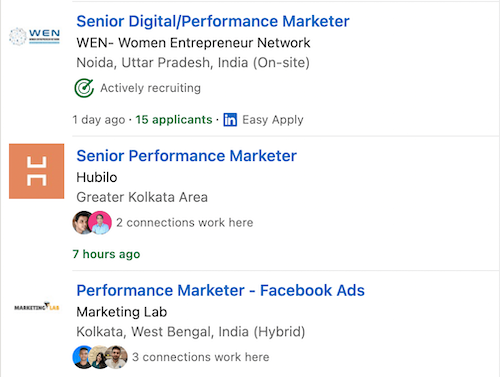 Here are some examples of people with performance marketing careers: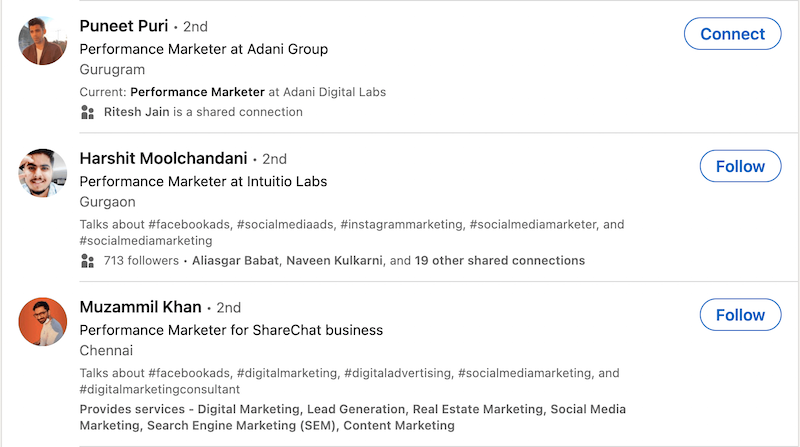 The performance marketer needs to work closely with the designer to develop ad banners and video ads for display ad channels.
The performance marketer also needs to work closely with the copywriter to develop ad copies that perform well. This leads to our next most important and in-demand digital marketing job: the copywriter.
According to AmbitionBox, a performance marketer makes an average of 5L per annum with 17L being the highest possible salary.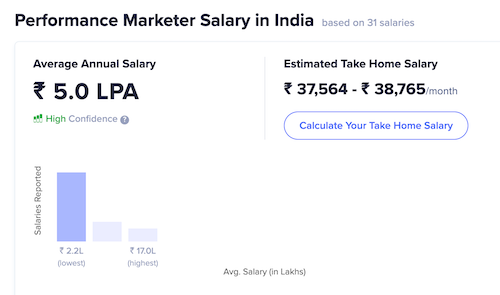 Jobs that overlap and/or are similar to performance marketers
Search Engine Marketer / Search Ads Specialist
Facebook Ads Manager
Media Buyer
4. The Copywriter
The performance marketer cannot get performance out of the ads if the ads have a poor copy on them.
The copywriter is the one who has to have the most in-depth understanding of the target audience, just next to the founder.
Really good copywriters have decades of experience and they can come up with angles that will be resonating with the target audience. The ads have to pattern interrupt and get the prospect's attention.
The first big hire for my startup was a copywriter. The copywriter does not just write ad copies, but also sales page copies, VSLs, and landing page copies.
The key responsibilities of a copywriter include:
A clear understanding of the target audience
Developing surveys to learn more about the audience by asking the right questions.
Writing intriguing and attention-grabbing headlines and descriptions for display ads (like Facebook Ads) and text-based search ads. The better the ad copy, the higher the CTR (click-through ratio from ad views to landing page visitors).
Writing landing page copy for lead generation pages (also called squeeze pages) that can convert the maximum number of page visitors into leads
Identifying lead magnet content ideas for lead generation and working closely with the content marketer for developing the content.
Writing follow-up email copies for the lead magnets with a call to action in every email.
Writing scripts for VSLs (video sales letters).
Writing sales copy for sales pages that convert the maximum number of nurtured leads into paying customers
Understanding the customer's needs and pain points and suggesting ideas for products.
Be able to define the voice and writing style for the content marketers on the team.
In many cases, copywriters work on a project basis as freelancers. Full-time copywriter jobs are very well paid and the business doesn't hesitate to pay copywriters because they impact the revenue directly in a positive way.
The first time I hired a copywriter to write a sales page, my revenue went up by a factor of 5x. Same list, same audience, same product, just better sales page, and email copies.
It has to be noted that the copywriter cannot become a content creator. When it comes to developing marketing content like lead magnets, it is the responsibility of the content marketer, the next in-demand digital marketing job.
Here are some examples of job listings on LinkedIn for the position of copywriter.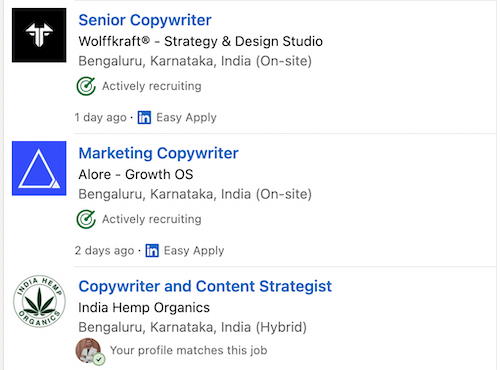 And here are some examples of people with copywriting jobs.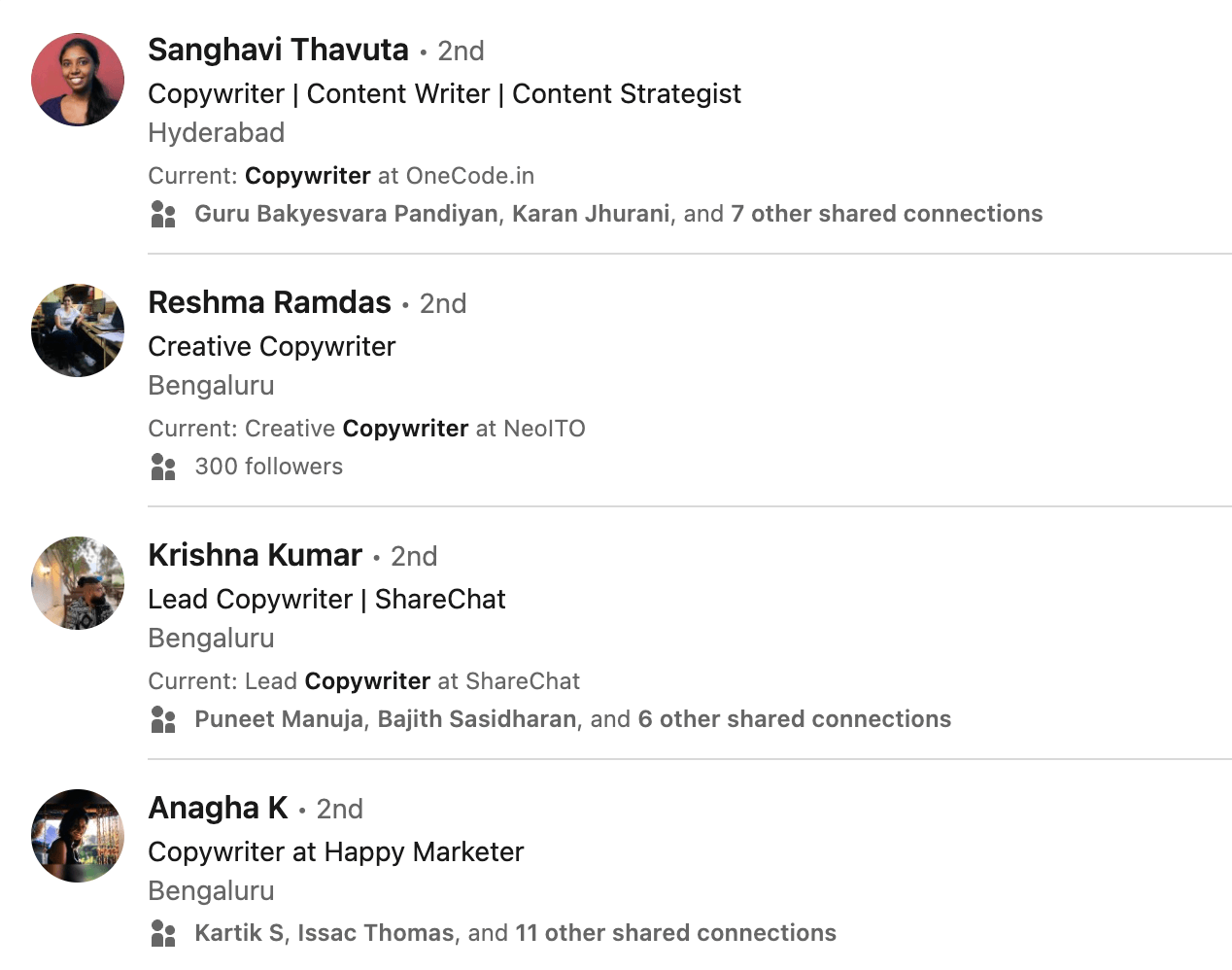 In most cases, it is difficult for the copywriter to handle the job of a content creator as well. That leads us to the next most important job, the content marketing manager.
5. Content Marketer
The content marketing manager has to take care of content production. If it is a media company or an education company, the content marketing manager's job will overlap with the product creation team as well.
Most startups are not ed-tech startups, but that doesn't mean that they shouldn't be educating their audience. They may not be selling premium content, but premium content is needed to attract the right audience.
Many brands mistake entertaining content for education. Serious education content can be a great top of the funnel for any product.
For example, one of my team members, Jayant was selling a pushup board on his e-commerce store and he created plenty of content related to upper body strength and the importance of pushups. This strategy helped him to attract the right target audience at an early stage when they are in the research mode. When they are ready to buy, the product is ready for sale.
In small startups, the content marketing manager takes care of the content strategy as well as content production for marketing. In larger companies, the content marketing manager can head a team of content creators who create both text and video content.
For the sake of keeping things simple, I have not added content writers and video creators as separate job descriptions. I am going to club them into content marketing management.
The roles and responsibilities of a content marketing manager include:
Getting a clear understanding of the target audience and their needs.
Taking the responsibility of creating high-quality lead magnets that attract leads and nurture them
Work with the performance marketer and copywriter to identify the best performing lead magnets
Creating blog posts for attracting SEO traffic, by working closely with the SEO Expert.
Creating a content calendar for posting across all social media channels on a regular basis to keep followers engaged
Plan YouTube content for video marketing. Either head the production of videos themselves or work with the video marketing manager in the team (if available).
Make sure all the content pieces have a call to action that drive people towards conversion, not just engagement. Work with the copywriter closely to improve call-to-actions across all content properties.
Have a keen eye for design and usability to make sure all the content is presented well in a manner that reflects the company's branding.
Track the performance of the content using analytics. Work closely with the data science or analytics expert if one is available.
Here are some examples of job openings for content marketers on LinkedIn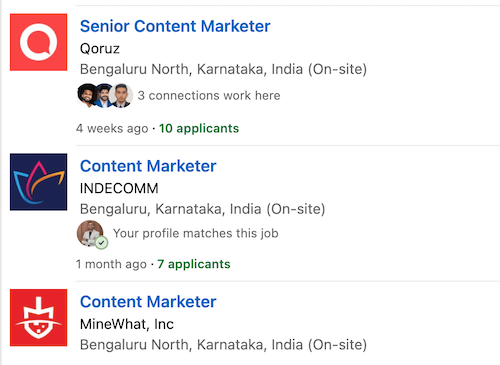 And here are some examples of content marketers on LinkedIn: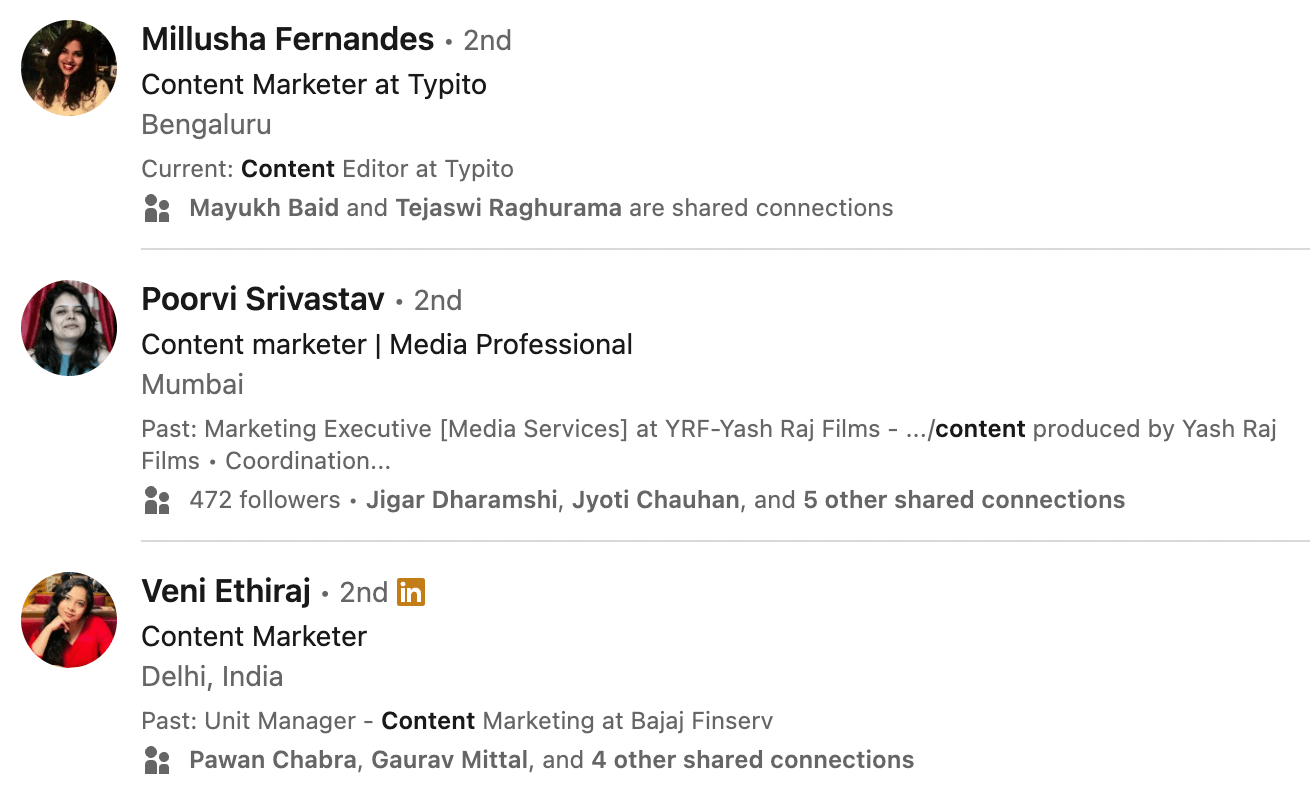 For my business, I have been the chief content creator for the past 5 years. All the articles, including this article, have been hand-crafted by me.
As the revenues and profits grow, we will be making room for a solid content marketer to join our team and take care of all the above responsibilities.
Jobs that overlap and/or are similar to Content Marketing Manager:
Inbound marketing manager
Top-of-the-funnel manager
6. Marketing Automation Manager
Marketing automation is an important part of digital marketing. In small companies, the digital marketing manager himself creates all the automation. In my company, I am the one who creates most of the marketing automation with help from my performance marketer.
Marketing automation involves automating the communication between leads and paying customers. Why send a message manually when the computer can do it as effectively as you can do it?
The job of the marketing automation manager involves learning and understanding how to use all the marketing automation tools. This involves tools like Zapier, Make.com, Pabbly and automation features like drip marketing and email triggers inside CRMs.
In India, WhatsApp forms a major part of marketing communication. WhatsApp automation tools like WATI etc are also an important part of marketing automation.
The roles and responsibilities of a marketing automation manager include:
Setting up drip marketing campaigns to nurture the leads.
Segmenting the leads based on behavioral and information triggers. (Behaviour can be like visiting a specific page, clicking on email links, etc and information-based triggers come from data collection like surveys and polls).
Creating an automated onboarding sequence for paying customers
Automating support tickets wherever possible for repetitive tasks
Automating surveys and customer feedback at specific intervals after the transaction
Having a working knowledge of APIs and Webhooks
Knowledge of tools such CleverTap and MoEngage
Here are some examples of job positions for marketing automation managers: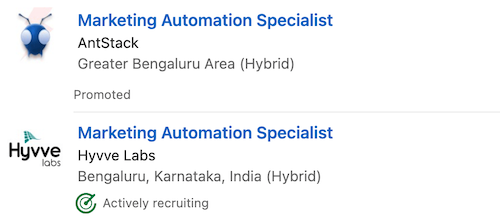 Here are some examples of profiles on LinkedIn who are working as marketing automation managers: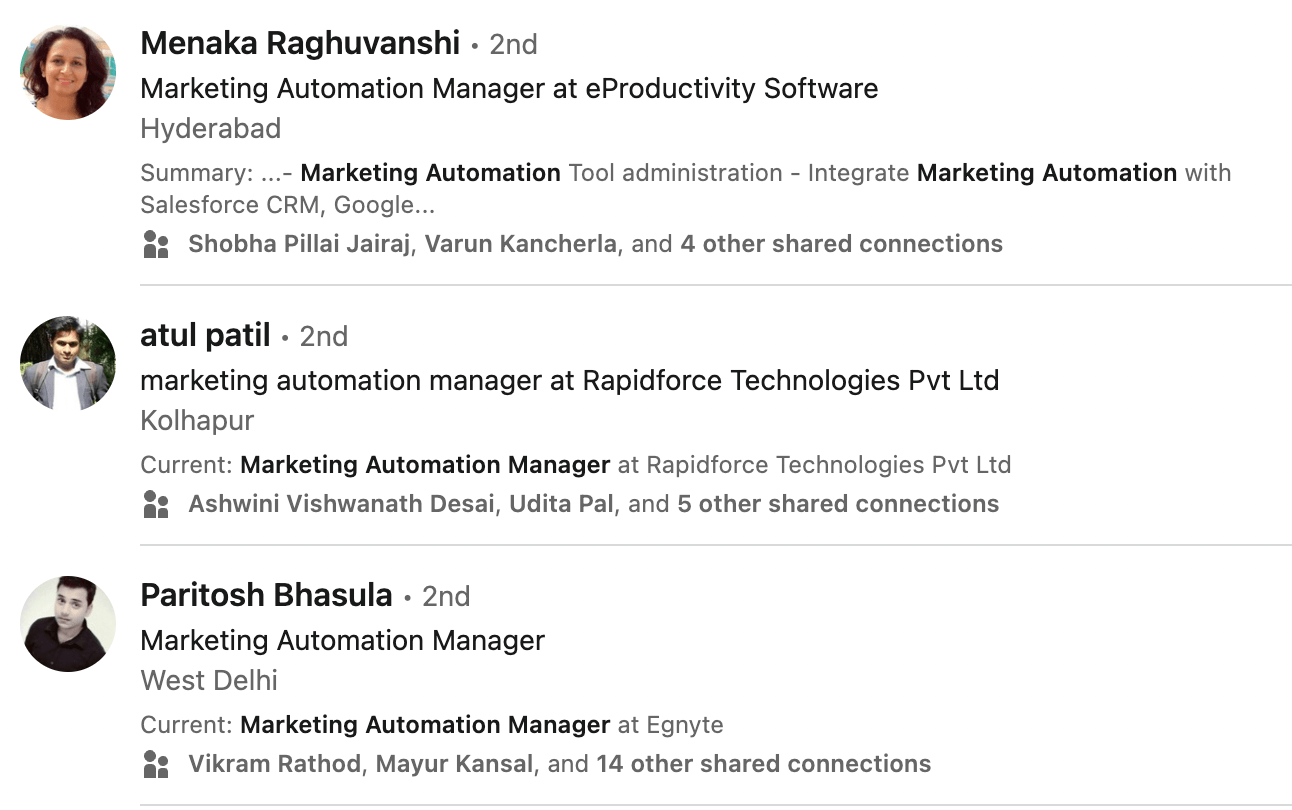 Marketing automation is very important for building relationships with prospects and customers on automation.
As most content creators and influencers have very little time to personally interact with a large audience, marketing automation helps build parasocial relationships at scale.
Jobs related to Marketing Automation
Email Marketing Manager (read how email marketing helps in getting new clients)
7. SEO Expert
SEO is one of the most important parts of digital marketing. When implemented well, an SEO strategy can bring in highly qualified prospects into your marketing funnel. I have also written about how to get started with SEO.
SEO also integrates with Search Engine Marketing (SEM) because the foundation for both search strategies is the keywords.
Keywords are the words that people search on the search engine (mostly Google) to find web pages that match the information they are looking for. Search engines can send you qualified prospects because you are looking for people who are looking for you.
With social media marketing (including paid ads on social), you are showing ads to people while they are consuming some other piece of content. You are interrupting them. Even if your target demographic is very narrow, you still cannot expect everyone to be interested in what you have to offer.
For example, if someone is searching for "learn digital marketing" on Google, the intent is very clear that they are looking for a digital marketing course or training. It doesn't matter if a 20-year-old is searching for it, or an 80-year-old. They want to learn digital marketing and it is very clear.
That's one of the reasons why search engines are a gold mine for getting new customers to your business. You will be able to reach out to people who are looking for you. Search engines are just an evolution of yellow pages. People would look for a service provider and call them to get their service. The search engines are just a more efficient way to look up yellow pages.
The responsibilities of a search engine optimizer include:
Doing keyword research using various keyword research tools and maintaining a list of high-value keywords.
Doing competitor research and understanding what keywords other websites and blogs are ranking for to expand opportunities.
Willingness and initiative to learn all the new SEO tools in the market that come up from time to time.
Working with the performance marketer to identify high-value keywords from Google Search Ad campaigns.
Clear working knowledge of Google Search Console and identifying new keyword opportunities through the search console
Taking care of page load speed by choosing the best hosting platform for the content.
Coming up with the keywords that can be advertised on search engines. Analyze which keywords give the best conversions.
Working closely with the content marketer to get articles written for multiple target keywords.
Identify and execute backlinking opportunities for building the website's authority in the eyes of search engines.
Optimize all the indexed pages on the website to help improve rankings on the SERPs (search engine result pages).
As long as people use the internet, they are going to search for what they need. And as long as people search for something, there is a need for SEO.
SEO is not just about Google. There are many niche search engines. Every search engine has its own algorithm for how it decided to rank its listings.
For example, Practo is a search engine for doctors and Zomato is a search engine for restaurants. Niche search engines are going to be a big thing in the future. Talking about the business of building search engines is beyond the scope of this article and we will discuss it in another article.
Here are some job postings for SEO experts as seen on LinkedIn: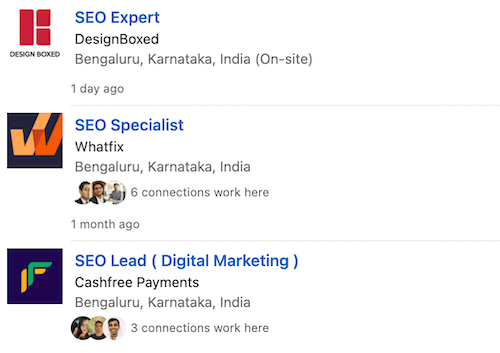 And here are some profiles from LinkedIn search who are working as SEO experts.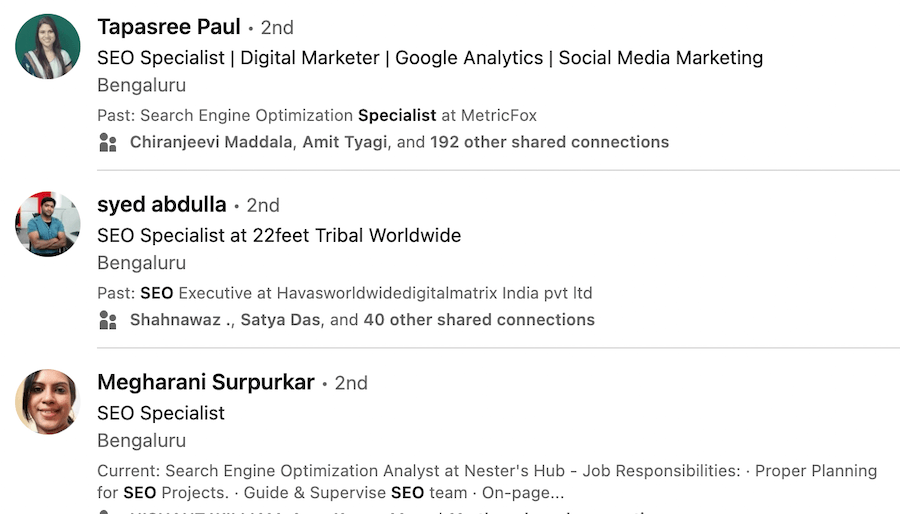 You can become an SEO expert if you understand search engines and the power behind them deeply. But to become an SEO expert, you first have to become a digital marketing expert. Become a T-shaped digital marketer where you know a bit about everything and then go deep into one topic.
And there you go. These are the top 7 digital marketing jobs in India and the world for 2023 and beyond.
Other job positions in digital marketing include:
Conversion rate optimization expert (overlaps with copywriter)
Analytics and Data Science Expert (overlaps with performance marketing)
Website and ad image designer
UI/UX Designer
App Developer
eCommerce Marketing Specialist
Community Manager (overlaps with social media manager)
I will update this article if I find any new positions open up that are lucrative. This article not just tells you about the best digital marketing jobs, but also gives you an idea about how to build a digital marketing team if you are building a startup.
Thank you for reading.
Cheers,
Deepak Kanakaraju