LeadSquared Review – A Marketing & Sales Automation Platform Made in India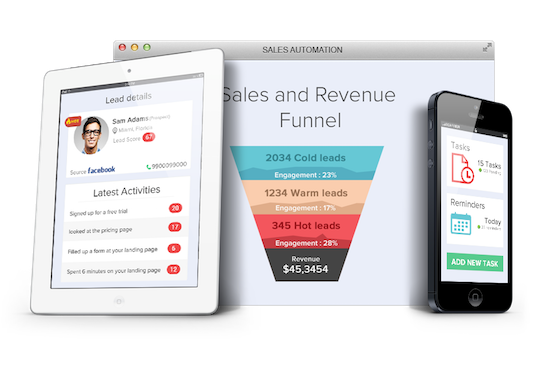 LeadSquared is a marketing and sales automation platform which competes with platforms like Marketo and HubSpot. They have some interesting features that digital marketers can use. I had a chance to review their product recently and here goes my review.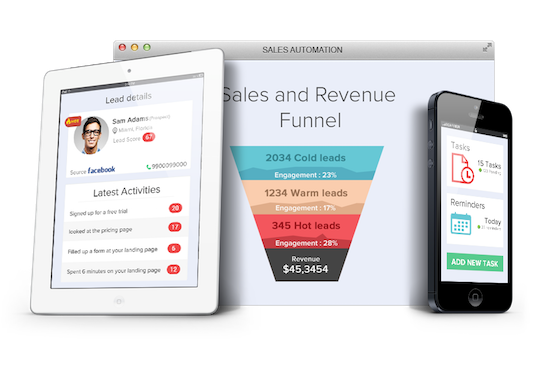 LeadSquared has a lot of features but one of the features I couldn't find readily available in other tools is their lead scoring system. You can increase or decrease the score of each of your leads based on their behaviour and this helps a lot in sales prioritization.
LeadSquared's Lead Scoring System
LeadSquared has features like email autoresponders, landing pages and tracking different sources of leads. But the USP of LeadSquared is their lead scoring technology. When you create your LeadSquared account, you have to first customize your lead stages and lead scores.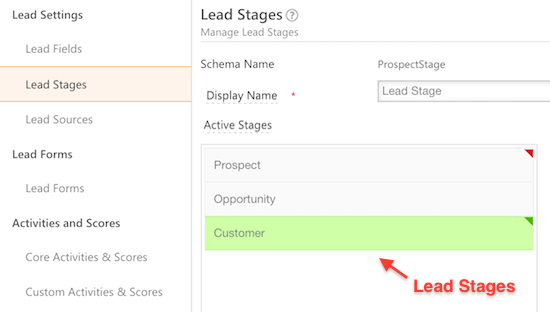 By default the different lead stages are Prospect, Opportunity and Customer. You can add more lead stages and customize the names based on your business requirements.
Lead Scoring Criteria
Now that you have setup the different lead stages, you can start mapping the lead's activities and the respective scores they get for each activity.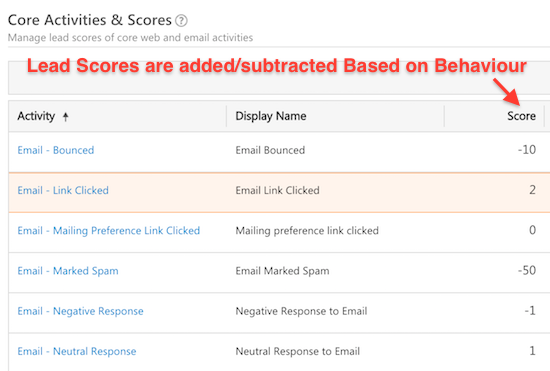 There are some standard scores already set but you can edit them and customize it.
If you want to give 10 points to a lead's score if they have checked out your pricing page, such an activity can be automated. You just have to add a tracking code to the pages on your website so that the leads' activities can be tracked accordingly.
Lead Details
You have the capability to look at every lead and their history of activities including the scoring.
For example, I sent an email to a test lead and as soon as the lead has opened the email, another one point has been added to the lead score for that activity.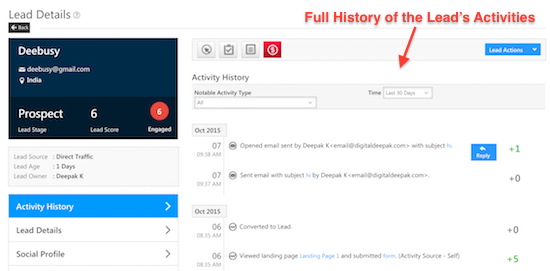 This specific lead is at lead score 6 and if my history of conversions shows that only leads with a score of 10+ are likely to convert, then it is safe for the sales team to ignore this lead until the score reaches 10 or above.
Landing Pages
LeadSquared has some inbuilt landing pages which you can create and drive traffic to it to capture leads.
In my opinion landing pages are not the USP of LeadSquared. There are not enough templates and they cannot compete with other companies who are exclusively focusing on landing pages such as Unbounce.com or Instapage.com
However they give you the option to upload your own HTML based landing pages. That solves the problem to some extent.
I prefer using landing pages on my own WordPress blog or a tool like Unbounce.com. Integration of such third party tools doesn't seem straight forward and can get a bit tricky.
Auto Responders
Auto responders helps you create drip marketing campaigns. They have an inbuilt auto responder inside the system and it is supposed to get integrated with the existing lead scoring mechanism.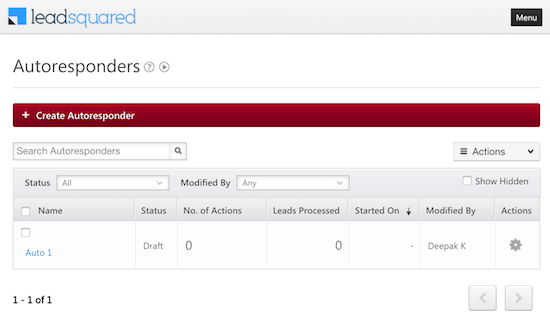 However, there are other tools such as Aweber and MadMimi which are just email marketing tools and they are the best in what they do.
I have been using Aweber for my blog's drip marketing campaigns and I wouldn't want to shift to LeadSquared for the autoresponders.
Aweber has the industry's best deliverability and I haven't had a chance to compare it with LeadSquared yet. Also there doesn't seem to be a way to integrate the lead scoring mechanism with a third party tool like Aweber.
Apps Marketplace
LeadSquared has an apps marketplace where there are a lot of third party apps available for integration.
For example, if you want to import the participants of your GoToWebinar, there is an app that will help you import your participants as leads into LeadSquared.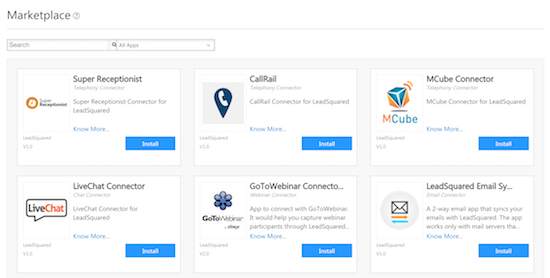 New apps are being added from time to time and any third party app developer can add apps to their market place.
I hope to see integration apps for tools like Aweber, ActiveCampaign and Unbounce.com in this market place someday.
Plans and Pricing
Their plans are priced at a bit of a premium than other email marketing tools. Obviously they have more features than other tools in the market.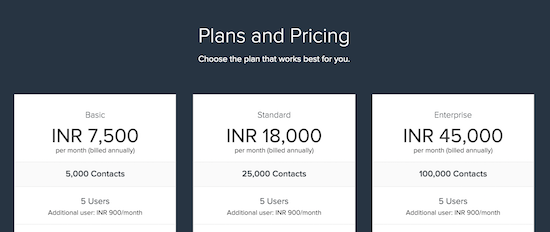 For 5,000 contacts, their price is Rs.7,500 per month. In USD their charge is $125 for 5,000 contacts. If I want all the features that LeadSquared has, I would need to use a few tools together.
Alternatives: At Aweber I would be paying only $49 a month for 5,000 contacts. That completely takes care of drip marketing and email marketing. If I have to use Unbounce.com for landing pages, that's another $49 a month.
For CRM, I would want to use Pipedrive and that's $12/user per month. I can integrate them together using Zapier and that's a few more dollars a month.
I would end up paying almost as much as I pay for LeadSquared but I would get the best landing page tool, the best email marketing tool and the best CRM there is.
Of course, I would miss the lead scoring and the All-in-one package of LeadSquared but right now LeadSquared is not the best in what it does when it comes to CRM, Landing Pages or Email.
Verdict
I really like the way LeadSquared has tried to solve this problem of marketing and sales funnels but at this point the tool is not solid enough for me to make a shift.
I would recommend LeadSquared to drop landing pages, email and CRM and instead focus on a single USP – may be lead scoring.
If better integration options are available with the best tools in the market who are the leaders in what they do, that would be great for a marketer like me!