MadMimi.com Review – Easy, Affordable & Reliable Email Marketing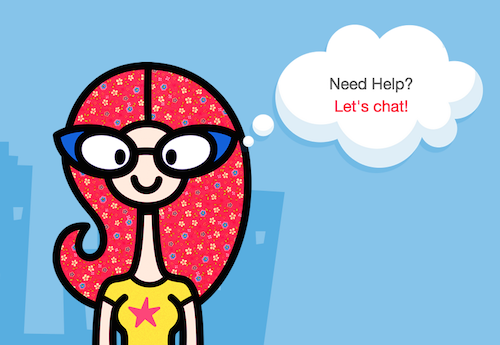 Email Marketing is one of the most important components of Digital Marketing. But the problem with email marketing is that there are a lot of grey areas and things are not straight forward as we would like it be.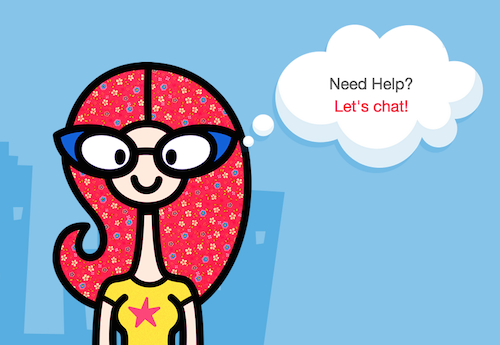 As a basic rule for email marketing, you are not supposed to send a marketing email to a stranger without their permission. But many people do not follow this rule.
Postal mails cost money and hence we don't get THAT much spam to our house or office. But emailing someone doesn't cost anything and many people have abused that power to send spam.
Email service providers (Like Gmail and Yahoo) have developed a lot of tools to prevent spam in an automated way – but the problem is that many genuine emails also end up in spam.
And even with such strict spam filters, spam ends up in your Inbox! Because of this, getting 100% of your emails delivered, just doesn't happen in today's world.
Ideally, if no spam existed in this world, everybody should be able to send email using their own servers and privately hosted email clients. But since we are not in that ideal world, we have to rely on external mailing clients.
Email marketing services give us reliable servers, IPs, and a user interface from which we can send email from. There are many email marketing platforms which help us send transactional and promotional emails.
MadMimi helps send promotional emails and it is great at what it does. I will be reviewing and comparing other email marketing platforms in the future blog posts. For now, let's look at MadMimi.
Upload Your List to MadMimi
MadMimi helps you send emails to any email list that you upload. By default they assume that you have the permission to send email to your email list. There is no need to get the emails verified again on their platform. (Some email marketing platforms will send a verification email first before they allow you to send mail to that list).
All your contacts with their name and email IDs are organised in the audience tab.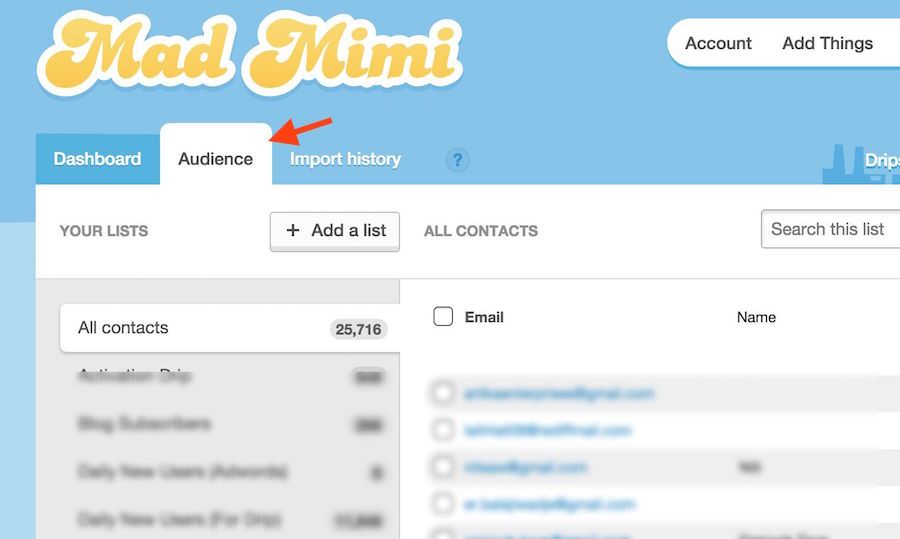 You are charged based on the total number of emails stored in your account. There are no charges for how many emails you send and what features you use. You can have the same email ID in different audience lists and you will be charged only for the unique emails IDs in your account.
Pricing
Their pricing is based on the size of your email database. The more emails you have, the higher is your monthly charge. The pricing is quite competitive compared to other email marketing platforms such as aweber.com and getresponse.com.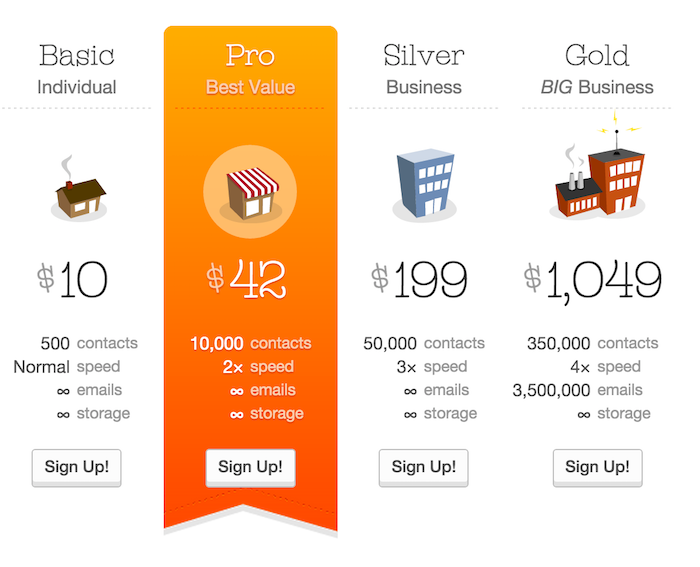 They have a free plan which let's you store 100 contacts and send unlimited emails – but 100 is too small. (If you are looking for a free email marketing service for a list of 2,000 or smaller you can try MailChimp.com's free plan. You can store up to 2,000 emails with them and send up to 12,000 emails a month. So if you are sending email to the entire list, you can mail them 6 times a month).
They also have customized plans which fit inbetween the above plans. For example, if you have 5,000 contacts and don't want to pay $42 for 10,000 contacts, you can sign up for the customized plan. For 5,000 contacts, the pricing is just $27 a month!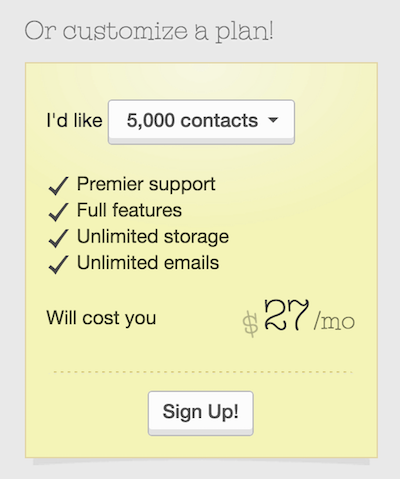 For a niche blog like DigitalDeepak.com, I wouldn't expect more than 5,000 readers for quite some time and if I can stay in touch with them for $27 a month, that's a steal! I have my email list on MailChimp right now but I will move to MadMimi soon.
Drip Campaigns
Drip marketing campaigns are great tools for lead nurturing and converting cold leads into warm leads. Drip campaigns help you send follow up emails at pre-defined intervals. If you do not know much about drip campaigns, read my exhaustive article about the power of drip campaigns.
By default, the drip campaigns are not enabled for your account, but you can go to 'Add Things' on the top right of your login and enable it with a single click. There is no extra charge for using their Drip Campaigns feature.

One of the prime USPs of email marketing platforms like MadMimi, Aweber, GetResponse etc is that they enable you to automate your drip marketing campaigns.
You will be able to access MadMimi's Drip Campaigns from the 'Drips' Tab.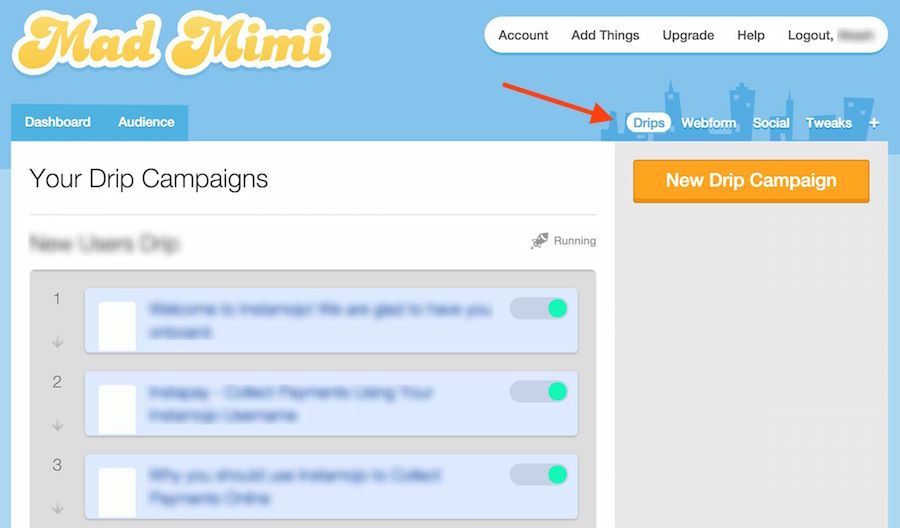 You just need to define the content and time interval at which the email goes out and they will handle that for you.
You will also get great analytics and you can take decisions based on the numbers. For example, if you find out that the 4th drip email doesn't have good open rates, you can try changing the subject line to encourage more opens.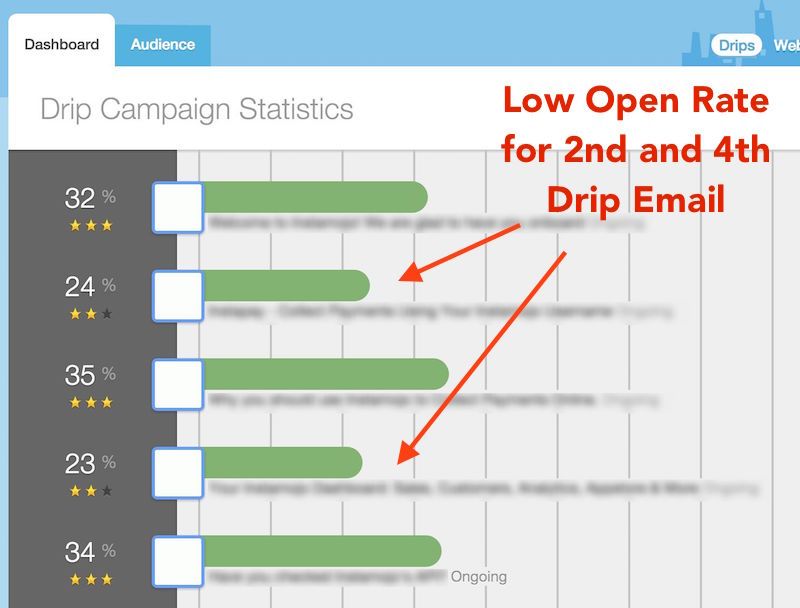 Each drip campaign in MadMimi is connected to an audience list. As you keep adding new people to this audience list, the drip emails for them will be scheduled automatically. You can add emails to the audience list manually or through an API.
Sending One-time Broadcast Emails
Sending an one time mail to your audience is also quite easy. Just click on the compose button and an easy to use text editor is presented. You can also choose pre-built themes for sending HTML emails.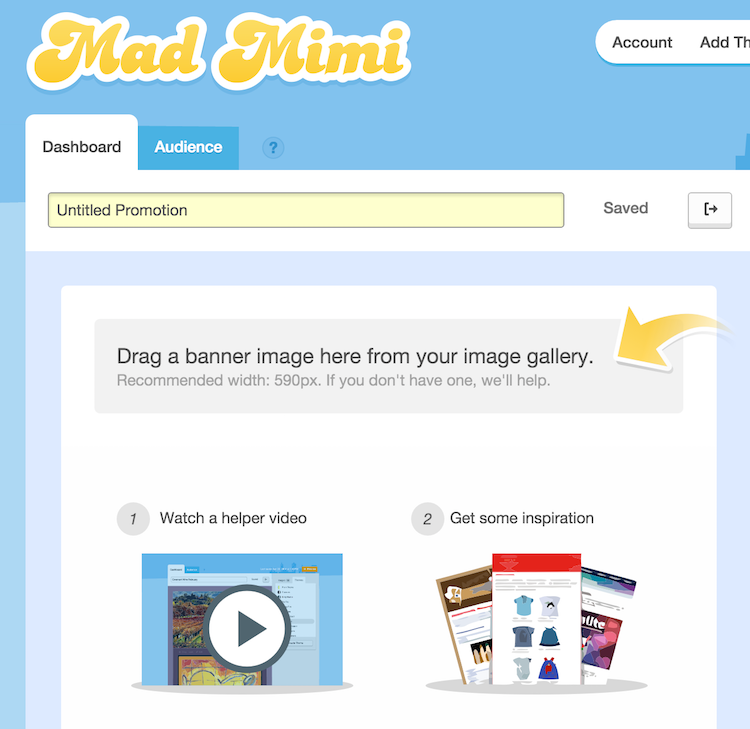 One downside of MadMimi is that it doesn't allow you to send plain text emails. From my experiments, I have seen plain text emails always perform better than HTML mails when you have a very specific call-to-action like clicking on a link or requesting a reply. (Update: MadMimi does allow plain text emails! More info here).
I will be reviewing other email marketing services such as getresponse.com, aweber.com and mailchimp.com in the future blog posts and will also compare them with each other.
Any questions about email marketing? Leave a comment below.