How to Streamline Your Marketing Processes?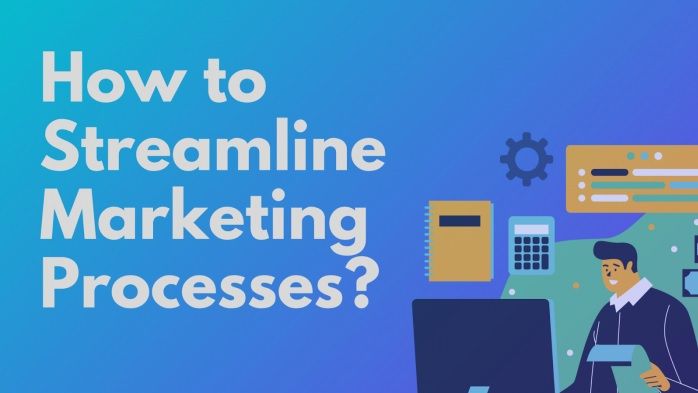 It takes a lot of time and effort to learn, figure out, and apply the right marketing strategies for your company. However, we all know how crucial marketing can be in making a business successful and building an identifiable brand. Thus it becomes even more important to figure out the most productive way to utilize your marketing team's time if you have limited resources.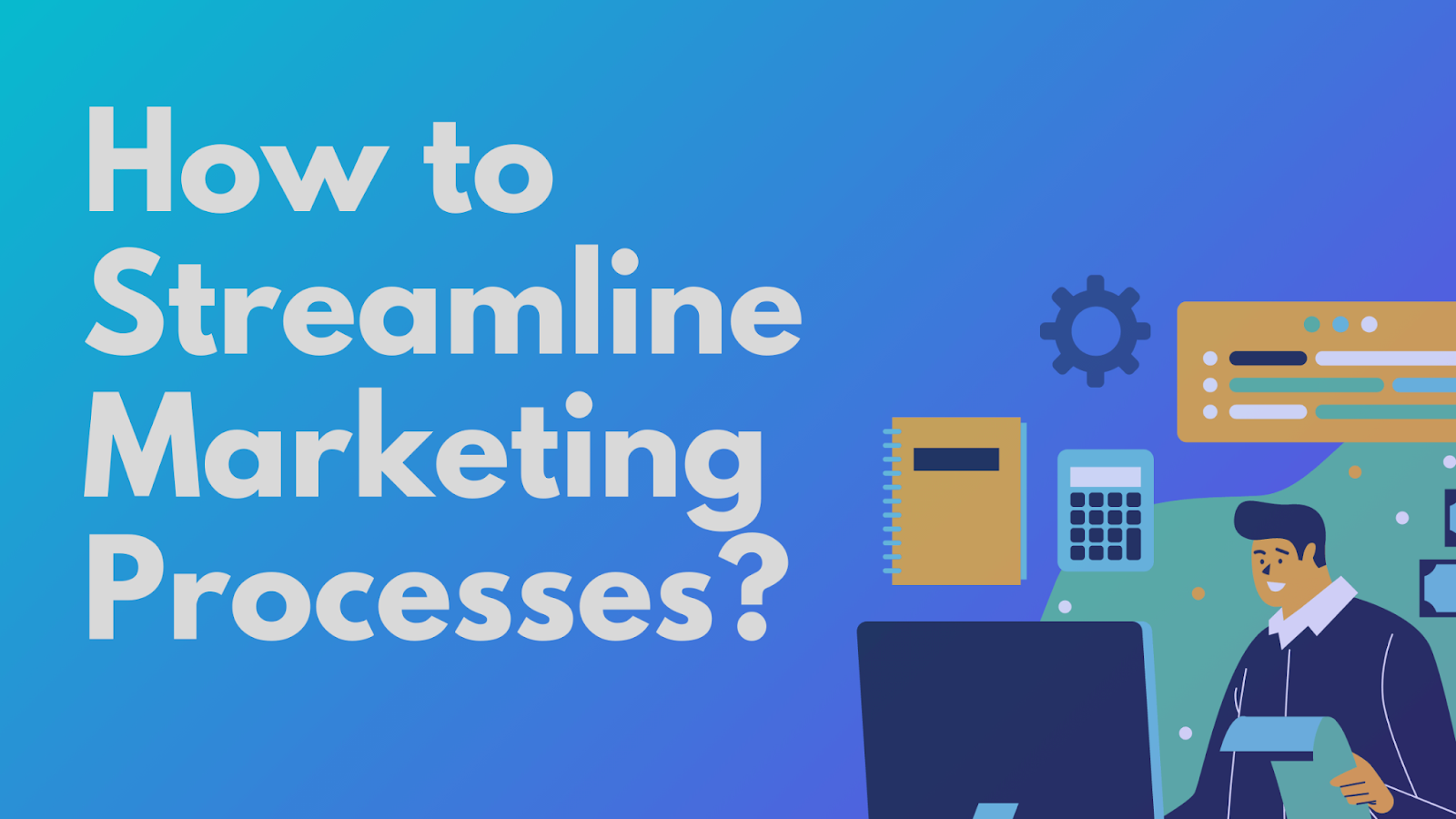 Breaking down and assessing your current techniques, identifying significant areas — either working or that aren't — and then striving to change and minimize your current setup are all examples of streamlining company processes. This should be done to reduce errors and delays while also enhancing efficiency, quality, and production.
Tips and Hacks for Streamlining Your Marketing Process
Every aspect of a company can be simplified differently. Here are some of the simplest ways to improve your marketing operations' efficiency, quality, and productivity.
1. Set reasonable goals
The first stage in any marketing strategy should be to figure out what you want to achieve. What are the criteria for marketing success in your company? While these might differ depending on the circumstances (for example, social media vs. website content), here are a few frequent marketing objectives:
Promoting products
Addressing customer feedback
Converting sales
Boosting brand recognition
Driving traffic to your password
Whatever your specific marketing objectives are, you must start by establishing attainable targets. This will provide you with a clear goal to strive for.
2. Create guidelines for your team
Make sure to describe your marketing process after that. This is beneficial to internal collaboration and cooperation. For the following marketing sectors, consider producing shared resource documents:
Guidelines for content production and approval processes to ensure uniformity across all of your branded content.
Your brand's voice and tone should be consistent across all of your marketing mediums.
Grammar and punctuation guidelines that apply to the entire corporation.
You will be able to speed much of the work required to train new staff members by having these documents ready, and you will likely prevent the need to spend unnecessary time on modifications in the future.
3. Establish a shared workspace and marketing schedule
It's usually helpful to have a timetable to keep you on track, whether working with a small marketing team or working alone. With so many marketing alternatives available, having a global marketing calendar to keep track of everything and maintain your deadlines will help keep things running smoothly. You may store your marketing calendar in an easy-to-find spot using something as simple as Google Calendar.
4. Pay attention to your marketing channels.
Being picky about the marketing platforms you employ is a straightforward approach to cut down on your marketing needs. Each industry and consumer base has its own set of preferences. Therefore, it's essential to invest time in market research to find out which channels your clients prefer. The following are some of the most prevalent marketing channels:
Traditional marketing: Print ads, billboards, radio, and even television are all part of this. These can be effective strategies to reach clients, even if they are costly, especially in smaller markets.
A website: A good e-commerce site with a company blog with relevant material is a systematic strategy to increase search engine traffic and generate client leads.
Email marketing: In email marketing, an email list that has been adequately nurtured gives you direct access to a consumer base that has opted in to receive your message.
Social media: Social media provides fantastic access to a range of customer demographics, from Facebook to Instagram, Pinterest, LinkedIn, and even unique channels like TikTok and Snapchat.
Take the time to research your market, industry competitors, and customer expectations; then, select the marketing channels that will produce the best results with the least amount of efforts. This will allow you to avoid wasting time and resources on things that aren't worth your attention.
5. Be ready to adapt
Finally, be ready to change your marketing strategy as needed. The modern world evolves at a breakneck pace, and clinging to a method or marketing plan that worked yesterday may stifle your progress tomorrow.
6. Delegate, automate, and outsource when you can
By obliterating it from your plate, you may streamline your marketing or at least part of it. This can be accomplished in a variety of ways:
Outsource: You could wish to outsource specific marketing duties entirely if you don't have the people to accomplish them well. Hiring a freelancer or a marketing agency provides you with professional services at a lower cost than hiring a full-time staff.
Delegate: If you have a team, you might be able to delegate some of the more mundane marketing tasks to them. Tasks like creating primary material for your website or posting on social media regularly can easily be delegated to an employee.
Automate: Many marketing operations, even on the scale of a small business, may be automated, from lead generation to conversion and even content production. Just make sure you take the time to automate your processes properly. There are plenty of good process automation tools in the market to choose from depending on your requirements.
Differentiating Marketing Processes and Automation
From generating leads to converting them, Processes are procedures and processes that you create for yourself to reduce the daily decisions you have to make about your marketing tactics. Processes make life easier; however, automation allows a computer to conduct a marketing campaign for you (as in the drip email campaign).
Key Areas to Automate in Your Business
It's not always easy to find out what you need to automate or incorporate into a process without first getting to know your pain points. What makes my life difficult may bring you delight, but at the end of the day, the more recurring chores you can automate, the more time you'll have to focus on other elements of your business. There are a few well-known automated marketing projects that might help you get started. Here are a few to pay attention to:
Website and landing pages: There are some excellent techniques to streamline your client interactions via your website, regardless of your CMS. Create a custom contact form that allows users to specify what they're contacting you about.
Content creation: Batch producing your content once a month or once a quarter, though less of automation and more of a process, is a terrific method to free up your time. Plan one picture shoot, develop content and write blog pieces or product descriptions for your website. You won't have to worry about where your next Instagram post or product photo will come from.
Social media: With many scheduling apps available at cheap or no cost, social media marketing is one of the simplest things to automate. We recommend planning your material a month ahead of time.
Conclusion
The goal of streamlining your marketing processes is to achieve success. Please choose your favourite conference call software and use it on every call. Choose an email marketing strategy that you like and stick with it.
You'll be able to connect with your audience more successfully if you eliminate those minor, mind-numbing daily decisions. Also, keep in mind that you don't have to invest hundreds of dollars in a marketing automation system right once – or even at all! Look for free or low-cost programs that suit your needs. For a successful overall marketing plan, be creative in how you set up your procedures.
About Author
Jugal Anchalia is Co-founder of Breakout, a highly customizable workflow automation platform for SMEs. When he's not helping companies to adopt automation in their day-to-day operations, you can find him curled up in a corner reading a book or playing catch with his dog. Follow him on Twitter.