HitTail Review: Get Long Tail Keyword Suggestions for Blogging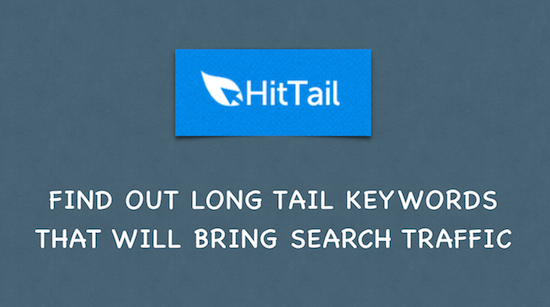 As a blogger or content marketer, you would agree with me that the biggest problem that you face in your blogging journey is coming up with new topics to blog about.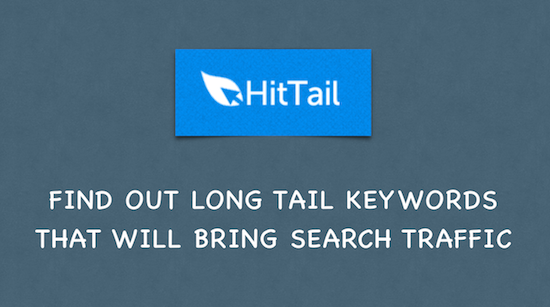 There are plenty of keyword research tools in the market and there are plenty of ways to find out what people are searching for. But the biggest issue is that you have to manually sort through all of them.
I have used various keyword research tools such as Google's keyword planner, KeywordTool.io, Long Tail Pro and so on. Each of these tools throws me 100s of keywords at a time and I have to manually find out which are the keywords that have good search volume.
I have even gone to the extent of hiring an assistant to find out which keywords were worth writing articles for. But, managing people is always a pain.
Recently I came across this new tool called HitTail and it does what I want in an automated fashion. HitTail integrates with your Google Search Console (previously called as Webmaster tools), imports all the keywords from it, checks which keywords have good search volume and it gives you suggestions.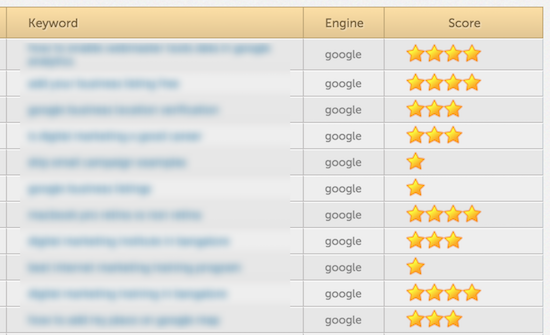 If you find a keyword inside your HitTail account with 4 stars or above, and if you publish an article on that topic, you are almost certainly going to get good search traffic to that page.
HitTail also has the advantage of having sorted out through more than a million keywords till date and their historical data helps them come up with recommendations for topics.
Pricing
There are different plans starting from around $10 a month. I am on the $20 a month plan. In my plan, keywords are imported every week and I get recommendations on what I should write about. For a blogger, the Pro Plan should be more than enough. For enterprise level content marketing campaigns you have bigger plans as well.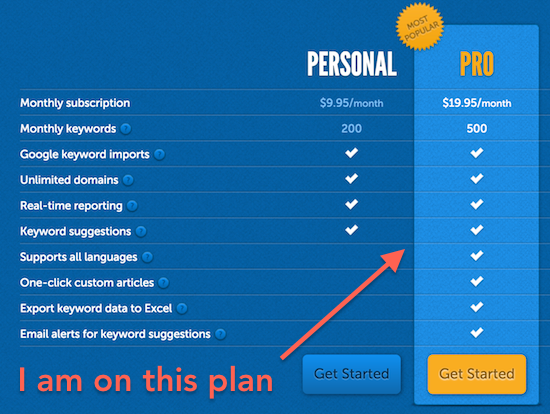 As with any system, there are going to be errors. Some suggestions may not be great and may not be human readable. But you can ignore them and choose the ones that are relevant.
Write What People Search For
Blogging is a business. The articles are the products. People searching for keywords on the search engines represents demand for content. You have to make something people want.
Writing articles on what people want to read about is an important aspect of content marketing and blogging. And such types of content need not be always 2000+ words. You can write short articles that answer specific questions that people are searching for in the search engines. Such content are called content pawns. (They need not be always Kings!)
Long Tail Keywords Drive 90% of the Traffic
For most of the bloggers, long tail keywords drive majority of the traffic. Also, long tail keywords are proven to bring more quality traffic because someone searching for a keyword like "running shoes for men" is more likely to buy than someone searching for a keyword like "shoes".
The internet users who search with long tail keywords are more invested in the searching process and hence they are more likely to take actions on the results.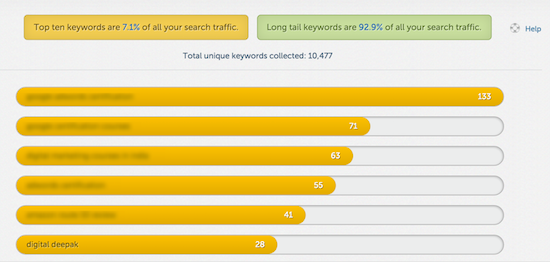 In my blog, you can see that more than 90% of the traffic is driven by long tail keywords. The top 10 keywords drive less than 10% of the traffic. Hittail shows you this data as well.
Is HitTail For You?
HitTail.com also comes with a free trial. Go ahead and give it a try and see if it works for you. If your blog is very new, you may not have enough data to feed HitTail and you will not get enough recommendations.
HitTail also has an inbuilt tool for ordering articles. You can order one 400 worded article for $19. I have not tried that yet and I cannot comment on that. I have been using freelance websites and reaching out to my own network for getting articles done. Usually I get a 1,000 word article written for $10 to $20.
To make the best use of this tool, I recommend that your blog should get at least 1,000 organic search visitors a month.
If you are a blogger, what methods have you used so far to come up with topic ideas? Share them in the comments below.