How I Grew My Facebook Page to 236,582 Likes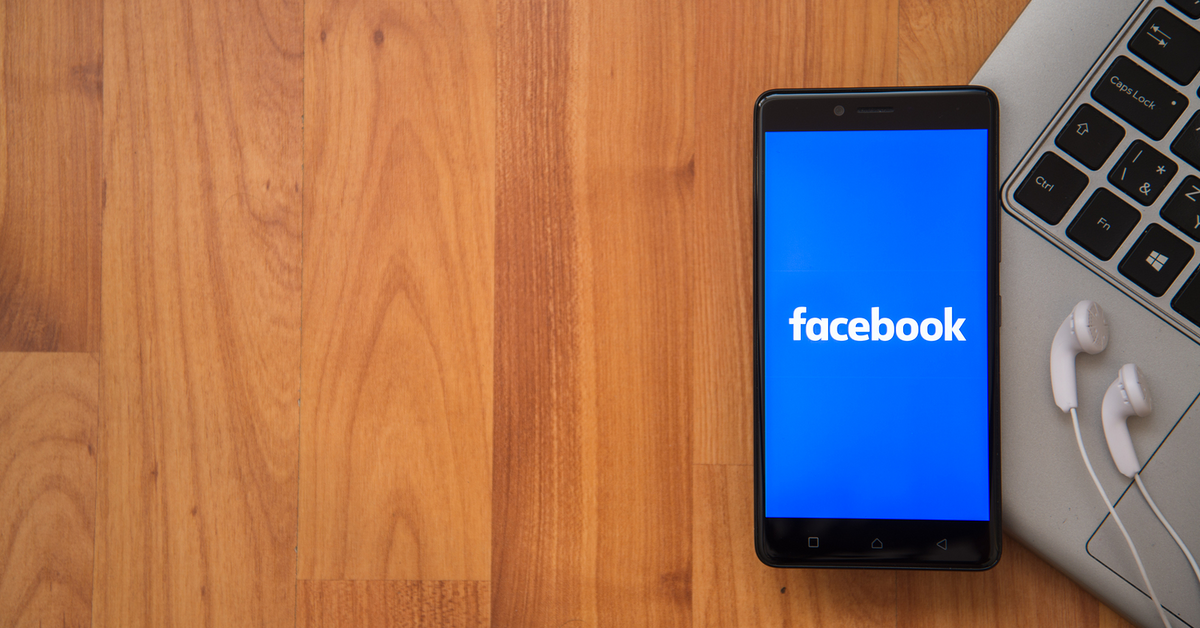 As of writing this blog post, my Facebook fan page has 236,582 Likes. Apart from my email list, articles on my blog & the search rankings, this Facebook page is one of my best assets. In this blog post, I want to tell you how I took it to this level, and the benefits I get from my Facebook page.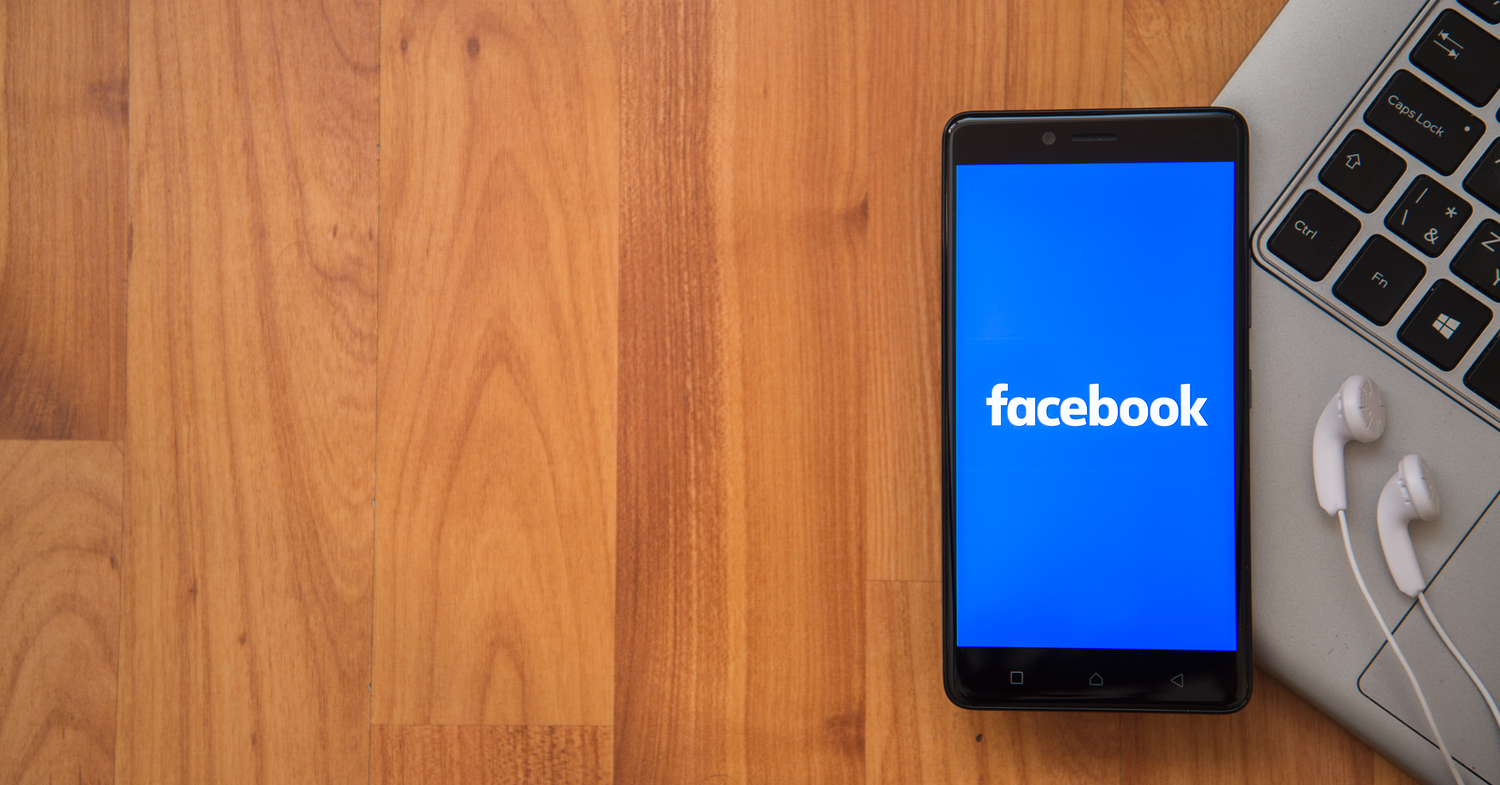 Before we dive into the strategies to grow a Facebook page, a word of warning: Do not put too much energy into building a Facebook Page and a following because end of the day it is a shared asset with Facebook. And Facebook has the power to reduce the organic reach so much that it is worth nothing. And there is nothing we can do about it.
In some cases, your page can get deactivated too. Though deactivation of a Facebook page is not that common, I've heard of cases where the page is suspended for some violation of terms and there is no proper support from Facebook for reinstating the page. Such a risk exists with YouTube, Twitter and all other social media channels.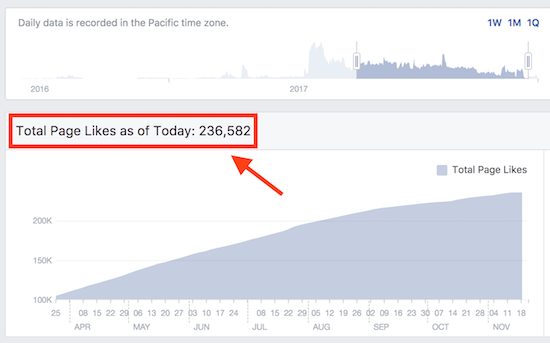 I do not like to build my dream home on a leased land. Do not build your assets on someone else's property. All social media assets like YouTube channels, Facebook pages, Twitter handles are great for building a brand, website traffic and an email list. However, the focus should be on using these channels to build your others assets on which you have better control.
I use my Facebook fan page primarily to build my brand awareness, drive traffic to my blog and in turn my email list. I am open to the fact that one day this page might be rendered useless, but if that happens, it still wouldn't hurt my business.
I have seen businesses have their entire presence on Facebook with no website and no email list – and for me that is extremely risky. Many small business owners have complained that once upon a time they had so much traction on Facebook and now its not much.
Having said that, Facebook can still be one of the best ways to take your brand out there, because pretty much the whole world is on Facebook. And when it comes to having your presence on Facebook, it starts with a Facebook Page. Having a Facebook group is another great asset, which I have written about already: How I Built India's Largest Digital Marketing Group on Facebook
Growing Your Facebook Page Following
There are many methods to growing your Facebook page likes. You can:
Facebook Like Box Widget: Get Likes from Your Blogs and Websites using the Facebook Like Box Widget
Page Suggestion: Get Likes via Page Suggestions Inside Facebook, by Facebook
Ad Campaigns: Get Likes from ad campaigns within Facebook
Sponsored Page Suggestion: Get Likes with a direct Page Like Ad Campaign
1. Facebook Like Box Widget
A significant percentage of my page likes came from my own blog. You can see the Facebook Like Box on the right sidebar (if you are reading this on a desktop).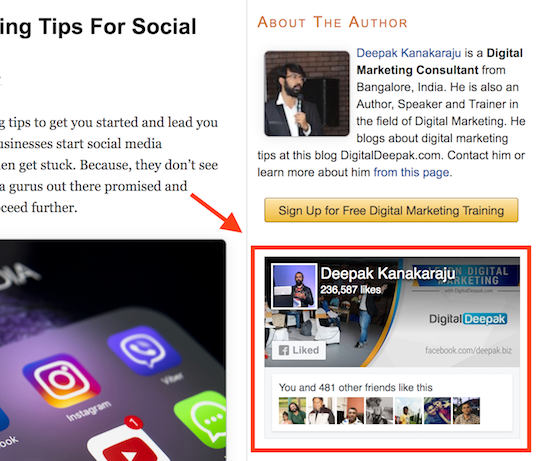 A small percentage of my blog's visitors will see this widget and if they are logged in into Facebook using the same browser (around 80% of visitors are logged in usually), they will see their friends who have liked the page. This creates social proof. This list is unique for every visitor and they are going to see their friends, which attracts them to this widget.
If you see something like this and if your trusted friends have liked the page, then you are highly likely to hit the Like button. Though only a small percentage of Likes come from websites directly, these are high quality likes.
2. Page Suggestions Inside Facebook
Facebook also shows possible pages to like inside Facebook while users are going through their feed. These Like suggestions are based on people's behaviour on the web. If certain users visit my blog frequently and Like my posts and not my page, Facebook will show this as suggestions and the Like count can increase.
Having Facebook Pixel on your blog helps Facebook understand user behaviour on your website better, so make sure you have the Pixel installed on your website.
Fun fact: The total page likes in the above screenshot is 236,587. Since I started writing this post 30 minutes back, I've gained 5 new likes 🙂
3. Ad Campaigns
Facebook Ad Campaigns are one of the fastest and surest way to get more page likes. There are two types of ads you can run, one is directly run for getting more likes and the other is indirect (sponsored page suggestions).
When you run Facebook Ads for Lead Generation, Website Traffic or Brand Awareness, your page is getting more exposure to the ads. A percentage of people will click on the Facebook Page link and then like the page once they land on your page. A good percentage of likes for my page has come from ad campaigns that were not directly targeted at getting more likes.
Check out this post: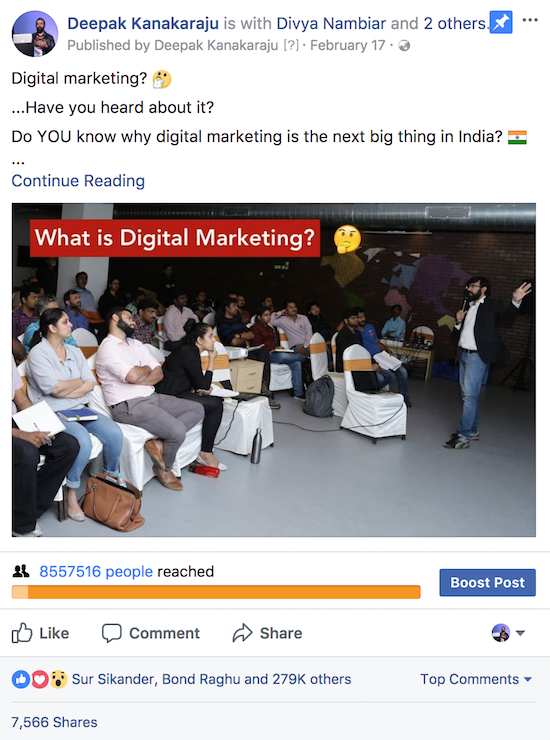 The above post is pinned on my FB page and I also boost this post for Brand Awareness. You can see that this post has 279K likes and 7,566 shares. It has reached more than 8 million people on Facebook. I've got 10's of thousands of Page likes from this ad campaign.
4. Sponsored Page Suggestions
You can also create an ad campaign to promote a page just for Likes. This ad campaign will run with a Like button on the ad and this cannot be made with the usual campaign creation flow.
To run an ad campaign just for getting more page likes, you can use the promote page link that is available on any Facebook page. It looks like this: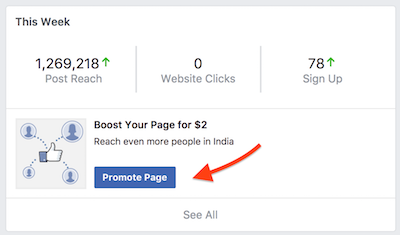 Once you click on the Promote Page link, you will get a popup window where you can create the ad copy and select the audience for this ad campaign.
Also unlike the normal boost post function, you cannot set a one time budget. There is an option to setup a daily budget and you can set the end date.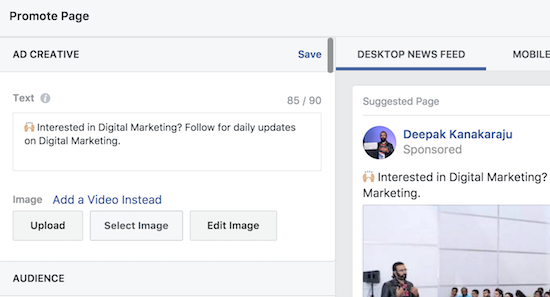 Also, the ad looks much different from the normal ads. You can see that it is showing up as suggested pages in the newsfeed. There is no other CTA apart from the Like Page button and people who see this ad can start following you, just by hitting Like Page, without the need to visit your page URL on Facebook.
This is how the ad looks: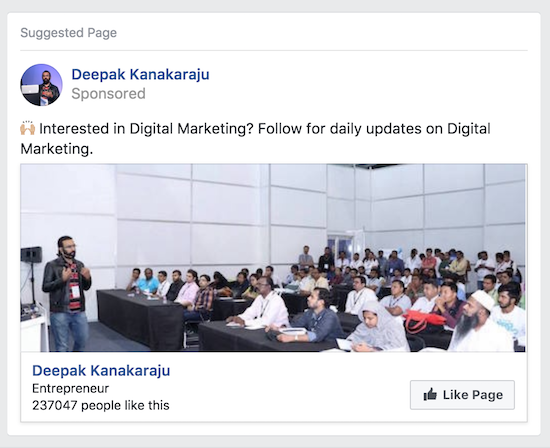 Note that since this is not setup like a normal ad campaign, the options available for selecting the right target audience will be limited. It is better to create a 'Saved' Audience from the audiences section first, and then you can select the audience segment while creating the campaign.
Once you have setup the campaign as mentioned about, it will be available inside the ads manager. You can change the target audience, create new ad variants and even change the daily budget from the ads manager.
Facebook auto optimizes this ad to show it to the people who are highly likely to click on the ad. You will notice that the campaign status shows as Active (Learning).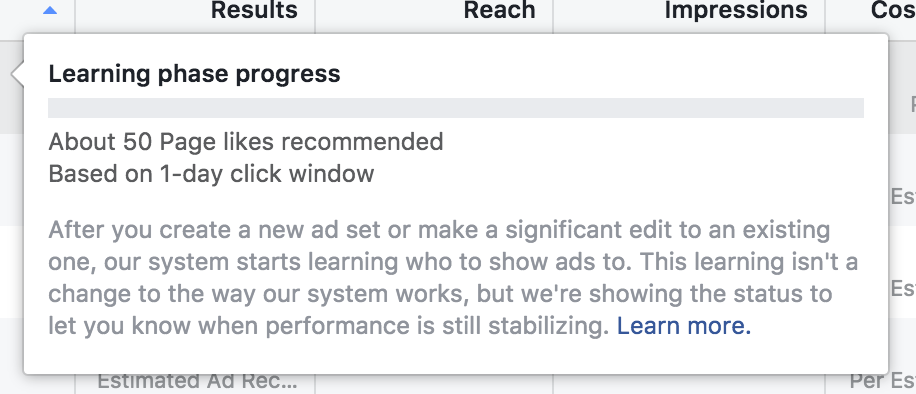 It will start optimizing once it has 50 page likes. Over time, Facebook will become really good at targeting and the reach to Like conversion will start increasing. This will lead to lower cost per Like.
Right now, I have setup this campaign to show it to a lookalike audience of people who have already subscribed to my digital marketing course.
If you've noticed, I've not mentioned the cost of getting these page likes. I don't want to mentioned that because the cost varies widely depending on the market, time of the year and the target audience. I have got page likes for as low as 1 cent and as high as 5 cents. If you get the target audience right, it can go ever lower than 1 cent.
The best target audience would be to retarget the users who have visited your website recently. You can create a custom audience using the Facebook Pixel and target this audience for the promotions.
Benefits of Having a Page with a lot of Likes
Now that we have discussed about how to get more Page likes for your page, let's see how to make the best out of this asset.
Social Proof
Free Traffic to the Blog
Great engagement on Photos, Videos and Live Videos
A Testing Ground for Ad Campaigns
Lets discuss these 4 points one by one in detail:
1. Social Proof
A high number of social followers creates a strong social proof. If someone comes to my blog and looks at 230k+ followers, they will know that I am not a newbie. They will take me seriously.
Though Facebook Likes can be bought, it still takes time and probably a lot of money to reach 230k followers. And with Facebook intelligently showing the friends of the visitor who have liked the page, it creates a trustworthy social proof.
If you visit a page and if you can see at least 3 of your contacts who have liked the page, chances are that it did not happen by accident. And you will be influenced to Like the page yourself.
2. Free Traffic to Your Blog
Sharing a link on your Facebook page will drive free traffic back to your blog. Earlier, the reach was much higher with Facebook pages. It has come down by a huge margin, but because of the high volume of followers, I still get 100s of link clicks to my website pages if I share a link on my Facebook Page.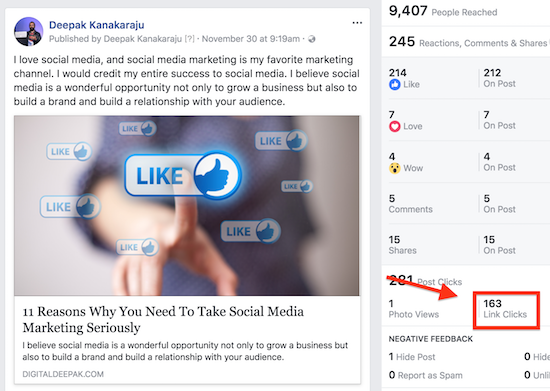 For example, for a recent blog post I shared on Facebook, it has got 163 link clicks. If each click is worth 10 cents, that's $16.3 worth of traffic, for free. Also, traffic organic reach will always be of higher quality than paid promotions.
3. Great engagement on Photos, Videos and Live Videos
If you share photos, videos and live videos, the engagement is much more than website links that you share on the page. This is because Facebook doesn't like a visitor to leave Facebook. If you are sharing something like a photo or a video, the Facebook users are engaged within Facebook and they do not leave to another website. So Facebook rewards such posts with a higher reach.
If I do Live videos, the engagement is much higher than photos or videos. I get 100s of live viewers even if I do not schedule a live video. You can check out the Live videos I've made on my page. You can see that the view count is much higher than other videos.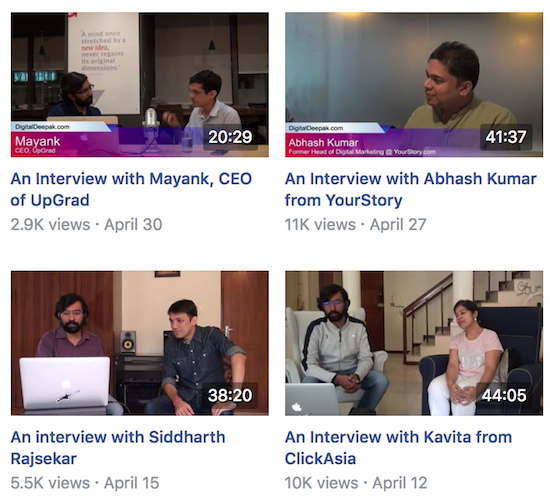 If you want to learn how to make Live videos with Facebook Live, check out this article: Facebook Live Videos Using DSLR Cameras and Wirecast: The Ultimate Guide
4. A Testing Ground for Ad Campaigns
Some posts on the Facebook page get a very good CTR. CTR is the ratio of total number of clicks to reach. If a post gets a reach of 1,000 and if it gets 10 clicks, then the CTR would be (10/1000 x 100) = 1%.
Before promoting a post as an ad campaign, we can test the CTR in the organic channel. Though the reach is going to be less, the reach to click ratio will be almost the same in both organic and paid channels.
If I publish a post on my page and if it gets very good CTR, I then promote it using ad campaigns. I do not recommend boosting the Facebook post using Boost Post link. There are much better ways to promote a post. Read this blog post for more: How to Boost a Facebook Post Effectively
This blog post that I recently published had a CTR of 2.1%. So I boosted the post using an ad campaign. You can see that 27% of the reach is from organic and 73% is from paid promotion.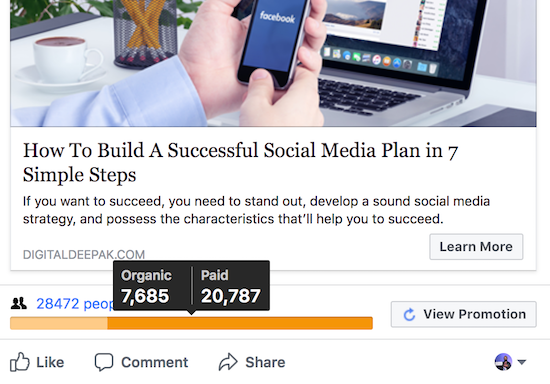 This post has given me a total of 618 link clicks. And the paid promotion doesn't cost much if you target the right audience. I usually target 180 days of my website visitors using the Facebook Pixel.
Conclusion
I hope this post helped you understand the power of a Facebook page! A page with an engaged follower base can be a great asset for your business. It helps you build a trust worthy brand and Facebook is one of the best channels to keep your brand on top of people's minds.
Any questions? Leave a comment below.