Facebook Lead Ads – How to Create Facebook Ads for Lead Generation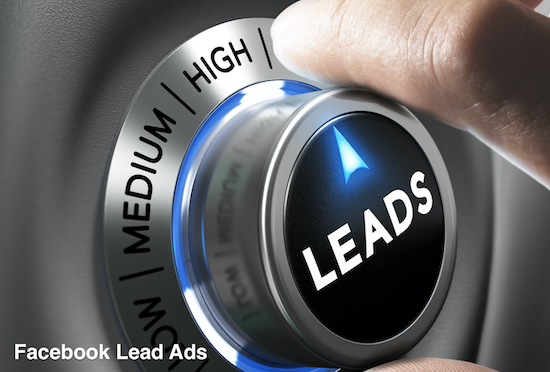 Generating leads is one of the primary responsibilities of a digital marketer. Leads are contact information of potential customers, and they are called leads because they can lead to a sale.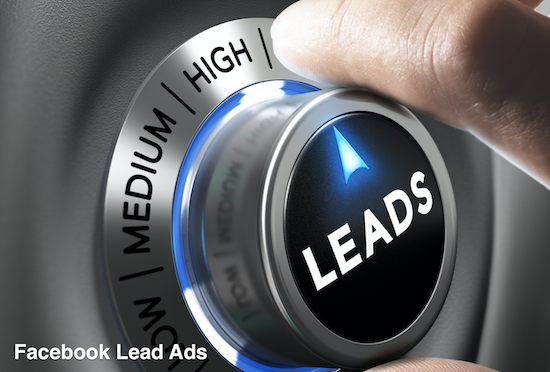 A digital marketer generates leads via landing pages and gets the visitor to leave their contact information in return for something else. But there has been one big problem with landing pages. After someone clicks on an ad and lands on a landing page, they have to fill a form to become a lead for the business.
Nobody likes filling forms! And that's why not all the people who visited the landing page become leads. If 20% of the people who visit the landing page enter their contact information, it is considered as a good conversion ratio.
What if this step can be removed? What if 100% of the people who click on the ads have the opportunity to become a lead without having to enter their contact information again on a landing page? Facebook has made that a reality with Facebook Lead Ads.
How Facebook Lead Ads Work
Lead ads are just like any other Facebook ad but if someone clicks on it, their contact information is already filled out, and they just need to click on the submit button to become a lead. The steps are as in the screenshot below: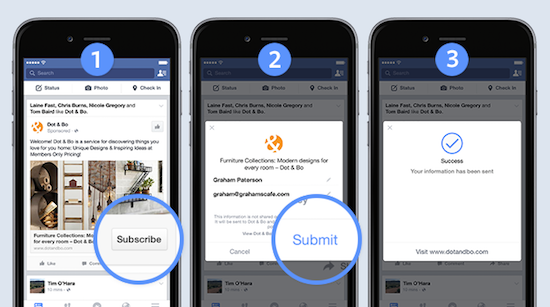 This lead can be directly exported to third party CRMs and email platforms, or it can be manually exported from the dashboard.
Facebook has announced that this feature is only for mobile users of Facebook. I believe that they are going to experiment with mobile first, and if the experiment is successful they may roll it out for desktop as well. (They have already announced that it will be released for desktop soon).
Update: I discovered a work around to run Facebook Lead Ads on Desktop. But it may not work for long!
Facebook Lead Ads will help digital marketers increase their ad click to lead conversion ratios. Lead ads will save a lot of advertising dollars, and increase revenue for advertisers.
Many marketers have commented that lead ads may bring low-quality leads but if you have a proper lead scoring system in place, low-quality leads shouldn't be a problem at all.
Google AdWords Lead Ads
Will Google AdWords roll out similar ads? May be not. I believe Facebook has more accurate contact information of their users than Google and the quality of the leads may be much higher with Lead Ads from Facebook.
Google already has a version of lead ads in the form of 'Sign in with Google' though they don't call it lead ads.
Many businesses use it to let users sign up without having to enter email ID again. But Facebook Lead Ads is probably the first attempt of understanding marketer's needs completely, and launching a product to make our life easier.
How To Create Facebook Lead Ads
You can create a Facebook lead ad from your Facebook Ad Manager's Power Editor. And Facebook Power Editor works only on the Chrome browser as of now.
To enable Power Editor, just click on the link in your Facebook ads dashboard. There is no software installation required.

I recommend that you get used to the Power Editor even if you are running other types of ads. The regular Facebook Ads dashboard misses some features that are there in the power editor.
The power editor is designed for advanced Facebook marketers. You will get to see more statistics in the power editor compared to the normal ads dashboard.
Inside the power editor click on Create Ad and you will be able to start creating your ad campaign. Select Lead Generation as shown in the screenshot below.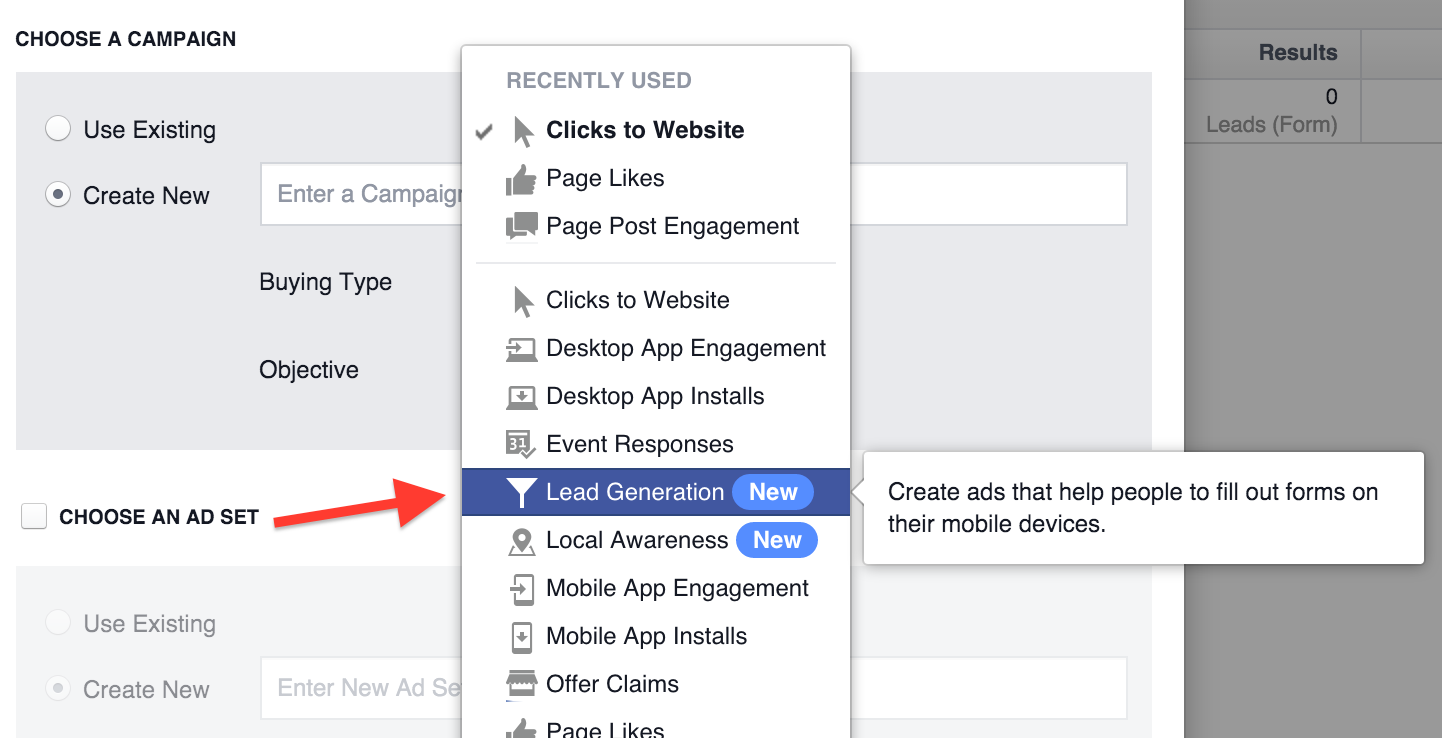 Enter the campaign name, enter an ad set name, and enter a name for the ad too. Multiple ads are grouped into ad sets later when you create more campaigns. Just like ad groups in Google AdWords.
The ad sets are grouped into campaigns. If you select a campaign, you will be able to see the ad set inside it that you have just created. Select on the row, and then click on the pencil icon (edit icon) on the right end of your screen. You will see a box appear like below.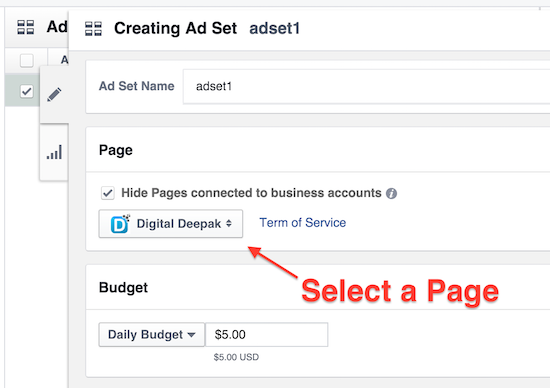 Inside it you have to select an associated page for the lead ad. Here I am choosing my blog's official page. You can also enter the daily budget here.
In the same page, you can also select the audience. I recommend that you choose a website custom audience or a lookalike audience for the best possible targeting.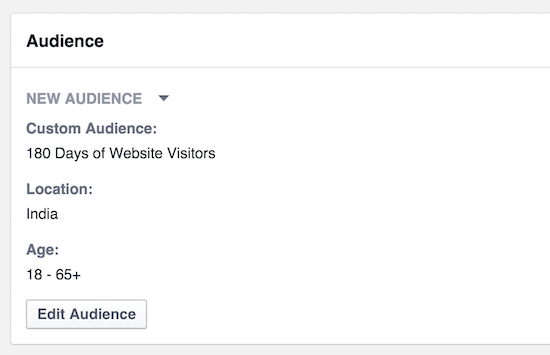 After that, you can select device targeting. For now, only mobile device targeting is available, and we can expect desktop targeting in the near future.
You can either target Android Devices or iOS devices. (Guess no one bothers about Windows phones anymore!)
After that the next step is to choose the pricing. Here you can bid on the cost per lead (CPL) or cost per click (CPC).
Cost per lead will be again billed as cost per thousand impressions (CPM) but Facebook will try to optimize the ad in such a way that you can meet your target CPL.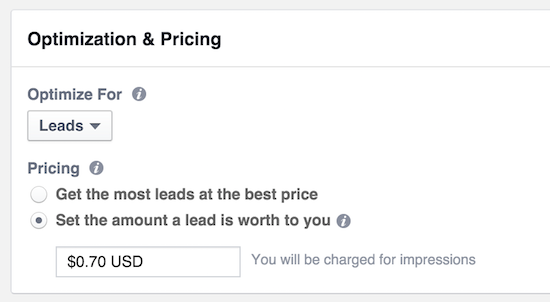 That's all for the ad set. All the above information is given in the ad set level. Once you click on the ad set you will be able to create the individual ads. You should experiment with a lot of ads to find out the best performing ad.
Here's the ad I made for my lead campaign. Of course, I am still experimenting with it, and not sure if this is the best performer.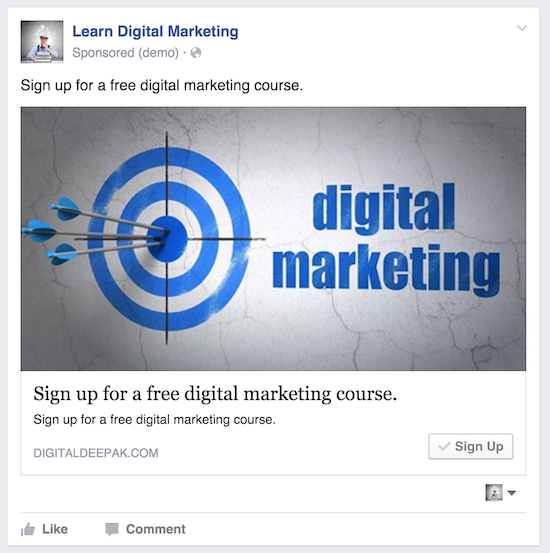 The CTA I have chosen here is 'Sign Up'. If someone clicks on the call to action button, they will be sent to a window like this on desktop on a separate screen on mobile devices.
Here you can observe that they name and email ID is already pre-populated. The email ID is the same email ID that they used to sign up for a Facebook account.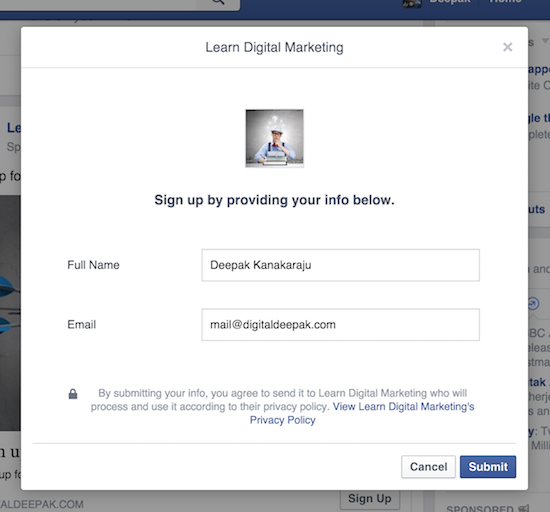 Leads ads for desktop are not yet available, and the screenshot that you see above is just the preview.
Exporting Leads Generated with Facebook Lead Ads
Once your lead ads campaign starts running, you will start generating the leads. Initially it may be a little confusing. There is no way to download the leads from the Ad Manager or the Power Editor.
All the leads that you generated are associated with your Facebook page. So go inside your Facebook page, and click on Publishing tools. Then click on Forms library.
Inside that you will be able to see the different forms that you made for this specific page using the power editor. Click on the 'Download' link to download all your leads in a CSV format.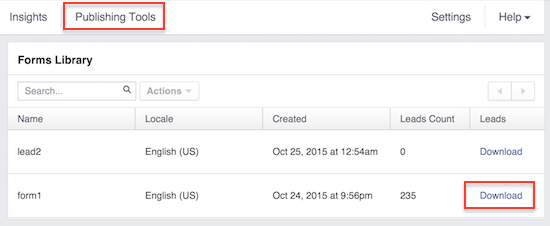 Manually downloading the leads in a CSV format has its disadvantages. Facebook has some CRM integrations, but only a few are supported. Direct lead export to CRM or email marketing platforms as soon as the lead is generated is very important for marketing automation.
If you are running a drip marketing campaign for your subscribers, you definitely don't want manual work. I believe Facebook will roll out more integrations in the coming months.
I also expect that external tools like Zapier will create 'zaps' between Facebook and other tools. That may not happen until Facebook releases an API for accessing the leads.
Conclusion
I hope this blog post helped you learn everything about lead generation via Facebook. The lead ads are a powerful tool, and should be used by all digital marketers for generating leads for their business.
Any questions?