How to Drive High Quality Traffic to Your Content Using Outbrain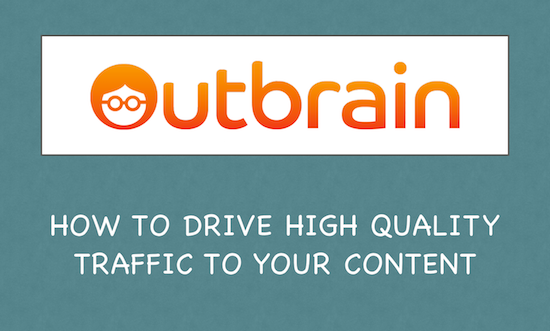 If you are getting started with content marketing, you will soon realize that it is easy to create content but almost impossible to promote that content without having an audience.
Outbrain has changed their interface. A new and updated version of this article is here: How to Drive More Traffic to Your Blog Posts with Outbrain
Many top digital marketing experts agree that content marketing is 50% content and 50% marketing. After all, the term contains the word marketing in it. Gone are the days when quality content used to go viral and bring traffic on its own.
Getting traffic to content requires an audience that can amplify your content. Bloggers like myself have worked for years to build an audience and hence driving traffic to new content is easy – meaning, I need not pay for traffic.
But not everyone can spend years to build an audience. If you are trying to market your content for your business blog and if you want some targeted traffic that will engage with the content, then content recommendation engines are the best way to achieve that goal.
Outbrain is a content marketing platform through which you can drive more traffic to the content on your blog. If you have been using the internet for a while, chances are that you may have clicked on a Outbrain link already.
They are the links that appear below the articles on major content websites. They are shown as 'Recommended Content' or 'From around the web' below the article of interest.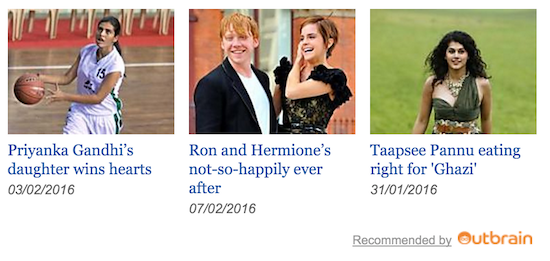 As a publisher, you need to have millions of page views a month to get approved by Outbrain or a similar content recommendation network. However you can get started as an advertiser easily.
For advertisers, it is a self server platform and the minimum budget for ad spend starts as low as $10 per day. To create an advertising account, you can sign up for Outbrain.com – most of the steps are self explanatory.
This is the dashboard that you will see as soon as you login. While you are signing up, you will be asked to create your first content campaign right away.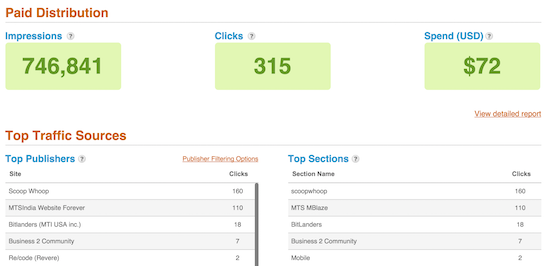 Note that Outbrain, being a content recommendation engine, only accepts content such as blog posts.
If you are trying to drive traffic to your landing pages where you are generating leads or trying to sell something, Outbrain will reject that link. It makes sense that recommended content should be content and not landing pages.
There are some other content recommendation engines which allow landing pages (Taboola is an example). They will promote your sales pages or lead generation pages as recommended content. More about this on a future post!
I have spent $72 so far in promoting certain blog posts from my blog. Outbrain also shows you the top sites referring the traffic to you. Right now, Outbrain does not have an option to choose your traffic sources.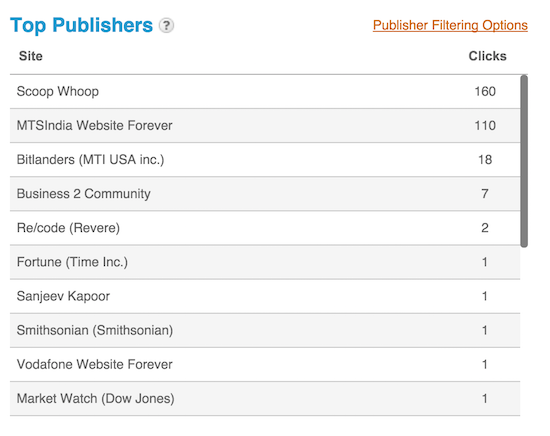 For example, I wouldn't want to display my links on ScoopWhoop. If you have been to their site before, you know that the quality of the traffic is not that high. (But the quality of the clicks is not that bad because of the low CTRs)
However, I would love to get clicks from Business 2 Community. The site hosts high quality content and the users will be similar to my target demographic.
If you go into clicks and content you will see the daily traffic, impressions, cost and CTR. All the stats that you would need to track which campaigns perform better with daily break up.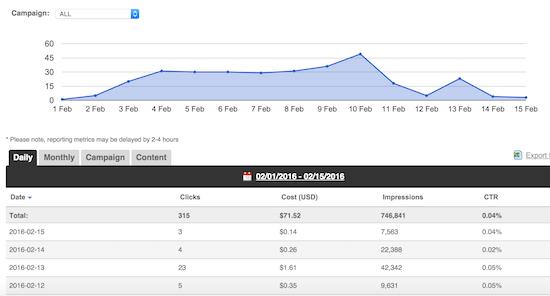 Since you are paying per click and not per thousand impressions, it is recommended to have low CTRs. High CTRs will drive up your costs and send you untargeted traffic. Low CTRs will give you more targeted traffic.
For February 13th, I got 43,342 Impressions and 23 Clicks. That's a CTR of 0.05% which means that 1 out of 1,884 impressions get clicked.
With such low CTRs you can be sure that only the people who are really interested in the content is going to click on the link.
If you go into 'My Campaigns' you will be able to see all your existing campaigns. If your link gets approved and if your payment methods are live, the campaigns will show as 'on-air'.

Inside Campaign Settings you can choose your targeting to Desktops/Tablets and/or Smartphones. I always choose Desktop/Tablets because I have experienced more engagement from desktop users than mobile users.
You can also edit the daily budget and the CPCs. The usual recommended CPCs from Outbrain are way higher than what I would like to pay.
I set a CPC of $0.04 and I was getting descent number of clicks everyday. Outbrain recommends nearly $0.50 to $1.75 CPC for this campaign – which is unsustainable for me. I would pay that much for leads, not clicks!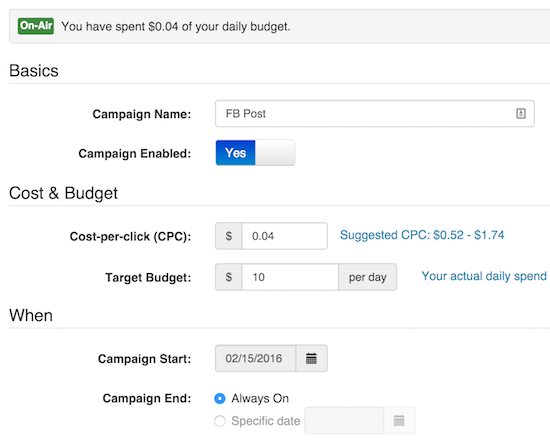 You should set a CPC in such a way that your daily budget doesn't hit. If you are hitting your daily budget, it means that you are over paying for the clicks.
If you are setting a daily budget of $10 and if you are spending $8 to $9 per day, then that is the most efficient way to run the campaign. You are getting the highest number of clicks for the lowest possible cost – while remaining within your budgets.
Outbrain Vs. Competition
I have also noticed that the traffic that comes from Outbrain is generally of higher quality that other content recommendation networks. Outbrain doesn't accept everyone into their publisher network and I believe they have good quality checkpoints before they can accept someone into their network.
The internet users who visit my website via Outbrain network spend more time on the website and also share the article again on social media. A lot of re-tweets for the article have come from traffic that originated from Outbrain.
If you are just getting started with content marketing and if you want to drive traffic to your content, you should definitely give Outbrain a try.
Being a self-serve platform, you get on-boarded instantly and the campaigns can start as early as one day! There are many more networks similar to Outbrain. One more such network where I have run campaigns is Taboola.
Taboola allows any kind of page to be promoted on their network but it is not a self serve platform. Their minimum budget requirement for a campaign is $2,000 a month. But the CPCs are much lower in Taboola than Outbrain.
Any questions? Leave a comment below!