Do Digital Marketing Jobs Pay More Salary? Data Says Yes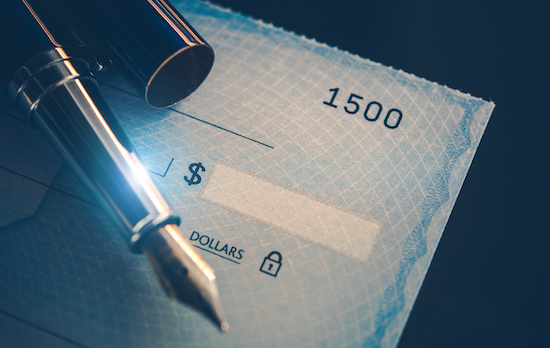 You might have heard that digital marketing jobs pay higher salaries. But is it true? Because it is possible that people who sell digital marketing training programs and courses (like me!) are the ones touting that digital marketing is the next big thing.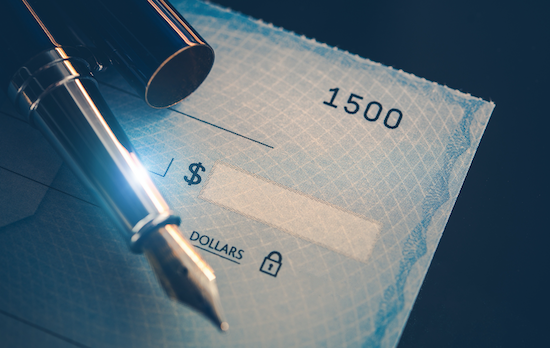 You might also think that digital marketing is just a hype and it will not last long. Instead of debating this topic with opinions, let's look at the data and facts. I have collected data from various sources and presenting it to you in this article, so you can see the truth for yourself.
We will also try to understand why digital marketing is in high demand. We will look at the change in consumer behavior, why brands need to change their marketing strategy and finally, how we, the digital marketers can benefit from the changing times.
Why Digital Marketing?
The change in consumer behavior has been very fast in the past 3-5 years. You can see the change all around you. Millions of consumers have started using the internet. There are more than 400 million internet users in India right now. The internet usage has been accelerated by the penetration of smartphones and low-cost computers.
A recent world bank report revealed that 26% of the population in India has access to the internet already (and this is 2015). China has 50.3% and the USA has 74.6%. Many European countries have 90%+ internet penetration. Norway tops the list with around 97% of the population having internet access.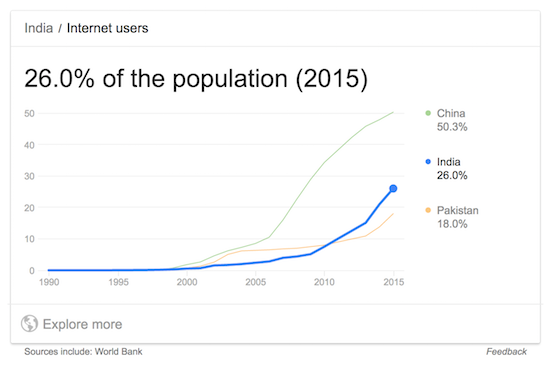 There is no reason why India won't get to 80% penetration in the next 10-20 years. That would 3X the size of the digital marketing industry in India.
You can see that the blue line in the graph is taking an exponential curve. The next 400 million internet users will come faster than we expect. There is a long way to go and the road looks beautiful. (Now you know why many internet startups in India are being hyper-funded).
When I had access to broadband internet, it was in the 2nd year of college. I had dial-up access to the internet as early as 2004. Today there are 8x more internet users on the web! (I feel old!)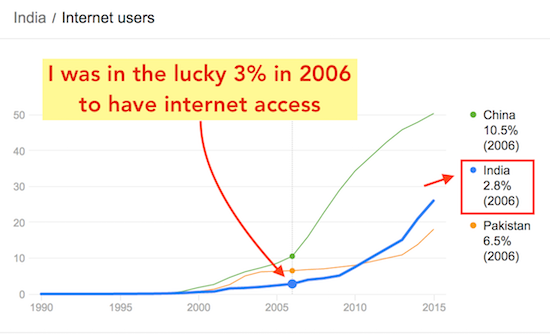 We are mostly talking about the digital marketing job opportunities in this article, but if you are a businessman, you can see that why you cannot ignore India as a market. Many online entrepreneurs have focused on selling products to American and European customers ignoring India as a potential market. I am betting big on my country.
New telecom players in India like Jio have disrupted the market and have made the internet a utility than a luxury. Tough competition has forced other telecom operators to reduce prices as well.
The change was not this fast when TV & Radio came along. It took decades for every home to have a TV. But today, each one of us has multiple internet devices and multiple internet connections.
This pace doesn't seem to slow down. Elon Musk plans to launch internet satellites into the orbit with the help of SpaceX by 2019. This will enable a low-cost, high-speed broadband access to a huge portion of the unconnected world.
If consumer behavior has changed, businesses have to change. Customers are the ultimate boss for every business. Without being in sync with their needs and behavior, no business can survive.
Why Brands Need to Change their Marketing Strategy
There is a huge need for brands to start advertising on the digital medium. The new generation is watching YouTube and rarely turns on the TV. They read blogs and not newspapers. They use apps like Facebook, Instagram to connect with friends and family. Such two-way communication apps weren't even possible before the internet.
Brands need to advertise their products at places where consumers hang around. If brands keep spending money on hoardings, TV ads and newspaper ads, they will not be able to survive, let alone grow their business.
This change has forced many CEOs and Co-founders of startup companies to learn and execute digital marketing themselves. Startups cannot afford to be slow and they need to adapt to the change in market conditions. There is already a huge growth in digital marketing spends in India. Here's a chart from MediaNama & Group M.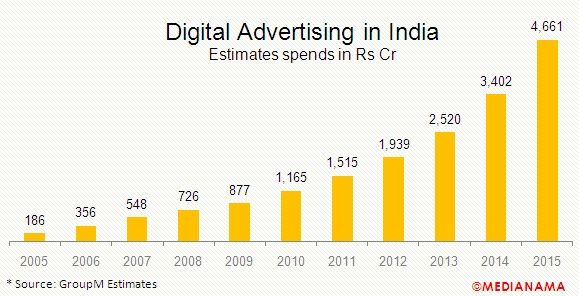 You can see that the growth of digital marketing spends resembles the growth of internet users in India. But the spending is lagging behind the actual user growth. And the reason why the digital marketing spends are not as high as it should be is because of the lack of digital marketers.
A large percentage of companies are still stuck with traditional marketing. Unlike startups, founders of large organizations cannot focus on digital marketing themselves because there are so many other things to take care of.
Their only hope is to hire an expert digital marketer who can build a digital marketing team. But the big companies are not finding enough qualified candidates who are experts in digital marketing. Could it be true? Let's look at the data again…
The Shortage of Digital Marketing Talent
According to a report by Kstart and YourStory, the digital marketing industry is growing at 40% year-on-year as compared to 5-6% growth in many other industries.
Quoting from the report:
For Startups, digital marketing is a more viable option than traditional media because even with a small budget, businesses can test the effectiveness of their marketing strategy, control costs, and reach out to targeted prospects.
It's why every type of business (big and small, old and new) is recognizing the importance of leveraging digital marketing. Not surprising then, that the digital media industry is growing at 40% y/y growth when other industries are struggling at 5% or 6%. – Kstart Report
According to another survey done by Kstart, 66% of respondents believed that finding good talent was a major bottleneck because a very few people 'get' digital marketing. Others felt there wasn't enough talent in the market. Companies are clearly feeling a shortage when it comes to hiring talented digital marketers.
I have seen it happen within the companies that I've worked with and the stats are saying the same. A recent article in Times of India also proved the same fact that digital marketing skills have high demand but low supply.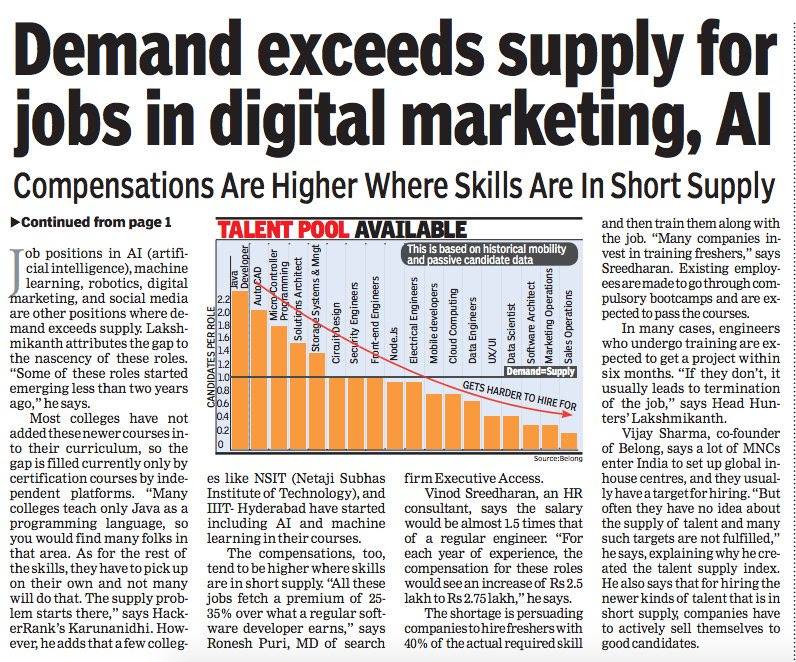 If you start looking for sources that prove the lack of supply in digital marketing skills, you will find plenty on the web. I have given only two examples above. But you will not find any report with stats that say otherwise.
And you don't need a report to help you believe that the marketing landscape is changing. You can observe what's going on around you, and predict what's coming next.
The Various Digital Marketing Roles
Brands need digital marketers to run their marketing campaigns online. And they are ready to pay a good price for it because the money they invest in efficient digital marketing would be much less than traditional marketing.
If a candidate with 2-3 years experience in digital marketing is earning 5 to 10 lakhs per annum, the company will make more than what they spend on the digital marketing talent. For them its an investment, not an expense. That's where your value as a digital marketer lies. You are the one who will help companies make more money with efficient digital marketing.
Small companies may need just one or two digital marketers to handle their campaigns. Large companies or well funded early stage startups will need a digital marketing team.
Some of the top roles in digital marketing available today are:
Digital Marketing Manager
Social Media Marketing Manager
SEO Expert
CRO Expert
Content Marketer
Email Marketer
Copywriter
Paid Ads Expert (Facebook & Google Ads)
Analytics Expert
If the organization is very big, the digital marketing manager will report to V.P of Marketing (or the Chief Marketing Officer). The titles may differ from place to place, but the nature of work remains the same.
This is how the digital marketing team is structured within the organization. If a company is small, multiple roles are taken up by the one digital marketer.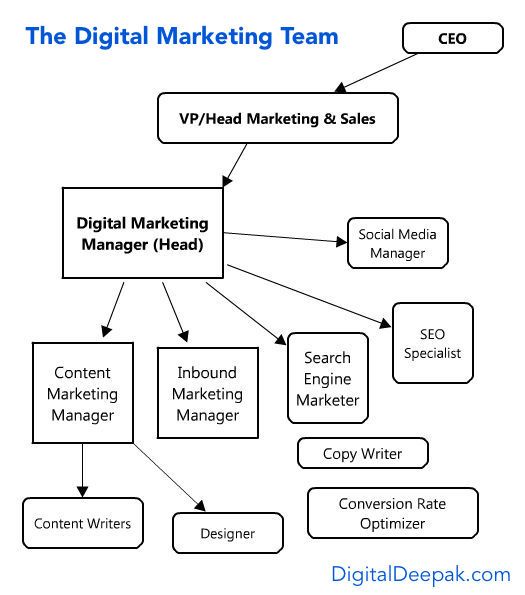 To learn more about the job specification of each role and how the digital marketing team would be structured, read this article: Digital Marketing Jobs & Career Opportunities in India.
What's the Average Salary for Digital Marketers?
The salary of these positions differs with years of experience, the kind of company that is hiring and most importantly, the city in which you work. But I can confidently say that the salaries are definitely higher than other fields where the supply is more than the demand!
According to PayScale – an authoritative source of salary data, a digital marketer in Bangalore with a few years of experience will earn around 7.2 lakhs per annum. This is based on data collected from real people with real jobs, not an estimate.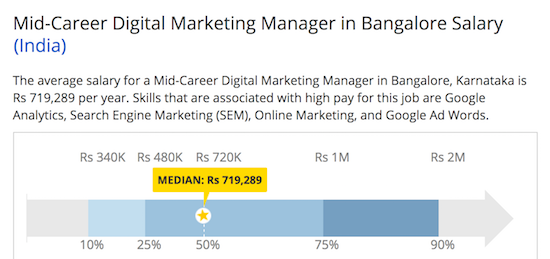 In the past several working as a digital marketing manager in many startups, I've always got multiple job offers before joining any company – which is a clear indication that the demand is more than the supply. After I've left my last company Razorpay, they haven't found a digital marketer to replace me yet!
I was being paid around 15-20 Lakhs per annum in the last 3 startups that I've worked for. The last offer I got was around 25 Lakhs per annum, which I declined, to work on my own projects.
Ready to Become a Digital Marketing Expert?
So it is time for you to become a digital marketer and become an expert on this subject. If you have digital marketing skills and do a bit of personal branding, there are plenty of awesome companies in India that would be ready to hire you! And you need not subscribe to expensive courses to become a digital marketer. You can become a self-made digital marketing expert.
I became an accidental digital marketing expert because I learned digital marketing to scale up my first motorcycling publication to 1m visitors a month. In the process of growing my blog, I learned social media marketing, SEO, email marketing and everything fell into place with my integrated digital marketing strategy.
Focus on learning and doing things. I've always recommended my students to start their own blog and practice digital marketing by running your own website. That's how I became a digital marketer. That's the easiest and fastest way to get started with learning digital marketing – and develop a passion for digital marketing.
If you have any questions, leave a comment below!