Top 7 Tools to Check Website Traffic of Your Competitors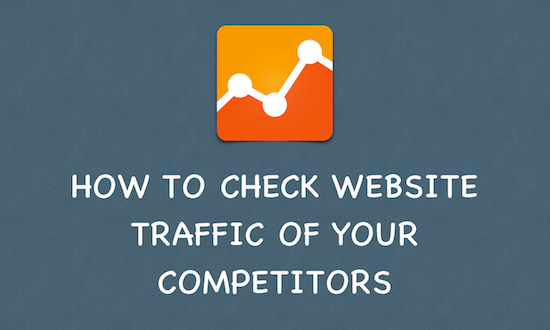 Whether you are a newbie or a pro in the digital marketing world, monitoring your website's traffic is one of the most important tasks that you will do on a consistent basis.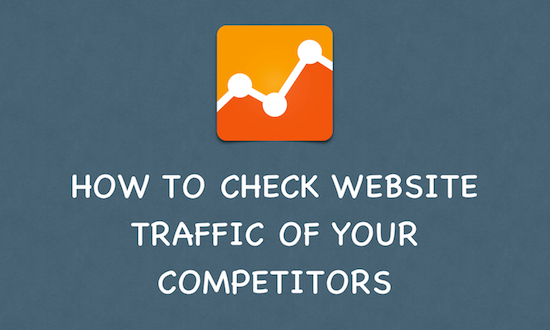 Tracking your website's analytics and performance of the webpages is very important if you are a content marketer. If you publish 10 articles, you can go back and check which ones performed well and the ones that didn't. Based on your learning you can publish new articles that have a higher chance of performing well.
Google Analytics is one of the best tools to check traffic on your website. You will be aware of the number of visitors you are getting in your site, time spent on the website, and content that gets more traffic.
However, checking your website's traffic is not the only task you should do, but it also makes sense to know how your competitors' are doing. Why? Simply because this helps you make some tweaks to your site and rise above the rest.
When you check website traffic of your competitors, you can get an idea on various metrics such as page visits, unique visitors and the best keywords. You can get inspiration from other websites about the kind of articles that will perform well on your websites.
So, here I give you a list of some of the finest website traffic estimators you can find online. There are those that are free of charge while others require a minimal fee to get started (with a selection of advanced features, too).
1. Compete.com
What you will notice immediately about Compete.com is its user-friendly interface, and it is almost a no-brainer to understand the data presented.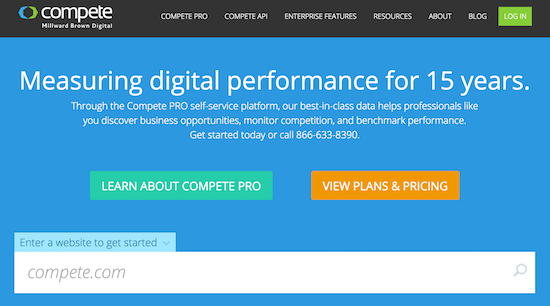 It also works as expected, and you get to discover unique visits and visitors to various sites. You can even compare a number of sites to gain an extensive idea of your competitors' rank and how you match up against them.
In fact, it publishes the estimated number of visitors in the U.S to at least 1,000,000 sites. Unfortunately, there is one caveat to this tool – it is only able to check unique visitors coming from the U.S.
Nevertheless, you can go for the pro version of Compete, so you can access the number of unique visitors to any website for 2 years (still only coming from the U.S).
Even domains and keywords that point to the site in question can also be obtained once you subscribe to the pro version. Compete offers free membership, yet if you want to upgrade to the Pro Version, this would cost you a monthly fee of $499.
2. Google AdWords Display Ad Planner
In terms of accuracy, you will be impressed by how this tool works. This tool has been built to help advertisers find opportunities for advertising. You can find opportunities based on keywords or based on placements.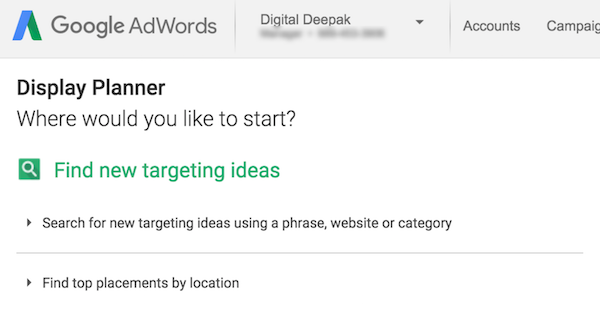 What we are interested is in the top placements. Here you will be able to find out the traffic of the top websites in a geography.
For example, TheLogicalIndian.com is a famous website in India. And if I want to estimate the daily page views of their website, I can search for them, and this is what I have got:

Their ad slots get 3.5m impressions per week! And the amount of traffic they get is almost as much as another famous website in India BikeWale.com.
You can also get demographic data on these websites. You can find out the gender & age distribution and the devices as well.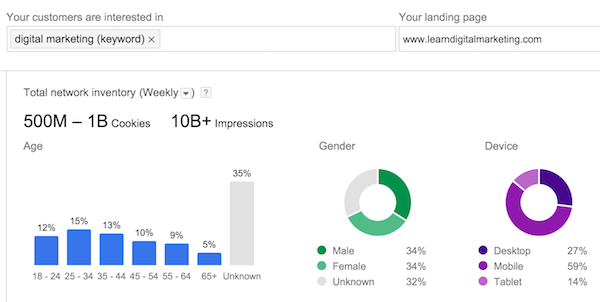 However, there are cases when it is difficult to get accurate and comprehensive data for smaller sites.
There is also an occasional miss in accuracy, so it may not be too effective in making traffic predictions. Yet, you can still use this tool when you want to learn about audience interests and those important metrics related to a site's traffic.
What's more, it does not cost anything to access this tool, which makes it a practical option for beginners.
3. SEMrush
Accuracy is this tool's strongest point, which makes it a reliable tool as website traffic checker. SEMrush is a cult tool among many bloggers and webmasters. If you know how to use this tool well, you will gain a lot of value from it.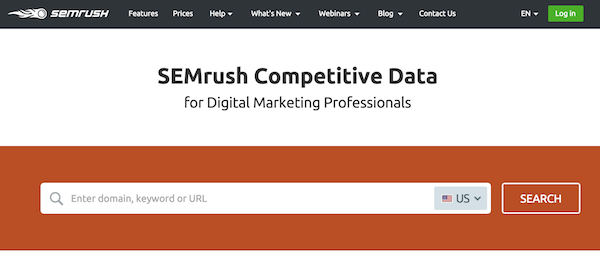 The data you receive from SEMrush include a list of keywords and keyphrases with rankings. SEMrush deserves a separate review and tutorial which I will publish soon on this blog.
It allows you to estimate any sites' accurate traffic and keywords used by your competitors for improving the number of visitors.
As with any tools for checking traffic to websites, there are some limitations to consider. While you can get basic data you need by opting for the free version, you will have to pay $499 for a full list of information you want in analyzing site traffic that you and your competitors receive.
For serious bloggers and website owners out there, though, this fee is all worth it since it lets you view the list of keywords and how your competitors rank by using these terms.
4. Alexa
If you want to make a prediction about a website's popularity, then Alexa is a tool worth looking into. The traffic numbers are not accurate with them but you will be able to compare your website with other website in a pretty accurate way.
Alexa allows you to monitor general and common traffic trends. The index you get is extensive, although users with the Alexa Toolbar installed in their browsers are the only ones taken into account by this tool.
For DigitalDeepak.com, the traffic ranking in Alexa is around 40,000. This means that my website is one of the top 40,000 websites in the world. If my competitor has a rank of 30,000 then I can safely say that his website gets more traffic than mine.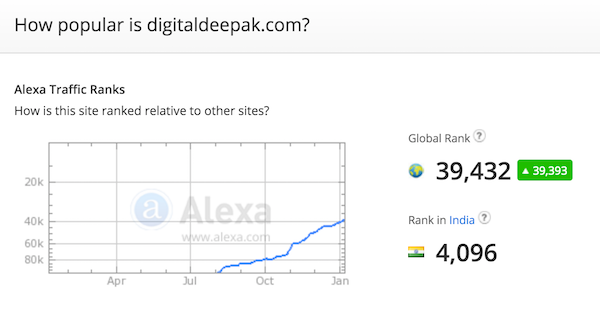 The top search queries list for a website is also provided, and you can refer to these as keywords that are performing well. One limitation of Alexa is its inability to provide traffic estimates for small or new websites, or those that get only a few hundred visits a month.
However, you can count on this tool when comparing websites within a similar industry, or in analyzing data from the unique visitors by country. You can get started with Alexa without any fees, but site audits will cost you $199.
5. Google Insights
What you can expect from Google Insights is its ability to provide general trends when it comes to regional information, key phrase groups and list of key phrases. It's more about getting insights into a market than your competitors (which sometimes overlaps).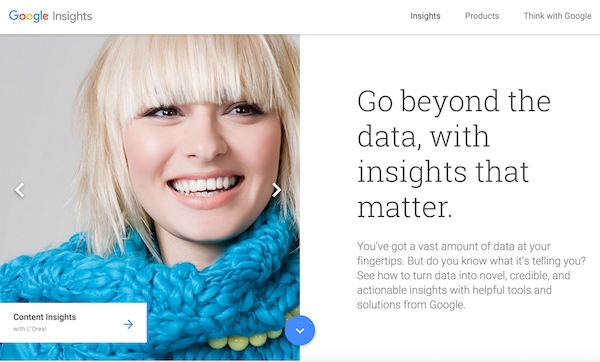 It is most useful when you want to learn about the best key phrases and groups of key phrases to use, which are known to perform well in terms of rankings (as used by your competitors).
Lastly, you can view which key phrases in a group are most beneficial to drive more traffic to your site. The significant drawback about this free traffic checker tool is the complexity of data, which makes them difficult to read.
Comparing entire sites to another can also be tough since no hard numbers relating to traffic are provided. Yet, the figures are more geared towards search terms, trends and key phrases, so the search volume is most likely to correspond with the site's traffic.
6. Ahrefs.com
If you are considering another tool to check site traffic, then Ahrefs.com may be worth your time. It is perfect when you want to conduct link research, and there is an update on their index every 30 minutes, so you receive fresh and reliable data.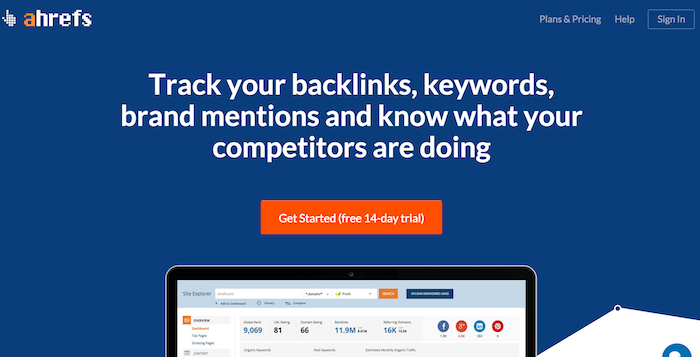 What's more, the site contains a ranking database of about 45 million keywords coming from several countries including the U.S, France, Italy, and Russia, to name a few. The tool shows results efficiently, and you can export date or filter reports as you wish.
Ahrefs is more of a link checker tool than a traffic estimator tool. Here you can see the number of new links gained or lost in recent times.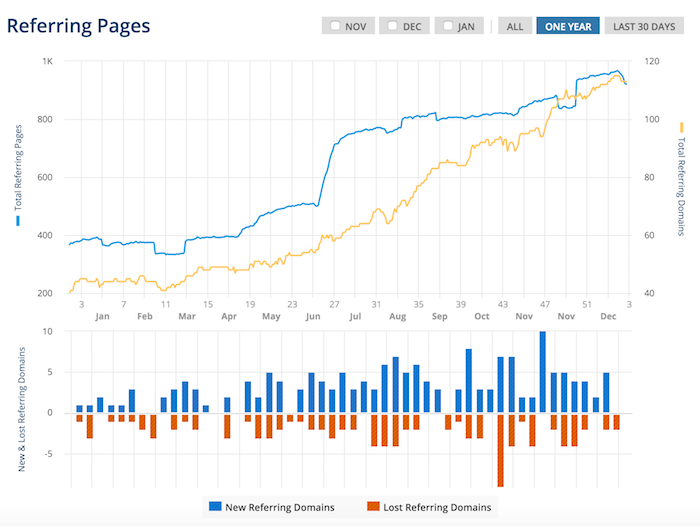 Ahrefs also shows you the organic traffic with mild levels of accuracy. I wouldn't take the numbers directly with confidence but for competitive analysis, it is useful.

Ahrefs.com, however, comes with a fee. Upon subscription, you can have an access to various features including Labs/Tools, SERPs Analysis, Site Explorer and Report.
You will also like the fact that the pricing is reduced or increased depending on the data volume you access. Overall, this tool is great for link research since valuable information you need is presented within its interface.
You can sign up for a free trial and use it for 14-days. Even if you do not plan to use it permanently, using it for 14 days would give you a lot of value and data for decision making.
7. Intention to Advertise
This is more of a method to find traffic than a tool. And it is one of my favourite tools to find traffic of my competitors.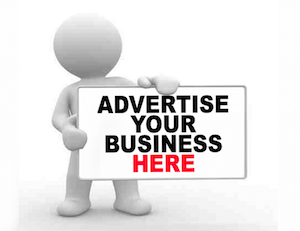 If you want to advertise on a blog or a website, the owner of the website would be ready to give you their traffic stats. Many blogs proudly display their traffic numbers on their advertise page to attract advertisers.
Some blogs and websites are not very open about their numbers. The last time I ran an ad for a client of mine, I was able to get the entire Google Analytics report for past 30 days of that website. And it happened that the website was similar to my blog and I gained a lot of insights from the report.
However, you can also contact a website owner with no intentions of advertising on their website and get their traffic data purely for spying into their data. Here, you cross an ethical line but it is up to you 🙂
Conclusion
There you have it, 7 of the best tools you can use when it comes to how to check traffic on website of your competitors and your own as well. Consider the pros and cons of each, so you can decide on the right tool that works perfectly to meet your needs.