LuckyOrange Review – Track User Behaviour On Your Website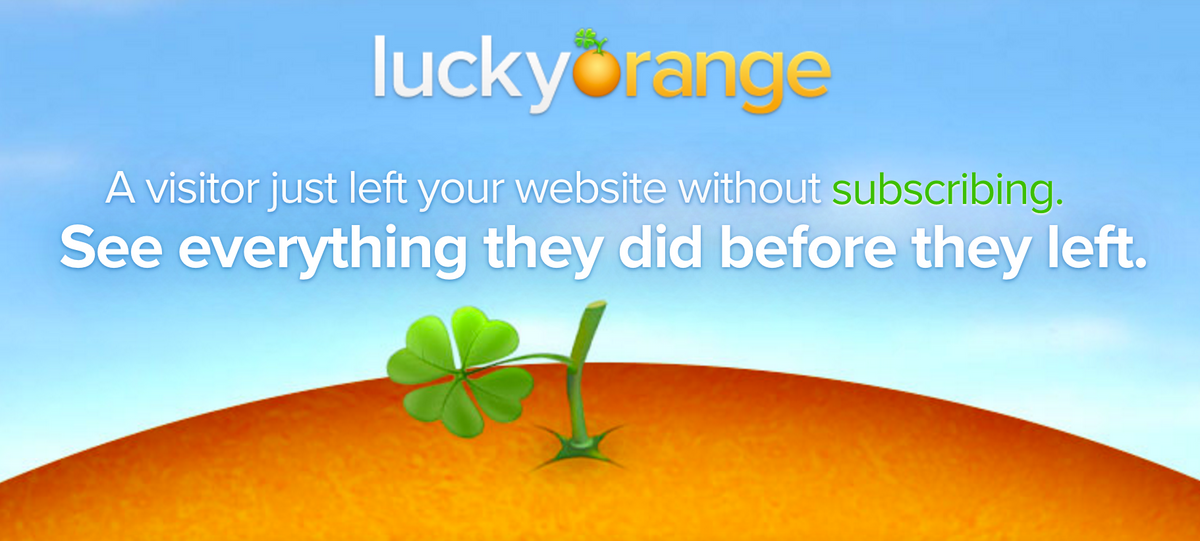 LuckyOrange is a analytics and user behaviour recording tool that helps you analyze your user behaviour and make improvements on your website.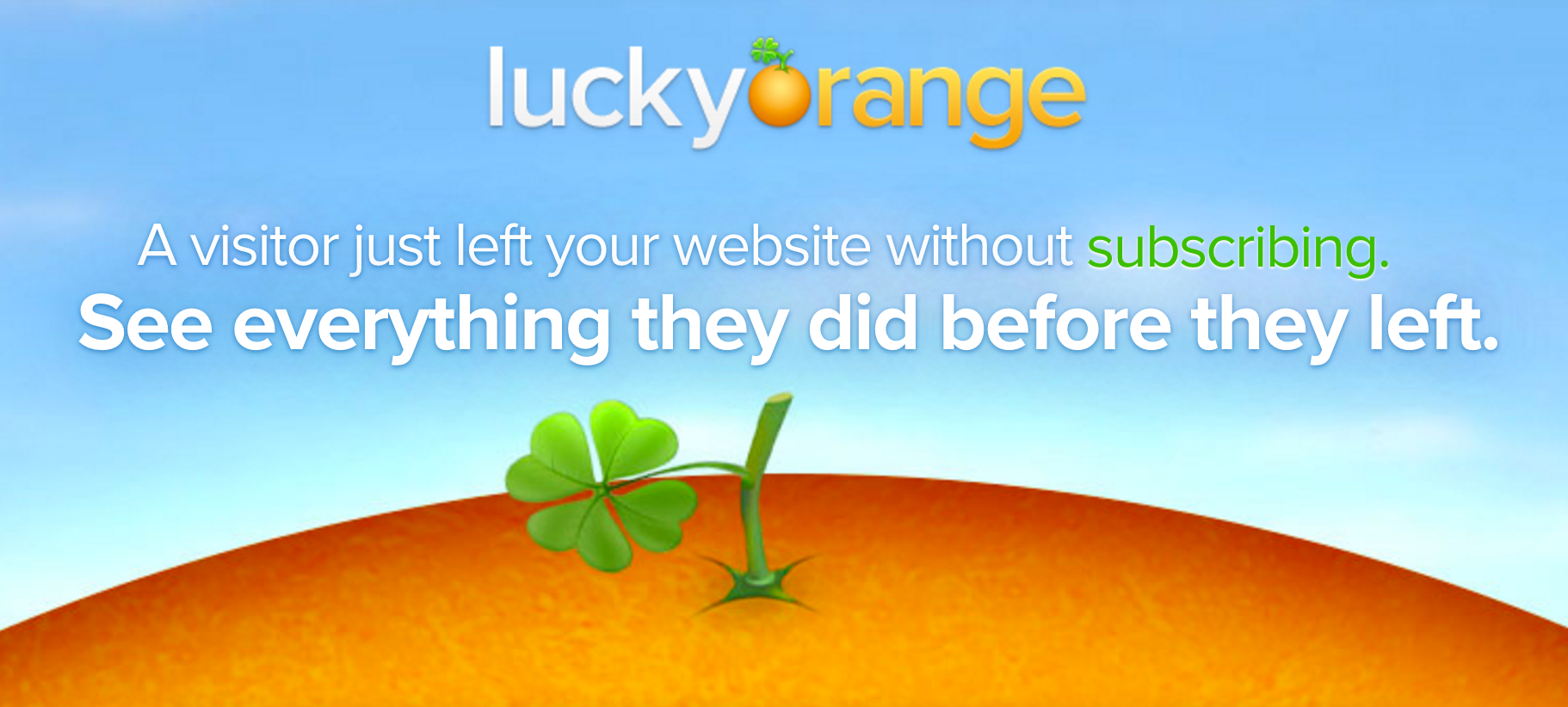 There are many similar tools which help you do the same but if you want accurate analytics, a lot of options, easy to use dashboard and most importantly, a low price then LuckyOrange is your best bet.
You can sign up for a free 7 day trial of LuckyOrange and you don't even need a credit card. After that the basic plan is just $10 a month. For many marketers, the 7 day free trial is more than enough to get significant insights from the tool.
As soon as you sign up, you will get a javascript code that you have to place on all the pages of your website. If you are using WordPress you can enter it in your theme's template so that it loads on all the pages automatically.

Record User Behaviour
LuckyOrange records the mouse movements and user behaviour on your page as if it is recording the entire screen. This is done for each visitor. Once you install the tracking code on your website, it will start the recordings.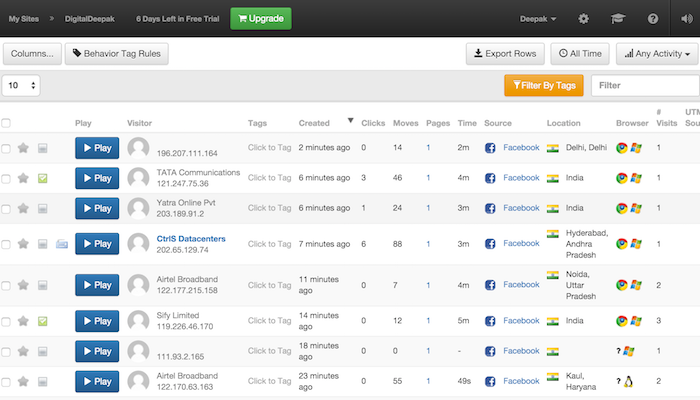 Inside LuckyOrange you will be able to playback the recordings from the Recordings tab.
You will see that many users leave the site for no reason, certain users would read places of your website that you never thought they would visit.
Some users will click on an image which has no clickable link in it. When you look at such behaviour, you will understand how your website communicates to your users from user's perspective. This will instantly lead to improvements that you can do on your website.
Here's how a recording looks. What you get is a video playback and not just a screenshot. The clicks leave a trail and so does the mouse movements.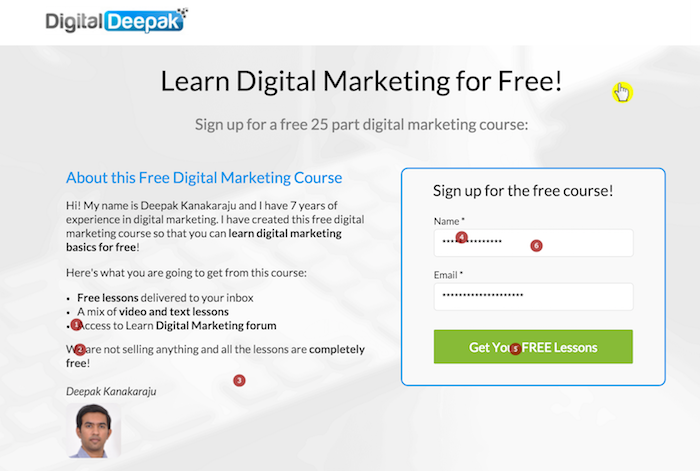 Heatmaps
I have already talked about the importance of heat mapping and eye tracking technology.
Heat maps give you an average of many user's behaviour. LuckyOrange gives you click maps, scroll maps and mouse move maps. Here's an example from my landing page's heatmap: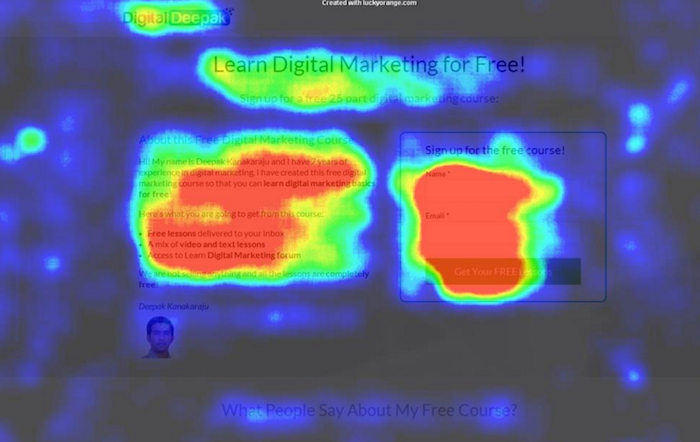 This helps you find out which are me most popular areas of your website. If you want users to pay attention to a specific area of your website, you will now know what really happens from user's perspective.
Visitor Polls
You can also get polls on your website like Qualaroo. Here you can ask simple questions to your website visitors and get a lot of insights from them.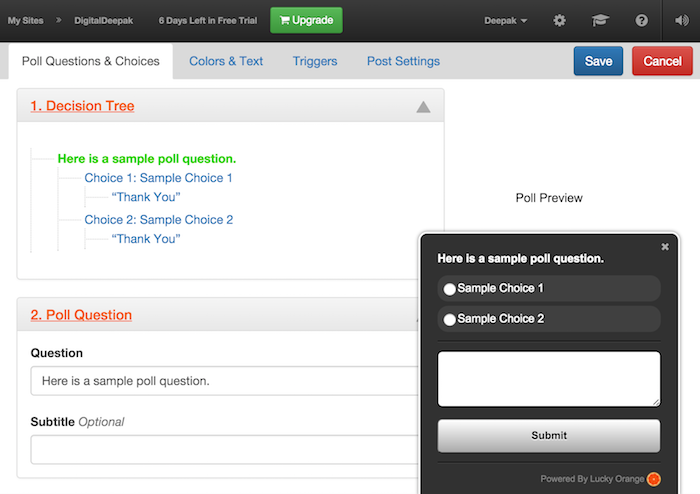 The question could be something like: Do you like the new design of our website (Yes/No).
Since you are not asking the name and email ID of the visitors, they will be more likely to give information.
Even if your website gets only 100 visitors a day, you will still be able to get a lot of insights from their replies. The results of the poll will give you a lot more insights than heat maps and navigation recordings.
Live Chat
LuckyOrange also provides live chat option like Zopim. But here, the chat window doesn't appear until you initiate it. If someone is there on your website Live, then you can initiate a chat conversation with them! I have explained this feature in the video review.
Form Analytics
Apart from the above features, you also get Form analytics which helps you understand your user's behaviour better when they are filling up forms on your landing page or website.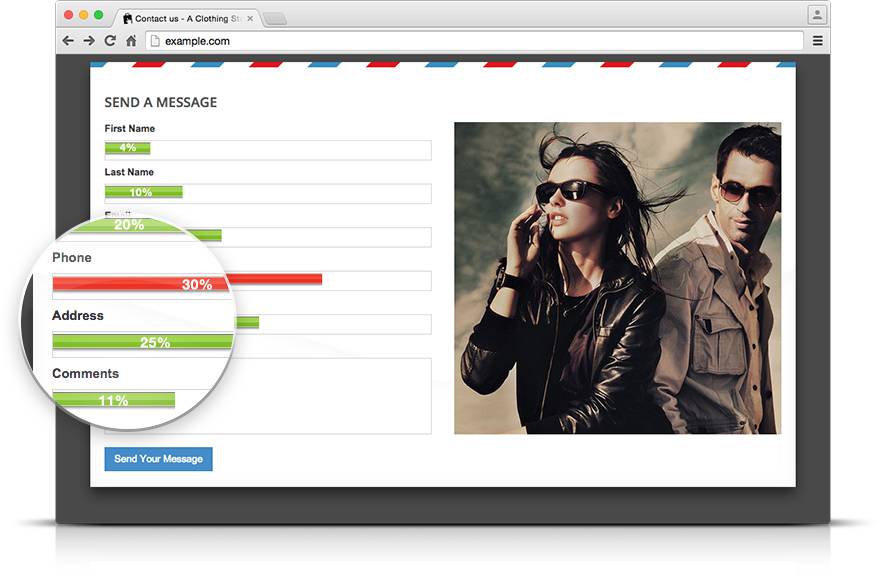 You can understand which fields make the users leave and which fields they easily complete. The results are given as progress bars for easy visual understanding.
Try it for Free
I highly recommend that you try the free trial and get comfortable with user recording playbacks and heatmaps.

They don't even ask you for a credit card and you can sign up and start using it within minutes.
Even if you review 5-10 recordings, you will gain immense insights on how to improve the design and usability of your website.
Alternative Tools for Heatmaps and Recordings
Other players in this market are CrazyEgg, InspectLet.com, MouseStats.com MouseFlow.com, Navilytics (part of VWO), HotJar analytics and FullStory.com
Compared to CrazyEgg (read my CrazyEgg Review), you get a lot more features in LuckyOrange and also the cost is comparatively less. CrazyEgg wants you to make an annual commitment while LuckyOrange can on-board you with as low as $10 a month!
MouseFlow.com and MouseStats.com are not that great to be honest. InspectLet.com is better, but as of now LuckyOrange is my favourite tool!
Video Review
I made a 5 minute video explaining LuckyOrange. You will understand the tool better as I show it to you live in the video: