Lesson 1 – The Opportunity in Digital Marketing
Welcome to the first lesson in your free digital marketing course. In this lesson, we will discuss the opportunities in the field of digital marketing and why it is such a fast-growing field. I am sure by the end of this video you will be motivated to learn digital marketing.
(Note: Watch the video in at least 720p HD. If the video is blurry, change the resolution in the settings.)
Learning digital marketing will help you in a lot of ways. You can get a job in this field, become a consultant, or use the knowledge to start your own business. In the future lessons, we will cover the different modules in digital marketing, how to set up your own blog to learn and experiment, SEO, Social Media Marketing, Paid marketing, and so on.
The lesson includes the following topics:
Why you should learn digital marketing and how it can help you?
Why digital marketing is the next big thing?
The demand for digital marketing jobs.
How much digital marketing jobs pay in India?
The best way to become a self-made digital marketing expert.
Serious about Your Digital Marketing Career?
I have launched a free course to help you learn the digital marketing basics. However, if you want to take your digital marketing career seriously and want to enroll in a premium course, check out my Digital Marketing Mastery Program.

What do People say About My Premium Courses?
One student review for my training program…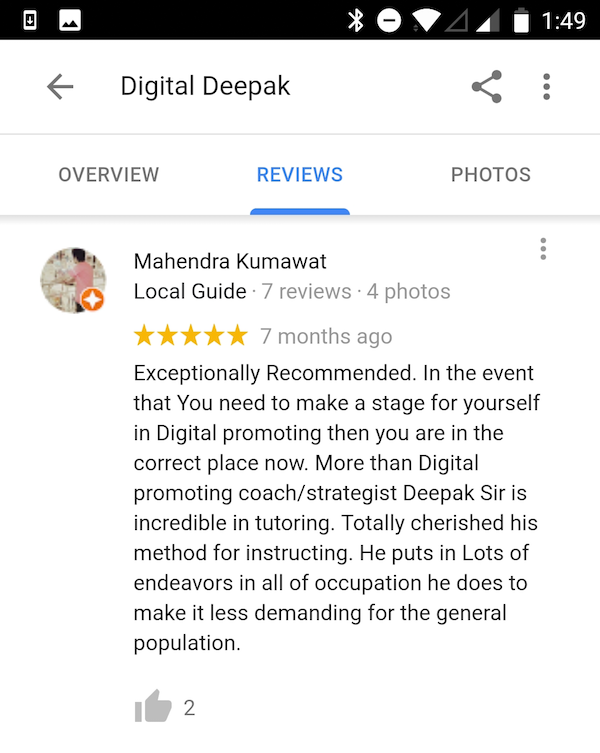 The Digital Marketing Mastery program is an online program that teaches you 7 core skills of Digital Marketing.
Create Your Own Website
Having your own website is important to learn digital marketing. I recommend starting your own blog (we will discuss this in the future lessons).
If you want a good starter hosting package for your blog, go ahead and sign up for an account to Hostgator. They also provide you with 1-click WordPress installation.
Recommended Reading:
Have Feedback?
I would like to hear from you if you have feedback for these lessons. Please email me at mail@digitaldeepak.com.