Ultimate Review of SEMrush – All in one Marketing Toolkit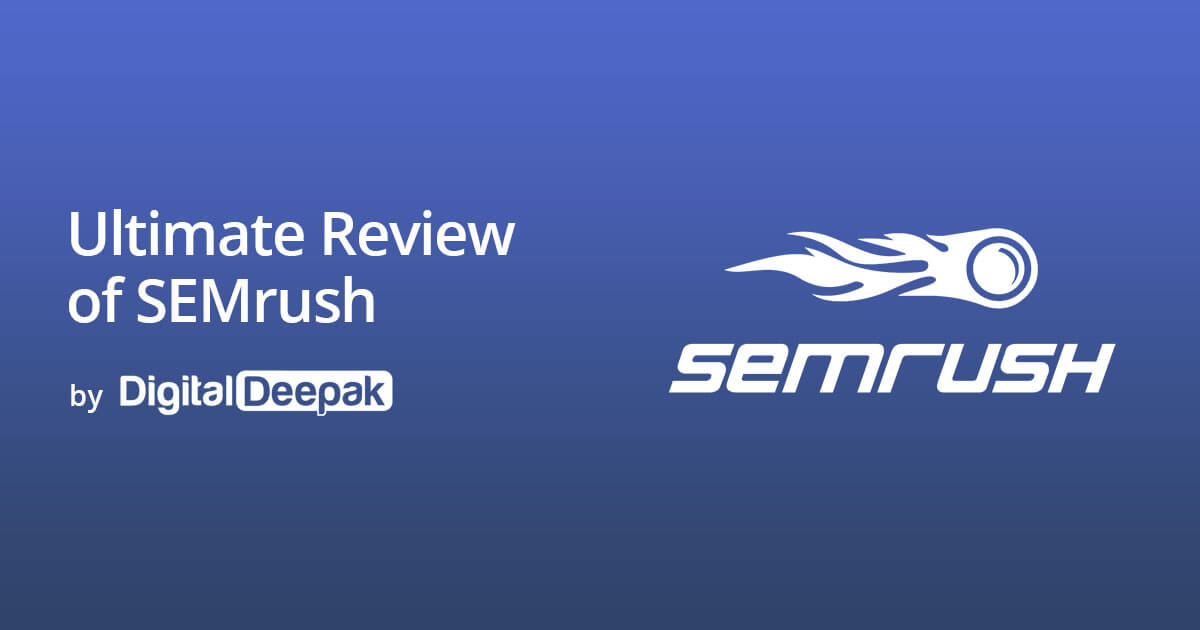 When we talk about driving free & valuable traffic to a blog, the first word that pops up in our tiny little head is Search Engine Optimization (SEO). SEO is one of the best ways to increase traffic to your blog.
SEO is not just a one-time thing; it's a recurring game, and to excel at this very effective game, you need to lay your foundation right.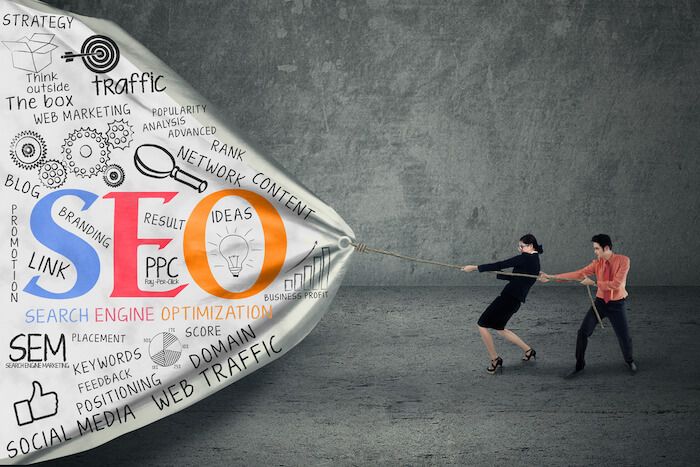 My co-founder at PixelTrack says, "SEO is not a knowledge problem. It's an execution problem".
Executing SEO in the most efficient manner is not a piece of cake, but there are powerful tools that assist you to obtain supreme efficiency. One such tool which I have been using for a long time now is SEMrush.
You must have already guessed what this piece of content is about, if not, let me tell you! It's my review on the magical tool SEMrush. A lot of you think SEMrush as a keyword research tool, but I must say it's a lot more than just a keyword research tool.
So, sit tight as I take you through the key aspects of SEMrush. Let's begin with a fine introduction to this tool.
Introduction to SEMrush
SEMrush was founded in 2008. It started as an SEO tool and a browser extension, but now it does a lot more than that and comes loaded with a bunch of features. According to SEMrush, it now features more than 6 million users.
SEMrush positions itself as an "All in one Marketing Tool for Digital Marketing professionals," and it does stick to its words.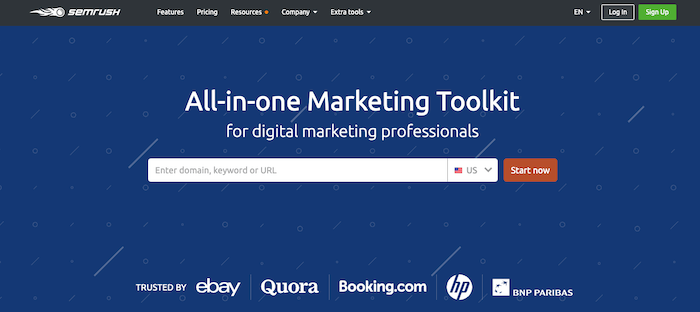 In fact, using SEMrush should be considered as a skill because if you know how to use it in the right way, you really can do wonders in SEO and Digital Marketing on a larger scale.
By the end of this article, I'm positive that you're going to learn how to use SEMrush to a tremendous extent.
SEMrush acts like a Ninja and can pull in complex data of websites within seconds. You will definitely save a whole lot of time, manpower, and MONEY.
So, let me go ahead and put SEMrush to the DigitalDeepak test and see how it fairs out.
An Overview of the dashboard
To make things easier and to understand the power of the tool, I would recommend you to sign up for SEMrush.
If you wish to achieve something very specific, say just keyword research then you can skip this section but if you are looking for an overall marketing strategy with SEO taking the most part of it, then you need to add your domain as a project here.

BOOM! You can now set up and analyze 16 different important facets of your domain. Isn't that amazing?

And mind you, all of these facets are very important for any blogger or business owner out there.
I'm going to set up a site audit for demonstration purposes.

It'll first ask for the domain name and will then give you an option to select the number of pages you want the crawler to scroll, here I chose 100 pages.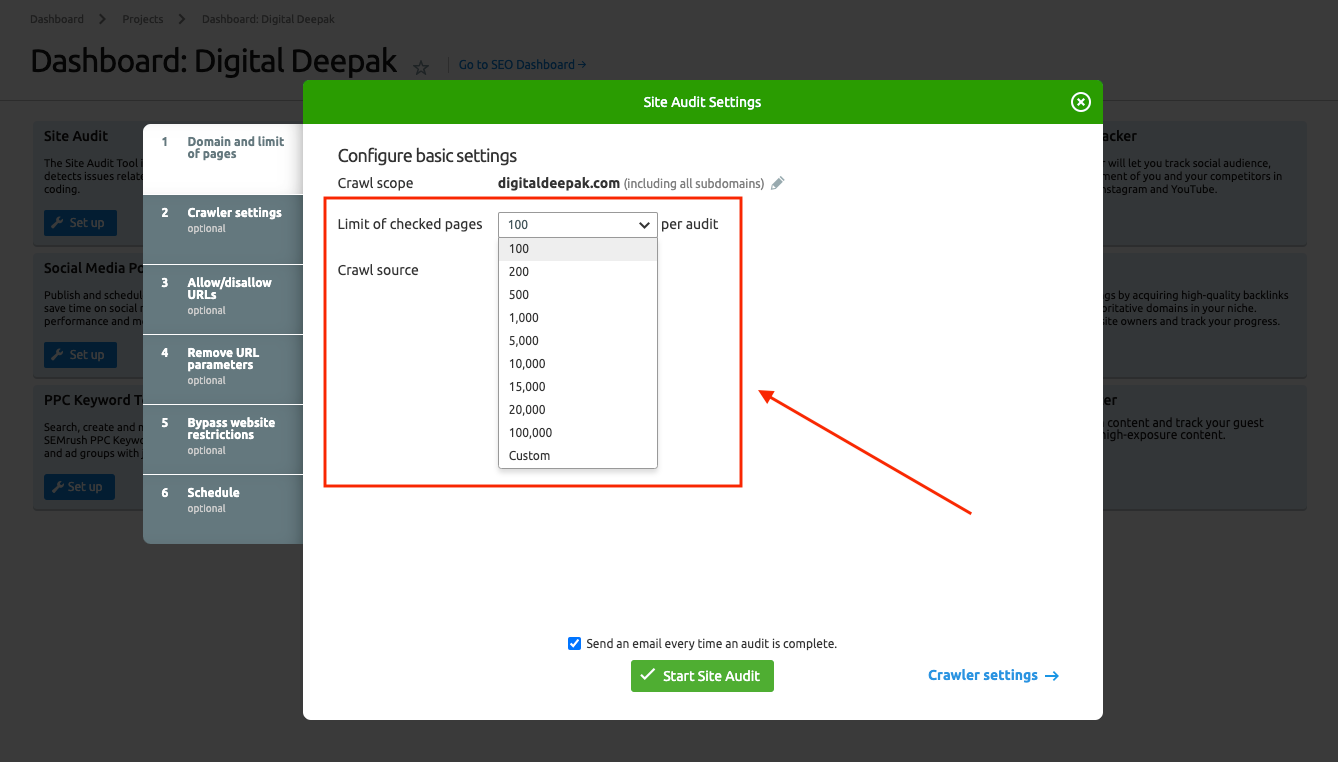 Next, you have an option to select the source and you're given with 4 options. You can choose as per your requirements, for my demonstration, I chose "website".
Now, the crawler will start crawling pages on my website, and it will take some seconds to generate the report after which you also get the audit report on email.
Furthermore, you get an attractive dashboard with all the problems and errors that your website has. I was fortunately on the safer side with a 92% site health score.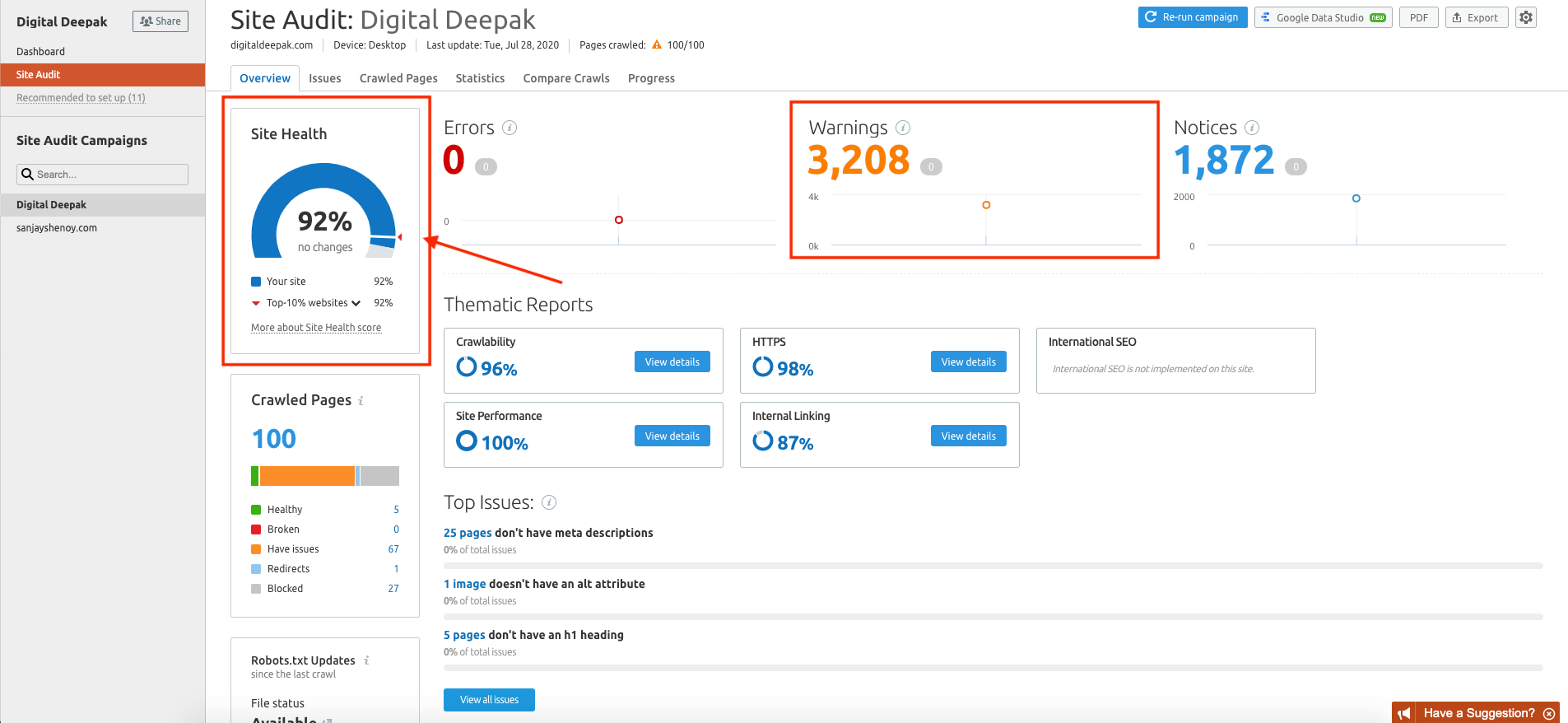 An additional feature I like about SEMrush is that it not only shows you the errors and warnings but it also shows you how to fix it.

By fixing these errors, you should be able to uplift your overall SEO game.
Next up, I'll go ahead and add my domain name and within no time SEMrush pulls in all the important data for me.
Make sure you set-up everything like I did for the site audit, only then you will be able to see the data here.
I can now have a look at Organic keywords, Organic traffic, Ads keywords, Ads traffic, and display ads.

This data is country-specific and you can change the country on the left-hand side to have a look at the above stats according to different countries.
Domain Analytics
Organic Research
Now, if you want to go deep into one of these verticals, say organic traffic, you can click on it and SEMrush will give you a more detailed report for that specific vertical.
Here's a screenshot attached for your reference.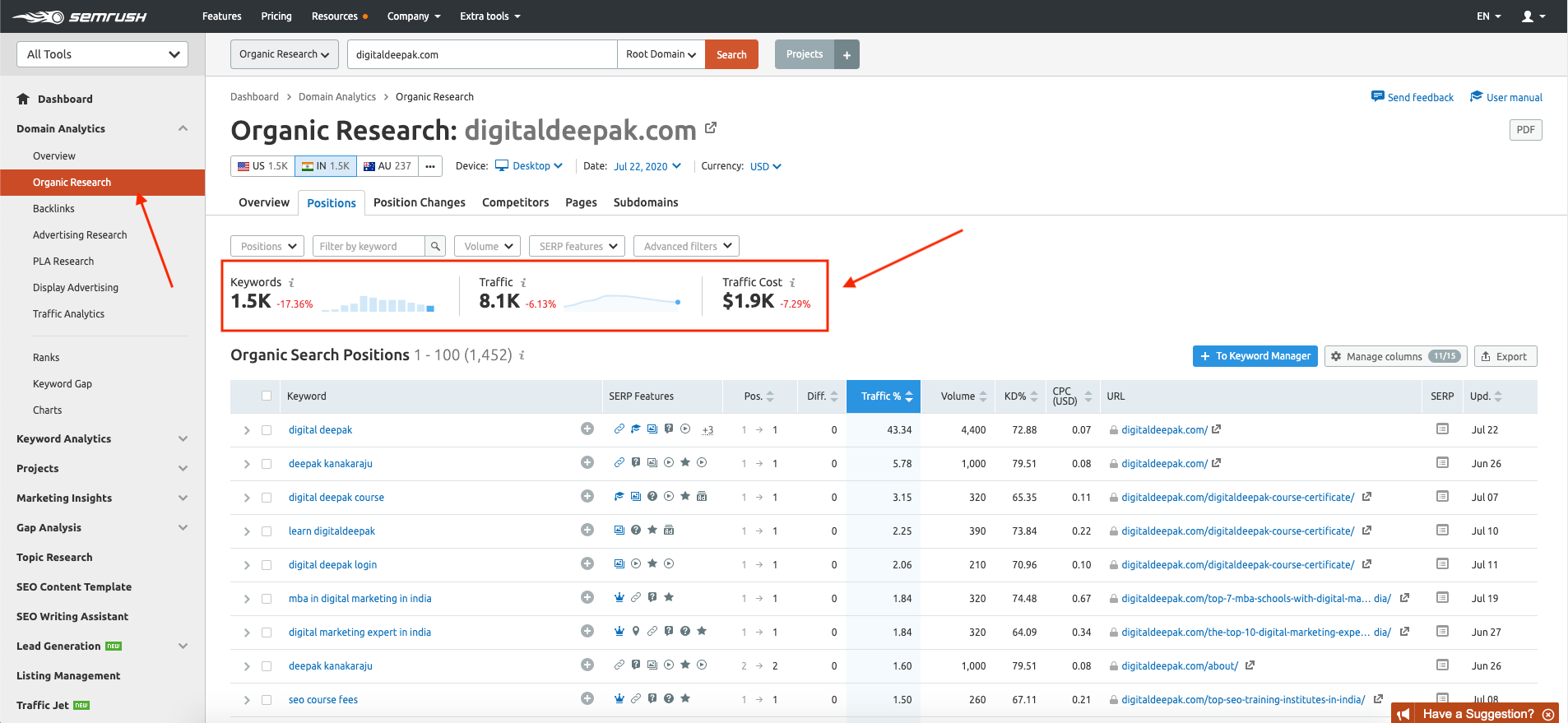 This page will definitely look complicated if you're using it for the first time because the data is all over the place.
So, to make it simpler, let me break down this data into different parts and tell you what it signifies and how it can be useful for you in your Digital Marketing project.
Organizing data always helps us understand the data better and to do this, we have been gifted with filters in this chaotic digital world. Filters play a crucial role here as well.
As you can see on the top, you have got few options for filtering out data according to country, device, positions, currency, competitors, etc and some more advanced filters like filtering out keywords according to their search volume.
Say, you are keen to know what keywords your website ranks for, which have more than 1000 search volume. To get the keywords for this criteria, you can use advanced volume filters.
The middle section of the screen gives you an overview of how many keywords in total you are ranking for, how much organic traffic is coming from these keywords and what's the approximate traffic cost if you were to bid for these keywords on Google ads.
The bottom part of the screen displays a list of keywords that you're ranking or getting organic traffic for.
Now you can minutely analyze the performance for each keyword, moreover, you can view certain search features like featured snippets, knowledge pack, image pack, etc.
You also get to view their positions, change in ranking positions, search volume, traffic percentage share, KD% which stands for Keyword difficulty, the higher the percentage, the difficult it is for you to rank for that particular keyword, CPC which stands for cost per click and is mostly used while doing paid ads and finally the URL of the page/post for which this particular keyword is triggering for.
One direct correlation here is that the lesser the position the higher would be the traffic percentage share.
If your keyword is at 16th position for example, then it means that you're ranking on the 2nd page of google and just like the famous meme which states "You can hide a dead body in 2nd page of Google" because people hardly go to the 2nd page for solutions to their search query. Jokes or shall I say, Facts apart.
Want to know something astounding?
You follow the above steps when you want to analyze your domain however, don't forget that you can add in any domain name that you want here.
How is this beneficial if you ask. You can spy on any of your competitors and see what keywords they are ranking for and write better content as well as optimize it for the same keywords and then hijack their traffic. The main idea of this is to gain insight on the strategies implemented by the competitor website and come up with a stronger effect.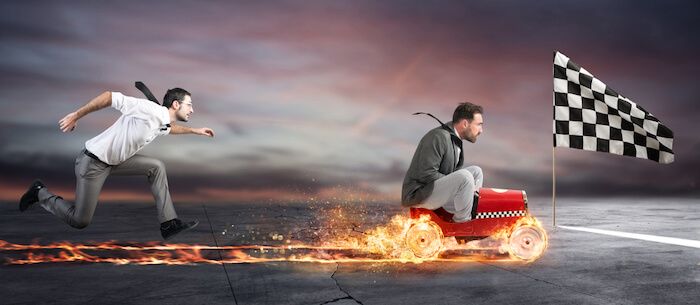 Isn't that awesome?
I have done keyword research for more than 1000 pieces of content to date and I have found this to be one of the best and efficient ways of finding keywords to increase your organic search traffic.
Backlinks
Even if you know a tad about SEO, I'm sure you would know what Backlinks are and about the important role they play in gaining traffic.
The right kind and number of backlinks surely do wonders for your website.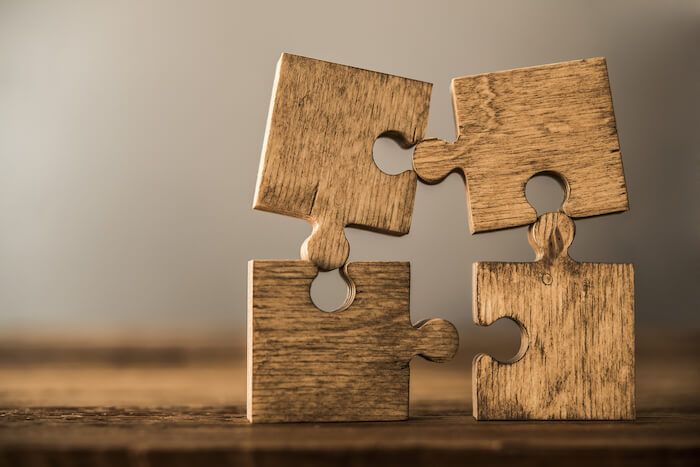 The backlinks dashboard works identically to the organic research dashboard.
You can either analyze the backlink profile of your own website or you can use this option to spy on your competitor's backlink profile.
The first thing you would notice here is the Authority score. Just like Moz has Domain Authority (DA) and Ahrefs has Domain Ranking (DR), SEMrush has its own rating for domains that they call as Authority score.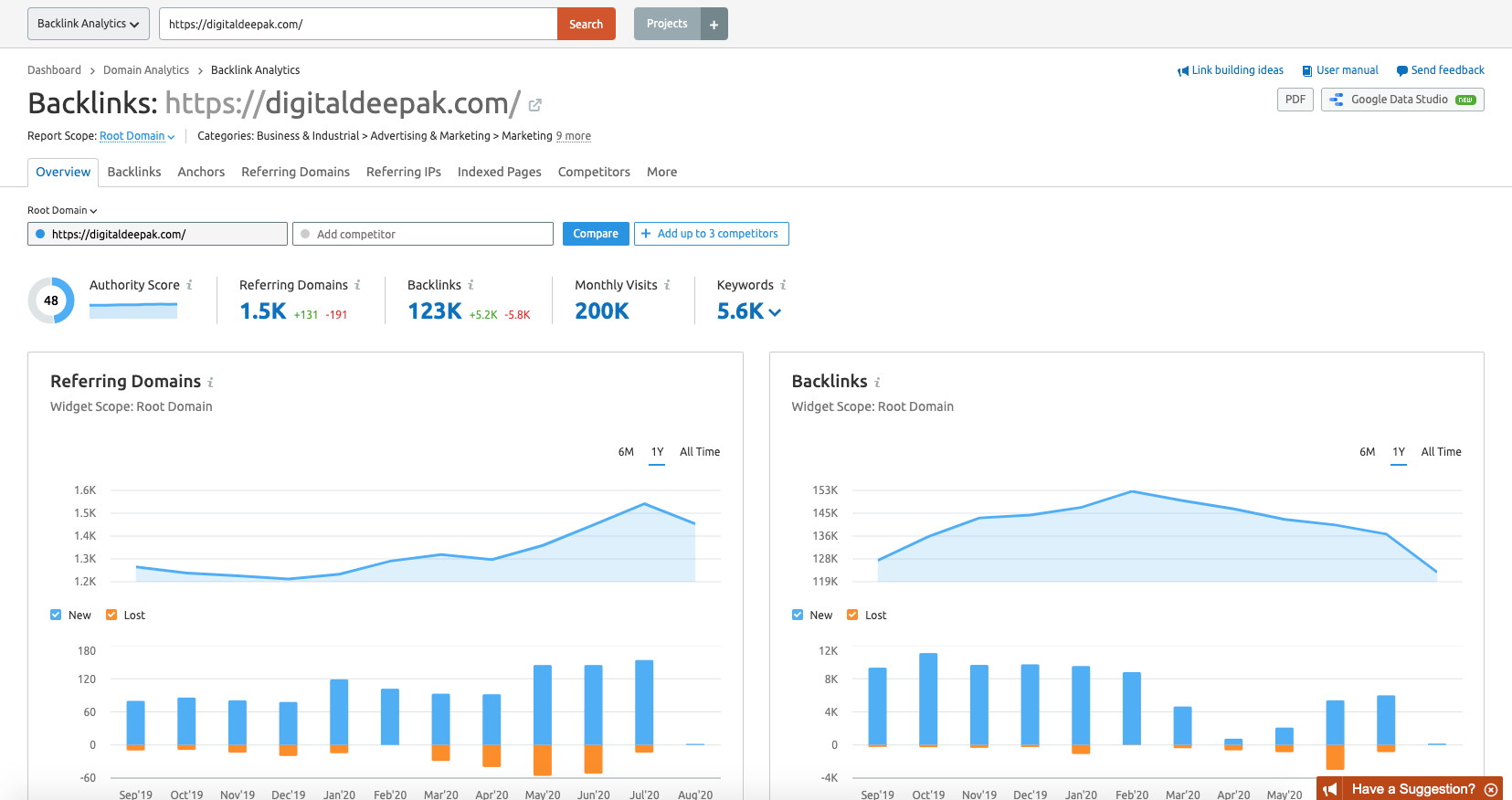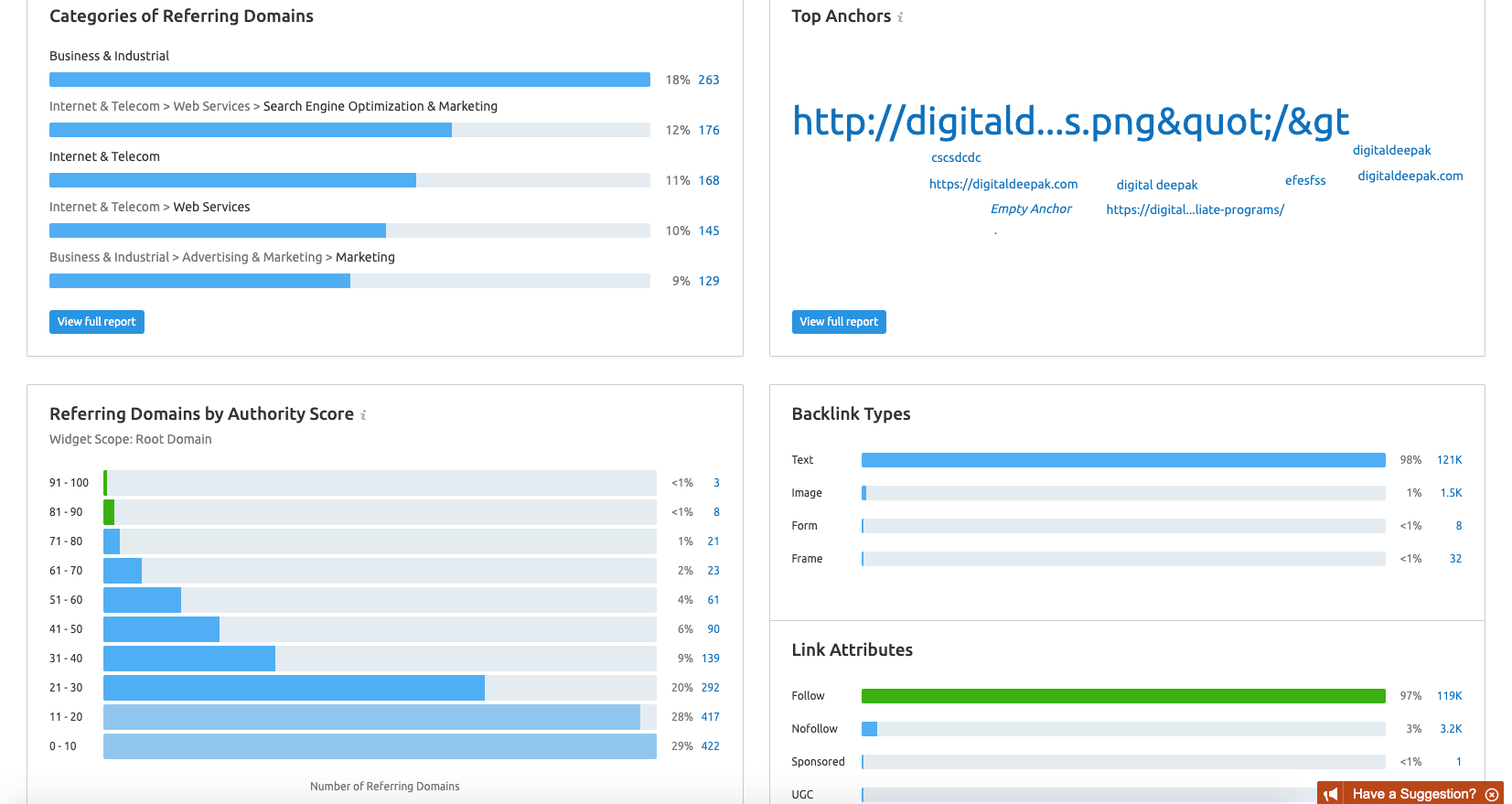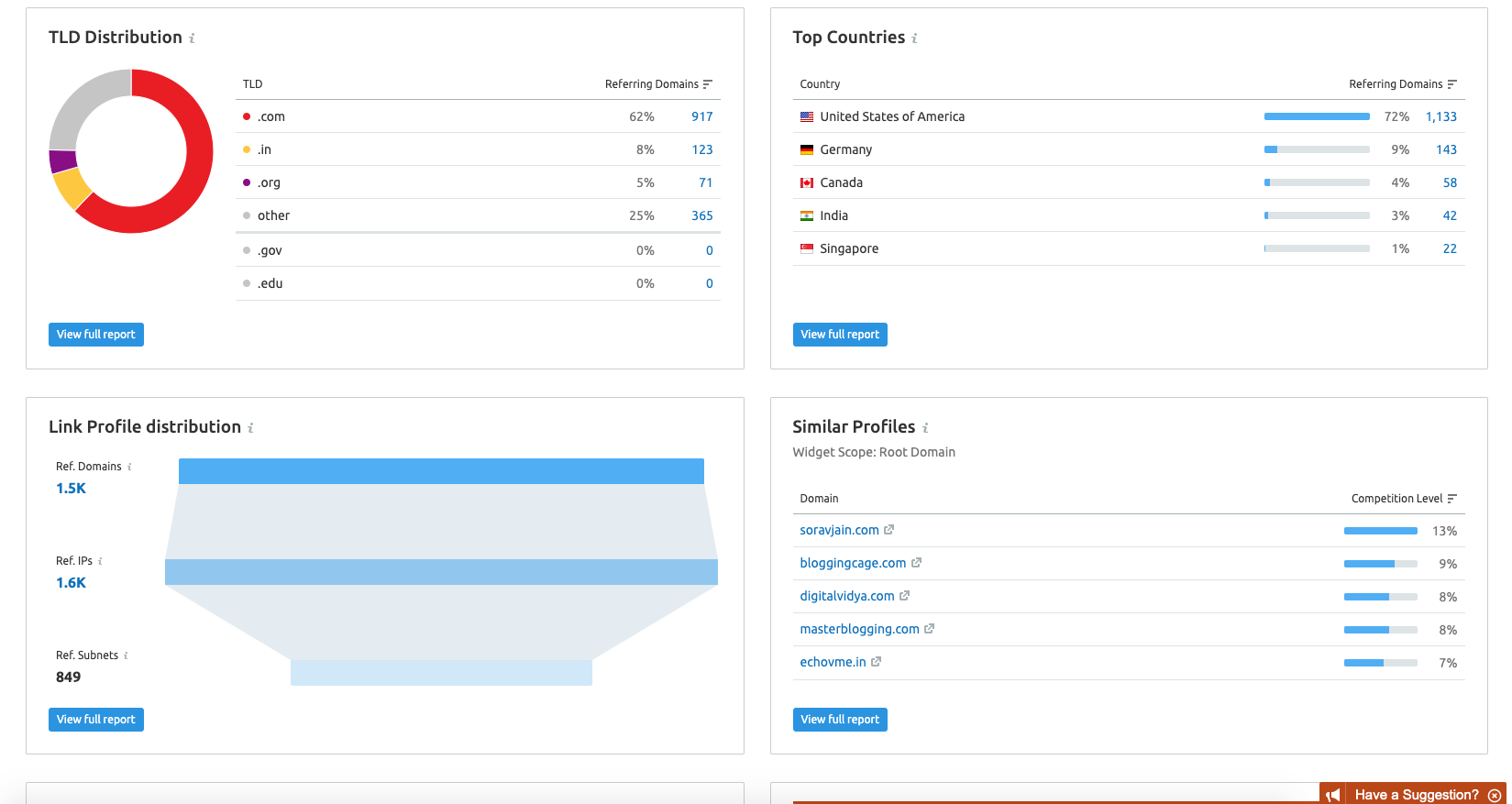 The higher the number, the better is your domain analytics.
In the screenshot here, you can see DigitalDeepak.com has a score of 47.
You can also see the number of backlinks your domain has obtained along with the number of referring domains from which you have received those backlinks.
On the top, you also get an option to add your competitor's domain and compare the backlink profile.
To get a fair idea about the anchor text of your backlinks, head over to the anchor tab on the top.
And very interestingly, SEMrush provides you with a good number of visual graphs and charts. Visual analytics always helps in reading the data better. This gives you a better idea of how the backlink profile looks like and how it can be improved by checking the correlations.
One more very crucial set of data that SEMrush provides is how your no-follow and do-follow links have been split along with referring domains by authority score.
Advertising Research
A lot of people don't know that you could monitor paid ad analytics using SEMrush.
But yes, SEMrush does do that along with organic search analytics.
To demonstrate here, I will use Amazon.in as the domain name because DigitalDeepak.com didn't have sufficient data to be shown. The inability to analyze due to insufficient data is one of the cons when it comes to analyzing paid search traffic.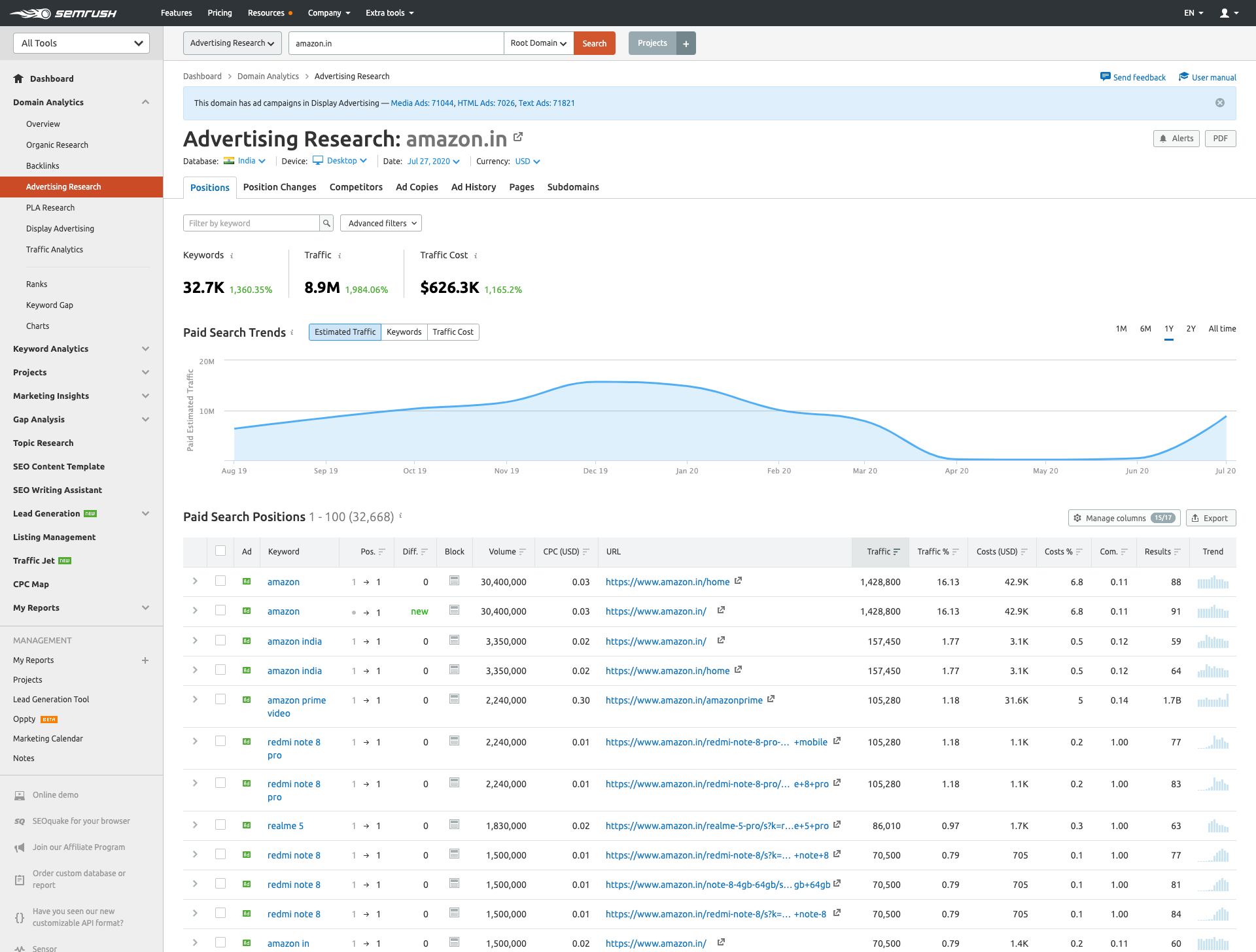 I bid for a lot of keywords on Google ads and I get hundreds of traffic from it daily but SEMrush fails to capture all of them.
It's not as precise as I want it to be but it certainly does the job for domains having a lot of paid ads data.
Like I mentioned earlier, you can do this research for your own domain or your competitor's domain. The intention behind stressing on this point so much is to convey the importance of competitor analysis. It's one of the key strategies to rank your pages better.
SEMrush gives you an overview of the keywords you're bidding for, what position it is ranking in the search engines, what the cost per click on those keywords is, how much volume it has, etc.
And the creme de la creme of this particular dashboard is, it shows you the ad copies and ad history.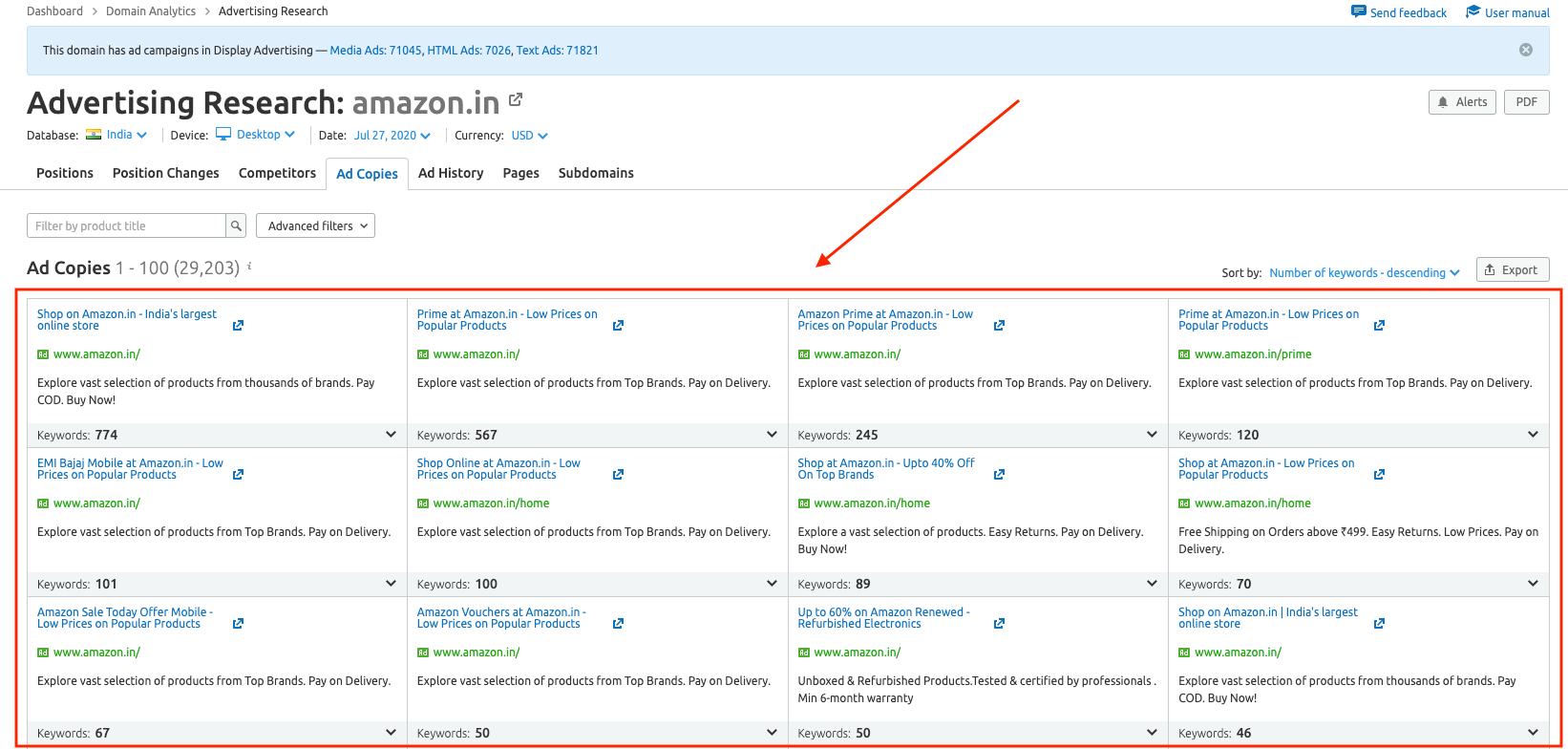 How cool is that?
You can see why your competitor's ad campaigns are performing better than yours. A possible reason would be because of their attractive ad copies.
You also get to see the old search ads that the company has run. Nothing gets left behind.
Wouldn't say that it's the best tool for advertising research but it definitely works to give you an idea.
PLA Research
PLA stands for Product Listing Ads. Even this portion of the dashboard gives you data which is quite similar to what the advertising research dashboard gives.
But to access the entire report, you would need the Business plan.
So, if you primarily want to do PLA research I would suggest you choose the topmost plan.
Display Advertising
It is common for people to mix up search ads and display ads and if you're one among them, let me elucidate to help you get a clear-cut difference between the two words.
Advertising research dashboard mostly comprises data from the search ads that appear in the first fold of the search engine result pages whereas display advertising shows you the data that comes from the banner ads that you see in websites having Google Adsense.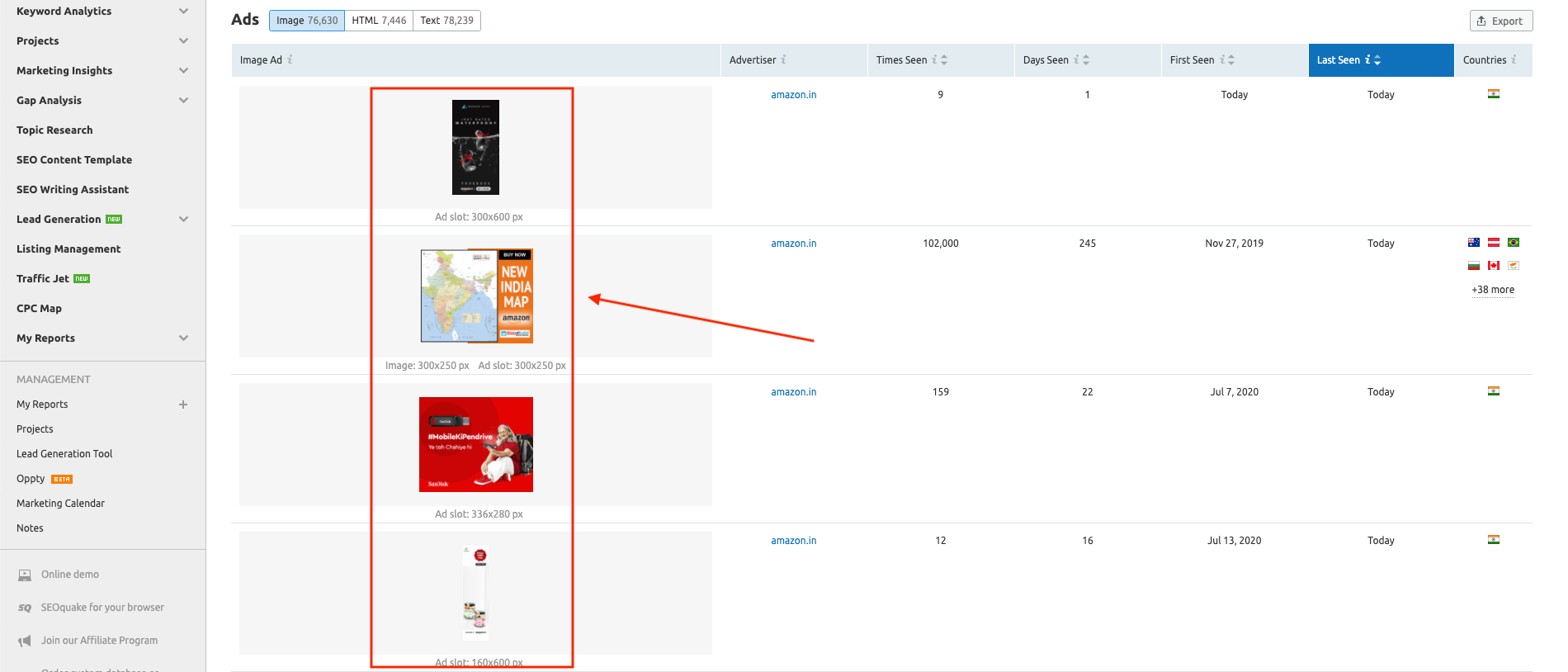 The best part about both these dashboards is that it not only shows you the keywords that the domain is bidding for but also the creatives (Graphical templates/banners) that have been used to run the ad and more importantly the destination URL or Landing page URL.
By doing this you can also get a sense of how the landing page has been structured. It might end up giving you some inspiration and help you get more conversions after tapping into their ad strategies.
The last mini-tool that we have got under domain analytics is traffic analytics but for a weird reason, it has been listed under the Marketing insights tool as well. So, I would prefer to cover it at the end.
Keyword Analytics
Just like a powerful computer that requires the best hardware and software.
You need both Domain analytics and keyword analytics tools to nail the marketing research strategies.
I'm sure that a major part of SEMrush users has bought it for these 2 powerful tools.
It is pretty straight forward.
The first mini tool is an overview of your seed keyword or your primary keyword.
For example, I have entered "Digital Marketing" as my seed keyword and I'm stunned at the data it has extracted within seconds.
You get to see the volume of the keyword, the difficulty level of the keyword in terms of percentage, CPC, competition, search volume with respect to different countries, number of results in the SERP, the trend graph of the keyword which gives you an idea of the opportunities and if there is a market out there or not.
The next section is very important for any digital marketer/SEO guy out there.
You get to see 3 tabs
Keyword variations
Questions
Related keywords
This is what gets us to the 2nd tool which is the keyword magic tool.
Keyword Magic tool
I'm not sure if you follow the same method as most of the digital marketers from India do, we segregate the keywords as primary, secondary, and LSI keywords.
In layman terms, the primary is the seed keyword that you would like to target and rank for.
Secondary keywords are little longer than primary keywords when it comes to the number of words and mostly covers the what, why, and how of the content and then you have LSI keywords which denote that these keywords have different words but indirectly represent the seed keyword and add more meaning to the content.
For example, a mobile phone, android phone, smartphone are all different words but at the end of the day, they all mean the same with slight variations. It can add more depth to the article. This has more to do with making Google search crawlers understand the context of the content.
Another meaningful example that I can recall is from Ahrefs.
The point being, you will be able to get all these 3 types of keywords from SEMrush keyword analytics.
In addition, all of these 3 types have their own 3 variations. Broad match, phrase match & exact match.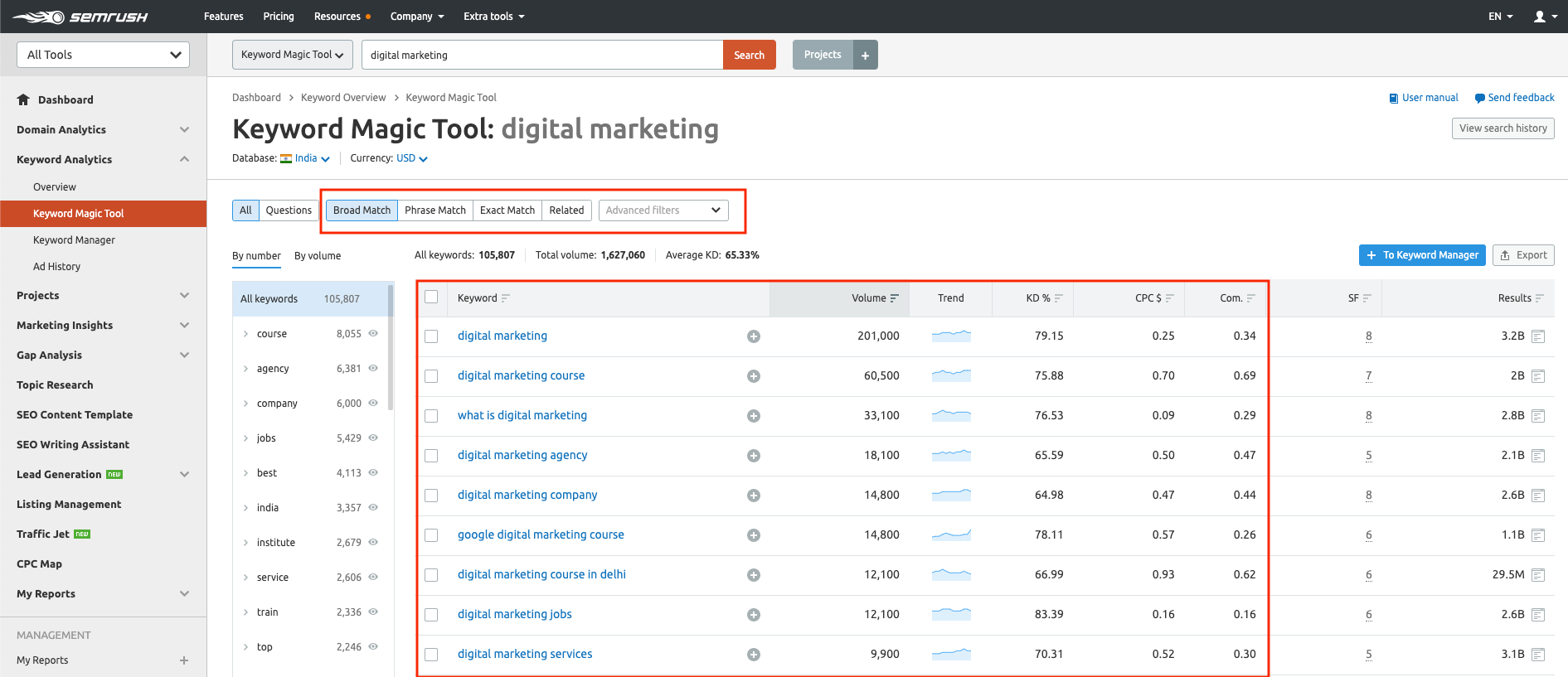 You can also use other advanced filters to narrow down your keyword research and become more specific.
Isn't that impressive? Let me know in the comments below.
Finding good keywords can solve half of your SEO problem. To help yourself justify it, you can spy on your competitors who have ranked for these keywords. You get an option to analyze and see how much traffic they are driving from this keyword and where they stand when it comes to SERP positions.
You also get an option to do bulk keyword research by adding multiple seed keywords. I bet you it's going to save you plenty of time.
Keywords Manager
This tool allows you to create lists that comprise all the keywords that you would like to select for a particular topic.
You will have all the related metrics as keyword magic tool and the best part here is you get to export it as XLSX or CSV format.
Marketing Insights
This is one more mini tool that I absolutely love in SEMrush.
Traffic Analytics
First up we have Traffic analytics which is quite close to Google analytics.
It gives you data that is aligned towards the traffic that the domain name is already getting.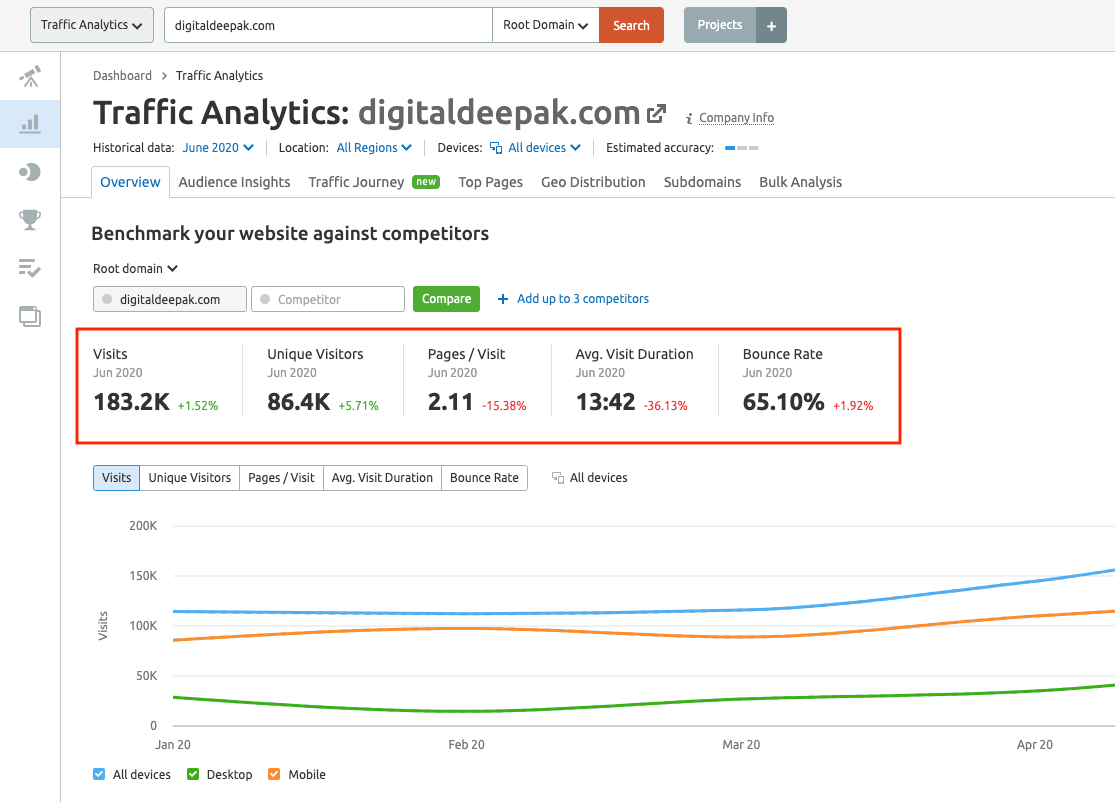 From basic details like visits, pages per visit, bounce rate to audience insights, top pages which the search console showcases.
Except for the overview you have to pay $200/mo to get access to the rest of the things.
A gripping data I find here is that it fetches the subdomains that are associated with the main domain and their traffic details as well.
It is quite uncommon for any tool to execute this particular task.
Market Explorer
The Growth Quadrant feature helps you to visualize the competitive landscape.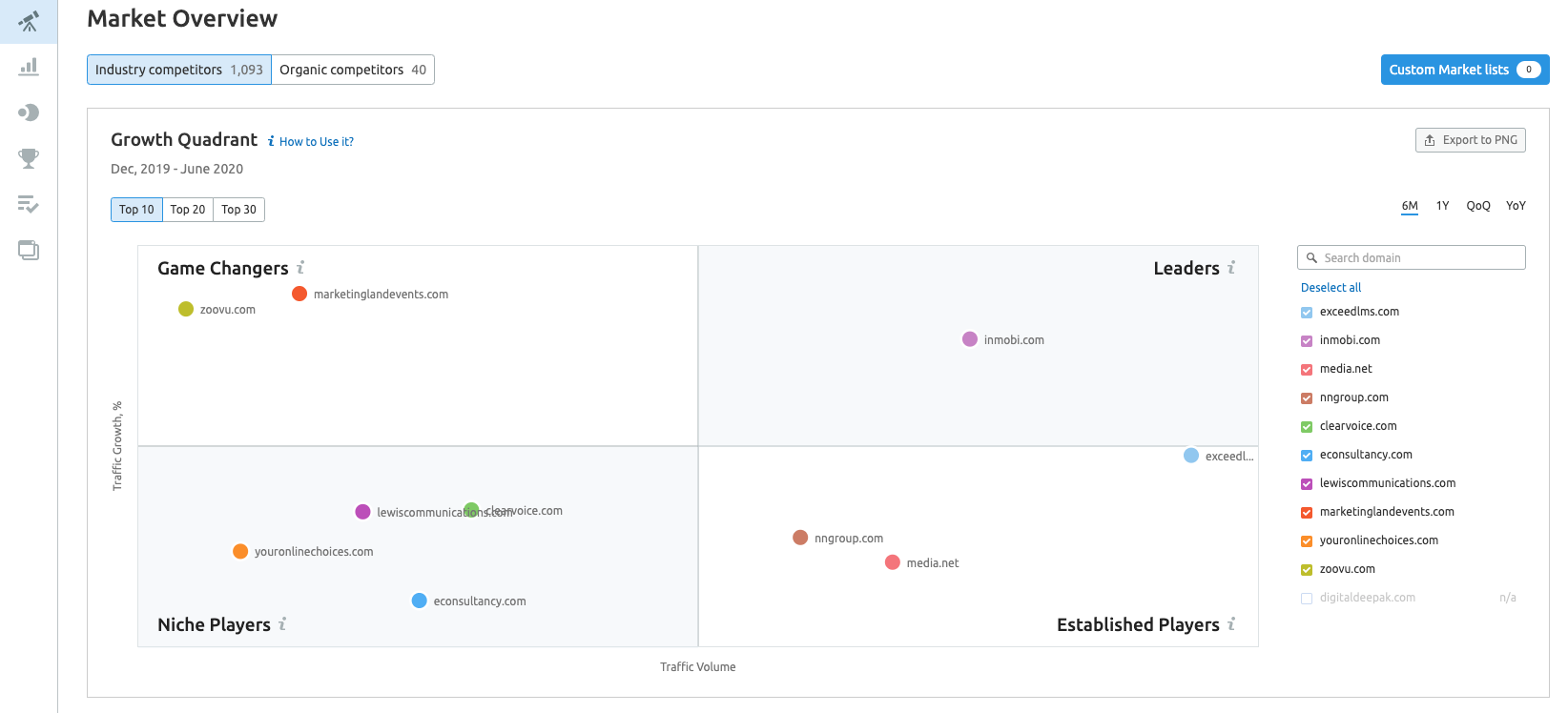 Traffic Volume represents the current audience size, and Traffic Growth reflects the pace at which researched competitors expand within the market.
It gives the topics that attracted the biggest audience of a researched market.
Not something that blows your mind because this data is a little vague but should give you a rough idea.
Traffic Rank
This is not something that is very distinct to your domain but this is the statistics board for the performance of websites throughout the world.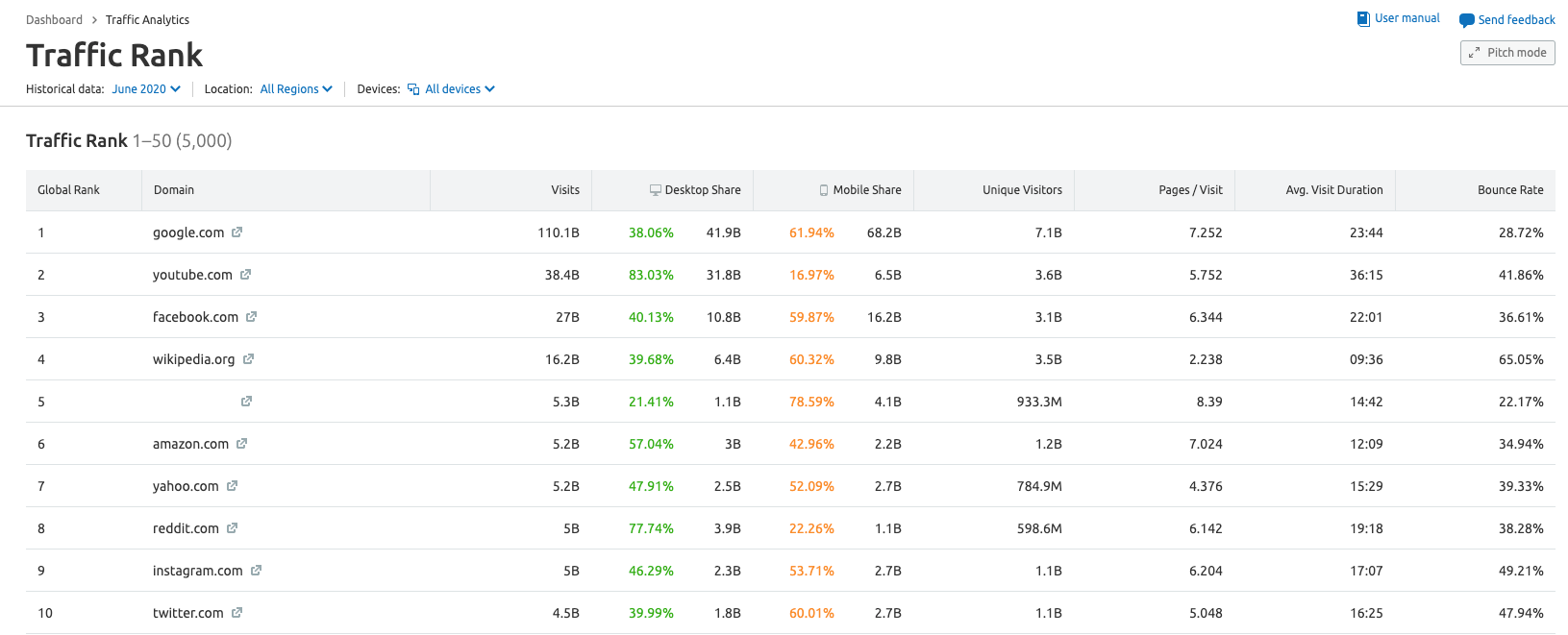 You can see that Google.com and Youtube.com got 110.1B & 38.4B traffic to their domain names in the month of July 2020.
I really don't know why it is inside the dashboard but yes you can use this data for your own research and content.
Gap Analysis
As the name suggests, it will compare your keywords with that of your competitor's keywords and will give you an analyzed report of what are the keywords that you can use in order to get better results.
You can do this for both Organic and PPC strategies.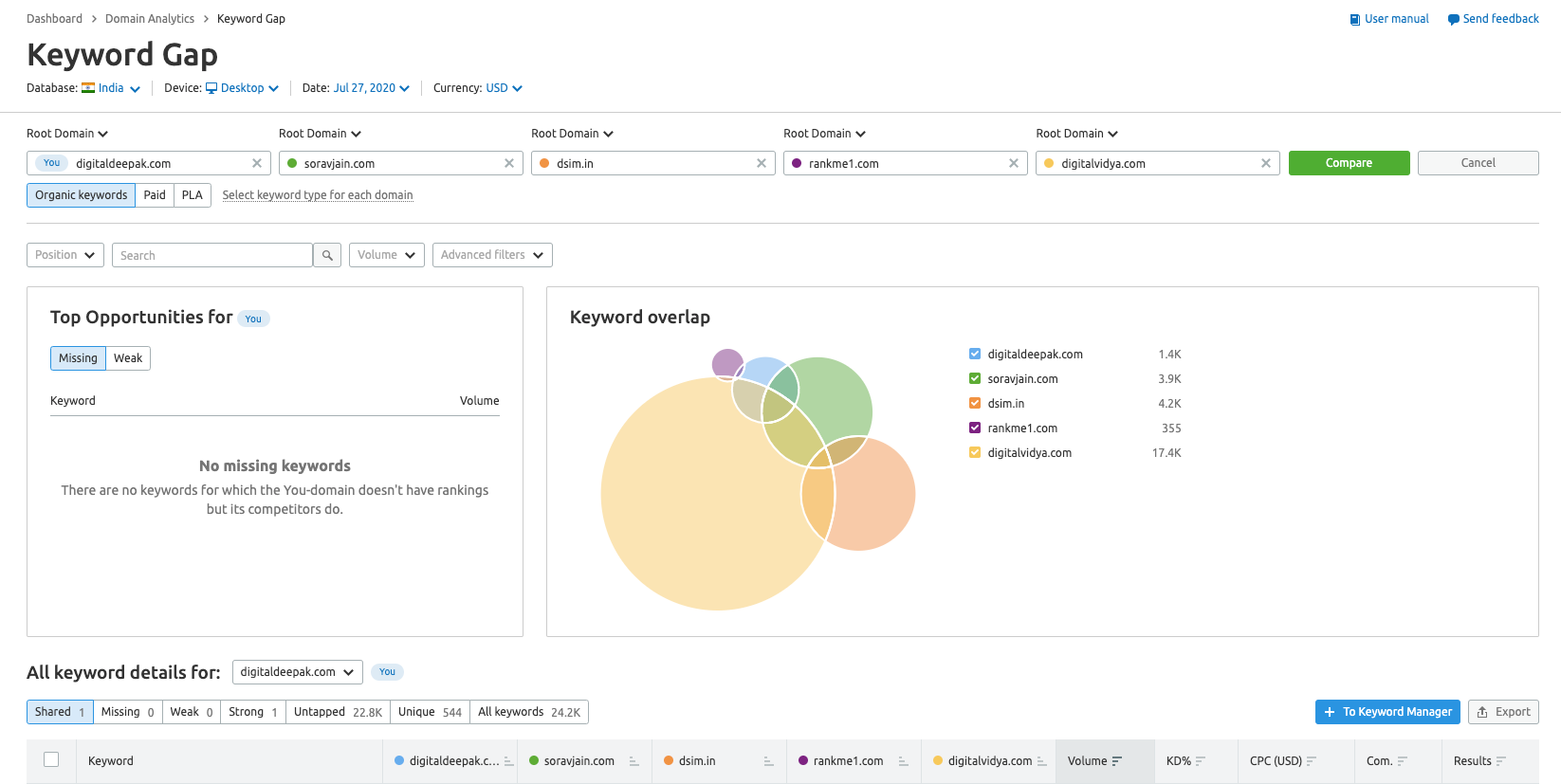 Enter at least 5 competitor's domain names (Preferably the ones with high traffic) and select a list of keywords that are relevant to your website and see how they intersect and create your own keyword master list and beat your competitors.
The same works with the backlinks gap as well.
I find new keywords with this method and I highly recommend you do it as well to tap into some untouched keywords.
Topic Research
Enter your domain name and select the country like always and hit the "Get Content Ideas" button.
You get to consume this content in 4 different varieties.
Card
Explorer
Overview
Mindmap
And to be very honest I like the mind map view because it straight away gives you a ton of topic ideas on which you can create content.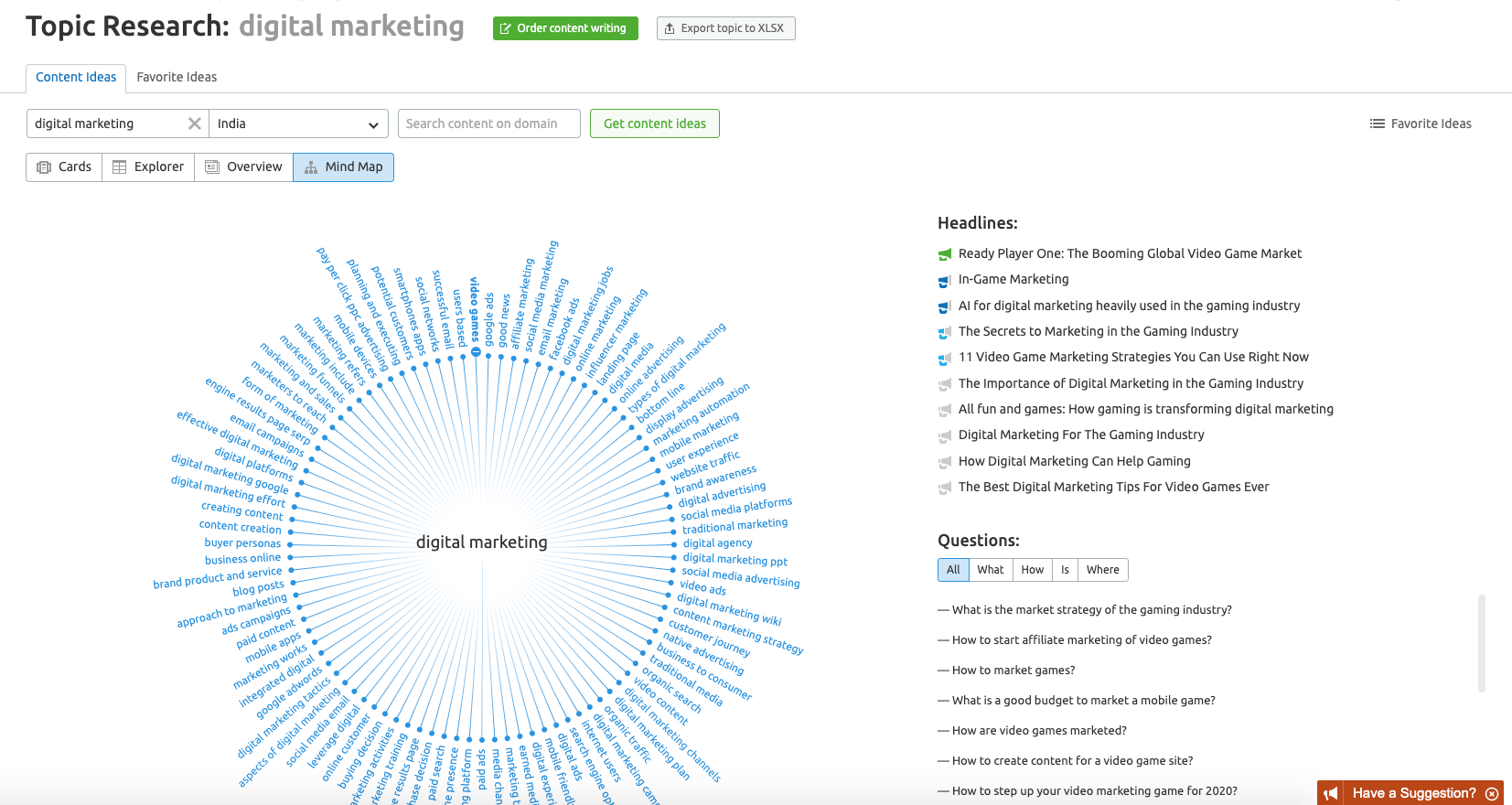 I'm not sure if you have heard of a very famous tool called Answerthepublic. This nearly does the same thing but you get many more ideas here because the premium version of aswerthepublic is a part of your subscription in SEMrush.
Other than that, you get to see different content ideas and the keywords relevant to it.
That's not all, there are headlines that you can use, these are not top-notch but you can bid on it if you're not a content writer.
Also, people's queries on search engines have been described as questions in SEMRush. This helps you to understand the needs of your audience as to what they would want to know and you can answer all of them through your piece of content.
SEO Content Template
Can't decide on what topic to write next?
This SEO Content Template makes your life much easier.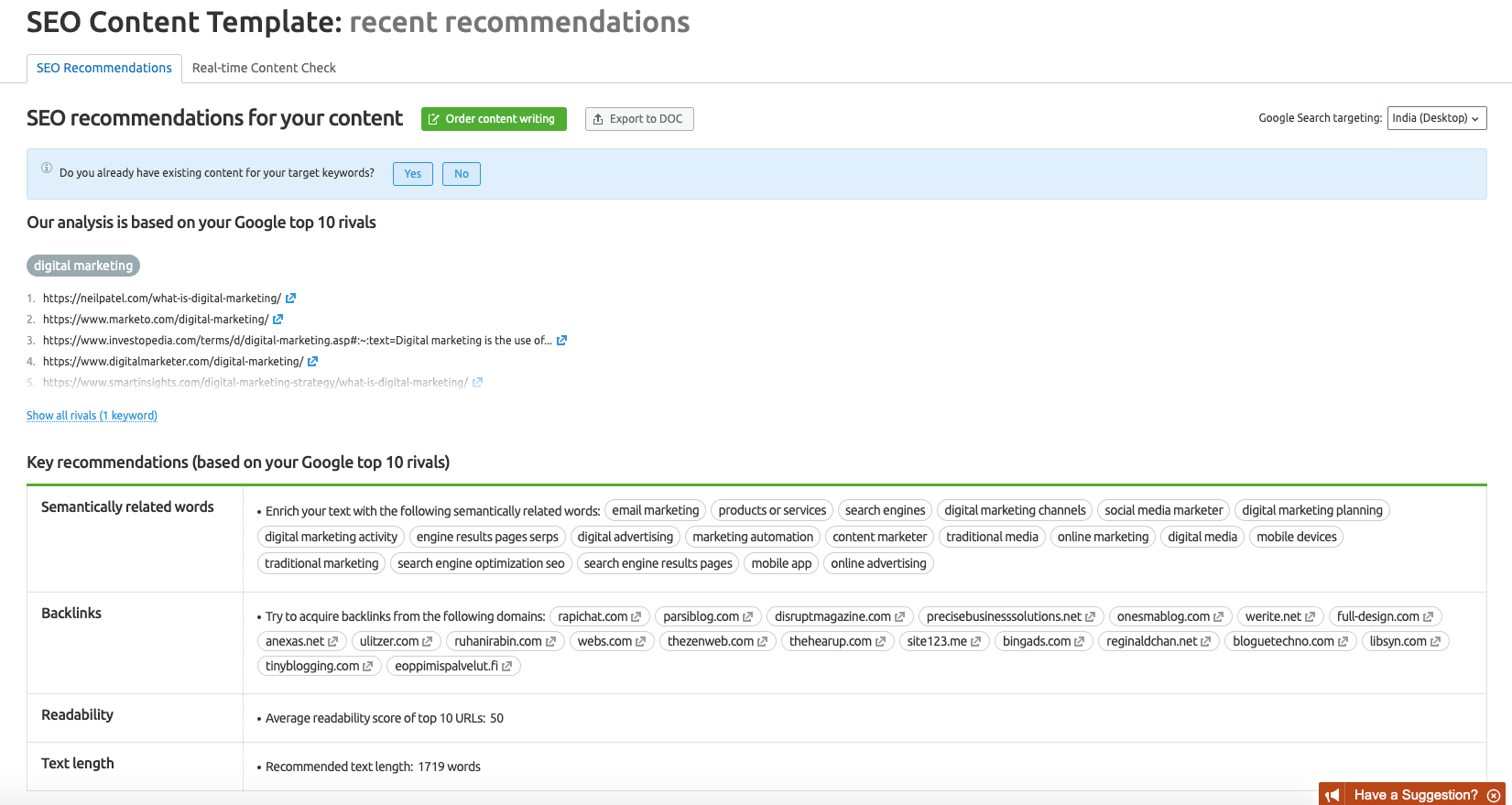 This tool does 2 things.
Find content ideas, keywords, backlinks, etc from your competitors.
Gives you instructions on how to use all of these whiles writing your SEO optimized content.
SEO Writing Assistant
Everybody loves it when they have an assistant to help them out, SEO writing assistant is analogous to the same.
I'm sure this tool will bedazzle you.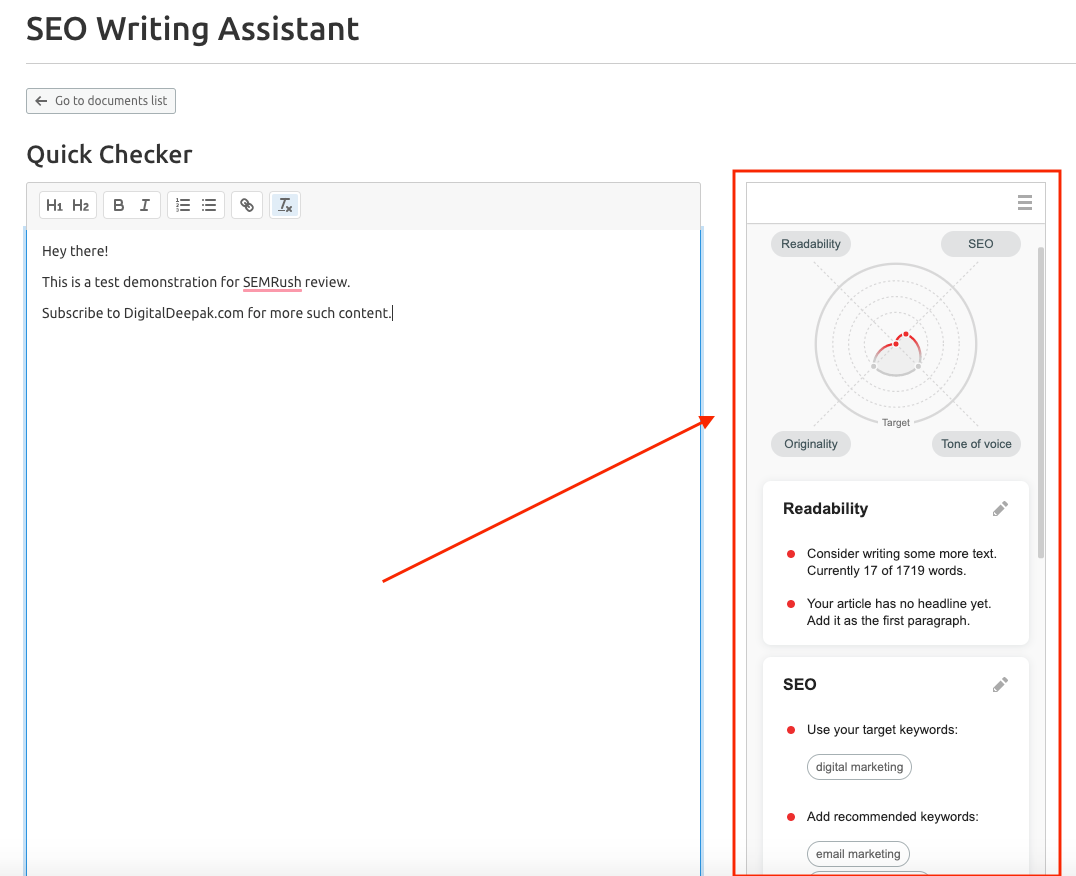 On your left-hand side, you get a notepad on which you will type your content and on the right-hand side you get scores on how your writing is.
Isn't this just remarkable?
It gives you a score for readability, SEO, originality, and tone of voice.
And more importantly, it gives you keyword and SEO recommendations as you write. What more could we possibly wish for when writing content?
Lead Generation
If you're an agency owner or a blogger, you can use SEMrush free site audit widget on your website to get you more leads.
Your potential clients or customers will start auditing their website for free and they will be getting their site audit reports from you on email.
My reports
The show to end all shows.
You're going to instantly fall in love with this feature if you're an agency owner of a freelancer proving SEO services.
Just like you build reports on Data studio, SEMrush allows you to create reports using drag and drop builders.
Wait… not sure where to start?

To get something off the ground, you have a couple of well-designed templates.
Some of them are very specific to a part of SEO like Monthly competitors analysis, Full organic research, site audit issues.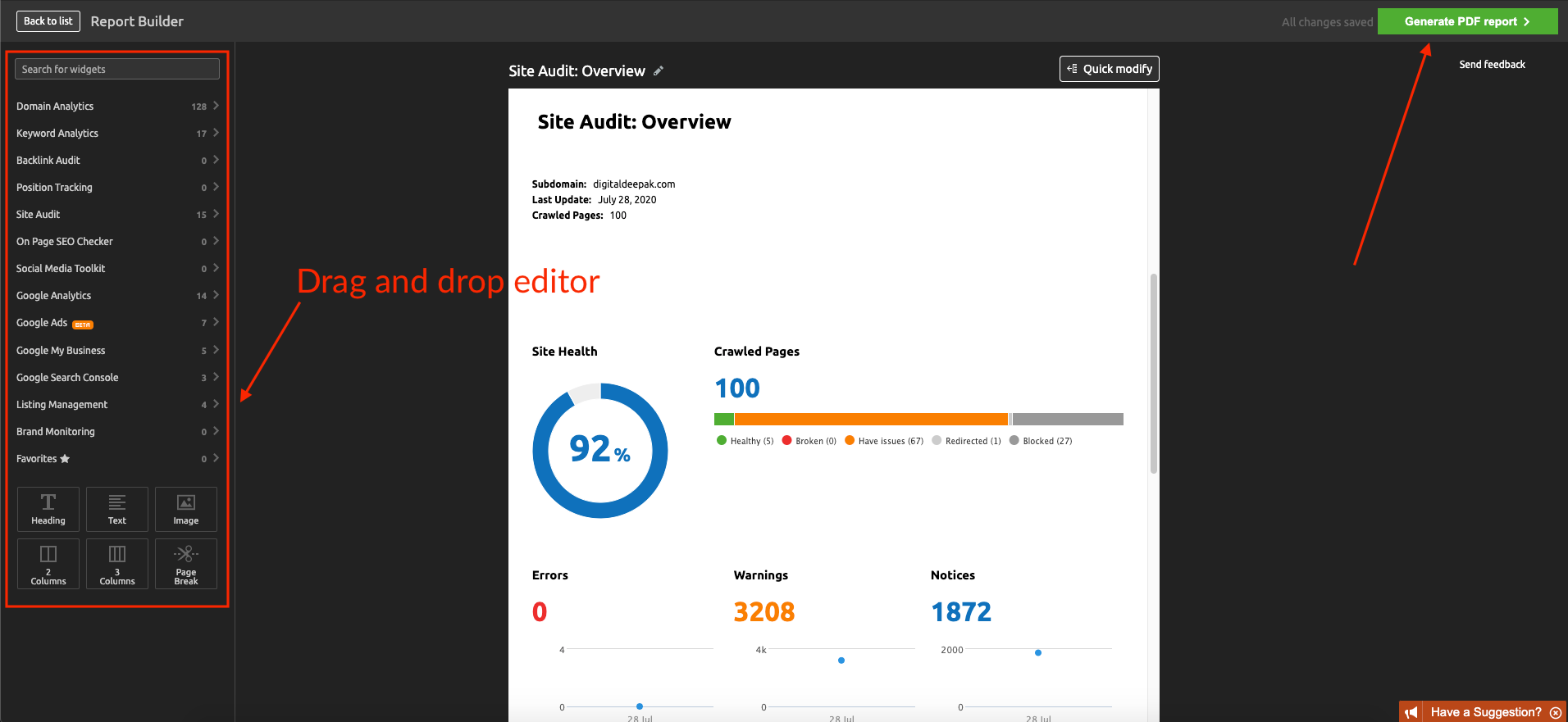 This is how intimate it looks.
You can also download the report as a PDF file and oh boy I must say it looks very professional.
Pricing & Plans
After grasping information about all the prevalent features, I'm sure the next question on your mind would be 'How much does a SEMrush subscription cost?'
If you're an SEO freelancer or a person who runs an agency with a good number of clients or a business owner who wants to drive sales, you would definitely need a set of tools to achieve different things.
One tool for keyword research, one more for finding backlinks, site audit, etc.
Paying for all of these tools separately can cost you a lot of money.
So, what can be done to avoid this?
You can buy this One multi-purpose tool that can help you spend wisely and as we discussed earlier, this superior tool has numerous features.
Keeping that in mind, let's take a look at SEMrush pricing and plans.
They have 3 different plans starting from $99/mo and it goes up to $399/mo.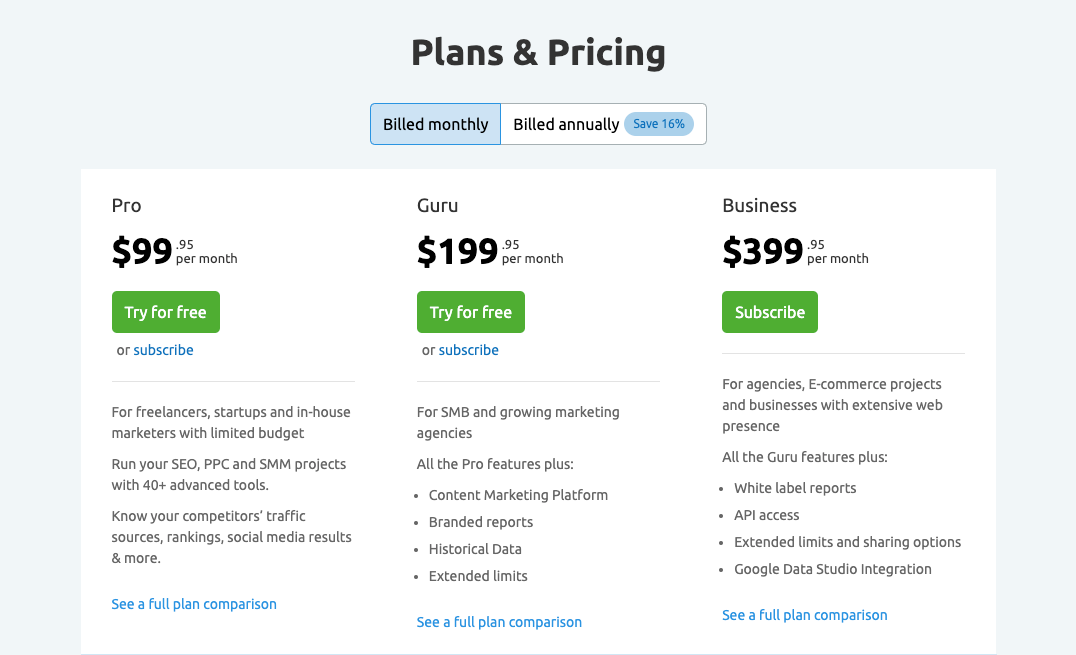 If you prefer buying the annual subscription you can get a discount of 16% per month on the plan you choose.
Let us quickly take an overview of what they have to offer with the plans.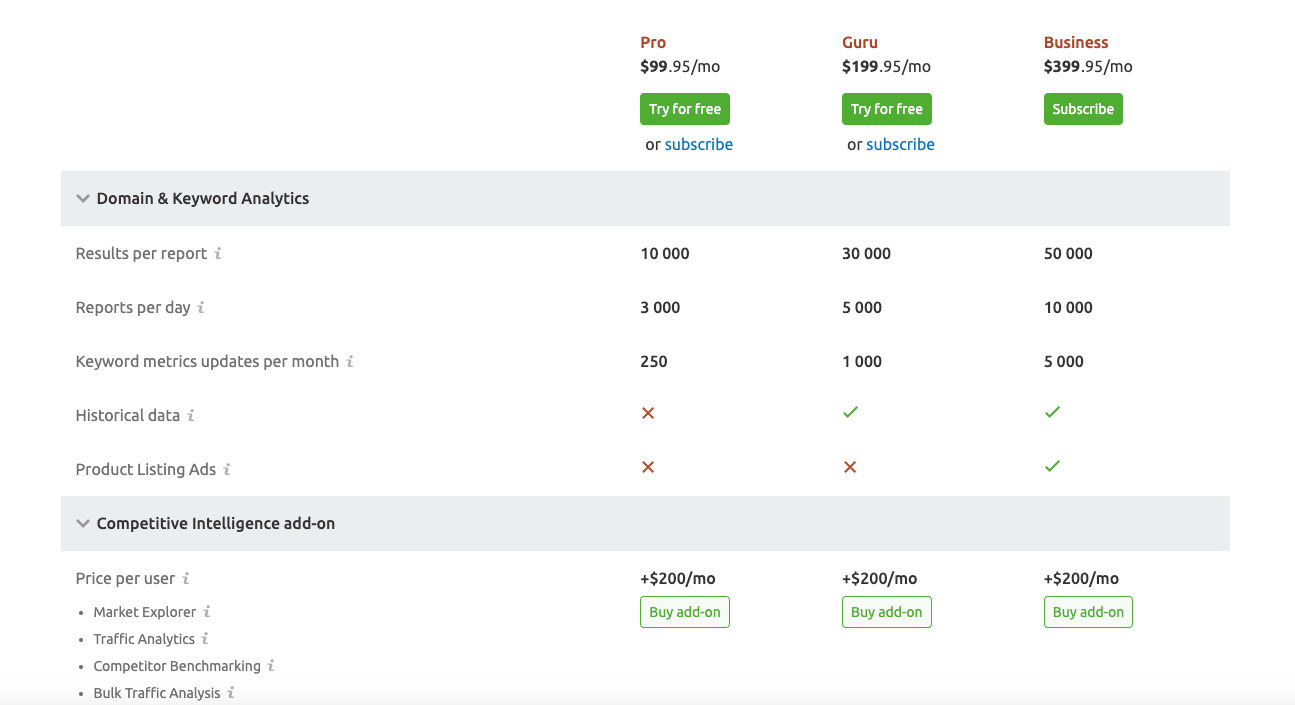 Final Words
Overall, SEMrush is a fantastic tool to use for any blogger, freelancer, or agency owner out there because it is very powerful and most importantly reliable.
You're not just paying for the functionality but you're also paying to gain access to the huge amount of data that most of them out there don't have their hands on.
With all these key data, you can build and execute a successful SEO or Digital marketing project.
Certain tools take forever to fetch and display the data but with SEMrush it can save a whole lot of time.
Considering these dominant factors, I must say that SEMrush is a 360 tool and is worth the premium price tag that it comes with because it makes things so easy and helps me scale my business with marketing, SEO, and content marketing.
All in all, it's a must-have tool, and this brings us to the end of my SEMrush review.
If you have any questions or feedback, do leave a comment below and share this article to help other fellow digital marketers upskill.