Content Marketing for Startups – Get a Free Copy of my Book!
I am excited to let you know about my first book – Content Marketing for Startups! This book explores how startups can leverage content marketing to get targeted traffic.
But traffic is of no use if it is not converted into leads and paying customers. You will also learn about how to convert your visitors into leads, different types of leads, scoring your leads, nurturing those leads and finally converting them into paying customers with proven inside sales strategies.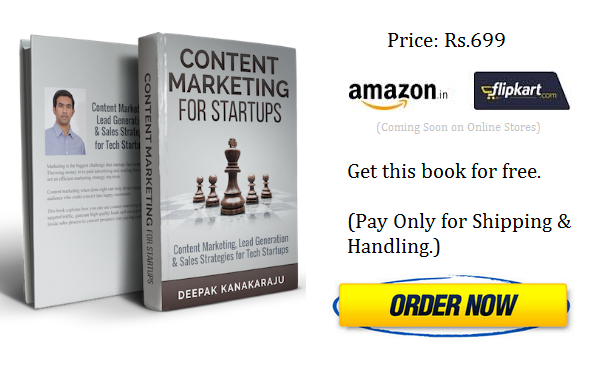 If you run your own startup, work in a startup or dream of starting up one day, the content in this book will be priceless to you. Marketing and Sales is one of the most important aspects of any business.
As my mentor used to put it: Marketing is the only activity in a business that gives a direct return on investment. Everything else such as HR, Tech, Finance, Legal etc. are just expenses. Marketing is the only part in a business which you cannot afford to outsource. Everything else can be outsourced.
This is not just an e-book but a real book which you can hold in your hands! The book will retail for Rs.699 on Flipkart and Amazon. You, being my blog reader can get a free copy of this book before it goes for sale at online & offline stores.
There are printing, packaging and shipping costs involved. You only need to pay Rs.185 so that I can cover those costs. I will send the physical copy of the book to your address as soon as new copies become available.
Click Here or click the 'Order Now' button in the above image to reserve your free copy! I am giving away only 100 copies… so order right now!
Thanks for taking interest in my book!
Regards,