The Best PayPal Alternative in India for Freelancers and Online Merchants
We are in the middle of an ecommerce boom in India. Indian consumers are getting used to buying products and services online and making online payments.
In such a day and age, the ability to receive payments online is mandatory for any business. The business could be as small as a freelancer providing online services or it could be a medium-large business receiving millions of rupees in revenues every month.

PayPal was invented for this purpose. When PayPal was launched, online businesses blossomed all over the world. New business models were born because it was so easy to receive payments online. PayPal used to work well in India, for a while.
Then all of a sudden RBI (The Reserve Bank of India) started disrupting the business model with a lot of regulations and restrictions.
Post RBI's intervention Indian PayPal users were not able to:
Hold their PayPal balance in their PayPal account
Send or Receive money between Indian PayPal users.
Right now PayPal can be used only to make payments through your credit or debit card to a PayPal user in another country. You can also receive payments to your PayPal account from other countries but that money will be withdrawn to your bank account. You will not be able to hold that balance to make further payments.
If you try to send or receive payments within India, your transaction will not go through. The biggest hurdle for Indian businesses is that there is no peer-to-peer money transfer system within India.
Without an easy online payment system, most of the Indian freelancers and merchants go about this way:
Ask your customers to send money via NEFT bank transfer (very cumbersome because they have to add the details manually and wait 24-48 hours for the beneficiary to be approved). If you are going to make it hard for your customers to send money to you, you are going to lose a lot of customers.
And of course, there is a possibility of asking your customers to send you a Cheque to your address. And we know how cumbersome that is.
Doing business in India is difficult enough already. Creating something of value and selling it online is not easy either. On top of this if the customers find it hard to send payments, it could mean the difference between a thriving online business to actually closing it down due to poor sales and low revenue.

Instamojo.com changes all that. The people behind Instamojo wanted to create a simple online payment solution for Indian freelancers and merchants. Instamojo is not just an alternative for PayPal in India, it is much more than that.
If you want to sell anything online in India, all you have to do is sign up for an Instamojo.com account, verify your account by uploading your KYC documents and within half a day your account would be ready to receive payments.
With PayPal, you can receive payments with an email ID, with Instamojo you have to create a payment link and anyone can pay you by clicking on the link.
I am a happy user of Instamojo and this is how my account dashboard looks: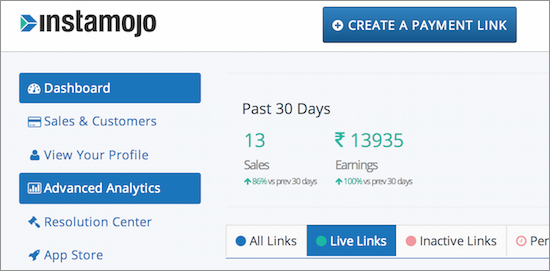 Once you create a payment link, you can share this link anywhere you want: your blog, your social media account, email, whatsapp and so on.
People who click on this link will see a page with your offer. They can make a payment through Credit Card, Debit Card or Net-banking – the most used online payment modes in India.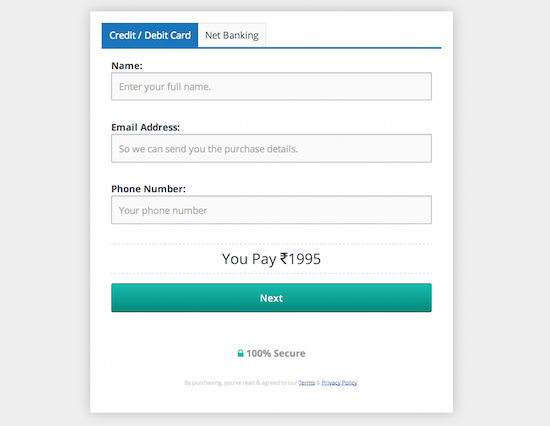 After they finish payment, they will be taken to the URL of your choice where you can deliver your digital goods, or let them enter their contact details in a form.
Your customer's payments are reflected in your Instamojo.com account. This balance is paid out every Friday directly to your bank account. Instamojo charges a flat 5% fee on your transactions but the fees go down as you make higher volume of transactions.
The best part about Instamojo.com is that there are no setup fees and the activation of the account is simple and fast! Other payment gateways in India charge a monstrous setup fee, ask you to submit a ton of documents with n number of signatures, and also charge transaction fees!
Instamojo also has an App store where you can find amazing apps make your selling experience easier and better. For example, they have introduced an affiliate app recently which helps you recruit affiliates and encourages them to promote your product for free.
I have been using Instamojo.com for quite some time now and I am very satisfied with their service. You can read my seller success story on Instamojo's blog.
A while back I had published a review of Instamojo on this blog as well. Since they have no setup fee and the registration is free, why don't you give it a try today? Go and check out the apps that they have in their system.
I have another surprising news about Instamojo which I will tell you in a while! I hope you found this blog post interesting and useful. If you have any comments or questions, looking forward to hear from you.

#Receiving Monies Day & Night!