OptinMonster Pro Review – The Best Lead Generation Plugin for Content Marketers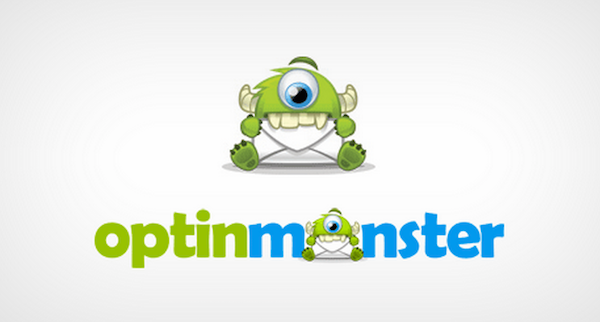 Blogging is one of the best lead generation platforms available in the digital marketing world. Landing pages are also great, but you need to drive traffic to the landing pages – mostly via paid advertising. You can drive traffic from your blog to the landing page, but you will end up losing a lot of visitors along the way.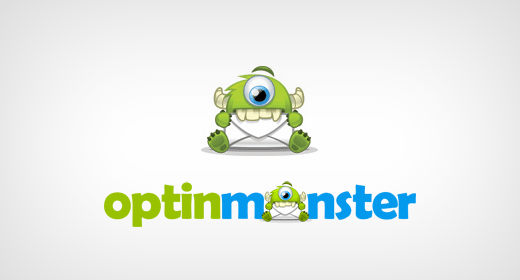 So converting your blog visitors directly into subscribers is usually the easiest and fastest way to aggregate an audience for content marketing or generate leads for your business.
You may have noticed that I convert my visitors into subscribers and there is a good chance that you are already my subscriber.
I had published an article a while back on Seven ways to convert your web traffic into leads. But that article was more about the different methods available to generate leads from web traffic than the specific tools that you can use.
Today I am writing a comprehensive review of OptinMonster, a one-stop lead generation software that I have recently fell in love with! And if you had noticed some exit optin pages on my site, that's from OptinMonster FYI.
What's New With OptinMonster 2015 Version?
OptinMonster has been around for a few years but in 2015 they have updated it to a new hosted version. Here are some major changes in the new version:
Yearly Subscription instead of one time payment. Pro version would cost $199 a year. Around $17 a month.
Hosted: All the features, optin boxes, integration options are hosted on the website, to change them you have to login into your web dashboard
API: Your WordPress plugin and OptinMonster server communicate with each other via API
Google Analytics integration has been introduced
New opt-in methods such as full screen welcome gate (or exit gate) has been introduced
With the new pricing structure, they are one of the most premium plugins available for bloggers but is it worth it? That's what we are going to find out in this article.
OptinMonster Pro Pricing
OptinMonster starts with $9 per month for the monthly plans but here we are reviewing the pro plan. The pro plan costs $29 a month or $199 per year. Yearly plan gives you 40% off and I would recommend the yearly plan if you are planning to go for the pro version.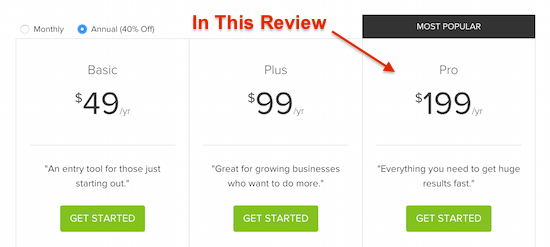 I would recommend ONLY the pro version because the other versions do not have exit intent technology available with them. Which brings us to the next topic of the section:
The Power of Exit Intent
When it comes to generating leads with website traffic, Exit Intent Popups caught up late in the game but changed the game of lead capture completely. They are not that annoying because it does not appear while the visitors are browsing through the website. It shows up only when the visitor is about to leave and it was more widely accepted than other annoying popups while interrupt you.
One of the first companies to introduce exit intent popup optin boxes was BounceExhange. Their technology will find out if the visitor is about to exit the website based on the movement of the mouse and then they will show a light box popup. It is a pretty kick-ass conversion tool.
But BounceExchange is waaay to costly for any small or even a medium business.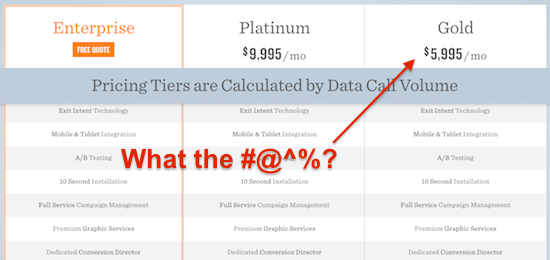 They offer some services along with the software but it is out of the budget range for bloggers and small business. $6,000 a month is what a very (very) successful blogger makes in income.
However many other companies took notice of this revolutionary new technology which was cracking high conversions and they made their own low cost alternatives.
OptinMonster's Exit Intent Technology
As far as I know, Optin Monster was the first well known software for Bloggers that provided Exit Intent Popups. I believe that's what they became famous for. The growth was pretty quick and I started seeing OptinMonster exit popups all over the web.
OptinMonster also has other options for creating optin boxes (as discussed below in the later part of the article), but I love them for the exit intent. You would have seen such popups in many websites: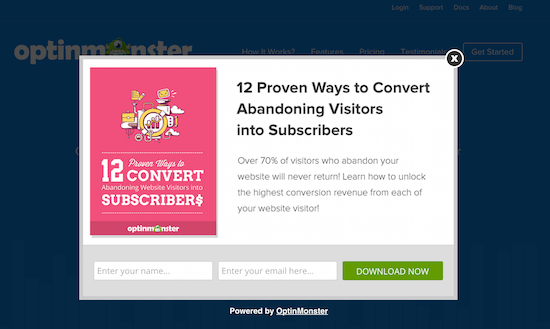 PopupDomination v1.0 was another great player in the light box popup business. I have used PopupDomination for many websites and it served the purpose pretty well, but it did not have exit intent optin boxes.
However v2 of PopupDomination has exit intent. But they are not as good as OptinMonster.
How Exit Intent Works
Let me just show you instead of telling about it. Try exiting this website. You will be shown a full screen landing page with options to optin. If you are a regular visitor of this blog, open DigitalDeepak.com in an incognito window and you will see the exit optin box.
You will see a similar optin lightbox popup in OptinMonster.com as well. Here's a small video that shows you how it works:
You can see that there is a light box popup appearing on OptinMonster's website but on my website there is a full screen optin box. The fullscreen one is called an exit gate and it is converting better than the usual exit popups. I am getting more than double the conversion rate with exit gate. I will come back with the exact numbers in a future post.
22 Integration Options
Passing on the subscriber info to an email marketing tool of your choice is very important when you are collecting email IDs. You cannot do it manually, you can't hire a developer and you don't want to pay for premium tools like Zapier.
With OptinMonster you can seamlessly integrate with these products: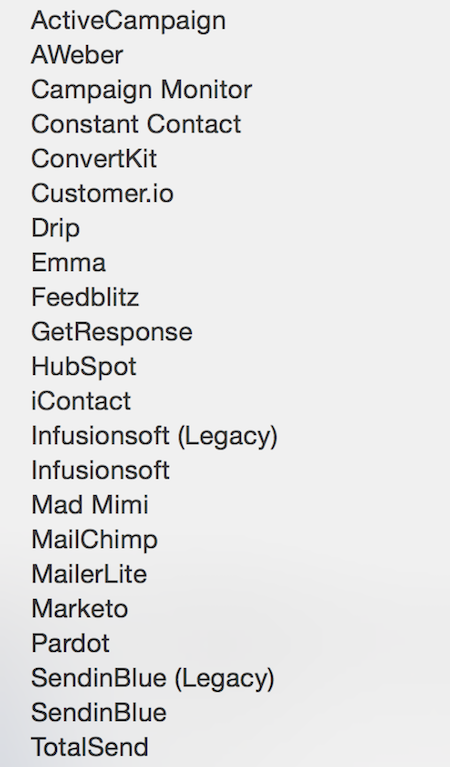 All it needs is some API information. And if you do not find your service provider in this list, there are workarounds to that as well. The OptinMonster team really made sure that you focus on marketing & sales instead of wasting time in figuring out technology!
Six More Ways to Get Subscribers
Apart from the full screen exit gate mentioned above, there are other ways to get subscribers on your website. Though I would use OptinMonster only for the exit intent technology, there are other features that can be used if you want a one-stop solution for all your optin needs. I am listing out the major ones here:
1. Lightbox Popups
When you login into OptinMonster's dashboard you will see a variety of different options. The main ones are the lightbox popups in which they have 14 different prebuilt themes available.
These lightbox popups can be configured to show up after a certain number of seconds the visitor has spent on the website or it can be configured as an exit popup.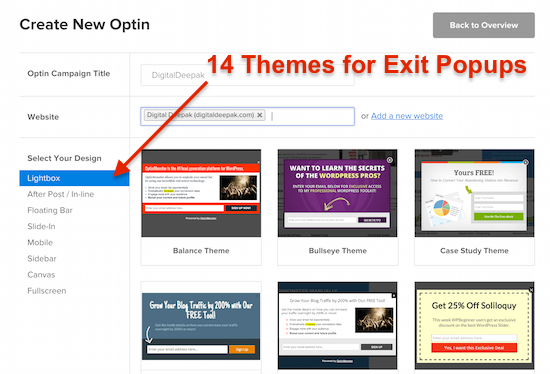 For me exit intent popups (or exit gates) work better. However, for you popups after a delay may work better. The only way to find out is by testing.
2. After Post / In-Line
After post / in-line are basically optin boxes that appear in the middle of a blog post or after the the blog post. They are great for engaging people who are reading the article or have finished reading an article.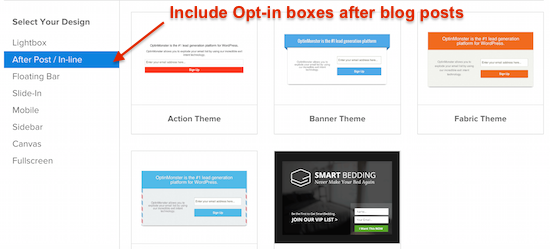 Usually after someone finishes reading an article there is nothing for them to do and they are likely to do some action. Presenting an option for subscribing will convert them without friction.
Right now the available themes for the various types of optin boxes seems to be pretty low. But being a very premium software and now being subscription based, I believe OptinMonster team will keep updating the dashboard with a lot of new designs. If not, someone else will 🙂
3. Floating Bars
Floating bars are bars on the top or bottom of the website which will not move away when the user is scrolling. This is great for certain types of websites but not everyone would love this.

4. Slide-In Optin Boxes
Slide-in optin boxes slides from one of the corners while a user is browsing the website. They can be configured to capture emails or they can display a Facebook like box which will help you increase your brand's social media following. Here's a screenshot of how one of the slide-in boxes looks: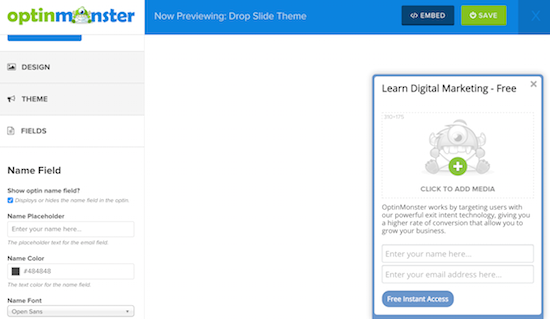 5. Sidebar Optin Boxes
Sidebar optin boxes, as the name suggests will sit on the blog's sidebar (if your blog has one). However there are better ways that OptinMonster to create sidebar optin boxes.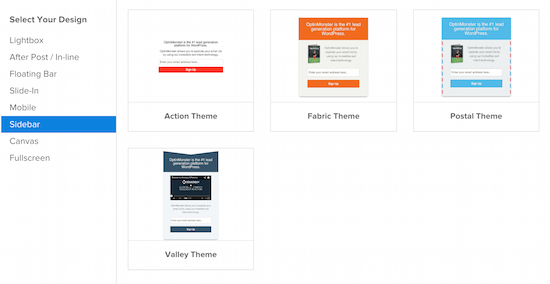 I will review tools that do a great job in just sidebar optins in future posts. But if you are looking for a one stop solution, then this should serve the purpose.
6. Canvas
Canvas is a unique feature in OptinMonster that is not available in many other tools. If you want to get any HTML code to display in a popup or exit popup, you can create a blank canvas of any size with this option and display it on the website.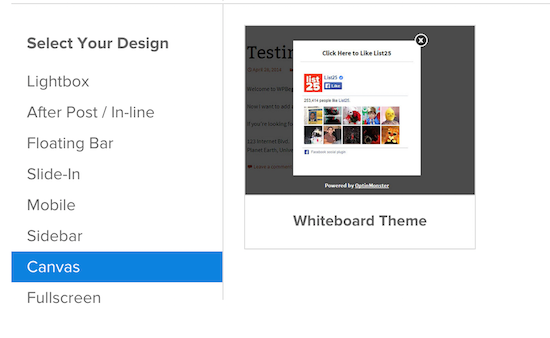 Many bloggers show their Facebook like box using Canvas. This helps them gain a huge following on Facebook.
Advanced Configuration Options
Each type of optin box comes with advanced configuration options.Certain options are mutually exclusive and other options apply only to certain types of optin boxes. Most of the options are self explanatory.
Here is a quick look on the options available for configuring the optin boxes:
Optin Loading Delay (for non-exit popups which appears after delay)
Scroll Trigger Percentage (for slide-in optin boxes)
Optin Cookie Duration
Optin Success Cookie Duration
Optin Success Message
Optin Redirect on Success (over-rides optin success message)
Pass Lead Data to Redirect URL
Load on Second Pageview (doesn't show on first page view)
Exit Intent Sensitivity
The above options give you full control of how your optin box should behave. You can design them in such a way that you end up getting the maximum possible conversions without hurting the user experience on the site.
Page Level Targeting
Page level targeting is a great option for marketers who want to design advanced funnels with segmentation. For example, on my blog certain pages are visited by students and other pages are visited by professionals. I can show them different offers and build two different lists.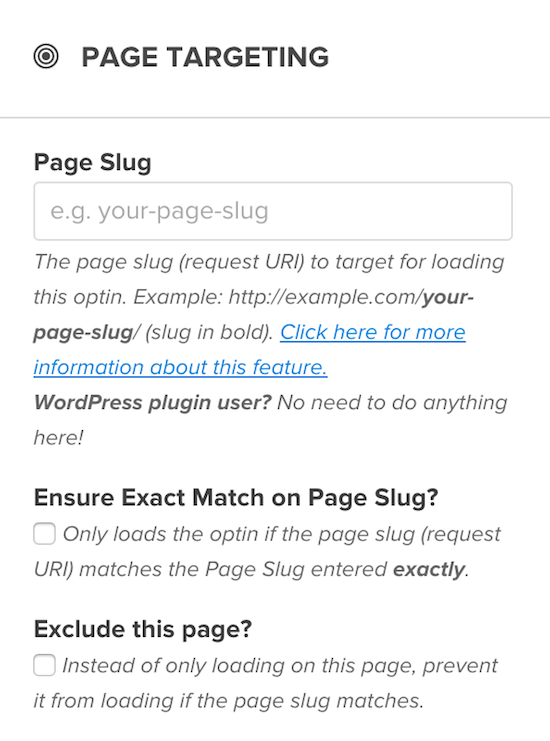 The targeting is done using slugs on non-WordPress websites. On WordPress, you will have the option to enable the plugin only on certain pages and categories depending on your needs. Here's how it looks inside the WordPress plugin: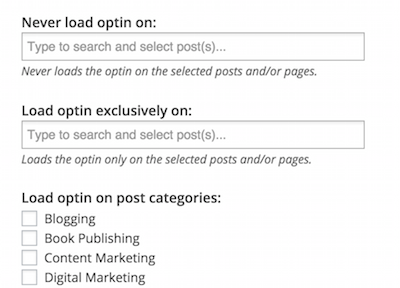 Page level targeting is bit of an advanced thing to do and you should be very careful not to overlap multiple popups on the same page.
Referrer Detection
Imagine you want to show a different optin box to people coming from Google, YouTube and one of your own domains. Now this is possible with referrer detection.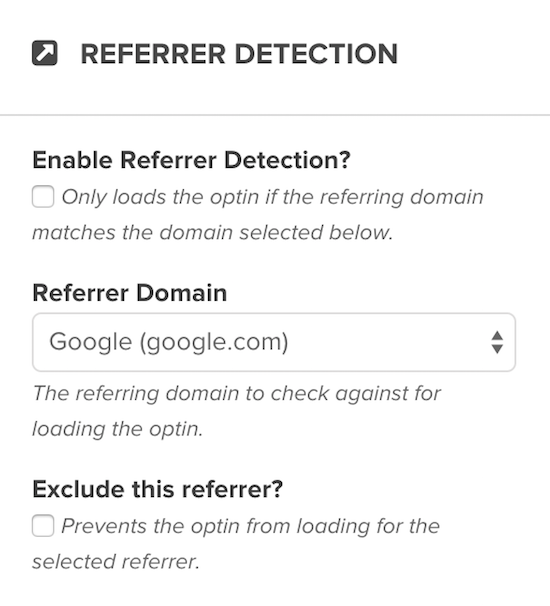 One of the cases that I can think of is: not show the optin box to traffic coming from my email campaigns because people who receive my emails are already subscribed to my list. They wouldn't want to see the optin box again!
Final Words
This is probably the most comprehensive review of OptinMonster Pro on the web. I hope you had a chance to learn about this amazing tool.
If you want to try them out, there is no free trial but they have a 14 day money back guarantee which allows you to test the product. Or you can sign up for 1 month @ $29.

Go ahead and try them out and see if it helps you generate more leads on your website!
Any questions? Leave a comment below.