How to Use YouTube Cards to Drive Traffic Back to Your Website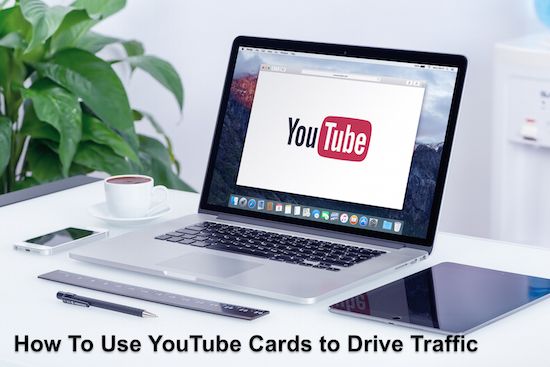 YouTube is the second largest search engine after Google. YouTube is also the biggest review search engine. People come to YouTube directly and search for video product reviews instead of searching it on Google. And it is said that one out of every two internet users use YouTube! That's 50% of the internet population!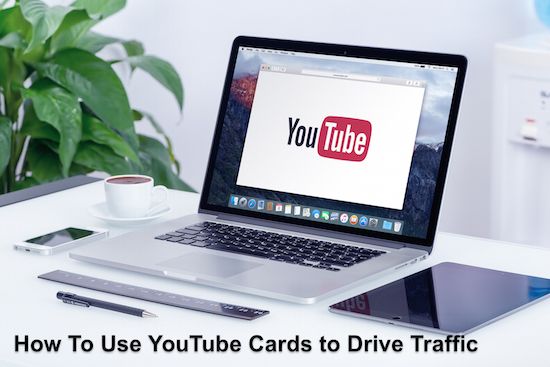 I can keep going on with the numbers but I will stop here. I just want to make this clear: YouTube can be a great source of traffic and leads when used properly.
Today, we will learn what is YouTube Cards and how you can use YouTube cards to drive traffic back to your website.
Introducing YouTube Cards
YouTube introduced YouTube cards recently and they are an advanced form of annotations. Annotations do not work on mobile YouTube apps and browsers but Cards will work on mobile! 50% of YouTube traffic comes via mobile devices and one cannot afford to ignore this audience.
According to YouTube
"You can think of cards like an evolution of annotations. They can inform your viewers about other videos, playlists, websites and more. They look as beautiful as your videos, are available anytime during the video and yes, they finally work on mobile."
YouTube cards appear as small popups on the top right corner of the YouTube videos while they are playing. They are not as distracting as annotations. This is how YouTube Cards look while playing the video: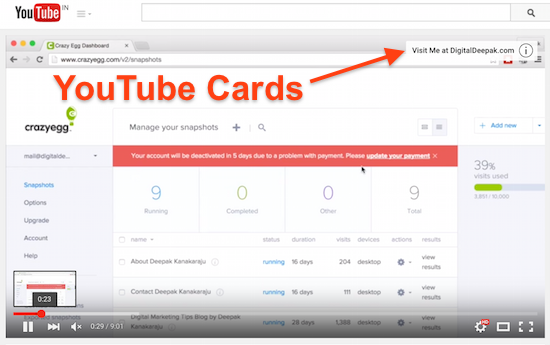 And if someone clicks on it there is more information on the overlay that appears on the right side of the video as shown in the screenshot below: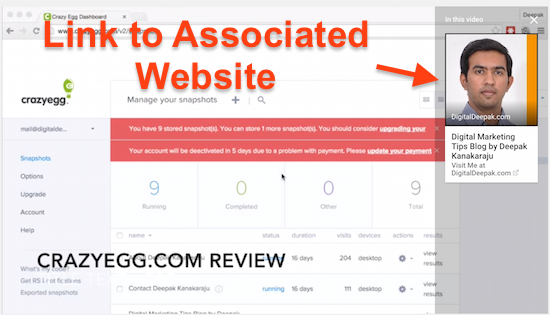 You can have only one associated website per YouTube account and you will be able to link to any page inside your website using this feature.
In this case, I have just linked it to my home page. YouTube also allows you to link to other videos, your channel, merchandise on other partner websites and for fan funding (if it is enabled for you).
How to Drive Traffic to Your Website?
YouTube videos are a great way to get attention from the large pool of audience that is available inside YouTube. However, the views that your videos get cannot be directly converted into money, in most of the cases.
Yes, you can monetize your videos using Google AdSense but the average earning for 1,000 views is around $1.50 to $2 and that will not take you far.
Unless you are getting millions of views to your videos, making money using YouTube+AdSense is difficult. Certain niches work great in display advertising. Other niches suck.
For example, it is almost impossible to make good money with display advertising in the digital marketing niche. (I do have a display banner on my site but that hardly covers my hosting and email marketing expenses).
The best way to monetize attention would be to drive traffic back to your website and convert your visitors into leads. You have to think about what would motivate your video viewers to visit your website. There has to be a hook.
Creating useful videos will definitely get attention and viewers but if you are giving everything away with your videos, people will just move on. That's why the trick is to give useful but incomplete information.
Useful But Incomplete!
When you leave users with incomplete information in the videos they will be motivated to come to your website.
For example, you can create a video with the title: 5 Ways to Make $100,000 a month online. In the video you can describe 3 ways to do that.
The remaining 2 ways can be on a video that is on your website. In general humans are hardwired to complete open loops. If they have seen 3 ways, they would want to learn about the other 2 ways!
This will motivate them to visit your website! I can give you many more examples, but you get the idea, right?
How to Monetize the Incoming Traffic?
Again if you are monetizing your website with display advertising, you would be much better off using AdSense on YouTube videos directly.
YouTube has great integration with AdSense and I know a lot of people who earn thousands of dollars every month with just YouTube and AdSense.
But if you are in a niche where display ads will not work, the best way to convert visitor's attention into money is to sell your own products or sell other's products as an affiliate.
If you look at your visitors as just numbers on a graph, it will not be easy to sell. Anybody who does a purchase online is a real human with a bag of emotions and problems of their own. People buy products to solve a problem. If you want to sell, you have to first empathize with the needs of your potential customers.
You should build a relationship with them and then introduce products and services that will solve their problems. It could be products that you promote as an affiliate or it could be your own.
The best and proven way to build a relationship online is via drip marketing.
First, you have to convert your visitors into leads using one of these methods or you can drive traffic to a landing page and capture the name and email ID of your visitors.
I have seen this work in a variety of niches right from small health problems, to real estate sales to online information products. I will be publishing a detailed post about how to sell online the right way. So stay tuned!
And I have also created a video explaining YouTube cards!
I hope this post helped you understand the power of YouTube and how you can drive traffic back to your website using YouTube Cards. If you have any questions, leave a comment below!