An Interview with Gopal: Inventor of the Brand Funnel Method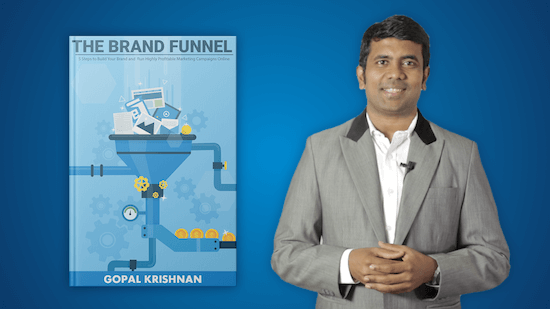 Today I am interviewing Gopal, founder of Visual Marketer that helps startups to grow fast with Visual Content and Online Marketing. Previously, he founded MyPromoVideos, one of the top explainer video companies in India with clients like Flipkart, BookMyShow and HCL.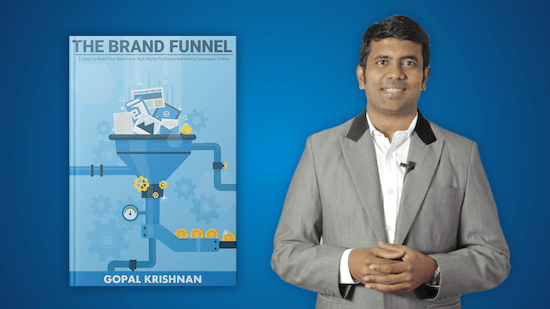 Combining the experience of creating highly engaging explainer videos with brutally simple concepts and online marketing, he has created the "Brand Funnel" method which is now used by some of the top startups in India to grow fast and get their Marketing Breakthroughs. The Brand Funnel has brought in more than 10 crores in revenue for his clients.
How did you get into the Internet Marketing business?
Back in 2007, I met a person at a meeting who said he was making money online with affiliate marketing. I was instantly hooked and started researching about opportunities on the Internet.
After a lot of trial and error, and spending a good amount of money without much success, I stumbled upon Warrior Forum on which I started my video creation business. It immediately took off and after three years, we pivoted to the Explainer video business during which I started to work with some of the top startups in India. The person I met in 2007 was you, Deepak Kanakaraju!
What made you quit and start Visual Marketer?
It was a very tough decision. But you need to follow your heart. While we were creating some of the best videos in the Industry, our clients were not able to see direct profits or ROI because of them. I wanted to fix that and the only way I can do this is by having my 100% focus on what I wanted for my clients – to make visual content profitable every single time.
How did you create the Brand Funnel method?
I have a unique background with my explainer video business where we make the complex simple with unique concepts. When I started with Online Marketing, I saw that almost no startup was using the power of the unique concept to promote their product.
I ran campaigns with the unique concept for some of the clients from my video creation business and it brought in spectacular results.
And while I was running these campaigns, I also found out the elements major Brands use to make us buy. When we started to implement them, we were able to double the revenue of our clients in 6 months or less.
Can you tell us more about the Brand Funnel method?
Before the advent of the Internet and all the technology we have now, there were brands who made us buy. They just followed a few principles in their communication and made us buy.
These principles never change although the technology is changing every day. We found out there are just 5 elements any business needs to nail to build a brand and run highly profitable campaigns online.
While I can't elaborate much on this interview, given below are the 5 elements of the Brand Funnel for Apple.
Unique Concept (Single button for everything and large touch display)
Vision (Creative people who challenge the status quo should get beautiful, simple and easy-to-use devices)
One Specific Result (Think Different)
Irresistible Offers (Just Pay the Mobile Bill, Get an iPhone Free)
Proof (If you don't have an iPhone, you don't have an iPhone)
What is the mindset required to launch a successful campaign?
You need guts and tenacity. Guts to risk money on advertising and the tenacity to try new things until your campaign works. If you don't have both the guts and tenacity, you will not be able to just launch a successful online marketing campaign.
Which element in the Brand Funnel is the most important?
Proof. We have funnels which doubled in revenue when we showcased Proof. It's the most important reason people respond to your ads and makes the buying decision. But yet, it's something that digital marketers don't even talk about in their campaigns.
What are your future plans?
We want to help startups to run highly profitable online campaigns by building their brand.
Indian startups should be able to do world-class marketing like the startups in the Silicon Valley. Our goal is to at least impact 1,000 startups in India and help them grow exponentially with the Brand Funnel method before the year 2020.