How Sathish Got 1,861 Leads in Less than 3 months with the Brand Funnel Method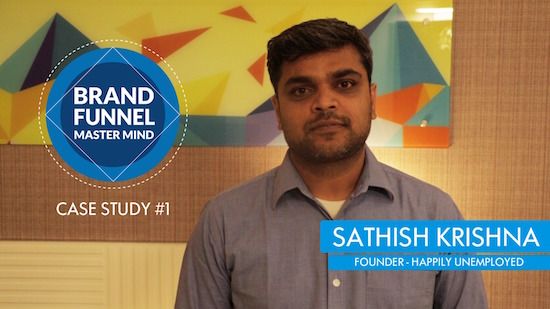 In January 2017, Gopal from Visual Marketer and myself launched a Beta version of a coaching program called the "Brand Funnel Mastermind". We had a lot of students who made the best out of this training program. Sathish Krishna, one of our students shares his success story with us today.
The Problem: Finding an Audience for the Product
Sathish's dream was to help people become digital entrepreneurs by getting into affiliate marketing. His idea was to teach them affiliate marketing and make them equipped to live life on their own terms without depending on a 9-6 job.
He wanted to test the idea even before launching an actual product online. But finding proper Indian audience for such a new concept as affiliate marketing and that too for a non-existing product was a pretty tough job. Sathish ran a number of ad campaigns on social media, hoping he could generate good leads. But he wasn't having much success.
Thinking he could get some valuable insights, Sathish joined a few online digital marketing courses too. He tried applying the marketing tactics given by them to bring him leads and sales but found himself losing more money instead.
The Action: Decision to Join Brand Funnel Mastermind
Sathish was about to lose hope in his dream when he got introduced to the Brand Funnel Mastermind. Until then, Sathish was not sure of how to launch a campaign for Affiliate Marketing to the Indian Market. After joining the Brand Funnel, he understood the importance of creating a "Unique Concept" based on a fear in his market.
He came up with a concept called "Happily UnEmployed" which emotionally connected with his target market and created a simple quiz that would generate leads.
Given below is his ad.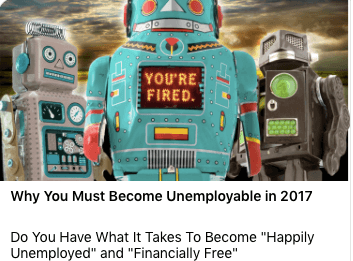 The Turning Point: The Coaching Call with the Mentors
Sathish says that watching the video training modules, getting feedback in the Brand Funnel Mastermind forum and clearing your doubts with Gopal and Deepak on coaching calls made the entire program much easier than it is supposed to be.
"It was so reassuring to know that there are some people out there who actually wanted me to make a profit by implementing whatever they teach me. And it was the "Unique Concept" that changed everything".
He also liked the fact that the 4-week modules were divided into smaller weekly tasks that is easy to follow and accomplish. Besides, the extended support for 8 more weeks until you get actual leads running the campaigns created by yourself was pretty comforting.
Brand Funnel Mastermind experts (Gopal and Deepak in particular) helped Sathish make necessary changes and improve his funnel at every stage of progress.
You can see Sathish Krishna talking about his experience below.
The Result: 1,800+ hot leads in less than 3 months
Sathish built a new landing page and quiz based on the feedback he received from Gopal and Deepak – the BFM mentors.
Without even a product to sell, he launched his quiz funnel, focusing just on collecting leads. Within 2 weeks of launching, he got 179 hot leads! In less than 3 months of the launch, Sathish was able to generate more than 1,800 leads at a cost of less than INR 20 per lead.

Sathish has built his market now to whom he can launch his product. He had never thought he could create results of this scale using Brand Funnel method.
He says "what you need to do is establish an emotional connect with your audience, so that you don't sell to them, but rather they buy from you".
The Future: Launching his Product Profitably
Sathish has now built his own audience. He can bravely go ahead and launch his new product because he already has an engaged audience! In fact, Sathish has gone a step further than an ordinary start up, because he has done it starting with the end in mind: create buyers and then launch the product!
He is pretty confident about the success of the product launch now. He will have enough funds by the next time he launches his facebook campaign and starts converting leads to sales.
"I am pretty sure anyone who has the mind to follow along … use the resources wisely… can have a profitable brand funnel and make awesome results even before you are actually in the business", says Sathish.
For those who are still reluctant, Sathish has an advice: "Invest in mentors like Deepak and Gopal. They personally care for your success".
Want to get started?
Do you also want to launch a campaign using the Brand Funnel Method so that you get hot leads that can be quickly converted to sales? Then we invite you to the "Brand Funnel Official Launch Party" which is happening on Friday, April 21st between 4.30 pm – 5.30 pm.
Click the link to RSVP yourself to the party. We are giving away cool prizes worth INR 75K during the party. RSVP here.