An Interview with Jitendra from BloggersIdeas.com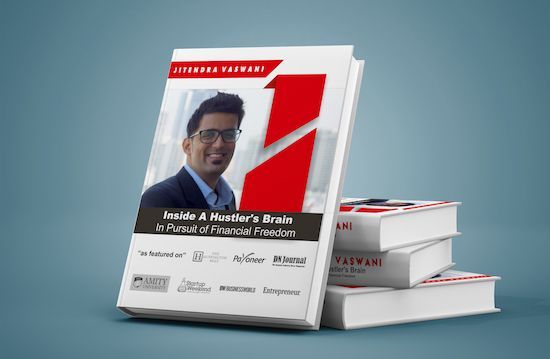 Jitendra Vaswani is a professional blogger, speaker, and a digital marketer. He is the blogger behind BloggersIdeas.com & founder of SchemaNinja.com. He had worked with leading companies like Zopper, FirstCry and Payoneer and helped them establish an online presence.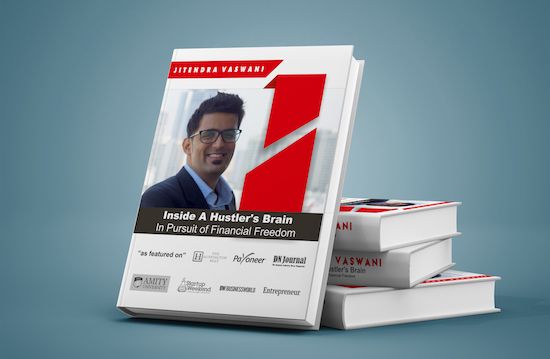 He started his entrepreneurial journey with his blog BloggersIdeas. Jitendra has also established a Digital Marketing Institute in Jaipur called DigiExe. He also published a book recently, and through his book: Inside A Hustler's Brain: In Pursuit of Financial Freedom he wants to help people to take actions in their life and bring change in people's mindset.
When did the inspiration strike for writing a book?
My inspiration behind writing my book was to share my journey with people who are not able to take the risk in their life and achieve a lot of success. The problem with people is that they are afraid to start their own business because they think too much about society and they don't want to face failure. When I started my journey nobody was there to support me and I was very alone in my life. I left the job and started working on my blog seriously. Trust me it was not easy for me and but something kept me going hard.
How did you grow your blog?
Growing blog to next level is always so damn difficult and you need to work continuously in order to get traffic regularly. For my blog BloggersIdeas I need to work daily and hire people who do work for me efficiently. Blogging has changed my life totally. When I was in a job the life was so bad that I was a very depressed person, I never had freedom of choice to take decision professionally. But now I take my own decision and live life with my rules.
What kept me motivated is by following experts in my industry, I follow these people like:
Gary Vayncerchuk
Neil Patel
Zac Johnson
Lewis Howes
Charles Ngo
Marie Forleo
John Chow
Mike Dillard
Tai Lopez
Pat Flynn
By following right set of people you are always motivated and much more focused. I have surrounded myself with a group of people who are self-driven and have certain goals in their life. Most of the people are surrounded by losers and they lose the game of dreams. Their social circle impacts their growth, so never surround yourself with demotivated peeps. They will bring you down and avoid listening to haters, they are your secret admirers trust me.
What are the main revenue sources from your blog?
My main source of income is affiliate marketing, I promote various products like SEO tools, hosting, software & some premium paid tools on my blog. I have joined their affiliate program and I promote them by ranking them on Google.
Other sources of income are:
Sponsored reviews
Banner ads
Multiple sponsored review deals for my secret blogs
Interview feature requests
Paid press releases
Paid guest posts
Never depend on a single source of income so I always create multiple sources of income; besides my main blog, I have some private blogs where I am working to earn revenue from affiliate marketing, display ads etc. For me making money from niche blog is good because some sources of income should be private always.
I follow some good blogs in my industry and I would recommend you peeps to follow them:
Searchenginejournal.com
Nichehacks.com
Nichepursuit.com
Seroundtable.com
Quicksprout.com
Smartpassiveincome.com
Follow these blogs and you will learn a lot of things on digital marketing. I always follow them and gain a lot of ideas. I get so many niche ideas and guys if you follow these blogs then nobody gonna stop you from growing.
If you start all over again, what would you do?
I wanted to get into fashion industry!. Yeah it is true when I was in in my school days I was having a desire to be a fashion designer but I couldn't do it due to the family pressure I was pushed into engineering and engineering made my life hell. Life has planned something different for me and now I am blogger living my dreams. If I can do it and then you can do it too!
What has been your experience with product launches?
Product launching is damn difficult to get users for your product sales is very very difficult, when I launched my product SchemaNinja making 300 sales was too difficult too. But somehow launch went well and I made some profit from it. We got 300 sales in JVzoo and I was happy.
I learned so many things like hiring product developer, support team, and graphic designer. It was tough in the beginning to manage my product and my blogs too. Now I am planning to launch 2nd version of my product SchemaNinja. Hope it goes well.
How did you scale SEO traffic to your blog?
I always follow best blogs in my niche and try to learn from them. I have a lot of sources like social media content syndication sites like Bizsugar.com, Blokube.com, Blogenage.com, Scoop.it, Rebelmouse.com to share my content that helped to get good traffic.
Also, do guest blogging in your niche and you will surely get a lot of traffic on your blog.
Keep making high-quality links from different sources and make sure that your links are indexed on Google. I always keep making a good amount of backlinks for my blog and get good traffic.
This year my goal is to get more organic traffic for my blog BloggersIdeas, So I am writing content related to my niche and want to help my readers as much as possible through valuable content. Content will always be king and if you play well here you gonna win your readers trust and eventually you will make money from your blog. Never ever give up on your dreams, if you give up then get ready to work for someone else dreams.