Get Your Pages Indexed Immediately with 'Fetch as Google' in Webmaster Tools
Unless your website gets thousands of visitors a day and is very popular, your new blog post or page takes time (sometimes a few hours to a few days) to get indexed in the Google search engine.
Here, I will show you a method to get your page indexed almost immediately. You can do it with the 'Fetch as Google' option in Google Webmaster Tools.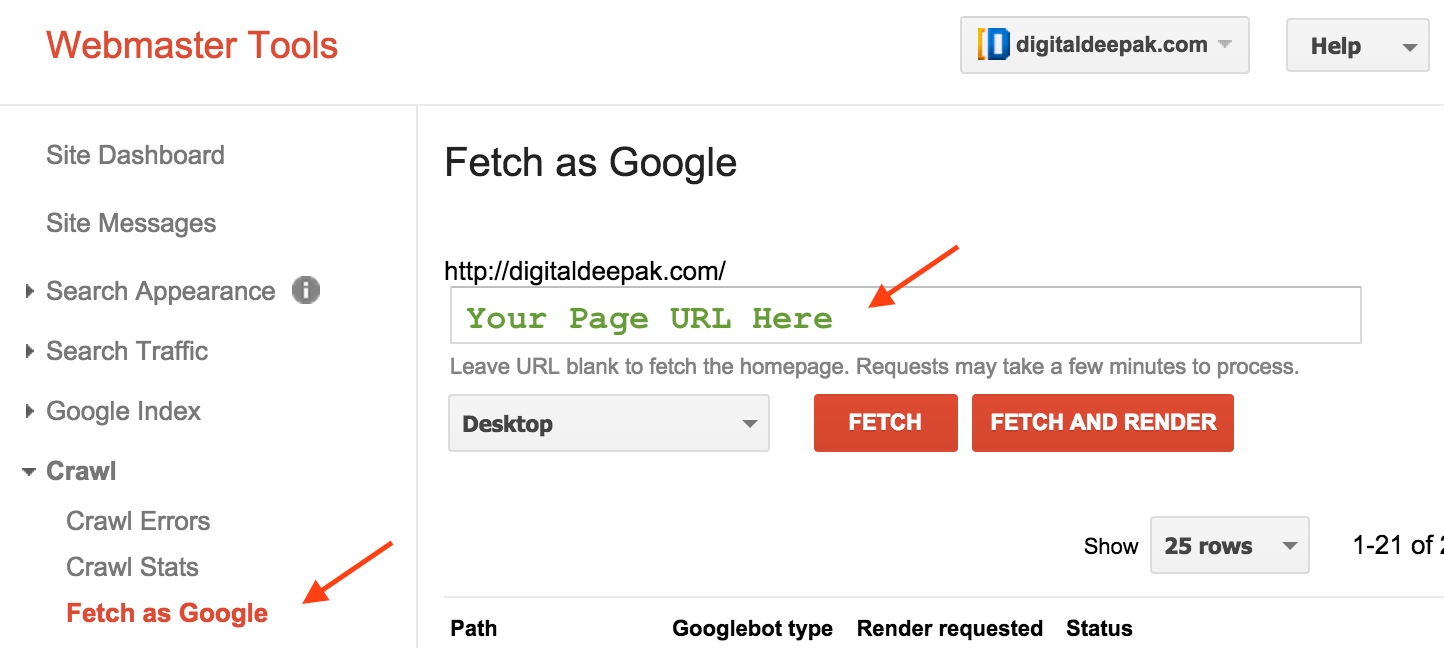 It is recommended that you get your page indexed as soon as you publish it. This is important because someone else could copy your content, publish it on their website and get them indexed first.
The search engines could consider that page as the original or authoritative one and rank it higher than your page.
This is only a theory, but many SEO experts agree that search engines do give weight to the page that
is
indexed
first.
How to Get Your Page Indexed Almost Immediately
All you have to do is login into Google Webmaster Tools, click on Crawl section, click on Fetch as Google. Enter your page URL in the box. Make sure you enter only the part of the URL which comes after http://www.yourdomain.com/
Click on the FETCH button. The Google bot will visit your page and show you how it sees your page from its "lens". Then you will also get an option to submit it to index. Click on that and you are done.
Within 2-3 minutes you should be able to see your new page in Google's index. You are allowed to manually submit up to 500 pages every month – this is more than enough for most blogs.
To check if your new page is indexed, all you have to do is enter site:yourdomain.com in Google search. This will show all the pages from your website that is included in Google's index.
More often than not, your newly indexed page will not show up in the first page of the search results. So you need to check for pages that got indexed recently.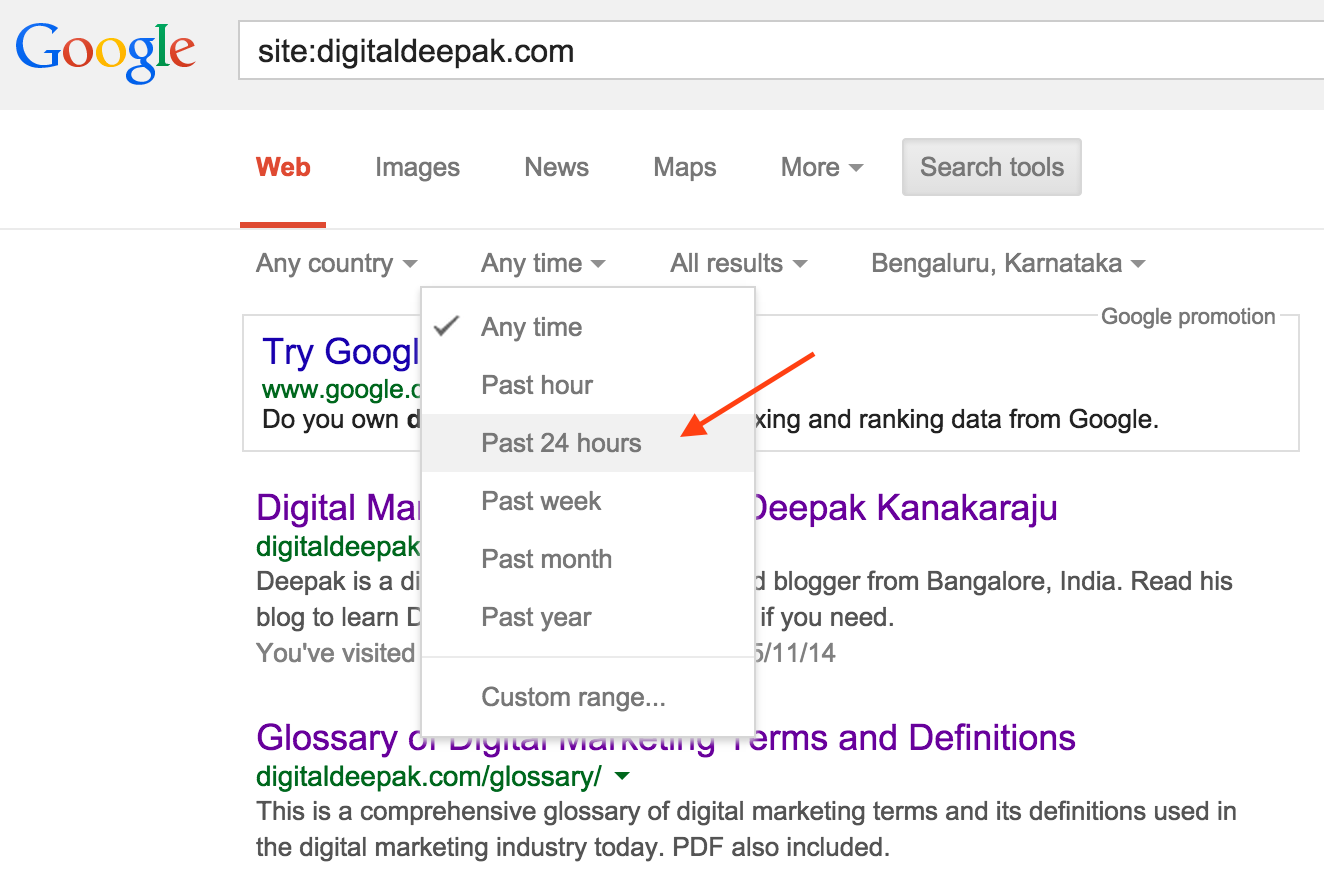 You can select Past 24 hours to check for pages indexed recently and you should be able to see your page that you published just minutes ago!
Update: I got this page indexed within 1 minute of publishing! Here's the screenshot.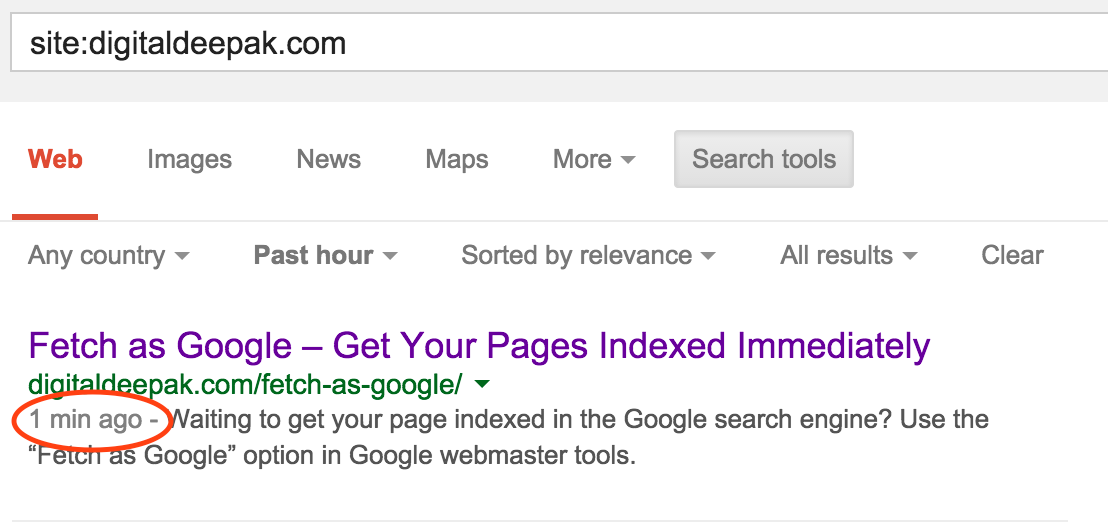 Hope you found this post useful. If you have any questions, leave them in the comments below.