How To Set up Facebook Instant Articles For WordPress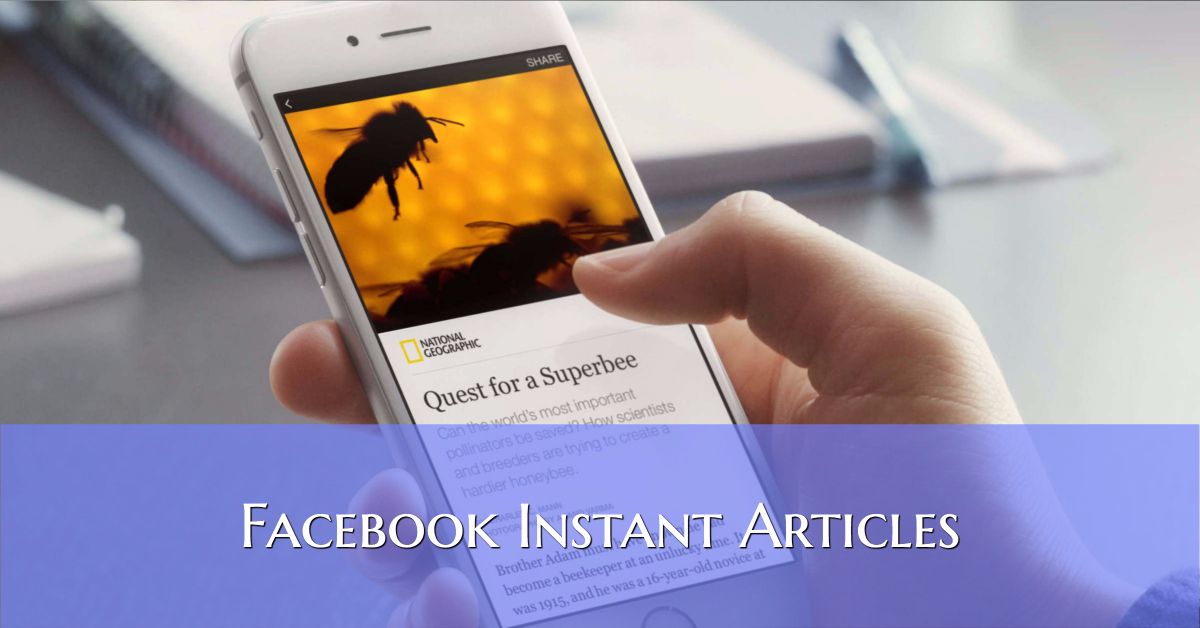 Facebook Instant Articles was made to fix the problem users faced while browsing slow loading pages on the mobile. Once you publish an instant article on to Facebook the thumbnail will appear with bolt icon. The URL structure of the article is same as your regular website URL. When the article is seen and clicked on Facebook Mobile App, the article will load instantly and the content will be hosted on Facebook.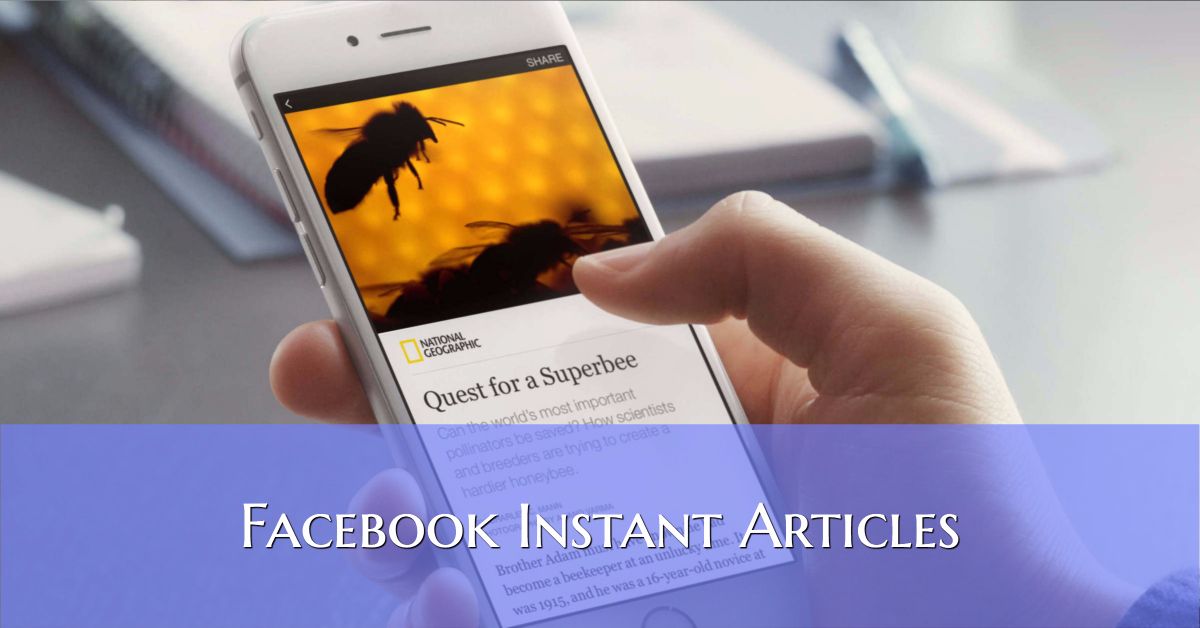 90% of Facebook users access it on a mobile device. Setting up instant articles for your WordPress blog will give you an advantage of capturing Facebook's huge mobile audience.
Note that the complete article will open within Facebook with no backlinks to your blog. However, you can still make money out of Ads from within content and capture user data using Google Analytics.
Benefits of Implementing Facebook Instant Articles
Before we have a look at the steps involved in implementing Facebook Instant Articles for WordPress blogs, let's have a look at the benefits of Instant Article.
Faster Loading Speed
One obvious benefit is that your mobile web page will load 10X faster when accessed via Facebook. This will increase your blog readership.
Interactive Images and Autoplay Videos
This feature greatly enhances the reader's experience of your content. By tapping on an image or video you can zoom in. By tilting and pinching your screen you can scroll through the entire width of the image. It also gives users the ability to like or comment on a certain pic within the article leading to greater chance of virality.
Monetization Possibilities
If you host ads within your content then you can make 100% revenue out of it. However, if you run Ads from Facebook audience network Facebook will take a cut of 30%.
Subscription Service
As per Mark Zuckerberg's recent post Facebook will start a subscription service within instant articles to help people subscribe to publishers they like. This can open us an additional revenue channel for publishers. We're going to test new ways to help news organizations grow their subscriptions.
"If people subscribe after seeing news stories on Facebook, the money will go directly to publishers who work hard to uncover the truth, and Facebook won't take a cut." – Mark Zuckerberg
Clean Formatting
Instant articles are HTML5 interactive document with rich editing features. You can brand your content by using your logo. You can even use your current blog styling on instant articles. You will get a chance to review the formatting of the post before it is submitted to Facebook for content guidelines review.
Higher Engagement and Share-ability
Users are 30% more likely to share an instant article over a mobile web article
20% more instant articles read on an average
Users are 70% less likely to abandon an instant article
Analytics
Although Facebook displays the whole article on its platform you can still collect data via Google Analytics. You can do this by following this guide. You can even use Facebook's own instant article insights to see how each of your published articles is performing.
WordPress Blog Setup for Instant Articles
If you are using WordPress implementing instant articles is easy with the power of plugins. Using the steps stated below you can get started with instant articles for your WordPress blog.
Step 1: Install Instant Articles for WP plugin
In order to get started with the setup first you have to install the Automattic and Facebook official plugin for instant articles. You can download it here and upload it or you can search for "instant articles" in the Add plugins section in your WordPress dashboard as shown below.
Once you find it you can go ahead and hit the install button.
Once you hit install you will be shown an option to Activate the plugin. Click the Activate button to get your plugin started.
Step 2: Sign up for Facebook Instant Articles
Click on the Instant Articles link in the WordPress dashboard sidebar. Here you will find a list of all features you will need to optimize and customize Facebook Instant Articles. But before that, you have to sign up for instant articles. For doing the same you have to click on "these instructions" link as shown below.
Now you have to tell Facebook which page you are trying to setup instant articles for.
Select the page, accept the terms and conditions and click "Access Instant Articles Tools".
Step 3: Connect the Plugin to Your Facebook Page
You can connect the WP plugin to your Facebook Page using a Page ID. To find the same visit the about section of your Facebook page. Scroll down until you find Page ID. Refer to the image below.
Copy this number and place it in the Facebook Page ID field in the instant articles plugin setup page and hit save changes.
Step 4: Authorize Your Website
Since you have already added the Page ID in your plugin you need not perform any additional steps to Authorize your website. However, you have to claim your URL and Facebook verifies the claim and allows you to set up your RSS feed. You can even claim multiple URLs if you want to set up instant articles for multiple websites.
Once done you can even claim the "non-www" version of your website. It will get added automatically.
Step 5: Add Your Blog Feed URL
In order to pick up your latest blog posts, you must let Facebook know your blog feed. To do this you have to first pick up the blog feed URL which you can find at http://www.yourdomain.com/feed/instant-articles.
Which in our current case is http://www.bikerboy.in/feed/instant-articles.
Visit the instant articles configuration section under publishing tools and enter the feed URL in the Production RSS Feed field.
Step 6: Access Production Articles
You can access all the instant articles from the production articles section. However, these articles are not yet published. You will find an option to publish them once Facebook reviews it for content guidelines. In the meanwhile, you can check the article for formatting.
You can add a call to action to each of your instant articles. There are three calls to action units you can use – App install, Email Newsletter, Page Likes.
Step 7: Style Your Instant Articles
Facebook gives you a range of options to stylize your instant articles. Visit the configuration section under instant articles and click on style editor as shown below. Clicking on style editor gives you access to a plethora of styling options.
You can upload your logo, pick fonts, colors, line heights, background colors, headings and other styling options. You can use these options to give users a similar feel to that of your blog. Make sure that you add your logo, because without that you cannot progress.
Step 8: Go Through the Review Submission Checklist
Download the Pages Manager app on your smartphone and preview what your articles will look like before they go live.
Create a minimum of 5 or more articles and check for missing or broken embeds, incomplete articles, and correctness of RSS feed.
Check if your articles abide by Instant Articles program policies. No ads or related articles links should appear above the fold. Remove features or functionality already built into the Instant Articles experience, like site navigation elements or Like, Comment and Share buttons.
Images should be at least 1024×1024 and videos at least 640×480
Upload a logo which scales and fits gracefully over multiple screen sizes.
Ads should fit in their iframe containers correctly.
Users should be able to differentiate between an Ad and content. Ads should be demarcated with the text sponsored.
Step 9: Submit Your Articles for Review
Once you checked off all items in the checklist it is okay to submit your articles for review. Facebook typically takes 2 days to review your content to see if it matches their content guidelines and policy. Once your submission is approved Facebook will send a notification and you can start publishing your articles from the production articles section.
Popular Publishers' Success Stories:
There is enough proof that Instant Articles work well for both bloggers and big publications.
Jagran.com observed a 187% jump in a single year after implementing instant articles.
Indiatimes.com readers engaged better with 30% Better Scroll Depths after implementation of instance articles.
The Quint saw an increase in revenue as Facebook audience network gave them a 2X CPM compared to other ad networks.
Conclusion
Facebook is investing hugely in promoting instant articles. It is encouraging top publishing companies to adopt this technology as it will open up possibilities of more revenue for Facebook via audience network and helps people stay on Facebook for a longer duration of time.
In spite of its ever growing adoption rate, of all the blogs only 10,000 publishers are currently using Facebook instant articles. The trick to succeeding with Facebook instant articles is to get started early and beat the competition and leverage Facebook's huge mobile audience for reach, readership, and revenue.
Let me know if you have any questions!
In your service,
Deepak Kanakaraju
P.S. Watch this video for a step-by-step tutorial on Facebook Instant Articles.