Facebook Canvas Ads: Everything You Need to Know
Facebook has something new for advertisers and brands. They have launched the Facebook Canvas. Canvas is a form of an ad which fills a need in the market that other types of ads have been unable to fulfil.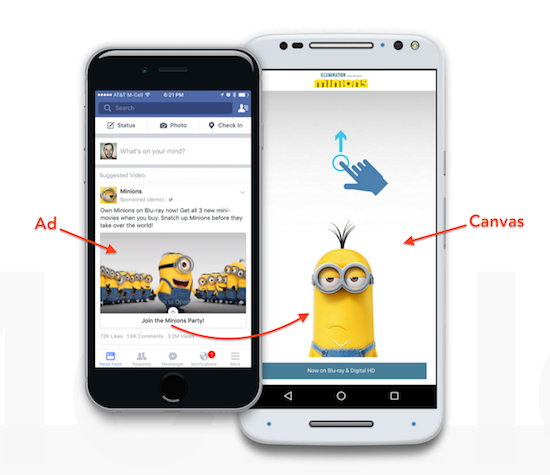 It supports full screen on mobile devices and provides a better experience for the users when they want to view an ad and learn more about the brand.
According to Facebook, "Canvases open from Facebook ads in News Feed to reveal a full-screen experience where advertisers can use a mix of video, still images, text and call-to-action buttons to build beautiful and effective brand and product experiences on mobile."
Facebook Canvas opens up like a website on landing page after someone clicks on a standard looking Facebook ad. In this case, all the content is hosted on Facebook servers and they make sure that the page loads as fast as possible.
The canvas is a collection of images, videos and call to action buttons. The call to action button will lead to your website.
Create Your First Canvas
To access Facebook Canvas, you have to go to your page and then click on Publishing Tools. Inside publishing tools, click on Canvas.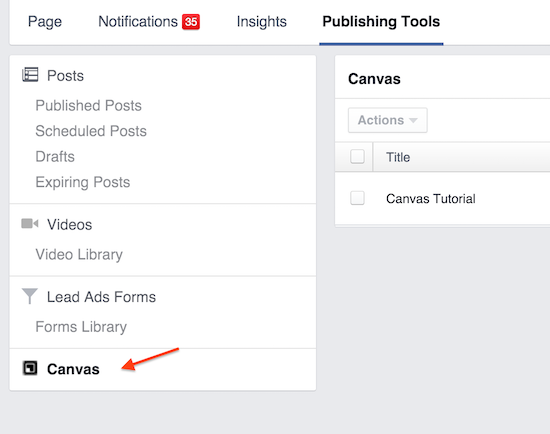 Click on Create and start building your first canvas. You have to select a theme, upload the header photo, upload some photos and create a Call to Action.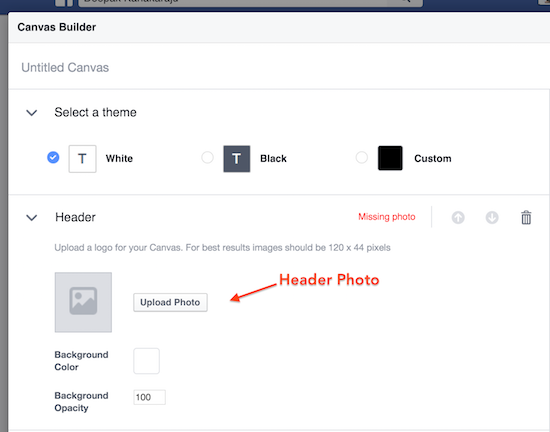 You can also add more components to it as required. You can add buttons, images, carousel of images, text or video.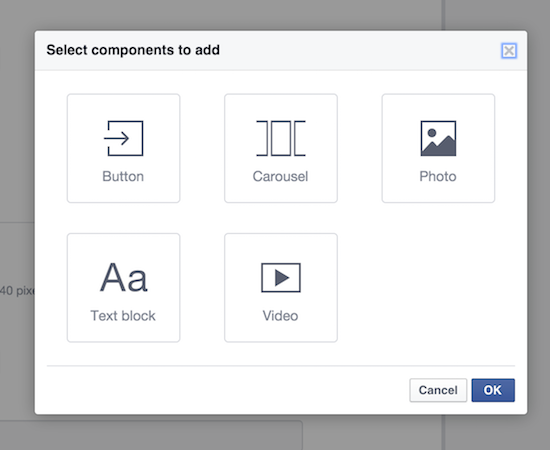 You can check Facebook's Canvas landing page for more information.
Who Should Use Facebook Canvas Ads?
Facebook's canvas has been introduced for brands to tell their stories and build a relationship with their audience. From what I can see, it is more useful for branding than lead generation or direct response marketing.
Automobile brands, real estate, vacation & holiday packages, food brands and similar B2C brands will find the Canvas a great tool for branding and story telling. B2B brands can also use Canvas ads if they can get the targeting right.
According to Facebook, brands like Coco Cola and Asus have found great success with Canvases. You can read about it here.
If you are doing direct response marketing, Facebook Lead Ads should be where you put your money on. Or you can create a landing page and direct users to that page to generate leads.
I may not yet start a Canvas ad for my brand because I find direct response marketing to be more powerful than branding to get the word out.
However for certain brands, branding via ads is very important to maintain their market leadership. Facebook Canvas is definitely a much better branding tool than Video ads or Display ads.
Facebook Canvas ads creates brand experience and engagement than just brand impressions. Read more about branding via brand engagement.
I will probably publish another post with more details on how to run a Canvas ad after I run an experiment myself. Stay tuned!
If you have run a Canvas ad, post your experience in the comments below.
Any questions?