EduPristine Digital Marketing Training Course Review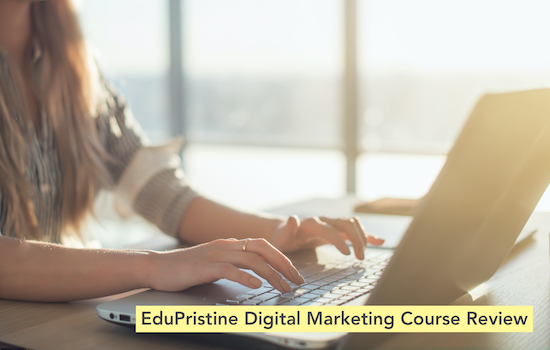 EduPristine is one of the leading digital marketing training institutes in India. Started in 2008, they have trained thousands of people to make them digital marketing experts. In this article, I review their Digital Marketing Training Course covering various aspects of their offerings.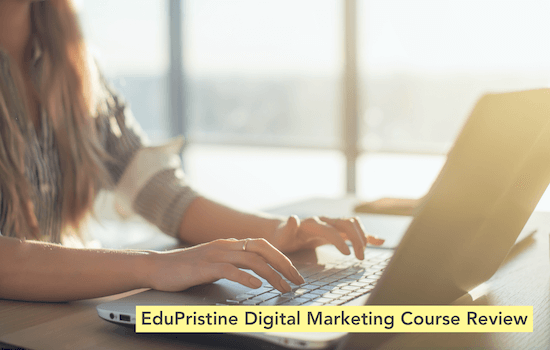 The training and mentorship provided by this program is helpful to professions and students from all walks of life. The benefit of taking up a training course is that you get to learn the subject from scratch, with a proper framework. Along with an opportunity to learn from the experts, you also get to interact with like-minded people and get introduced to the peer network whom you can reach out to for subject related advice.
EduPristine was established in 2008 by three IITians and a Symbian (Pawan Prabhat, Paramdeep Sinha, Atul Kumar and Sarita Chand). With a network of 1,500 teachers and 25 courses, they have trained over 15,000 professionals. Along with digital marketing, they offer courses on mobile marketing, accounting, finance and risk management.
Course Details
The 12-day digital marketing training covers:
Basics of digital marketing
Web analytics
On-page SEO
Off-page SEO
PPC marketing
Video Marketing
Social media marketing (Facebook and Instagram)
Content marketing
Email marketing
Affiliate marketing
Lead management and growth hacking
Mobile marketing and project review
Course Fees
If you prefer visiting a physical location for the training, you can opt for the classroom course. Those who do not have the time and resources to go a classroom can opt for the online course.
The fee for the classroom training course is INR 33,000 with 60 hours of learning that includes preparation for Google Adwords Certification, hard-copy of study notes, practical case studies and assignments, online materials, regular tests and exams and access to their doubt solving forum. For the online training, they charge INR 25,000 for 48 hours of training with the same course material.
They conduct classroom training at Ahmedabad, Delhi, Pune, Bangalore, Chennai, Mumbai, Kolkata and Hyderabad.
Certification
At the end of the program, the participants are either given a Certificate of Participation (if they score less than 50%) or Certificate of Excellence (if they score more than 50%) in the exam.
Are Such Training Programs Worth the Money?
Back in 2008 when I started my career as a digital marketer, I had to learn the entire subject by myself and it took me almost 9 years to establish my thought leadership. Today, EduPristine's Digital Marketing Training gives you an opportunity to learn and be mentored by experts, to become an authority on this subject in a short span of time.
Participants learn about the on-page and off-page SEO, how to run paid campaigns on Google and social media and to measure and analyze the success of their campaign. You can make more informed decisions based on the results shown by the right analytics.
The participants also learn to strategize, implement and measure digital marketing campaigns for their business. They have trained corporates of prestigious brands such as Toyota, Godrej, Sony, Hyundai, ICICI, Tech Mahindra, Reliance, Max Life Insurance, Carwale, Ogilvy & Mather and Bennett & Coleman. They are the official Google Partner in India.
Who can benefit from it?
This digital marketing training is designed to help various individuals such as:
Students looking to build a career as digital marketer
Corporate professionals looking to help their brands with digital marketing solutions
Entrepreneurs and business owners wanting to implement digital marketing in their business
From the key stakeholders involved in strategizing and planning online campaigns to freshers interested in pursuing a career in digital marketing, this course is useful for everyone. Professionals at all levels and disciplines benefit from this course.
Why should you invest in a digital marketing course?
The multiple reasons why you should learn digital marketing through an online training course are:
Majority of potential leads check a brand on the internet before making a purchase
With digital marketing, you can reach out to a wider audience
Your competitors are busy building their brands online
It is more cost effective than traditional marketing and advertising
All your online marketing efforts are measurable, from the number of visitors on your website to the pages they visited the most and the time spent on each page. If you're serious about leveraging digital marketing for your business, EduPristine's Digital Marketing Training Course ensures that you get a comprehensive knowledge about this subject.
The course covers all information, from learning the basics to the specific topics vital to fulfilling your business objectives.
As a business owner or the key strategist, your knowledge in digital marketing helps you keep the team members informed, you can train them in the right direction and ensure that they function in the best possible way. This improves productivity and saves a lot of time and efforts.
The Pros
While I've come across many online marketing and digital marketing courses where you can learn 1-2 aspects of digital marketing, this course teaches you all the aspects of this subject along with mobile marketing. Within a time frame of 12 days, you get to know all the aspects of running paid, affiliate, email, social media, and growth hacking campaigns. The course is conducted by digital marketing trainers who're experts in their domains.
The Cons
They do not mention if they provide hands-on practical training in this course. After learning the theoretical aspects and solving the case studies you also need to run practical campaigns to know how the algorithms work. I was unable to find vital information such as helping the participants get job placement after the completion of the course on their website.
Conclusion
If you have the necessary budget to get an overview about digital marketing, this digital marketing training course will leapfrog your path to success. If you think you can learn better through class-room training with other co-learners then this course is the best option for you to learn digital marketing.
Recommended Reading: