Wajendhar Rao Kulkarni – Intern 10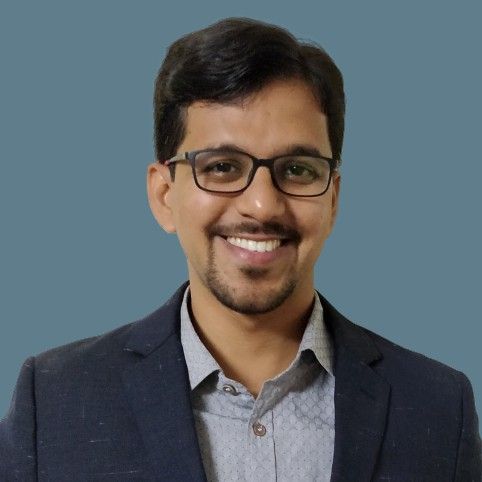 About: Wajendhar is a tech-savvy Content Marketer with a Master's in Computer Science Engineering and more than a decade of experience in the IT Services industry. In his professional tenure, he has worked with global clients in the roles of a content specialist, marketing consultant, magazine editor, and a growth hacker.
He believes in value-based business communications and exhibits the same empathy and passion towards your products, services, and customers to build your brand story, spread your message, and sell globally. His entrepreneurial spirit, online research expertise, and ability to get things done helps him deliver the best work, always.
Currently, Wajendhar is working with Columbus Global, a Denmark-based IT firm with a global presence. Here, he produces SEO-optimized websites, analytics-based blogs, thought leadership articles, eBooks, white papers, landing pages, sales pitches, advertisement copies, video scripts, and social media snippets to generate high-quality leads. He also works alongside small, ambitious start-ups to build a differentiated brand image in the marketplace and increase their online visibility and reach to enable sales.
He uses his spare time to work on his passion project, Indian Ad Divas – a PR/ media platform for budding actors, artists, and talents from the Indian advertising industry: https://indianaddivas.com/.
Experience with Internship: As an employee, I have built or supported teams in building brands online, but never felt the need to run Google ads to test my creative ideas. The Digital Deepak Internship Program motivated (and pushed) me to learn a lot in just three months. It is indeed a one-of-a-kind paid internship program that I had the privilege to take up, which gave me the confidence to test the waters.
Like many of you, I have been an ardent follower of Deepak Kanakaraju, fondly known as Digital Deepak, since 2017. I love reading his blogs, ebooks, and emails, sometimes for ideas, sometimes for inspiration, and sometimes for replicating his system. 😊
I can relate to Deepak because he practices what he teaches, making him an excellent 'guru' and a mentor. He is also someone who has mastered selling through the art of value creation!
Though I was a little hesitant before joining the internship program, by the end of it, I had a total mind shift in terms of how to become comfortable selling and learned a bunch of new valuable skills. These include web automation, landing page creation, Google Search Console integration, business niche identification, search engine optimization, free keyword research tools, copywriting, and a little bit of economics.
Deepak has his heart in the right place. Otherwise, running a program of such stature is almost impossible. I'm thankful to the PixelTrack Team and the supportive alumni from whom I gained more value (and money, as it is a paid internship) than what I paid for!
I would vouch for his mentorship/ internship over any other similar digital marketing programs online, say, from Udemy, Coursera, and the like. If you are someone who's on the fence and unable to decide whether this program is the right fit for you, I would say, go for it. No one ever accomplished anything great from a comfort zone. 😊
Goals: I want to help upcoming artists and actors build a career in the entertainment and advertising industry. I aim to do this by transforming my passion project – Indian Ad Divas – into a PR/ digital media platform that inspires models, ad professionals, talents, behind-the-scenes artists, and actors to embrace the industry. With exclusive news, features, interviews, PRs, the platform will also keep the readers abreast of the latest developments, competitor news, audition opportunities from the world of Indian advertising.
The media platform, thus far, has helped many artists get the recognition and traction they deserve. Many people have expressed their gratitude for building such a unique platform for artists and featuring their work. So, I would continue to develop it.
The journey ahead promises to be a challenging one, no doubt, it will be arduous and demanding, but the thrill of building something new with my knowledge and skills is unparalleled. What matters, in the end, is what problems I can solve and how I can help the people who want to gain fame and build their tribe in the long run.
As my idea is more inclined towards being a digital marketing platform, I wish to leave a legacy where thousands of people benefit from the platform—socially, emotionally, and financially. And, of course, create wealth doing so! 😊
Areas of Expertise:
PR
Media
FB Ads
Copywriting
Google Ads
SEO
Lead Generation
Contact Details: