Top 4 Digital Marketing Courses in Pune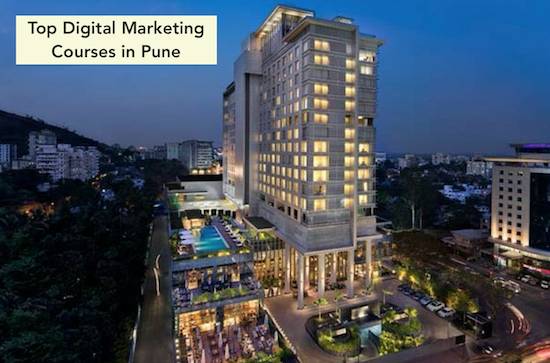 As a digital marketer I've often been asked why should anyone take up a digital marketing course? The reason for the growing demand of digital marketing is: According to internet world stats, 40% of the world population has an internet connection. Surprisingly, 50% of the internet user base is from Asia.
It is also a proven fact that digital marketing jobs pay a higher salary.
There is an ever increasing talent gap for skilled digital marketers. The academic institutes are unable to stay at par with the ever evolving digital domain. This leaves the option of either choosing to learn on your own or opt for a digital marketing course.
Owing to the fast paced evolution of digital media, there's a continuous need to upgrade the skill sets of people already working in this industry.
The growth of internet-based businesses is exploding, due to the low entry barrier. This has boosted the demand for digital marketing resources. Check out these 4 digital marketing courses in Pune to learn and build your digital marketing skills.
Digital Deepak's Online Digital Marketing Mastery Program

My first recommendation for you is my own online Digital Marketing Mastery program.
The Online Digital Marketing Mastery program has been created from my 10 years of digital marketing experience working with several leading companies like Practo, Razorpay, Instamojo, Mercedes-Benz, Nikon and more.
Courses covered in the Digital Marketing Mastery Program:
Search Engine Optimization (SEO)
Google Ads & SEM
Facebook Ads
Social Media Marketing
Web Analytics
Email Marketing
Content Marketing
Here are some details of the course you would need to figure out if this course is for you.
Course Structure: Online Program with 35+ hours of Training videos.
Student Support: Through online private Facebook Group.
Price of the course: ₹4,999 Only (Limited Time) – Most affordable course in the market.
Website: https://Mastery.DigitalDeepak.com
More than 1,000 students have enrolled in the Digital Marketing Mastery Program by DigitalDeepak.
Check Out the Digital Marketing Mastery Program.

What people say about DigitalDeepak's digital marketing training…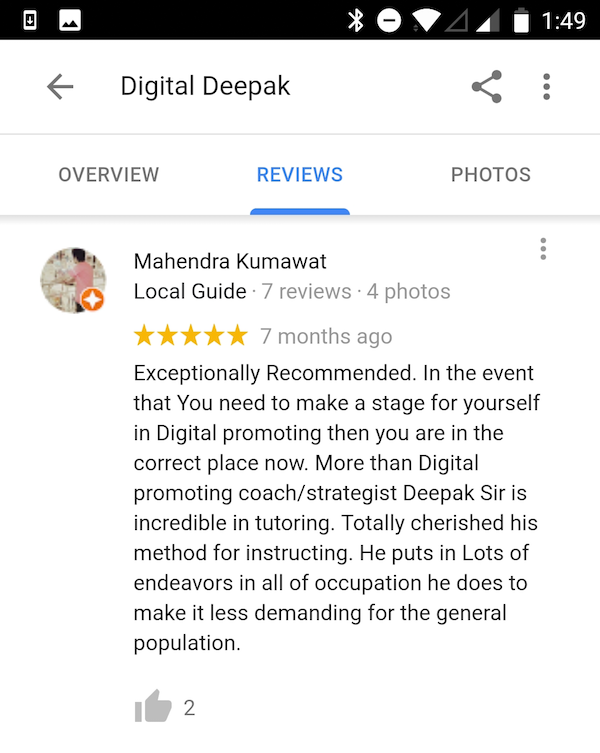 The course also comes with DigitalDeepak certification. There is a separate certification for every course. You will get a total of 7 certificates after you complete the program.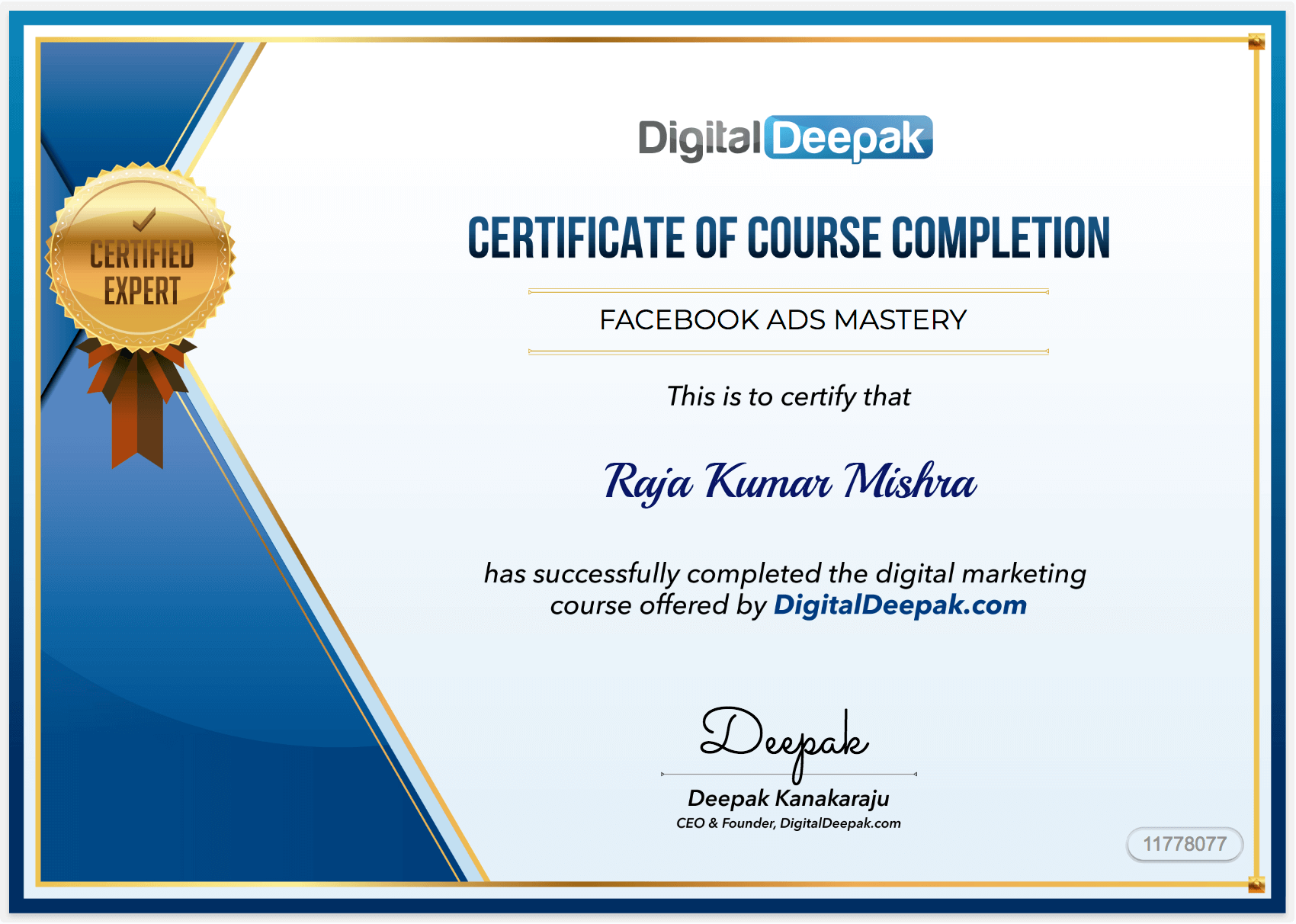 Check Out the Digital Marketing Mastery Program
1. Digital Vidya CDMM Course
Digital Vidya is Asia's leading Digital Marketing training company. Since 2009, they have organized 1000+ digital marketing training programs across the globe. They have trained 15,000 professionals from over 7000+ brands such as Google, Reliance, Nokia, eBay, Naukri, SAP, Citibank, Toyota, Make my Trip and much more.
They are Google & Microsoft India's official training partner.
The Certified Digital Marketing Master (CDMM) Course has 6 modules:
Email marketing for 12 hours
Social media marketing for 15 hours
Inbound marketing for 12 hours
Search engine marketing for 12 hours
Search engine optimization for 12 hours
Web analytics for 12 hours
The course is flexible, you can choose from:
Online instructor-led training sessions and online industry interaction sessions led by industry experts. (6-month course which can be completed in 3 months)
Classroom led weekday and weekend training sessions. (6-month course)
The instructors and course creators are industry experts such as Prateek Shah, Pradeep Chopra, Kapil Nakra and Himanshu Arora.
The CDMM course is priced at INR 49,000 + service tax. This is one of the leading digital marketing course in Pune.
2. Pace Career Academy
Pace Career Academy is one of the best digital marketing courses in pune. It's digital training program offers 100% placement guarantee. The companies where you get placed include – Tata, Infosys, ICICI, Quick Heal, Vodafone, Godrej and much more.
They claim to have trained 250+ digital marketing professionals in 2015-16. They are certified by Google in Analytics and Adwords.
The digital marketing course is structured to help students and professionals learn concepts of online marketing such as – Google Adwords, SEO: on-page and off-page, social media marketing, content and affiliate marketing and mobile marketing.
The main drawbacks of this course are:
They haven't mentioned the learning pattern: whether it is online or offline or both.
The pricing is not mentioned on the website.
The course structure – in form of video tutorials, material, case studies and classroom training is not mentioned.
3. Simplilearn's Digital Marketing Certified Associate
SimpliLearn's digital marketing course will help you to gain the professionals skills to succeed as a digital marketer. They provide both online and offline training and they have 100+ certification courses.
According to IAMAI, SimpliLearn is one of the best educational websites. With 175+ hours of e-learning content available with their courses, they offer training courses to professionals across the globe.
The Digital Marketing Certified Associate Training (DMCA) course, available in Pune covers SEO, social media, web analytics, PPC, content marketing, email marketing, mobile marketing and digital marketing strategy.
This course is conducted by Brad Geddes who is a world renowned PPC marketer and founder of Certified Knowledge.
The DMCA course is categorized as:
For individuals: Self-paced learning: 180 days of high-quality e-learning designed by industry experts which can be pursued at your own pace. Its cost is INR 12,999.
Online-Classroom flexi-pass: 90 days of access to instructor-led online training sessions. You are eligible for Simplilearn's job assistance feature. Furthermore, you get access to 180 days of high-quality self-paced learning material. It is priced at INR 20,999.
For business: Corporate training solutions
24/7 teaching assistance and support and have self-paced and instructor-led options. The pricing is variable based on each company.
According to them, this course can be taken up by:
Advertisers and marketers working in the traditional industry and looking to stay relevant in the dynamic digital industry.
Sales and business development professionals wanting to improve and digitize their sales process.
Students and freshers aspiring to gain entry into the digital marketing ecosystem.
Business owners and entrepreneurs looking to execute effective digital marketing campaigns in their organization.
On completion of this course, you'll become a Digital Marketing Certified Associate. Additionally, you get certified in Twitter Advertising.
4. School Of Digital Marketing
The School of Digital Marketing is one of the leading digital marketing training institutes in Pune. The course is conducted by Google certified industry experts. They offer interactive classroom training sessions and the students are allowed to work on live projects. 100% job assistance is guaranteed to the students.
Professionals from top companies such as Cybage, TCS, Accenture, Amura Technologies and Dentsu Aegis Network take up this course. Their placement partners are Genesis, IBN, Decision Database, Amura and Suma Soft among the notable ones.
The weekday courses are either of 45 days or 60 days. The weekend course has a time duration of 75 days.
They comprehensively cover various subtopics of digital marketing. The trainers are Rohit Shelwante, Gautam Kumar, Ashwani Paswan and Swapnil Narake.
They haven't mentioned the pricing of the course on the website.
Conclusion
The main advantage of opting for a digital marketing course is that you get trained by industry experts. Many of these courses help in placement assistance. Thereby, giving you a platform to start your career as a digital marketer.
With thousands of self-proclaimed digital marketers, having a digital marketing certificate places you a notch above the others. Because this means you have been trained by the thought leaders and have hands-on experience of working on live projects.