Razorpay Online Payment Gateway Review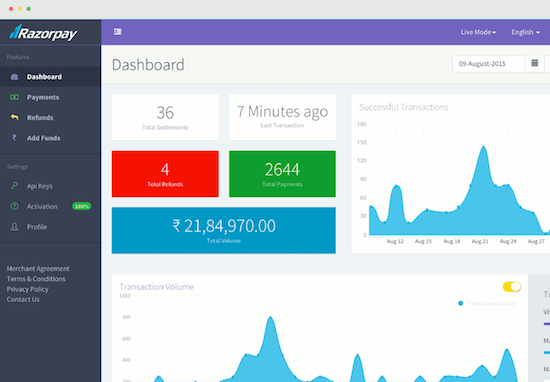 If you want to start a web based business and sell something online, you need to have the ability to accept payments online. To ensure maximum revenue, you have to have the maximum payment options available for your customers. In India, the major online payment modes are net-banking, cards and wallets.

There are more than 55 banks in India which support net-banking payments. If you are a startup company, it is not practical for a small company to partner with 55+ banks in India, the various card networks and the wallet companies. You do not have the bandwidth, the time or the resources to setup a payments infrastructure.
That's why it is advisable to sign up with a payment gateway aggregator like Razorpay. Once you sign up for an account at a payment gateway, you will be able to offer almost all the possible payment methods available to your customers.
Razorpay charges 2% flat fee on every transaction. This is called TDR – Transaction Discount Rate. This is a very nominal and marginal fee that you have to pay and it saves you time, money and accounting hassles.
There are many payment gateways in India, but Razorpay is one of the best. In this article let's review the features and benefits of Razorpay.
No Setup Fee & Quick, Paperless Onboarding
Razorpay is one of the few payment gateways in India that gets you on-boarded without any charges. There are no setup fees or maintenance fees for holding an account with them. You pay a flat fee on every transaction and there is no minimum or maximum transaction limits.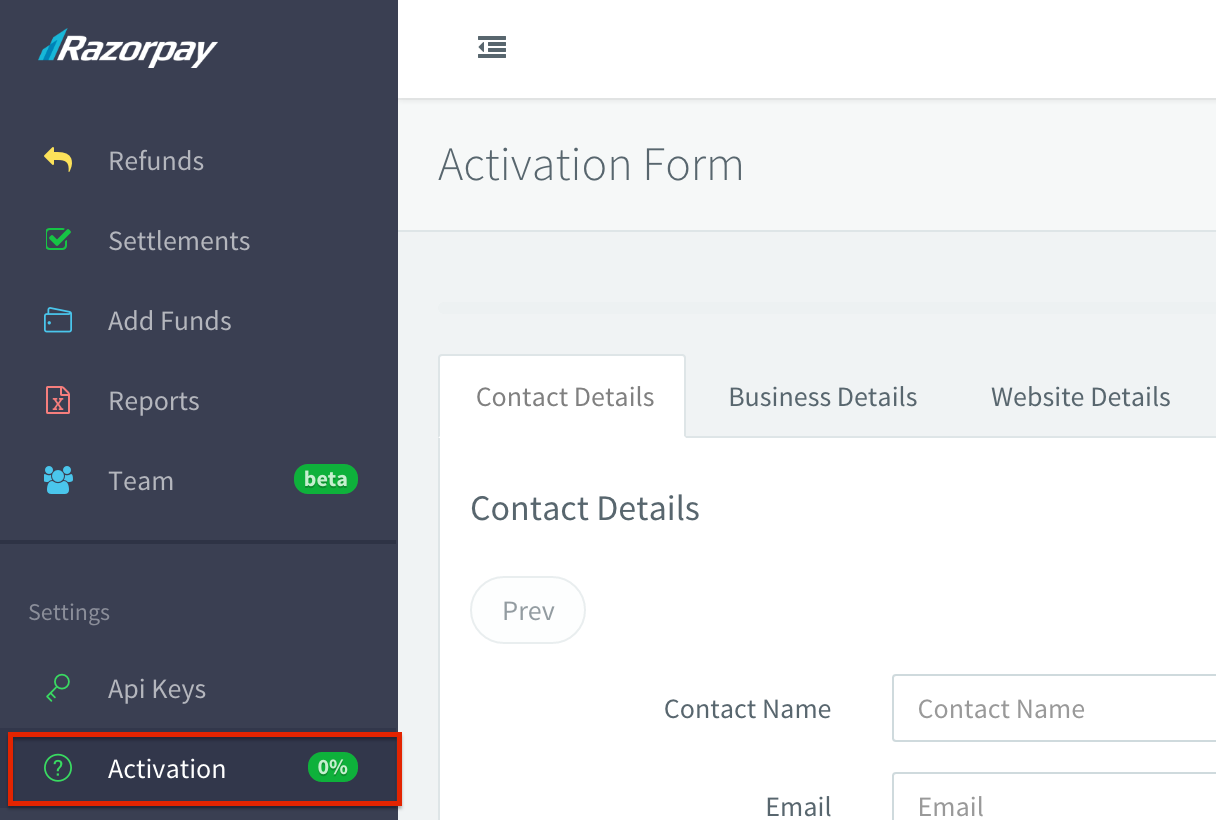 You can sign up on their website instantly. There is no paperwork involved to get your account activated. After registering for an account, you have to submit your documents through an online form and your account will be approved in a few days after a review by the team.
Multiple Payment Modes
As a business owner, you need to provide the maximum possible payment options to your customers. In India, netbanking, credit cards, debit cards and wallets are the most used payment options.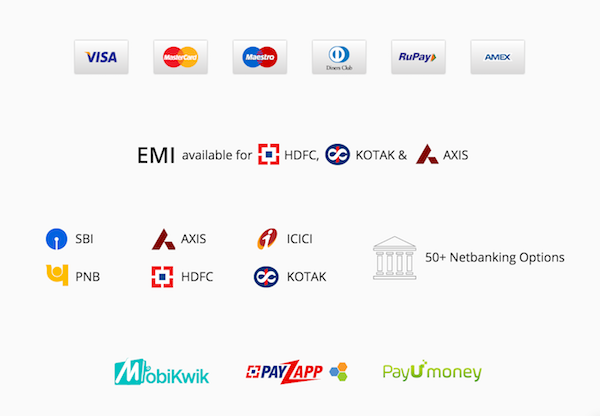 Razorpay has partnered with more than 55 banks in India for netbanking. For credit cards and debit cards, they accept VISA, MasterCard, Maestro, AMEX, Diners and RuPay. Apart from netbanking and cards, they accept wallets including MobiKwik, PayZapp and PayUmoney. And they will be partnering with more wallets in the near future. This is a maximum number of payment options any merchant can get compared to other payment gateways in India.
Well Designed Checkout Form
Razorpay's checkout form along with their backend infrastructure ensures the maximum possible transaction success rates in the industry.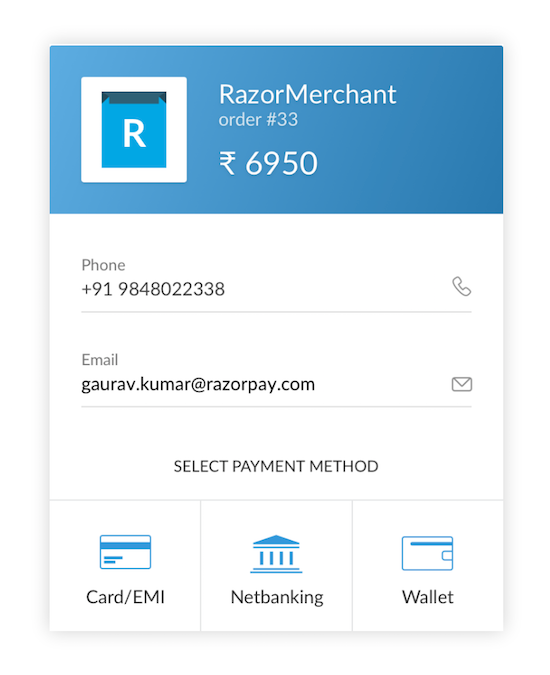 No Redirects: If you have made payments online in India, you would have noticed that you will be redirected to your bank or card network page to login and make the payment. With Razorpay, there are no redirects. When you click the pay button, there is a popup which appears in which you can fill-in the required details.
Retry Option: In other payment gateways, if your payment did not go through for reasons like: wrong password, incorrect OTP, insufficient balance etc., you would close the page and the progress will be lost.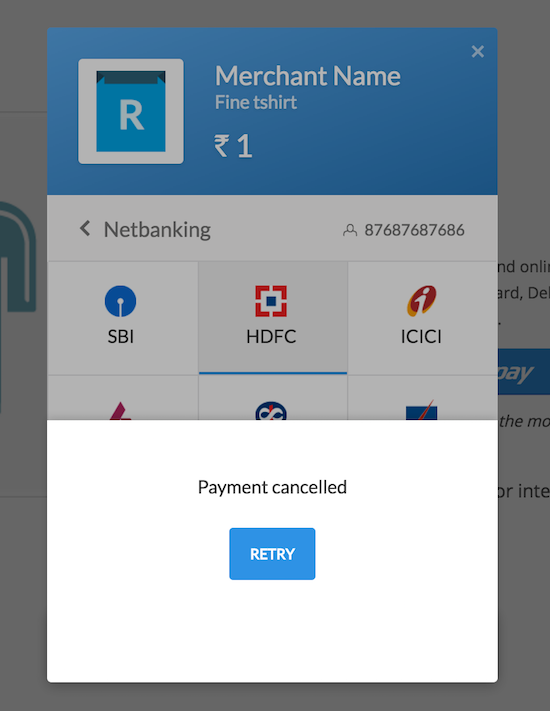 However, since you get a popup instead of a re-direct, you will get an option to re-try the payment with a different mode as soon as you close the popup window.

Powerful Dashboard
An account with the Razorpay payment gateway also comes with a powerful all in one dashboard. You can view important metrics like previous transactions, your earnings and generate customised reports.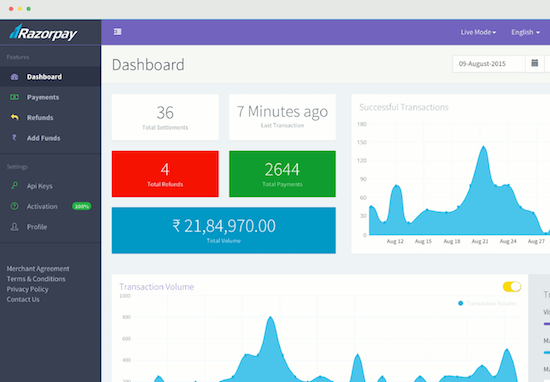 Refunds are an integral part of online transactions. Your customers may require a refund for a variety of reasons. You can refund transactions from the dashboard at the click of a button.
Card Saving
Razorpay is also about to launch a new feature – card saving. Customers making payment via the Razorpay checkout form will now be able to save their card details. The next time they make a payment via Razorpay with the same merchant, there is no need to enter the 16 digit card number all over again.
Superb Security
Razorpay takes security very seriously. Payment data is one of the most sensitive information on the internet. Razorpay is PCI DSS Compliant & Certified. So as a merchant, you need to be worried about the security level of your website.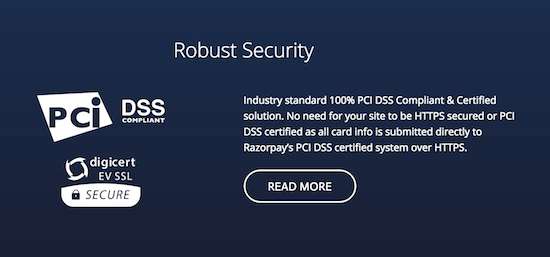 Your website need not be HTTPS secured or PCI DSS certified as all card info is submitted directly to Razorpay's PCI DSS certified system over HTTPS.
By adopting Razorpay as your payment gateway, you are providing the best security for your customers and are complying with all the security standards in the payments context.
Simple API & Integrations
Razorpay is a very developer friendly company. The API has been built by developers for developers. Their API is very easy to work with and many developers have claimed that they completed the integration process within a few hours.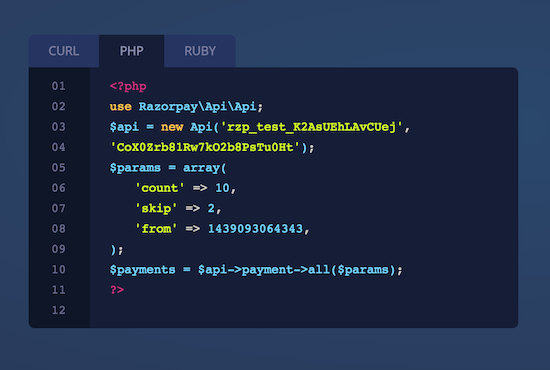 Razorpay also has plenty of integration plugins available. eCommerce platforms like Magento, Magento 2, Shopify etc. can be integrated with Razorpay very easily using the plugins. You can find the list of integrations available here.
Accept International Transactions
Razorpay is one of the few online payment gateways in India that accepts international transactions. International payments will be enabled for your account if you contact Razorpay's support. Since Razorpay is a payment gateway for Indian businesses, all the settlements will happen only in INR. However your international customers can make payments in multiple currencies.
Mobile Payments
A lot of online e-commerce transactions happen via mobiles. Razorpay supports and gives a lot of emphasis on mobile payments. When it comes to mobile, here's what Razorpay has to offer.
Auto OTP Reading
Many banks and card networks have 2-factor authentication when you are making payments. In most of the cases, the 2-factor authentication is carried out using a OTP (One time password) that arrives via SMS.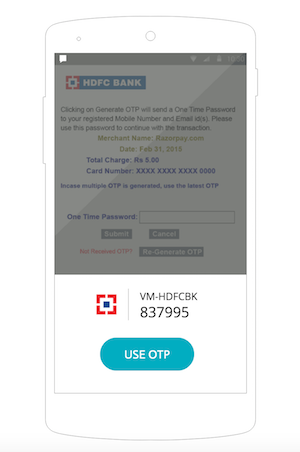 When making payments via mobile, especially on Android phones, Razorpay automatically reads the OTP from user's phone and fills it up in the form field. This reduces manual errors in entering the passwords and helps increase the overall transaction success rates.
Android and iOS SDK
Razorpay has powerful, light-weight SDKs for mobile app integrations also. Though the payments happen via a web interface, you don't have to necessarily have a backend system setup for the apps to work.
The integration with the SDK is the easiest among the popular Indian players. Also, another plus is that you don't have to update the app each time a new feature is released because the SDK itself is dynamic. This makes it very easy for the merchants to regularly stay updated with the latest technology updates.
Final Words
There are a lot of payment gateways in the market with competitive pricing and features. But if you want your customers to have the best payment experience then I recommend that you sign up for a free account at Razorpay.com.

With the maximum possible payment options, highest transaction success rates in the industry, great checkout experience and solid security, I would say that Razorpay is one of the best payment gateways in the market today.
(Disclaimer: As of writing this review I am associated with Razorpay as Digital Marketing Manager. However, I have kept this review unbiased and fact-based.)