Meet Jatin Piplani on Interview with Interns
Season 1 – Episode 5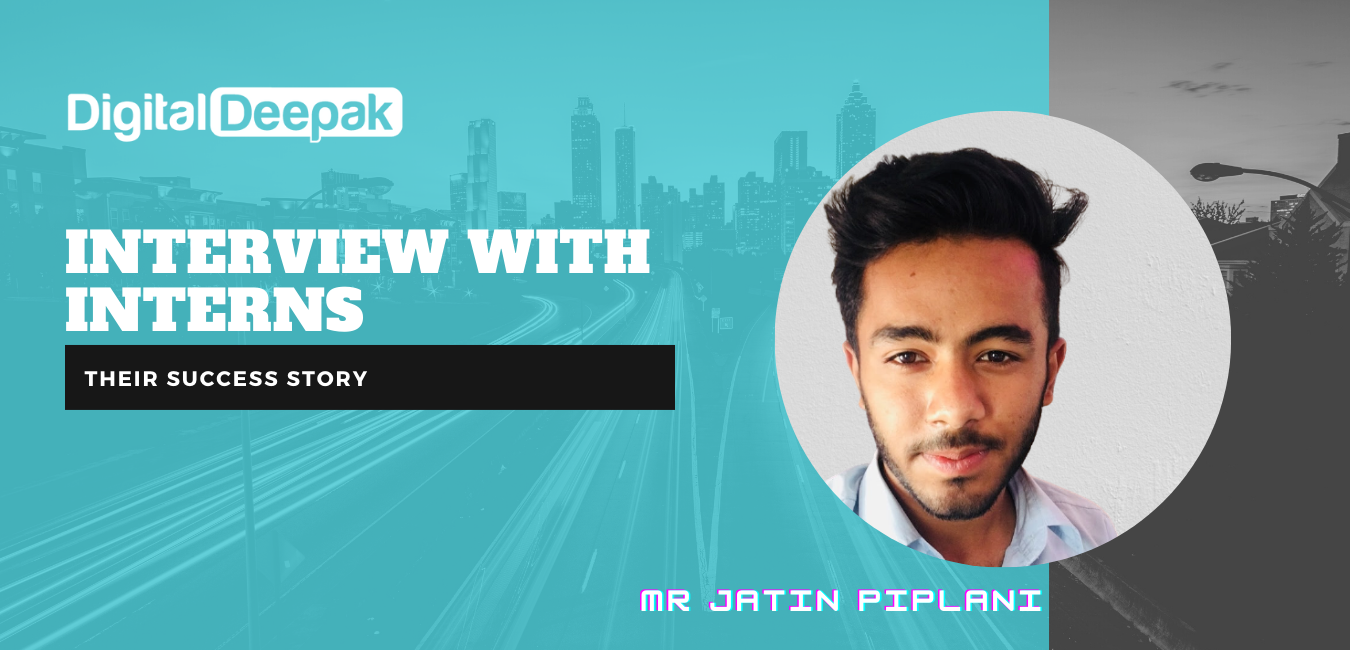 He is our intern from Batch 2 of the DigitalDeepak Internship Program.
He is an SEO Executive specializing in the real estate sector.
Ladies and Gentlemen here's Jatin for you..
[cheers and claps]
Hello Jatin, How are you?
I am good Sir, how about you?
I am fine thank you..
So, how did this all begin ? Tell us your story?
It was late-night I was coming from my hostel library. There were not many Wifi options and we all had limited access to the internet and calls usage. I used to depend on my college campus Wifi. The same situation was on that night, I was with limited mobile data and got attracted to a Facebook ad teaching Digital Marketing for free. Yes, that was your free 25 Digital Marketing Videos. At that time, I had no idea about what this term was. I was in BBA 2nd year, so I thought it would benefit me in future if I want to pursue my career in marketing. So, I signed up for it and got the 25 videos. When I started watching the videos, my perspective on marketing had changed. Earlier, I used to think websites and other digital tools are jobs done by technical people. For me, at that time marketing was limited to salesmanship who sell insurance policies. But after the introductory videos, I realized how big this industry is with so many opportunities available in this field. It seems funny but that day I didn't realize when I covered more than 1 km distance from the library to my hostel. Out of curiosity, I watched all the 25 videos and was eager to learn the next steps in Digital Marketing. I don't know why? But I started feeling that this is the field where I can do great.
I am from a middle-class background. College and hostel fees were costly for me. So, I was not able to convince my parents about doing a course in Digital Marketing. I procrastinated it to the next semester by promising myself to save more. But there is a popular song in Hindi called "Vahi hota hai jo manjure khuda hota hai". I found this saying true to some extent. After a few days, our soft skills teacher asked us all to give a presentation to the class on any of the topics which we are comfortable with. So, I prepared a presentation on "Digital Marketing" with my existing knowledge from your 25 videos which included everything on how to build a WordPress website and more. All the students in my class had chosen the general management topics which they were aware of. No one in my class knew anything about Digital Marketing including my soft skill teacher. My Teacher and my classmates were so surprised and found my presentation super-interesting.
After this, my confidence and hope had started growing towards Digital Marketing. I started learning online and decided to start my digital marketing studies with my first paid online course that was the "100 Day Blogging Course". I had promised myself saving money till the semester ended for the online course. But I was unable to do so. Though I got the money later through a scholarship that I had received from an association in my home city for my college studies, who gave financial assistance to students from middle-class backgrounds. I utilized 40-50% of the reimbursement amount to learn Digital Marketing. My parents were unaware of this, though I feel guilty at times, I pacified myself saying I never used that money for leisure expenses.
As I was entering the digital phase for the first time and, I had not purchased any paid course before. To be safe, I started with the 100 days blogging course and bought my first domain and hosting. It was a very tough decision to choose the niche and domain name. You also said in the course that to get started you can choose any niche which you feel comfortable in writing. I had good knowledge of the management concepts from BBA. So, I decided to make an educational website for just management students who provide study notes, PPT and videos. I didn't research the online competition at that time because I didn't have so much knowledge about it. But luckily, this was a less competitive field. Also, your course was amazing, because I was not just learning. But also implementing the same on my blog. I did not have a laptop. I used to visit a computer library on my campus which remained open till 5 pm. After my college lectures, I used to go straight to the library to learn from you.
At that time, I used to think that in the offline institutes, you could learn digital marketing better because of their high-cost fees. But I was wrong as one of my friends mentioned that he did not learn much of Digital Marketing from the institutes despite paying a heavy amount. They did not even have any practical application of the concepts is what he told me. After getting this review from my friend. I bought your complete Digital Marketing Mastery Bundle without any second thought. From the 100-day blogging course, I learned everything about Facebook ads, blogging, SEO and much more. Also, I learned more about each thing in detail from the other courses.
Due to just a 100-day blogging course, I was able to generate 1000 visitors per month on my blog and also saw my website ranking on the 1st page for many keywords. Also, one of my blog posts – How to stay focused while studying? which was not so much related to management got viral on Quora and many of my quora answers have gone to quora digest. My profile views on quora suddenly increased to 8-9k per month. From your course, I got my first corporate job which was of SEO at a commercial real estate firm.
After 2 years, I am getting around 9-10k organic monthly visitors on the same blog. Also, I have started a YouTube channel for the same and got maximum 6k views on my video just through SEO. But I always thought this was not enough. Though, I had done an online course and got a good job. Many times, I found myself caught up with my thoughts and was not able to write engaging content.
In Digital Marketing, we need to upgrade ourselves regularly and this was my time. The reason I am following you for so much time is that you always do some unique things than others like the 100-day blogging course etc. This time you are doing great with the Digital Deepak Internship Program. So, I joined the Batch 2 of this program. From Day 1 to the end of the internship program, I have both learned and earned a lot. From creating the customer avatar to making my 1st information product it has transformed me completely.
Many people were not happy with the lockdown. But I was very much happy because I was able to give more time to learning. One of the best assignments was Assignment No. 6 where we had to run the Google and FB Ads. That was the time when I saw the real money coming. I spent around 2000 and got around 30 leads. Out of that,  7 of my leads had converted. The best thing I found in this assignment was transparency. I was easily able to calculate my profit and the money spent which was amazing. I spent 15,000 on this course and have earned around Rs. 27,000. Also, I got the consolation prize in the meme competition (My hidden talent😉😉) and one of my memes was featured in your Instagram profile. That will always be a memory. I have learned and earned a lot. Although my job role is SEO Executive, after this course I also started handling all the social media, paid ads and content writing work. Not just in terms of money, I have learned a lot from this course. My dream is to start my own SEO Agency and from you, I learned the process of Learn-Work-Blog-Consult-Startup which is truly amazing. I am in the work phase right now and there is so much to learn yet.
[applause]
What describes you? What do you have to offer to people?
After learning all the modules of digital marketing, I found SEO as one of my core strengths. In my job experience, I have worked on 15+ real estate domains where I was able to get thousands of organic traffic by ranking on the popular and long-tail keywords. Choosing your industry is very much important in the job whether you are in sales, operation or anything else. In SEO, I found myself good in both commercial and residential real estate. So for a real estate client, I have a good understanding of their business and also I can give them more loving hugs from Google in terms of rankings as I am specialized and have rich work experience in this industry.
How important is digital marketing for your business?
As in this pandemic period, masks and sanitizers are like a blessing for everyone to be safe from the COVID-19, this norm will exist for some more years that is good for everyone. I think Digital Marketing is as important as masks and sanitizers. If you are not popular on Google or any other social media platforms, then your business is on the verge of getting infected meaning shutting down. That is scarier than the coronavirus because then you will be responsible for your home quarantine 😆. So, Be Safe. Wear the Digital World Masks (SEO-Optimized Website, 1000s of followers on Instagram, Good Email Magnet and huge email lists). All the above digital world masks are very much important to survive in this period.
[laughs]
Could you share your journey with us? Your life before and after the Digital Marketing Internship Program?
Yes, I have seen so much improvement in myself. Before this internship program, I was not able to write a lot and was also not good in other digital marketing modules like copywriting, running paid ads and automation. But now after completing the internship  I can write long articles without being distracted, make a good landing page, run a optimized and targeted ad campaign and can automate so many tasks.
[applause]
What do you think digital marketing would be like one year from now?
Even now in this pandemic time, we have seen so many businesses adopting online platforms especially the education one. One year from now, the demand will be increased. It will increase and can never decrease because to start any business, having digital appearance is very much important. So, in future, the demand for digital marketing jobs will be immensely higher than we are expecting.
What is the most common reason for people failing/giving up?
According to me, learning is not a problem. Most people got the opportunity to learn and they do. But the reason people fail or give up is because they want the success to happen at one night and they don't have the patience and inner belief to work consistently. Before starting any business, they feel excited. But the day they start, they get pressurized and start doubting on themselves which leads them to give up.
[applause]
What were the roadblocks that you had to watch for?
When I got my first job, I was very much excited. But I was the only person in the company who was handling all digital marketing work. It has its pros and cons and I have tasted both of it. I can learn from my own mistakes but there is also a chance of risk. So, the biggest roadblock in my job was supervision. I didn't get the guidance of the supervisor in digital marketing.
How about something to help people to get started, What resources are available out there in the market?
In Digital Marketing, there are so many free and paid resources available out there. All provide the same knowledge. But the difference is direction and implementation. In the free courses, you can't learn everything step by step even though there are so many YouTube playlists available about SEO. So what I would suggest is to do a paid online course to be in a good direction and make a good career in digital marketing.
With that we come to the next segment of our interview and that is "Candid talk" Are you ready?
Yes Sir
What was the best book or series that you've ever read?
Sorry Sir, but I don't have a habit of reading books. But the first book I read was the Power of the Subconscious Mind and the second one was your book that is Edge of Sanity.
Where is the most interesting place you've been?
Cyber Hub
What do you hope never changes?
My friends.
Finally, would you like to say something to our readers?
I just want to say that don't choose digital marketing because you are thinking it is a technical field. In Digital Marketing, you need to be more good in marketing rather than just digital. In the end, you have to grind yourself more to find the best in you and believe in yourself. Your struggle and hard work will never go in vain.
How was your experience doing this interview ?
This was such an amazing interview. Thanks for giving me this great opportunity.
Thank You! Wishing you the best in your future endeavours
Thank you so much Sir.
[claps]
That's about it..
Stay tuned for more stories..
It can be yours as well….
Cheers,
Deepak Kanakaraju