Manipal Global Digital Marketing Course Review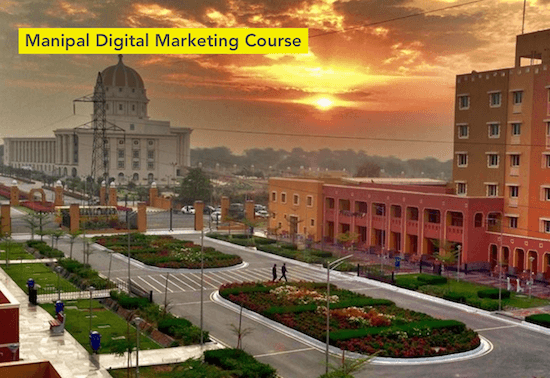 Whether you've just started up and wear multiple hats at your company or a working professional looking to change your job profile or an experienced business owner, enrolling in a digital marketing course is always a good option to get a hands-on idea of online marketing.

Gone are the days when you had to compulsorily take up courses at the local universities to learn about a new industry. Today, even the best courses can be taken up in the comfort of your home.
In this article, we review the Digital Marketing Course by Manipal Global Education (MaGE) and Google India.
Personally, I feel that this course provides world-class training experience because the curriculum has been specially designed by Google India taking into consideration the global Google Adwords industry. The world-class training the students receive helps them gain an edge in the global and Indian digital marketing job market.
Here are the different aspects which make Manipal Global Digital Marketing Course unique and better than the other options available.
Benefits of Manipal's Digital Marketing Professional Program:
This course is jointly designed by Manipal ProLearn and Google India.
Google Certified trainers with 5+ years of experience in digital marketing conduct this program.
The students get hands-on training in online marketing by working on live projects.
Along with digital marketing, the student is trained for Google Adwords certification exams.
At the end of every class, they give you self-assessment tests to ensure you've understood the topic.
Who Should Attend?
The minimum qualification to pursue this course is 10+2 pass.
Students from an engineering or management background.
Freshers looking to build their career in the digital and online marketing domain.
Professionals wanting to pursue a career as digital marketers.
Professionals in the marketing domain seeking to learn digital marketing to improve their professional credibility.
Affiliate marketers and entrepreneurs who use digital marketing to reach out to a newer audience to grow their business.
Expected outcome at the end of the course:
You'll be able to successfully implement online campaigns for your business and the organization where you work.
You know how to apply the latest digital marketing trends to gain an edge over your competitors.
Analyze the changes in the global online domain and apply them to your business.
Develop and implement a multi-channel strategy using search, social media, PPC and PR to achieve your marketing objectives.
Build a strong brand presence to retain existing customers and gain the attention of prospective leads.
Use tools and concepts to measure and monitor your campaigns and make more informed decisions based on the data-driven results.
The Course Structure:
The course is divided into 5 modules and covers all aspects of digital marketing such as search engine optimization, search engine marketing, social media marketing, web and Google analytics and online reputation management.
The program covers a combination of theory (online and classroom), webinars, quizzes, case studies, assignments and working on live projects.
Two MCQ (Multiple Choice Question) tests are conducted, one at the end of the 7th session and the other at the end of the 12th session. They are conducted on the Google portal.
Pricing (Inclusive of taxes):
The Digital Marketing Professional Program is a 3-month course spread over 16 classes and is available in two formats:
Instructor-led webinars – Industry experts conduct live training sessions on weekends. It is priced at Rs. 32,538.
Classroom classes – The location classes are conducted in 6 cities such as Pune, Kolkata, Delhi, Bangalore, Hyderabad and Mumbai. It is priced at Rs. 34,500.
Why invest in Manipal?
The key highlight of this course is that it is in collaboration with Google. You get hands-on training by Google certified trainers. On completion, you get are certified as a Google Certified Professional.
Digital marketing is an ever-evolving landscape. To stay abreast with the latest developments in this industry they hire only the best of the experts to conduct the classes. The course is updated twice a year, to incorporate the current trends.
The Manipal ProLearn and Google India Digital Marketing Professional Program is designed keeping in mind the global requirements of digital marketing skills. The 40 reading materials they provide impart exhaustive knowledge about the tools and best practices a digital marketer should know. The curriculum includes practicing exercises and working on live projects, guided by the industry leaders.
Certification
You need to pass with minimum 80% in the two MCQ tests. Post completion of the 3-month course, you get certified by Manipal ProLearn and Google India as a Google Certified Professional.
Pros
If you are looking to build a career mastering Google Adwords, this course is the best option available. They extensively cover Adwords, PPC campaigns, display ads using Google, Google Analytics and keyword targeting.
Cons
As the leading digital marketing certification course provider, they do have tie-ups with many MNC's and HR firms. They do not guarantee placements or conduct campus interviews, instead pass on the resumes of qualified students. So at the end of the course, you have to apply to the companies of your choice on your own.
Career Opportunities
Post completion of this course, receiving a certificate in Digital Marketing from Manipal ProLearn and Google India gives the necessary push to your career. It validates that you have hands-on knowledge of online and digital marketing. The practical and theoretical concepts you master in this course allow you to design and run successful digital campaigns beneficial to your business or your employer. This is a means to fast-track your career as a digital marketer.
Conclusion
Having a certification course is a means to validate that you're not among those claiming to be a digital marketer. You have mastered the basics, learned the nitty-gritty, have hands-on experience and are trained by experts to be certified as an expert digital marketer.
If you can afford to pay the fees of this course and wish to learn digital marketing from industry experts, enroll in Manipal ProLearn and Google India Digital Marketing Course to supercharge your career as a digital marketing expert.