Case Study: How Lakshmi Generated 787 High Quality Leads with FB Ads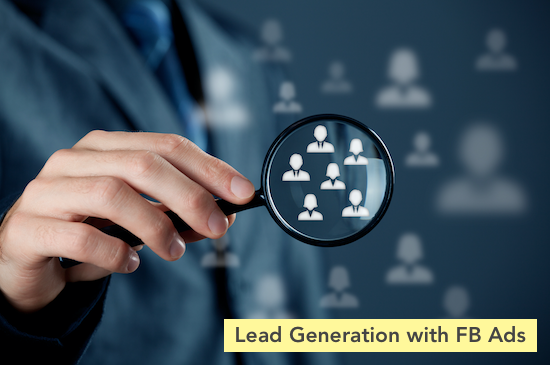 Today we are going to take some inspiration from Lakshmi's campaign. She was able to launch a new business with a lead generation campaign on Facebook. When you finish reading this case study, you will understand how a simple digital marketing campaign can lead to the launch of a new, profitable business.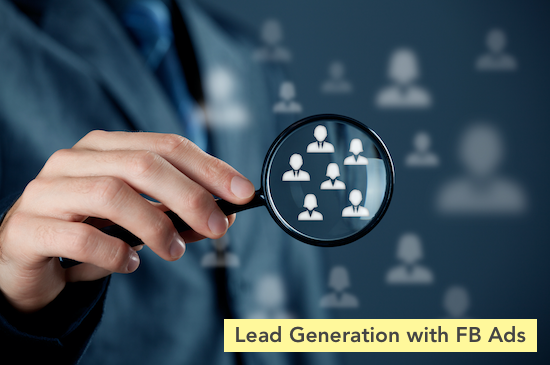 Lakshmi had zero experience in running a business – online or offline. She is a medical transcriptionist by profession. Brand Funnel Mastermind is mainly for startups who want to launch or rebrand their product or service in the market, Lakshmi needed at least a business idea to acquire the skill sets provided in BFM. So, on the consultation call, we asked her whether she had one.
The Problem: Even the established solar companies were struggling to get leads!
Lakshmi took some time to ponder, before she came up with this idea: a Solar Sales Concern, named YSM Solar.
Through digital marketing, Lakshmi could generate leads and sell it over to established solar companies or manufacturers. It is an affiliate model initiated by the affiliate than the merchant.
The hurdles, though, were, in fact, many for Lakshmi: lack of business knowledge, lack of experience in digital marketing and lack of even a website!
But what haunted Lakshmi was none of these. Her target audience – households and medium level establishments – were a lot, quite hard to nail down. Even subsidies offered by governments and discount offers from solar manufacturers have failed to convince the customer to go solar. Solar is largely an unpenetrated sector in India.
"I was worried because I didn't know a thing about advertising or digital marketing. I think they (BFM team) were extremely patient to answer my silly doubts" – Lakshmi.
Until she got introduced to Brand Funnel Method, Lakshmi was ignorant about what branding is and what are its integral elements. So for Lakshmi, BFM was an exercise from scratches. And she was at certain points, half minded – whether to continue or not.
"The Zero Cost Solar Budget was so apt for a target audience whose main concern is losing money for electricity. The BFM team gave me a clear idea about my customer persona and made me think what they want. I didn't know what a Brand Funnel could do to a business before. Now I know it takes you a lot closer to your market" – Lakshmi
The Result: 28,657 reach and 787 leads in less than a month for INR 6.47 per lead!
Incredible as it might seem, but Lakshmi now has 787 qualified leads who are willing to convert to sales.
Here's her ad: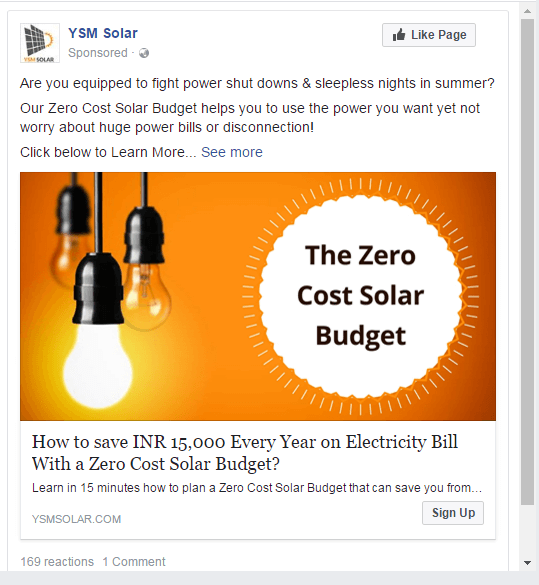 She made an awesome Facebook campaign, an impressive landing page, 4 part email series with the timely feedback and assistance from Gopal, myself and other brand funnel experts.
Here are her stats:

(Click on the image to zoom)
Without even a product to sell or a website to showcase, She launched her ad campaign with a single aim: Getting as much leads as possible.
In less than a month, Lakshmi and her YSM Solar was able to generate 787 leads for a business that even industry experts are struggling to get customers.
The Future: YSM Solar can now grow to a reliable sales generator for solar companies
Now, Lakshmi who was never serious about doing business has a lead base which can further be grown. She can go ahead and make deals with solar manufacturers and become an unavoidable middle person between the companies and those who wish to install solar energy systems.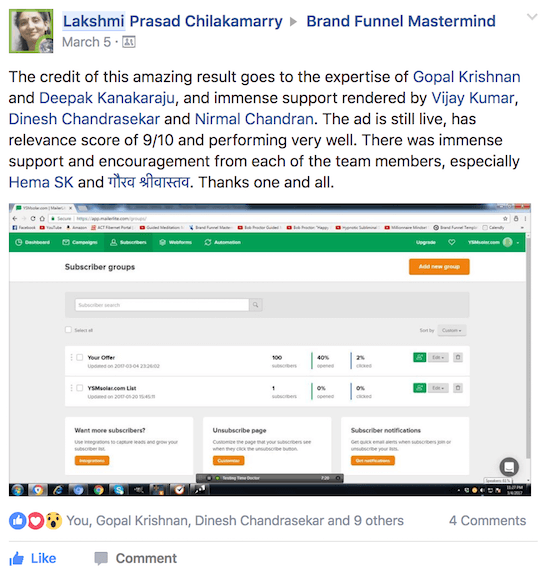 Since the Brand Funnel Method can be made automated, Lakshmi can even sit idle while the system makes money for her. Lakshmi is now quite confident about the success of YSM Solar.
"If a person like me could master Brand Funnel, I think it must be much easy for those who are already doing some business and marketing… They can indeed make better profit than me.." – Lakshmi
Want to get started with Brand Funnel?
Do you also want to launch a campaign using the Brand Funnel Method so that you get hot leads that can be quickly converted to sales?
Then we invite you to join our Brand Funnel Mastermind program.