How Can a Newbie Get a Good Digital Marketing Job?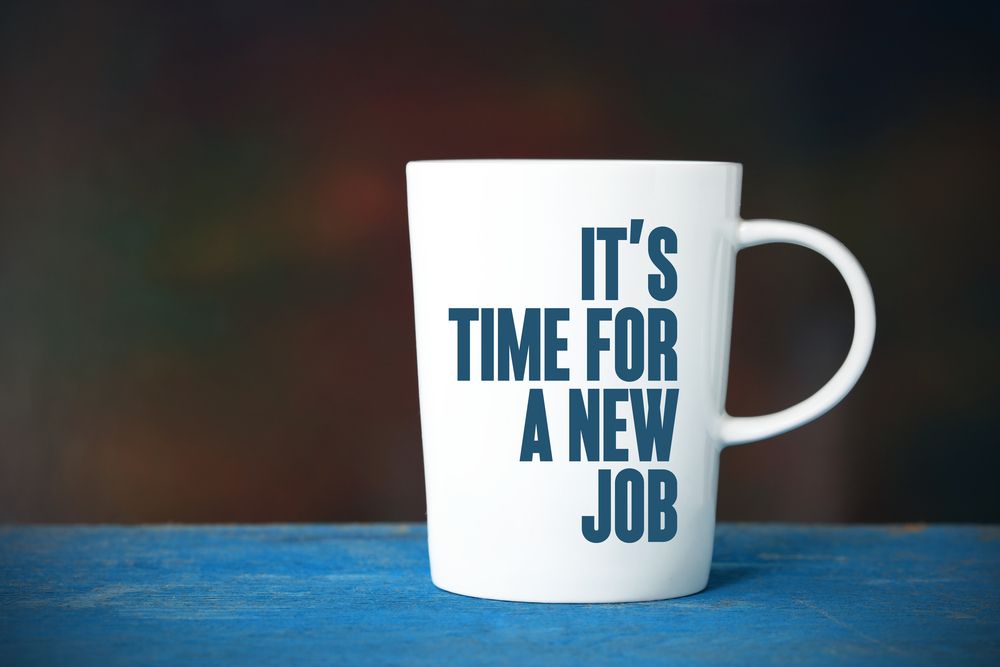 One of the questions that my students ask me often is: How can a newbie get a good digital marketing job?
In this blog post, I am going to share some ideas from my experience on how a newbie can go about applying for a digital marketing job and get selected.
Don't be a "Fresher" or "Newbie"
The first order of business in your career development is to stop becoming a "fresher" or a "newbie". Because freshers do not get much salary. If you apply to a company where you have mentioned only having learned from a digital marketing course – they will not hire you.
Even if they hire you, they will hire you for a very low salary – because they think that you cannot add value to their organization – and you will end up gaining by learning and experience at their cost. You can have to change that perception.
Someone will hire you and give you a good salary only when:
They think that you can add value to their business
They think that you can make them more money than what they spend (your salary)
And they think that they cannot find another candidate like you in the market.
Without the above three points being checked, you will not get through the job.
How to Gain Experience in Digital Marketing
You will not be a "fresher" or a "newbie" in Digital Marketing if you have at least one year experience in Digital Marketing.
The good news is that, you don't need a digital marketing job to get that one year of experience.
You can start your own website, publish some content, get it indexed on search engines, share the links on social media and even run some paid ads campaigns to drive traffic to your website.
You can do this while you are in college, or part time when you are doing some other job.
Now this project (your website / blog) becomes your resume. People hire you for what you can do, not for what you know.
Knowledge is now freely available on the web. No one is going to hire you for your expertise. They are hiring you for your capability to do things.
A blog is a live example that you can do something and get results.
A Sample Job Analysis
I just did a search for "Digital Marketing Manager" in LinkedIn and I was able to see 1273 results for it.
Let's take one of them. This company Chai Sutta Bar is hiring a digital marketing manager for their company. They have 50+ employees and there doesn't seem to be too many applicants.
They seem to want someone with at least one year experience. But as a newbie, you still have a chance with them.
Let's see how to get yourself qualified for a job like this…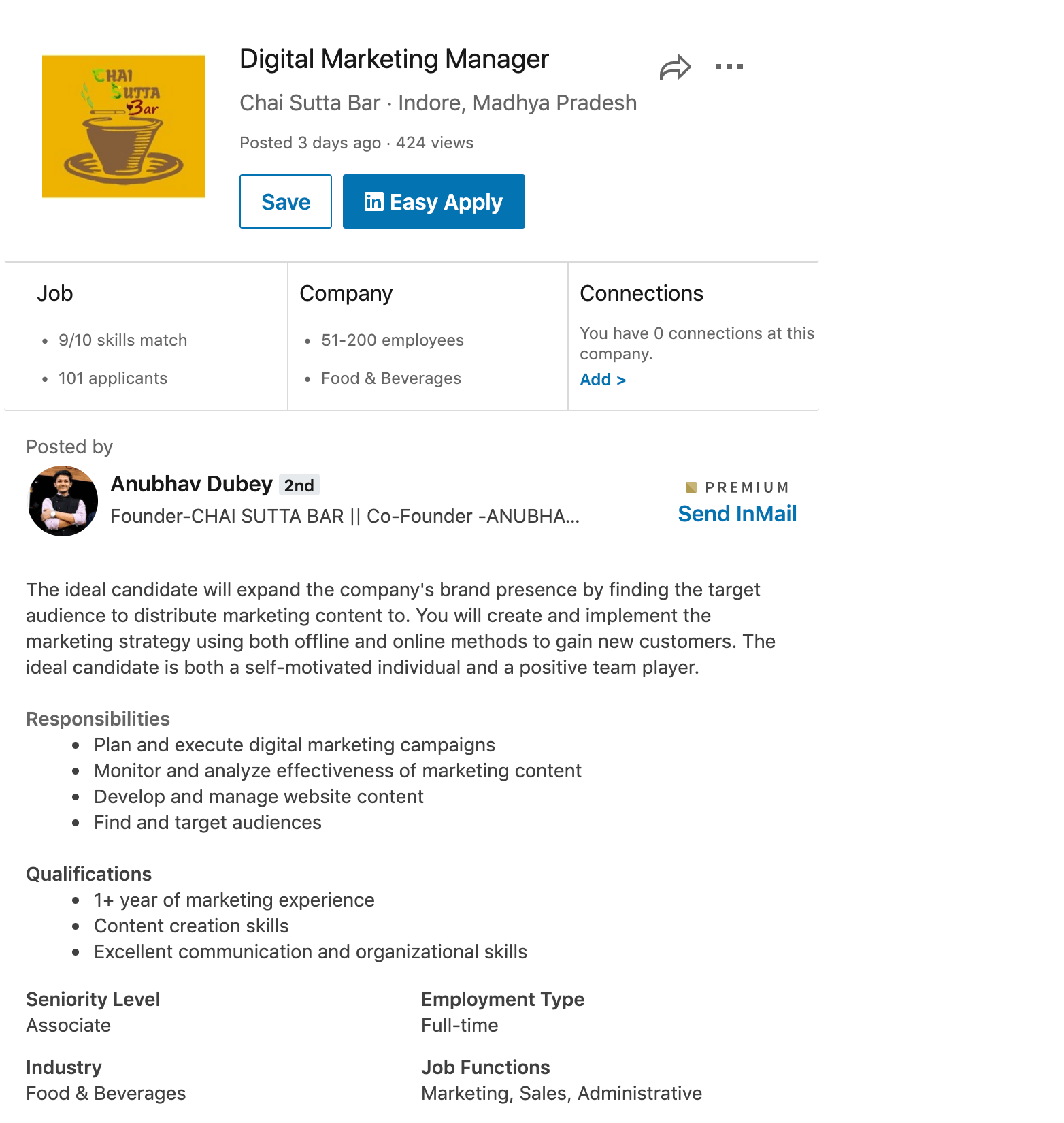 Getting Qualified
First and foremost, you need to qualify yourself for the job.
Instead of finding jobs which match your qualification, try to match up to the job by bending your definition of qualification.
The most important is work experience…
One+ year of marketing experience: Many companies understand that marketers are not found easily. One year of experience doesn't mean you should have had a job for one year. If you ran your blog for one year, it can be considered as an experience. There is no hard and fast rule here. Everything is flexible. If you are able to convince them that you have gained some real marketing experience running your own blog, you have a high chance of getting the job. (That's how I got my first job).
Content Creation Skills: The two major types of content include text and video. If you have published at least 10 blog posts in your blog – you can prove that you have text content creation skills. If you have made five videos and published them on YouTube, you prove that you have video content creation skills.
Excellent Communication and Organizational Skills: Having good communication skills is needed for every job out there. So there is nothing I can suggest here. For organizational skills, you need to show them that you can carry out a complex project efficiently. For example, if you have 1000 readers, you can organize a meetup around the topic of your blog, invite a speaker and create an experience for your readers. You can blog about this with photos and it becomes proof that you can organize something.
Your Responsibilities
To get the job, you need to prove that you can do the responsibilities.
The responsibilities listed here are:
Plan and Execute Digital Marketing Campaigns: They would want to know if you can plan and execute a digital marketing campaign. You can create a simple campaign yourself and execute it. Let's say you take 10 blog posts and publish it as an ebook on the Kindle platform. Now you have to generate some sales for this ebook. Let's say the ebook is of ₹100. If you spend ₹1000 on Facebook Ads, you can generate at least two sales of this ebook. Yes, you will be in loss, but at least you can show that you can create a campaign, write ad copy, make ad images, drive traffic, and generate a sale or two.
Monitor and Analyze Effectiveness of Marketing Content: Install Google Analytics on your blog. Find out which of the 10 blog posts you have published has the maximum traffic, and why. Find out the sources of traffic. Even if you have got 10 visitors from search, and 20 visitors from your Facebook, it is still data, and you are showing skills that are not going to be there with other applicants (because most people are lazy even to do this).
Develop and Manage Website Content: This is something you would have done already as you have published blog posts on your blog. Now you know how to "manage" it. You can come up with a content calendar for publication and that's more than enough to prove your content management skills.
Find and Target Audiences: Develop a customer avatar, do some keyword research and find out how many people are searching for a specific keyword. (Do this for the business you are applying for also, they will be impressed). Find out the total audience size of your target market in Facebook Ads and have that data with you. This proves that you can find and target audiences.
All this can be learned in my 100-day blogging course.
Now if you are a blogger who can do all the above, I am pretty sure you can get the job listed above. There are plenty of jobs like this in India, and the only way to get the jobs is to be better than the other applicants.
Taking some initiative and getting some experience yourself will make sure that you not only get the job, but have multiple job offers in your hand that you can choose from.
Let's check another listing that needs 4 years of experience: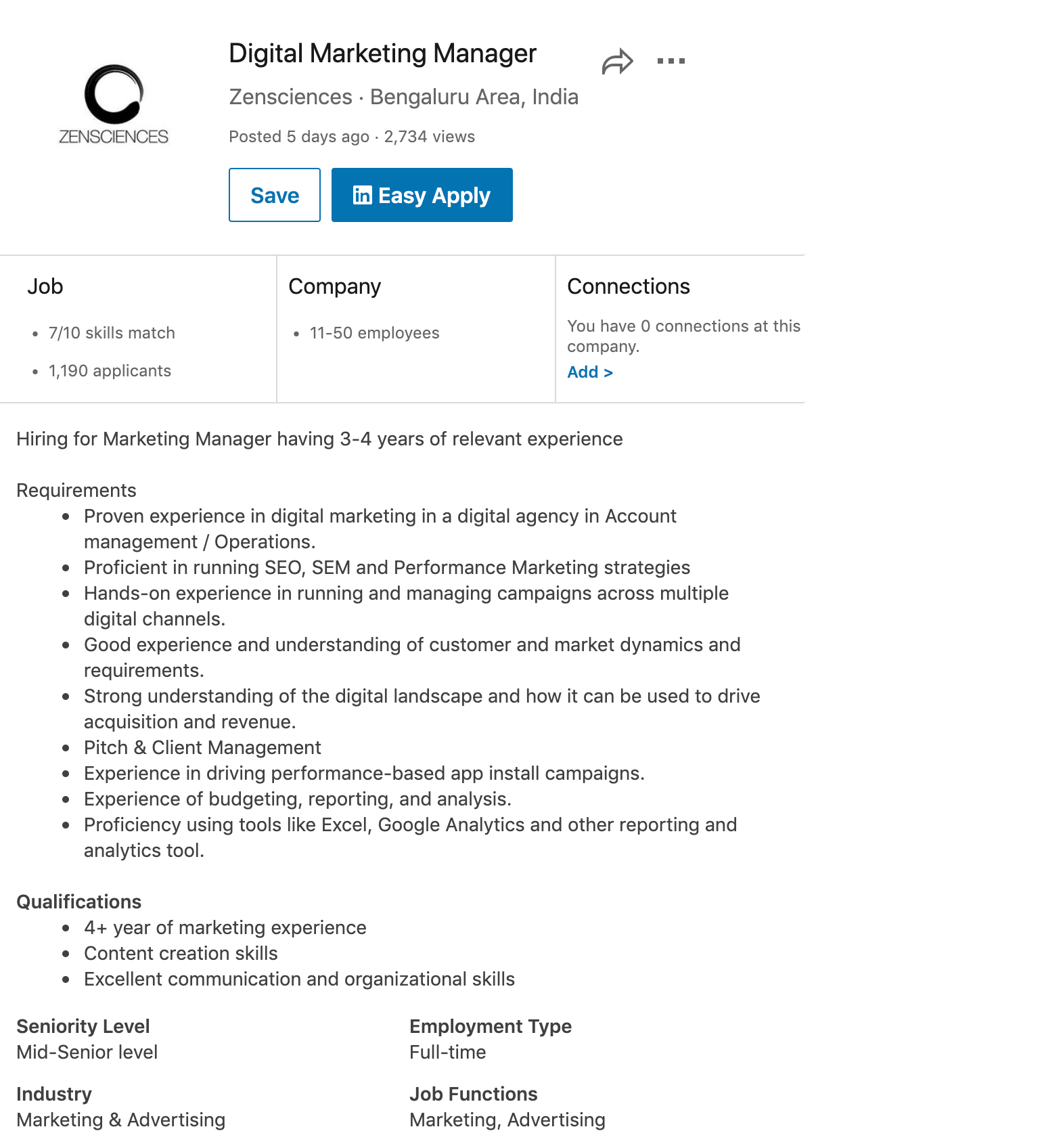 This job is mid-senior level and you can get such jobs once you get an entry level job and gain some experience. Keep your blog project always on the side and keep growing it. When you apply for jobs like this, you can show experience from your previous job + experience from your own project.
So that's how a newbie or a fresher can get a good digital marketing job 🙂
If you want to read further on this, you can check out my book on how to get your dream digital marketing job…

All the best.
Cheers,
Deepak Kanakaraju