Digital Scholar – An Agency Styled Digital Marketing Institute in Chennai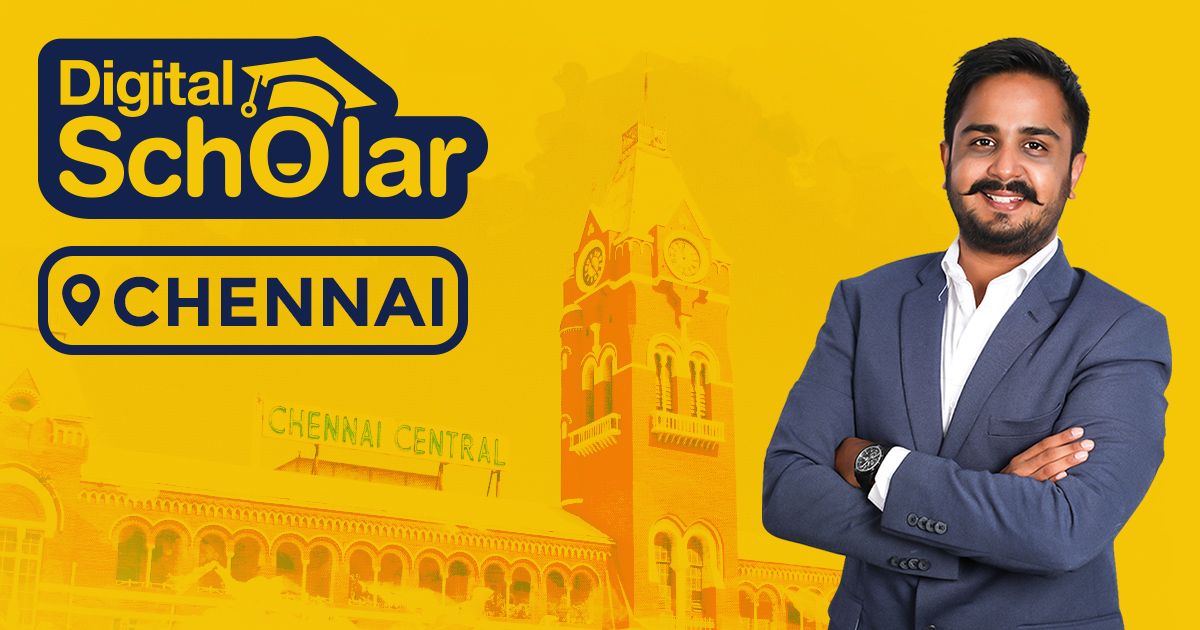 Digital Scholar is a premium digital marketing training institute in Chennai. It is the first institute in India to adapt agency-style learning. Here, I will be discussing the unique modules and the benefits of taking up the digital marketing course at Digital Scholar and how this institute is going to be a gamechanger in the digital training industry.
Hi! I'm Sorav Jain, a digital marketer based out of Chennai. For those of you who don't know me, I have been doing digital marketing for almost 12 years now. I've authored several books on digital marketing, trained more than 100,000 students and spoken on behalf of several prestigious organizations. Apart from building a personal brand, all verified social media handles and 50,000 YouTube subscribers, I've taken plenty of initiatives to impart digital knowledge to all parts of the country. For this reason, I've provided digital marketing courses in the Hindi language as well.
Deepak and I have been good friends for a long time now. We have met at several digital conferences and award ceremonies and bonded over some digital talks. We were immediately captivated by each other's work and over the years we have collaborated on various initiatives. One value that both of us are keen on is to initiate activities that can help improve the digital economy as a whole through imbibing digital marketing education, in India.
Also, Deepak and I have shared several stages together, even recently we formed an alliance 'Digital Masters Alliance' that is shaping up really well, with our first successful show in Mumbai.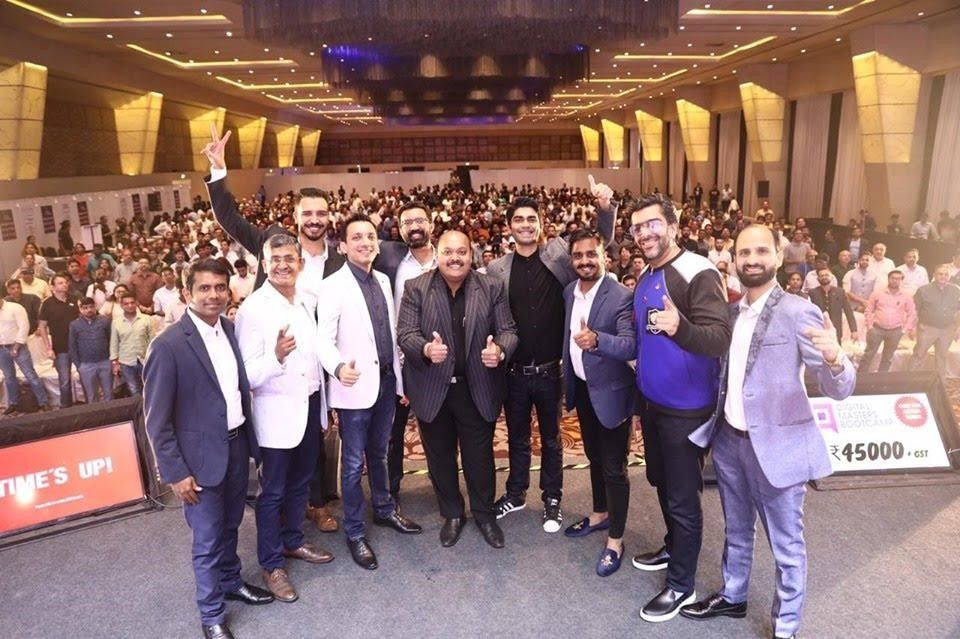 I strongly believe in building something that is just a notion. One such notion was to start a digital marketing training institute that adapted agency-based training as its core in Chennai. So, I pursued the idea and started Digital Scholar. This program was initiated to bring about a change in the way digital marketing is learned in the entire of India.
Every business, be it small or big, have started migrating from traditional marketing to digital marketing. There is and will be a huge demand for skilled professionals who can perform quality digital marketing activities. Like any other professional who is gaining focused education on a particular stream, digital marketing practical training has also become vital. Agency-based training would be able to bridge the gap between the lack of skilled professionals and the increase in demand for digital marketers.
Via Digital Scholar's agency-style learning, you will learn:
→ Client Pitching:
The first step towards performing digital marketing is to get a client on board. In this topic, you will be able to learn how to conduct background research before preparing to pitch to a client. The entire process of starting from competitor analysis to audience analysis, everything you need to create the perfect presentation for client pitching would be explained using real-time examples.
→ Group assignment:
In a digital marketing agency you would be working in groups. There are going to campaign for which you would need all hands on deck. Be it SEO, SEM, SMM or content, developing plans and executing ideas are all done in teams. If you learn to work in a group then it would be your backbone while working in a digital marketing agency. At Digital Scholar you would be working on group assignments that will help to derive at the best results possible.
→ Live projects:
You can learn digital marketing theoretically but wouldn't be able to apply it unless you learn the nuances of creating a result-oriented campaign. So, at Digital Scholar you will be working on live projects. Live projects here include working with real clients, budgets, implementing digital marketing strategies and analysing results.
→ Discuss Case studies:
Local, national and international campaigns: In premium digital marketing agencies people constantly discuss the campaigns that have weightage and relevance. As every viral campaign has something that can be benchmarked and learned. At digital scholar, you will be exposed to several interesting cases where you study and come up with solutions. When you learn with a group of people you will be able to hear several other solutions which can help you to gain perspective.
→ Strategically strong:
With all the above-mentioned topics you will acquire a strong knowledge to strategically execute campaigns that will produce results.
→ Do's and Don'ts within the agency:
When you enter into a digital marketing agency without understanding certain dos and don'ts you could end up a liability to the agency itself. There are certain sensitive issues that would require decisive thinking. At Digital Scholar, agency-style institute, you can learn the best practices that would result in your growth within the agency.
→ Mock interviews:
Digital Scholar, gives you inside insights on what would be asked in agency recruitments. They also conduct mock interviews to help students build confidence.
There will be 2 things that you would be gaining at the end;
You will be able to perform all forms of digital marketing for a business, up to industry standards.
You will be easily adapting to industry practises and get placed as a professional digital marketer.
Watch the video of me explaining the agency-style learning at Digital Scholar, to learn more.
I hope you now have a clear idea of how important this pattern of learning is.
Unique modules at Digital Scholar:
Unique modules at Digital Scholar:
→ The 4k module:
Wondering what the 4k module might include? Let me explain! Students at Digital Scholar would be given Rs.4000 from their fee amount, to spend on the domain, hosting and ad budget for campaigns. This model will help students to handle huge budgets at ease. Also, there is a module on Personal branding at Digital Scholar. With the Rs.4000 you will be able to build a brand for yourself. You can also continue to practise the same even after the completion of the course.
→ How to make money online:
If you are able to build a personal brand you can also earn money online. Digital Scholar's module on how to make money online is trained by me. I have been making money online for the last 12 years. The aim while devising this module was to provide workable techniques along with personal insights. The module includes earning via blogging, affiliate initiatives and various collaborative measures.
→ Agency management:
For those who aim at starting a digital marketing agency, this module would be a delight. Starting from client management to project management and devising the right plan for a client, this module includes all that is necessary to launch a startup. In this module, you will also be learning about how to manage resources and segregate work over a period of time.
A quote that I strongly believe in is
To be a digital trainer you need to be a digital practitioner.
Trainers at Digital Scholar, practise a specific stream of digital marketing, religiously. There are 12 modules in the 3-months course. Each module is taught by industry experts who have their own successful campaigns and published works, in that particular field. This would help students to know more about result-driven practices of the trainers as well.
If you look at Digital Scholar's recruitment partners, there are already companies like echoVME Digital, Social Beat, Social Panga, Smart CEO, Alive Now, Kinnect, Digital Influencer, Internet Moguls, Geek creative agency, O3M directional marketing, Urban Tree, DAC promoters, Fomra Housing, JCS, Welona Clinic, Chu Chu tv, and many others in line. I'm really excited about the first batch on September 7th 2019, as they are going to gain real-time experience in Digital marketing.
Digital Scholar Reviews (After 1st Batch)
It's no secret. Everyone who has ever known me knows how deep-rooted my passion for all things digital runs. Making digital marketing accessible to all and spreading awareness about the field's potential has been my long-term goal. Digital Scholar is the manifestation of that goal; a definitive step towards making my vision a reality.
It's been a few months since Digital Scholar's liftoff, and I'm proud to say that I'm happy with how things have shaped up. In just 3 months, Digital Scholar has been making waves as an educational institute among students in Chennai. Along this road, there have been many memories that are milestones in their own right. In that spirit, I'd say it's time for a lookback review! Let's get straight to it.
The Origin Story:
Digital Scholar formally opened its doors to students on 8th September 2019, through its first orientation session. The first batch of students have been with us for 3 months now, and their verdicts are out on how much they have gained from this course. As Digital Scholar was a new player in the digital marketing training field, students came in with a clean slate of expectations from the institute. They were all curious to know what was in store for them and how beneficial it would be to their career in the long run.
Our institute offered highly-specialized faculty and a unique curriculum ready for them to sink their teeth in. The first batch of students had some pretty impressive feedback to share about our institute across various platforms. Let's look at them one by one.
Quora:
A pattern that was unanimous across the Quora reviews was the satisfaction with the individual attention that Digital Scholar provided them. One of the significant factors that appealed to each student in the batch was the in-depth coverage of each aspect of digital marketing. This is heartening to hear, as that is what we wanted to achieve with Digital Scholar at the onset. Another aspect that students were content with was how the course gave them a hands-on approach to digital marketing. They were allocated a part of their fees to run campaigns and the like. The reviews were also all praise for the faculty, as the students valued the agency-based insights that the staff shared with them regularly.
Key Takeaway:
As the majority of Quora reviews from the students stated, Digital Scholar is hitting the right notes in terms of establishing itself as a unique digital marketing training institute. According to the platform, this success is owed to the unique curriculum and experienced faculty. With favourable reviews like these, I think it's safe to say that Digital Scholar has hit the ground running as an institute, from Day 1. It has provided aspiring digital marketers with an easily accessible avenue to develop and hone their skills to become successful in their careers.
Digital Scholar On The Map
Now that we've covered Quora let's take a look at Google Reviews. Far more people are on this platform than the former, so it gives us a comprehensive view of things, right? Time to dive into the reviews.
Digital Scholar currently holds a 4.8-star rating on average from Google users, across sixty-three reviews. This is integral to viability on Google Maps, as this is one of the first statistics that is displayed on the platform. The keywords that are featured across the reviews are "course", "experience", "team", and "classroom". All positive words to associate with a digital marketing training institute. Most of the reviews from high-ranking Google Local Guides are extensive in talking about how the institute offers a warm learning environment for students to explore and imbibe digital marketing skills.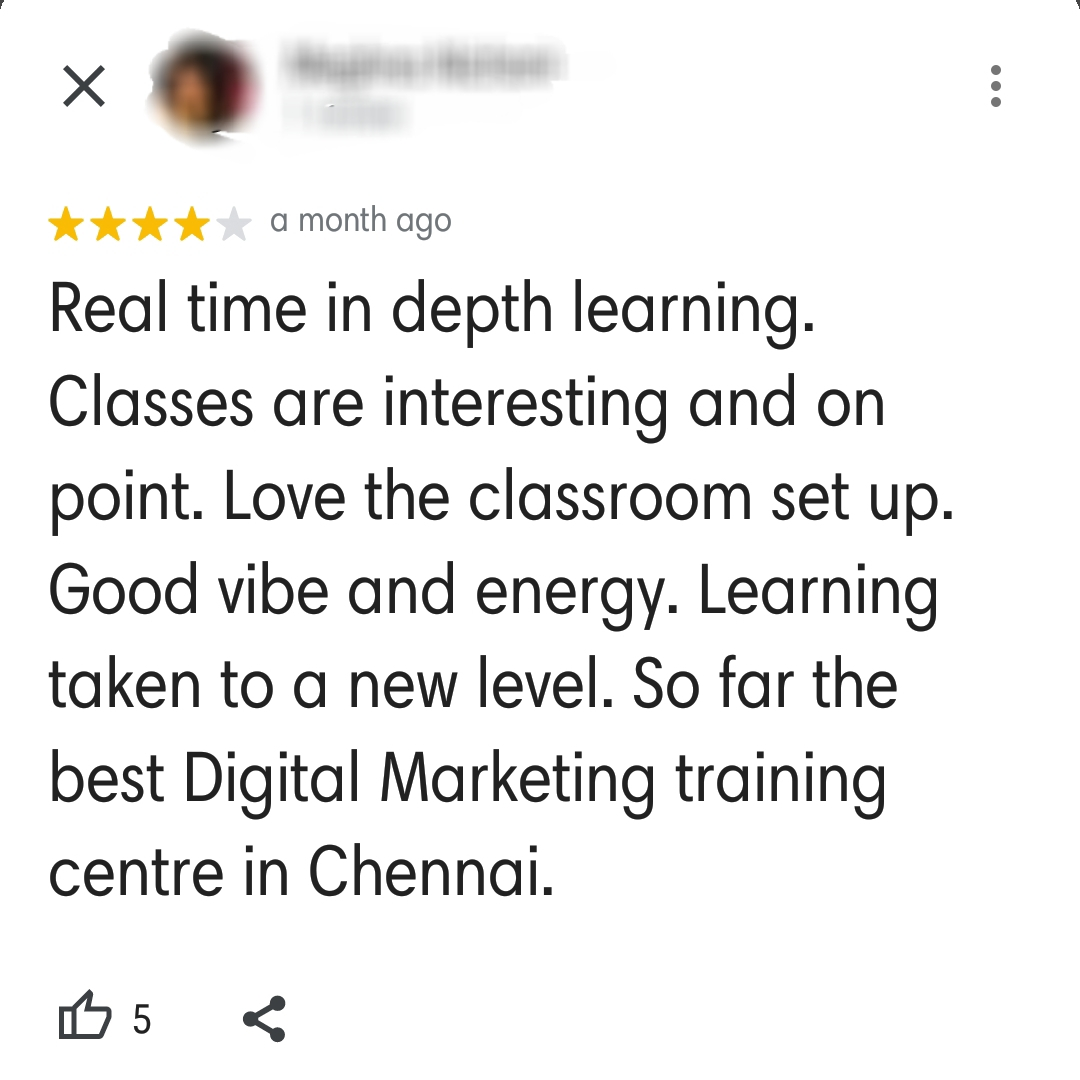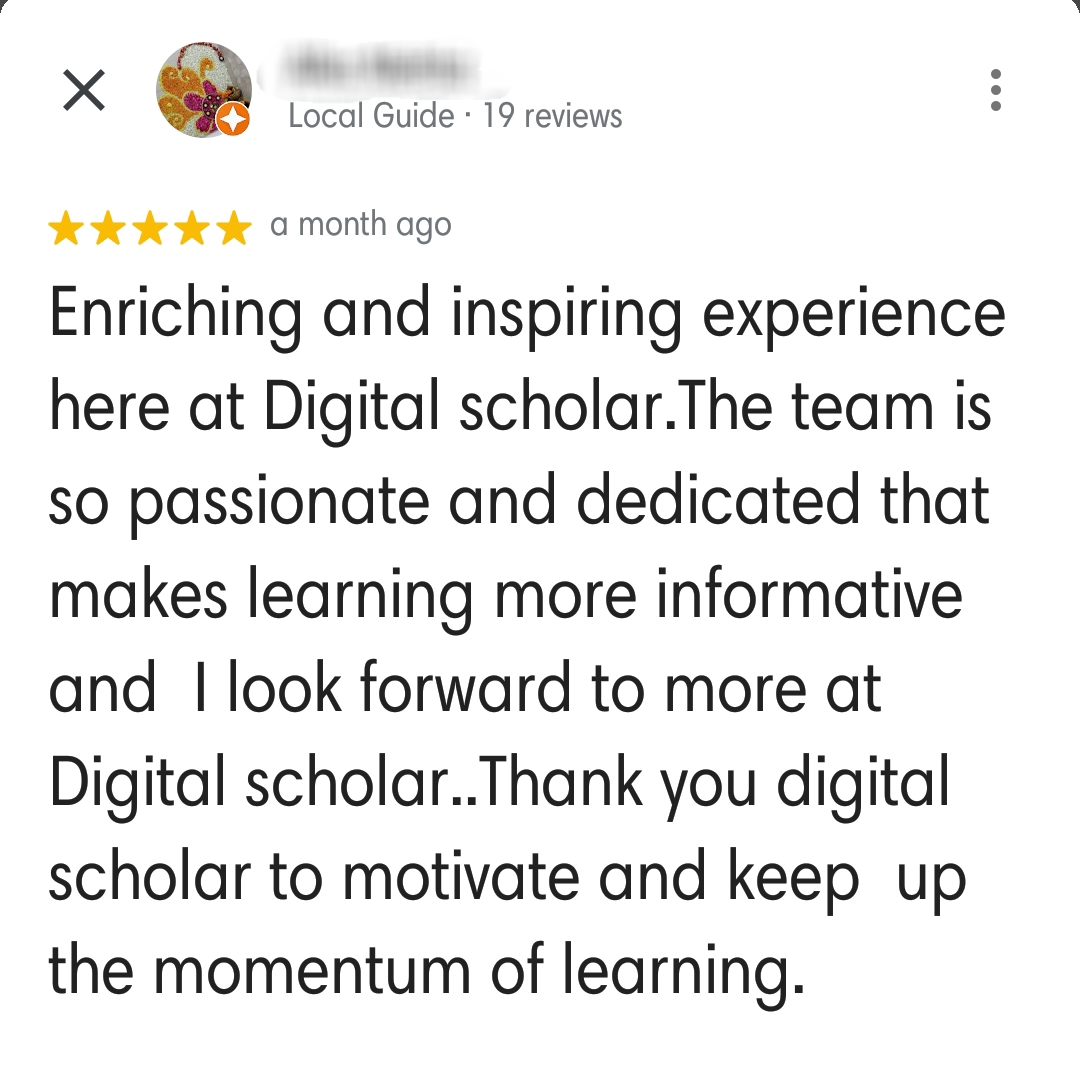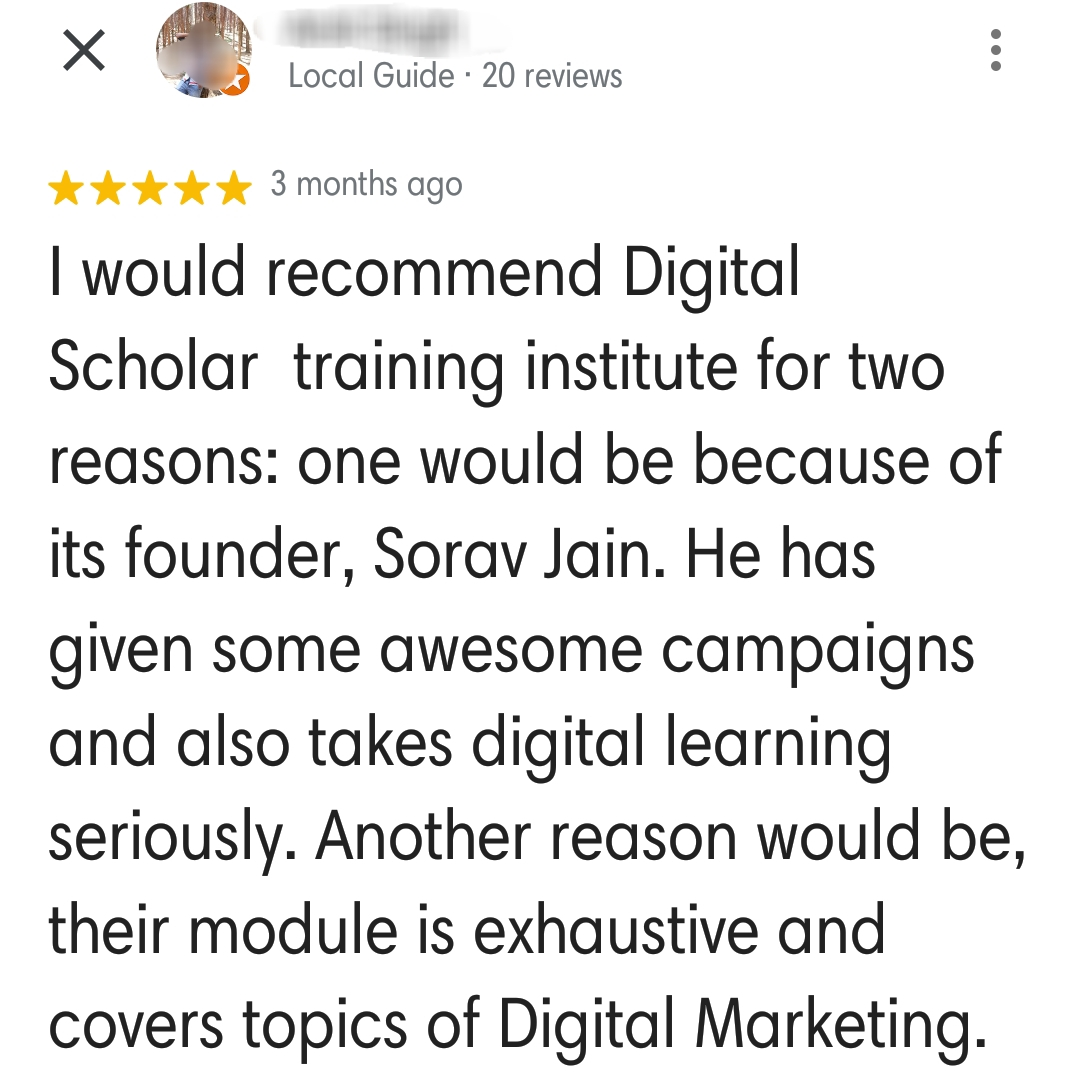 The unanimous review for Digital Scholar among Google folk seems to be very positive, with people lauding the exhaustive modules offered and the activities involved as well. Reviews from students spoke about the insights they gained and how the institute has changed their perspective of digital marketing. One of the things that really got my attention was that the students were content with the learning process and the speed of how things are taken at Digital Scholar. Training institutes must crack an optimum lesson plan so as not to burden the students with work, and it is a good sign that Digital Scholar is on the right track in that regard.
Key Takeaway:
Digital Scholar's students sunk their teeth into what the institute had to offer, and from the looks of the Google reviews, Digital Scholar has delivered bang for their buck. Like the Quora reviews, Google users also had lots of positives to elucidate on the institute, such as the proactive approach to imparting valuable digital marketing insights and the comprehensive lesson plans. All-in-all, word of mouth has been very positive for Digital Scholar.
Digital Gladiators:
Digital Scholar isn't just about classrooms and courses, though. We've had celebrations as part of bringing the Digital Scholar community together and as a team building exercise. The institute had its Diwali celebrations, along with special guest lectures from stalwarts like Abhishek Shah. The Diwali celebrations, in particular, had them take part in a special contest that put their skills to the test, from agency JAM sessions to talent shows!
Notes On The Wall!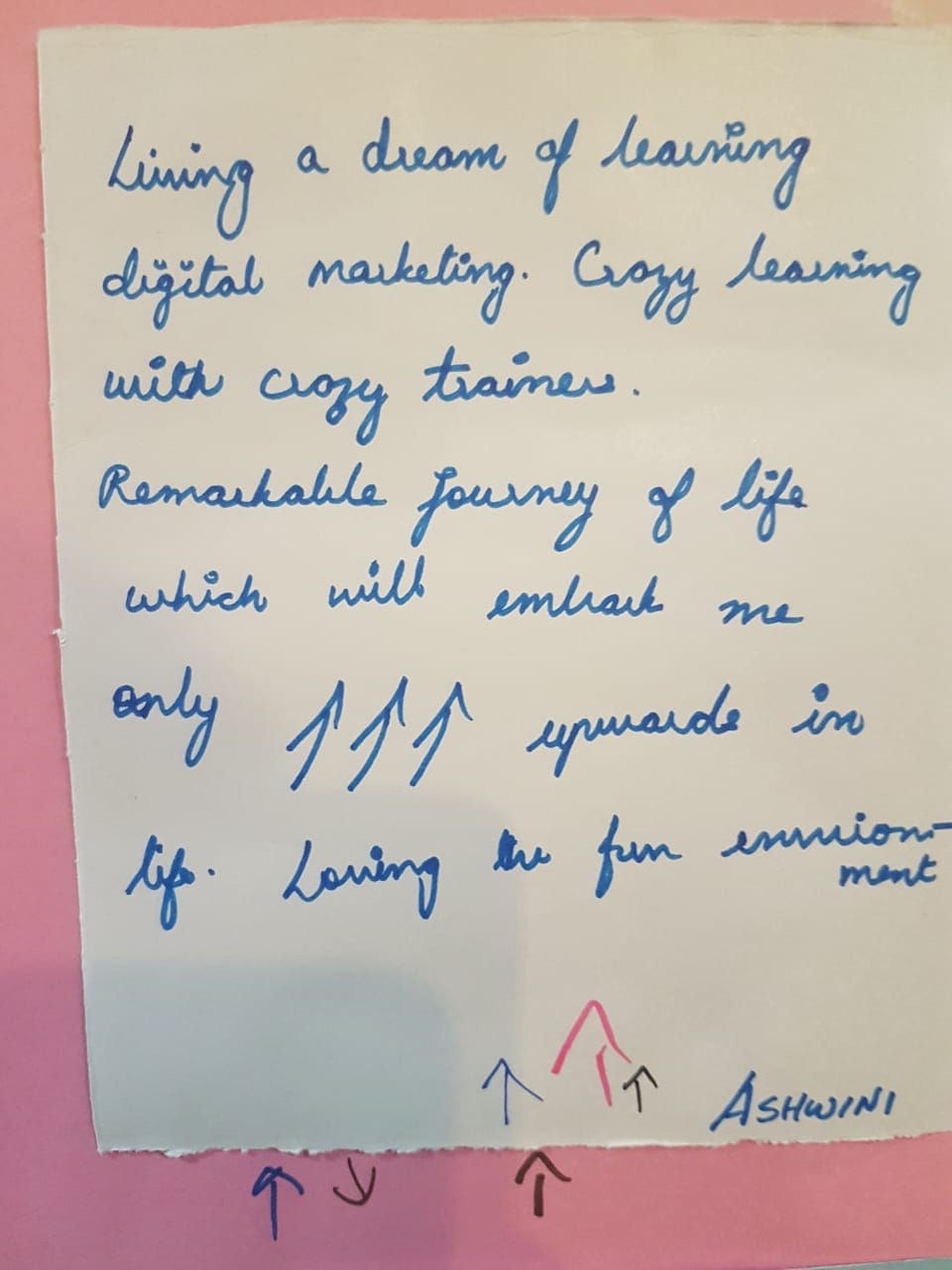 Digital reviews weren't the only laurels that the institute received. It was a welcome surprise to observe that our students had written notes about what they liked the most about Digital Scholar in their journey so far! It made for a fantastic collage that is now a part of Digital Scholar's wall. As the founder, this is one of the most wholesome gestures that have come my way regarding Digital Scholar. The onus from here on out is to reach new heights as an institute and to continue empowering more students with digital marketing, in our own unique way.
Conclusion:
Fresh out of its infancy stage, Digital Scholar has been checking all the right boxes, with its first batch giving positive reviews to the student experience at the institute. Through a fresh approach of agency-based training, Digital Scholar has offered students a fresh perspective on the potential of digital marketing and making them career-ready. With its eyes set on the horizon, Digital Scholar is poised to reach new heights as an institute.
'To become a world-class digital marketer, you will have to become a Digital Scholar first'.
You can register for a free demo class of Digital Scholar's 3 months Digital Marketing program, or reach us at 93610 72918.